UVic Music e-Pulse Jan-Feb 2018
---
**EVENT UPDATES**
PLEASE NOTE THE FOLLOWING CHANGES
TO OUR EVENT SCHEDULE:
Orion Series in Fine Arts
Stephanie Chua, piano & Véronique Mathieu, violin
Rescheduled to January 22-23 (from March 23-24).
The duo will present a concert and student composer reading session.

The West Coast Student Composers Symposium will replace the Fridaymusic concert scheduled for Friday, January 26.

New Music & Digital Media Festival changes:
Music Technology Expo scheduled for Saturday, February 3
has been cancelled.
BC's Legacy Composer Film Series screening has been moved
to 1 p.m. on Saturday, February 3 (from February 4).

For details and the most up-to-date schedule of events,
please visit our events calendar.

School of Music welcomes new faculty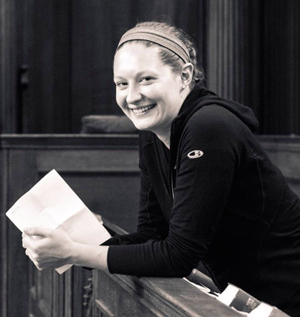 The School of Music is very excited to welcome musicologist Dr. Katharina Clausius as the newest member of its full-time faculty. Dr. Clausius comes to us from the University of Cambridge, where her research focused on eighteenth-century opera, the historiography of music, critical theory, and the intersection of modernist music and visual art. Her most recent articles have appeared in Philosophy Today, The Opera Quarterly, and the Journal of Musicology. She is currently finishing a monograph entitled Opera after Poetry on the debate surrounding prose poetry in Enlightenment tragic opera, literature, and painting.
Together with her colleagues Dr. Joseph Salem and Dr. Susan Lewis, Dr. Clausius completes our goal for broad coverage in all historical eras of Western music alongside a focus on modernist and contemporary trends across the fine arts.


We are also pleased to welcome Dr. Kornel Wolak this semester. Dr. Wolak is a touring clarinet soloist and clinician involved in research on the role of oral articulators in clarinet playing at the Speech-Language Pathology Department at the University of Toronto. He is the founder of Music Mind Inc., an initiative that creates music education programs for schools and communities. Dr. Kornel follows in the footsteps of Patricia Kostek, who has retired her position as clarinet instructor after 28 illustrious years at UVic.

---
School launches graduate colloquium series
Working in concert with the graduate seminars in musicology and music technology, the School of Music's new colloquium series brings together scholars, industry professionals and students to discuss current topics and trends related to music, sound and technology in the arts. All are invited to attend this weekly series of talks, which take place Thursdays at 1 p.m.
Please check our events calendar for topics and location. The next session features Dr. Paul Thompson from Leeds Beckett University discussing "The Scalability of the Creative System in the Recording Studio" on January 18 (Rm. B120, MacLaurin Bldg.).


---
On Stage

50th Anniversary Signature Event
Festival celebrates 50 years of music innovation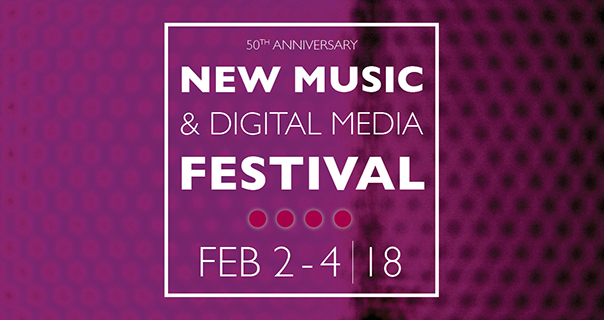 The landscape of new and experimental music in Canada has been greatly influenced by the creative individuals who have taught and studied at the UVic School of Music. From February 2-4, this dynamic community spanning five decades — from former faculty to current students — will converge for a New Music & Digital Media Festival as part of the School's ongoing 50th anniversary season.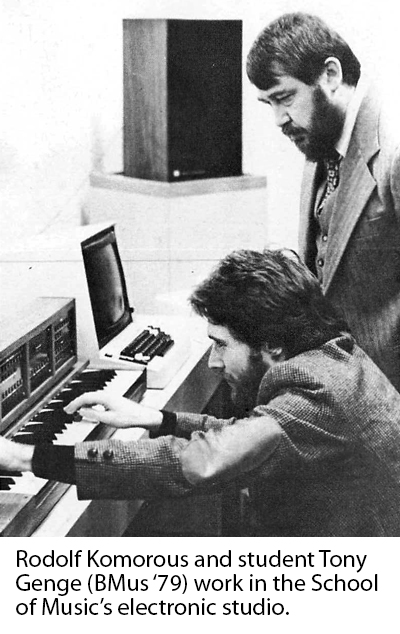 Music composition has been a vital part of the program at the School of Music since the early days. In 1971 Rudolf Komorous was named Head of Composition and the School's first analogue electronic music studio was established. "New and experimental music has always been central to what we do," explains School of Music Director, composition instructor and alumnus Christopher Butterfield. "Many of Canada's leading composers and interpreters of contemporary music had their training here...and our Music and Computer Science program, a major draw for the School, is the only one of its kind in the country," says Butterfield.
As a direct result of our program, where contemporary music study, creation and practice are at the core, the city of Victoria is recognized world-wide as a hub for new music. Faculty and alumni initiatives, including the Aventa Ensemble, A Place to Listen, the Victoria Composers Collective, and collaborations with organizations such as the Victoria Symphony, Pacific Opera Victoria, and Open Space, continue to produce and perform some of the most exciting music of our time — all on the tip of this island off the West Coast of Canada. "Show me any place in the country with that kind of activity," boasts Butterfield.
The festival will be a great opportunity to hear music by many of the School's alumni. On Feb. 2 the UVic Orchestra will perform Cassandra Miller's (BMus '05) Round, a new commission from the Toronto Symphony. Miller has twice received the Jules-Léger Prize for New Chamber Music, Canada's highest honour for composition. In a UVic Minute on Feb. 3, features clarinetist Heather Roche (BMus '05) and pianist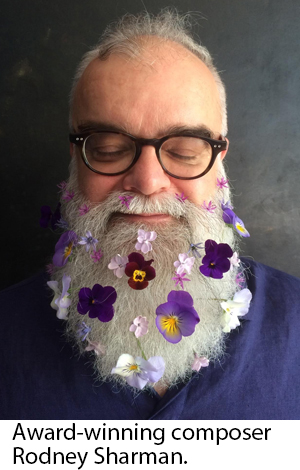 Tzenka Dianova (MMus '00) — two leading interpreters of new music — with the Chroma String Quartet performing a smorgasbord of miniature compositions (some written especially for this occasion) by twenty School of Music alumni. Along with works by Linda Catlin Smith (MMus '81), Anna Hostman (MMus '05), and Nicholas Fairbank (MMus '05), you'll hear festina lente by Rodney Sharman (BMus '80). Sharman was recently awarded the prestigious $50,000 Walter Carsen Prize for Excellence in the Performing Arts, which recognizes the highest level of artistic excellence and distinguished career achievements by a Canadian professional artist in music, theatre or dance. The Faculty Chamber Music concert on Feb. 3 offers a program of music by the School's current and former composition faculty as well as Kristy Farkas (MMus '04) and Liova Bueno (MMus '12).
Many UVic School of Music faculty and alumni can be seen and heard during the screening on Feb. 3 of five short films from the Canadian Music Centre BC's Legacy Composer Film Series. Produced and directed by award-winning filmmaker John Bolton, each film features a performance of a signature work by the composer juxtaposed against a storyline unique to that piece.
A highlight of the festival is sure to be the lecture-recital with electronic music pioneer and Buchla synthesizer specialist, Suzanne Ciani, on Feb. 4. While the School of Music has a vintage Buchla 200 Series from the 1970s, Ciani will perform on her own Buchla 200e, a modern model of the instrument.
Of course, our current student body is central to the festival. Find out what the School's composition students are up to at the Fridaymusic concert on Feb. 2. UVic's experimental music ensemble, Sonic Lab, as well as the UVic Percussion Ensemble, will each give performances on Feb. 4.

---
Calendar Quick-Fire
In addition to our New Music & Digital Media Festival, there is ample opportunity to tune your ears to some exciting, curious, new music on campus and around town. Here is a snapshot of new music events at the School of Music and in the Victoria community in January and February featuring guest artists, faculty, students and alumni:


JANUARY 12–13
Orion Series in Fine Arts presents
Owen Underhill & Daniel Tones
Owen Underhill (BMus '75) is active as a composer, conductor, artistic director and faculty member in the School for Contemporary Arts at Simon Fraser University. Daniel Tones (BMus '00) is an award-winning percussionist currently teaching at Kwantlen Polytechnic University. Their visit includes a percussion masterclass (Friday, January 12 at 10 AM in B016, MacLaurin Bldg.), a lecture with Underhill titled Collaborations with Music and Dance: A Composer and Artistic Director's Perspective (Friday, January 12 at 2:30 PM in B037, MacLaurin Bldg.), and concert of music by Underhill, Javier Alvarez, Frederic Rzewski and Linda Catlin Smith (Saturday, January 13 at 8 PM in PTY Recital Hall). All events are free.

SUNDAY, JANUARY 14 | 8PM (PTY Recital Hall)
Aventa presents: Undivine Comedy
Aventa Ensemble gives the world premiere of Michael Finnissy's chamber opera, Undivine Comedy. With Bill Linwood, conductor, Helen Pridmore, soprano, Richard Morris, baritone and School of Music student Keenan Mittag-Degala in the speaking role of Virgil. ($40)

WEDNESDAY, JANUARY 17 | 7 PM (James Bay United Church)
A Place to Listen
Vancouver's Duo 1010—flutist Stephanie Bell and clarinetist Liam Hockley (BMus '11)— perform duos by Daniel Brandes (MMus '10), Eva-Maria Houben, and Antoine Beuger. ($10)

SUNDAY, JANUARY 21 | 8 PM (PTY Recital Hall)
Faculty Concert Series
Lafayette + Saguenay String Quartets
Quebec's Saguenay Quartet (formerly Alcan) joins the LSQ in a program of octets by Gade and Mendelssohn, with a special premiere of an octet by Airat Ichmouratov written for these two ensembles in celebration of Canada's 150th Anniversary. ($10-$25)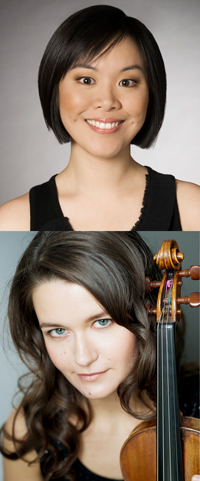 MONDAY, JANUARY 22 | 8 PM (PTY Recital Hall)
Orion Series in Fine Arts presents
Stephanie Chua, piano & Véronique Mathieu, violin
Stephanie Chua (BMus '01) is a much sought-after collaborative pianist devoted to performing contemporary music. Canadian violinist Véronique Mathieu is winner of the 2012 Eckhardt-Gramatté Contemporary Music Competition and a three-time winner of the Canada Council Bank of Instruments Competition. Chua and Mathieu recently released their debut CD on Centrediscs/Naxos, featuring over 100 years of Canadian duos. The duo will perform works from their new CD as well as by alumni Cassandra Miller, Christopher Butterfield, Anna Hostman, and Fuhong Shi. (Free)

FRIDAY, JANUARY 26 | 12:15 PM (PTY Recital Hall)
West Coast Student Composers Symposium
An annual meeting of student composers from the University of British Columbia, Simon Fraser University, and UVic. Three concerts will feature composers and performers from each institution. Concert Schedule: UBC: 12:15-1:15 PM | UVic: 1:30-2:30 PM | SFU: 2:45-3:45 PM (Free)

FRIDAY, FEBRUARY 9 | 8 PM (Farquhar Auditorium)
UVic Wind Symphony & The Naden Band of the Royal Canadian Navy
Dr. Gerald King & SLt Vincent Roy, Conductors
In the fifth annual collaboration of these two outstanding ensembles, hear works by Ron Nelson, Frank Ticheli, Julie Giroux and Jan Van der Roost. ($10-$20)

SATURDAY, FEBRUARY 10 | 7:30 PM (St. John the Divine)
Emily Carr String Quartet: Beethoven from Beginning to End
Performing Beethoven String Quartets Op. 18 & Op. 131 and Jennifer Butler's Klee Wyck Woman featuring mezzo soprano Tasha Farivar (BMus '15). ($25)

WEDNESDAY, FEBRUARY 21 | 7 PM (James Bay United Church)
A Place to Listen
The APTL Ensemble performs works by Nathan Friedman (BMus '11) and Leo Svirsky. ($10)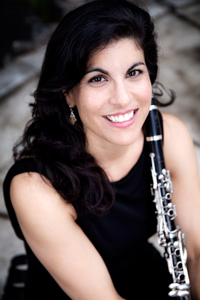 SUNDAY, FEBRUARY 25 | 8 PM (PTY Recital Hall)
Guest Concert: Dr. Stephanie Zelnick, clarinet
Zelnick's program takes a unique and provocative musical snapshot from the middle of the twentieth century, with music by Joseph Horovitz, Bohuslav Martin?, Béla Kovács, and Alan Shulman. Hailed by critics as "simply sublime and exquisite," Zelnick is Associate Professor of Clarinet at the University of Kansas and principal clarinet of the Boulder Philharmonic Orchestra. (By donation)

DATE TBC (late February)
Oak Bay New Music Festival 2018
Stay tuned for details about the 4th annual festival presented by Oak Bay Music and the Victoria Composers Collective.

A complete list of School of Music events can be found on our website.
---
Alumni News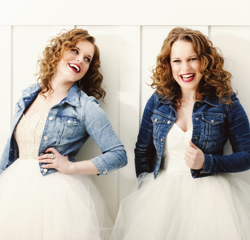 Carli & Julie Kennedy (BMus '08) have been making a splash in the Canadian country music scene as Twin Kennedy and will be presented with a 2018 UVic Distinguished Alumni Award on February 5 during UVic Alumni Week. Experience the duo's seamless harmonies, heartfelt songwriting and magnetic energy in an intimate acoustic performance at Felicita's Campus Pub on February 7 at 8 p.m. (free admission). With Carli on vocals and guitar, and Julie on vocals and violin, the two-time Canadian Country Music Award nominees have been called "the next big thing in country music" (Nashville Music Examiner). Their latest album It's a Love Thing was produced by Canadian country superstar George Canyon and their 2017 winter single Cold Weather was chosen by Rolling Stone Country as one of the "10 New Country and Americana Christmas Songs to Hear Right Now!"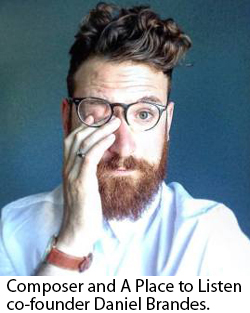 The Winter 2017 issue of Musicworks magazine includes a feature story on the ongoing concert series, A Place to Listen, and the vibrant community of composers in Victoria, which has been helping to create something of a local renaissance over the past five years. Several School of Music alumni were interviewed for the article, including the School's Concert & Publicity Manager Kristy Farkas, plus Daniel Brandes, Maria Eduarda Mendes Martins, Alex Jang, Hollas Longton and Christopher Reiche, and School of Music's Director Christopher Butterfield. All are described as being "among the city's key players, working tirelessly to build sustainable grassroots infrastructure for music-making." You can read the article online or order a copy of the magazine and accompanying CD, which features music by these composers.


---

Join our Facebook group!
Are you on Facebook? We invite you to join the 1000+ members who have already connected through the UVic Music Alumni group (link on our website). Leave a memory on the discussion board, let everyone know what you've been up to, and say hello to old friends. Please invite any and all alumni to join this group.
Not on Facebook? Please send an email to musicalumni@uvic.ca with a short update.


---
To see this newsletter as a web page go to https://finearts.uvic.ca/music/events/e-pulse/epulse_Jan_2018.html
e-Pulse is a regular e-newsletter for those interested in the University of Victoria School of Music. If you no longer wish to receive this newsletter, click here and enter your address and click Un-Subscribe. A confirmation message will be emailed to you. You can also reply to this message to confirm that you want to be removed from this mailing list.
Follow us on Facebook (University of Victoria, School of Music) and Twitter (UVicMusic).
For a complete list of School of Music events, visit our online Events Calendar.