If this email does not display properly, please see our website phoenixtheatres.ca
eNews | Behind the Scenes | Upcoming | Phoenix Phacts | Perks | Kudos
---
eNews:
Annual Phoenix Fringe round up!
Ever wondered why the UVic's Department of Theatre gets SOOOO excited about the annual line up in the Victoria International Fringe Festival? Year after year, this event is a homecoming of sorts for Phoenix alumni that return to the town of their Alma Mater. Fringe is an amazing spring board from university to the theatre industry for many performers, writers, designers, technicians and stage management and it often includes a show that was born right here with our Student Alternative Theatre Company (this year it's Money on the Table). The 2019 Fringe sees almost 50 Phoenixers involved in 14 shows (and several Fringe events) See the full list below.
Behind the Scenes: Phoenix launches 53rd season with Fringe favourite and 5X "Best of Fest" winner!

Great theatre always transcends a story's political, social and economic context to speak to the human condition — and this season, the Phoenix is exploring ageless plays that continue to speak to today's world. From lighthearted comedy to searing drama, the Department of Theatre's 2019/20 mainstage season is telling stories we can use to make sense of the world we live in.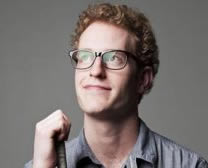 It all kicks off in the fall with the annual Spotlight on Alumni, this year featuring Sam Mullins (BFA '08) and with several solo monologues entitled: Weaksauce and Other Stories (October 9-19, 2019). Written and performed by this two-time Canadian Comedy Award-winner, Mullins has been described as a "master storyteller" (Winnipeg Free Press) and the "Stuart McLean of the millennial generation" (Toronto Star).
A Spotlight on Alumni presentation sponsored
by:
Weaksauce is the story of the summer Mullins turned 16 and left home to work as a camp counselor . . . only to be blindsided by the first great romance of his life. This achingly angsty and tender coming-of-age story is a comedy of first times, second chances and third wheels. Now, half a lifetime (and an incalculable number of romances) later, Sam will also premiere a new story about the bleary-eyed joys of fatherhood that continues to bring his unflinching honesty, vulnerability and big laughs to this latest work. Add in two short, 10-minute-long story slam versions of his other award-winning shows, Tinfoil Dinosaur and The Untitled Sam Mullins Project, and you've got a best hits of Mullin's "Best of Fringe"-winning works that Now Magazine called "Fresh, funny and heart-poundingly alive."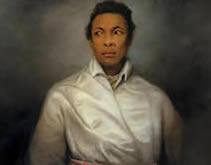 Following the Spotlight on Alumni is Shakespeare's classic Othello (November 7-23, 2019), presented at the Phoenix Theatre for the first time in its 53-year history. Although Othello was written over 400 years ago, its disturbing portrait of a world infused with racial politics, misogynist social structures and treacherous friendships makes it feel like it's been ripped from today's headlines.
"Although undoubtedly one of Shakespeare's greatest plays, Othello is fascinating to approach in an era where our theatre culture has become so intensely interested in the question of diversity," says Theatre professor and the play's director Brian Richmond. "As controversial as it is brilliant, my hope is that we will build a production that tackles the question of 'Is Othello a racist play?' with openness and integrity."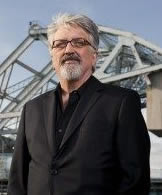 In the play, characters Othello and Desdemona are lovers from very different worlds: Othello a mighty General from a foreign land; Desdemona a beautiful Senator's daughter. They marry, undeterred by the prejudices that surround them. But no sooner are their vows sealed than their love is put to the test, as bigotry, envy and jealousy begin to pull them apart. Playing on Othello's insecurities as an outsider in a predominantly white society, the charming but envious Iago—an Ensign and a trusted advisor—stokes the flames of his commanding officer's jealous nature. In doing so, Iago brings both the lovers, and the world they live in, to the point of utter collapse. In its raw emotions and ruthless politics, Othello remains an ageless and poignant tragedy.
After the winter break, the Phoenix is back with Comic Potential by Alan Ayckbourn (February 13-22, 2020), directed by Theatre professor Conrad Alexandrowicz.
Considered one of the funniest and most inventive plays by Britain's grandmaster of comedy (perhaps best known for A Chorus of Disapproval out of his remarkable 79 plays), this romantic sci-fi satire is set in the foreseeable future, when actors are replaced with convincingly lifelike robots known as "actoids."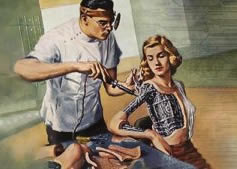 "Like all of Ayckbourn's work, this is a finely crafted and very funny comedy," says Alexandrowicz. "To imagine a world where human actors have been replaced by robots is both a hilarious send-up of the way actors are perceived, but also an intriguing proposition: if what actors do is to reproduce behavior, why not invent human-like equivalents to do it with programmable precision and predictability?"
"The proposition is complicated by the fact that the actoid's work is both better and worse than humans! They have all these hilarious glitches, but it's the malfunction of one of them that makes her both more interesting as an actor who can offer something original to performance."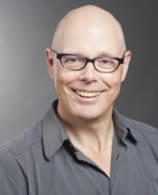 In Comic Potential, Adam is an aspiring young writer who visits a TV studio to meet his idol, Chandler, the director of a never-ending hospital soap opera who was once a great movie director. On set, Adam discovers the charming android Jacie Tripplethree (serial number JCF 31333) and realizes that the programming glitch that makes her laugh hysterically also makes her more human. Adam and Chandler start developing a new TV show for Jacie to star in, but the studio executives aren't convinced. Will Adam lose his heart to a robot? Will his show get the green light? Will love prevail? In the age of today's virtual online assistants (like our "helpers" Alexa and Siri), this wickedly funny satire from 1998 reads like a cautionary tale of the rise of artificial intelligence.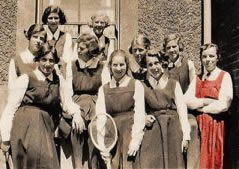 The season closes in March with Lillian Hellman's classic drama, The Children's Hour (March 12-21, 2020).
Directed by Theatre professor Peter McGuire,The Children's Hour is set at an all-girls boarding school in a small New England town in the months preceding WWII.
"I'm interested in the connections between this time period and our current political environment which is complicated by false and nefarious narratives in the news and in our social media newsfeeds," says McGuire. "Rumours are distributed differently today, but their effects can be just as destructive."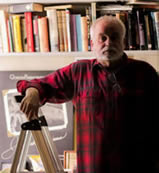 In The Children's Hour, a vengeful pupil whispers a rumour that the school's headmistresses—lifelong friends Karen and Martha—are having an affair. It triggers a devastating chain of consequences, entangling their entire school in this toxic story of deceit. At the peril of destroying their careers, their relationships, and their lives, Karen and Martha courageously risk public shame and fight for the truth to be heard.
Written in 1934, Hellman's potent exploration of the power of lies—and the culture of fear which allows them to thrive— remains startlingly relevant in our era of "fake news" and online deception.
Subscribe & Save! The best and most economical way to see great theatre is to subscribe to a season of shows. Chose 3 or 4 show packages for $42.00 or $56.00. Plus, subscribing gives you other useful perks like flexible free ticket exchanges to other performances and discounts on extra tickets. Fill out the online subscription form or call Sandra at 721-8003 (after September 3) to book.
---
Phoenix Phacts: Your guide to Phoenix Fringers!
Whether acting, writing, directing, designing or managing backstage, our alumni and students are always an integral part of the Victoria Fringe Fest! Check out the list of this year's Fringe shows involving Phoenixers.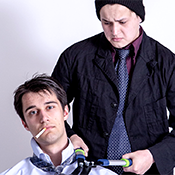 MONEY ON THE TABLE
BUCKET HEAD PRODUCTIONS • VICTORIA

Written and Produced by alumus Andrew Fraser
Director & Lighting Design: Annie Konstantinov, Producer & Sound Designer: Logan Swain, Costume Designer & Fight Choreographer: Lucien Lum, Props: Christian Tervo, Stage Manager: Ashley Richter. Featuring performances by Nicholas Atkinson, Nicholas Guerreiro, Julie McGuire and Landon Wong.
How far would you go to get your money back? Probably a question you should ask before you find yourself staring at an unconscious stranger taped to a chair. One trio of kidnappers is about to find out why in this dark comedy of investment, revenge, and terrible people.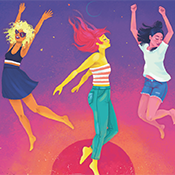 SUMMER BUCKET LIST
COLLECTIVUS THEATRE
•VICTORIA

Written by UVic Writing MFA Candidate Ellery Lamm, Directed by alumna Anna Marie Anderson
Sound Design: Aaron Smail, Lighting Design: Hina Nishioka, Stage Manager: Devon Vecchio. Featuring performances by Arielle Parsons, Emily Hay and UVic students Willa Hladun, Isaiah Adachi
Zoey and Grace find a discarded summer bucket list during two weeks of summer detention that includes items like "Lemonade stand" and "Give 2 blowjobs." As they check off each item, they uncover difficult truths about themselves and the women in their lives. From the creatives of 2018 Fringe winner, The Fitting Room, comes a celebration of teenage girls and a validation of female rage.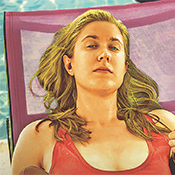 DESTINY, USA
CONVECTION PRODUCTIONS • SYRACUSE, NY

Created by alumna Laura Anne Harris
A new show from the creator of the hit fringe show, Pitch Blonde! When Laura moves from Toronto to Syracuse, New York, she wasn't expecting to be residing in Trump's America. Gaining her first job as a Relay operator for the Deaf and Hard of Hearing, causes her to question if she can discover the hidden humanity of the American people.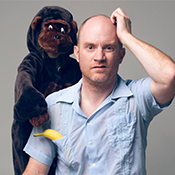 THIS MAN IS AN ISLAND
DREAD PIRATE PRODUCTIONS • VICTORIA
Created by previous student Evan Roberts
A hot air balloon mishap leaves Evan stranded alone on a remote, uninhabited island with a terrifying companion…his own mind! His resourcefulness will be pushed to the limit as he struggles to survive thirst, hunger, sunburn, boredom and existential angst, all the while remaining fun to hang out with, just in case someone else shows up.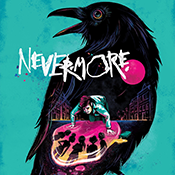 NEVERMORE
HAPAX THEATRE • VICTORIA

Featuring current student, Stage Manager Taylor Guidotti

Edgar Allan Poe lies unconscious in a gutter, dreaming of the women who shaped his life. But in the morning, will he wake to dawn or eternal darkness? From the creative team behind The Boy in the Chrysalis (2018 Pick-of-the-Fringe Winner), Nevermore transforms the works of Poe into haunting melodies about love, loss, and gothic longing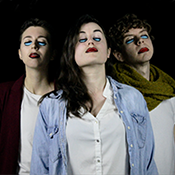 HOW TO PULL YOUR HEART
THROUGH YOUR THROAT
IMPULSE THEATRE • VICTORIA

Directed by Andrew Barrett
Featuring performances by Chase Hiebert & Rachel Levy.

In a dark vat, three creatures steeped in tar struggle to create themselves. Does their need for validation keep them from being seen? A collision of theatre, dance, poetry (and more!), Impulse Theatre's magically visceral "how-to" guide will leave you asking: What does my heart really want to say?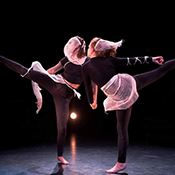 ANTIGONES
MAENAD'S THEATRE • VANCOUVER

Directed by previous student Luciana Silvestre Fernandes
Assistant Director and Sound design: Olivia Wheeler, Lighting Design: Aubrey McNair, Stage Manager: Leah Anthony. (Co-sound Design on original production in 2017: Logan Swain). Featuring performances by alumnae Hailey Fowler, Shayla Pready and Taryn Yoneda
A movement adaptation of Sophocles' classic, Antigone, in this piece, we turn to the other senses when words are not enough to express our truth. Our focus is on the experience of being Antigone; her truth and emotional journey as she defies the king to honour her fallen brother...knowing it may cost her life.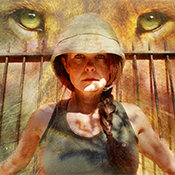 THE TROPHY HUNT
OPEN PIT THEATRE
• WHITEHORSE, YUKON

Co-Directed by almuna Celine Stubel
A rolling world premiere being performed in five Canadian cities, The Trophy Hunt is a dark comedy exploring who eats who in a world where everything is observed, everything a zoo. Three unique characters irrevocably affected by the business of Big Game Hunting share their stories in a hidden location in Fan Tan Alley. Come on a hunt to stalk something wild and dangerous…you just might find it!
LUB DUB
RAGE SWEATER THEATRE PRODUCTIONS • VICTORIA

Featuring previous students: KP (Ann-Bernice Thomas), Monica Ogden

A variety show for the marginalized, angry, unseen. LUB DUB is unapologetic, political, fiercely entertaining. Centering experiences of Black, Filipino, Queer, disabled, low income folks, LUB DUB invites you to celebrate, collaborate, and smash white supremacy. "I left feeling recharged…I made monkey sounds and put pepper up my nose, but I didn't feel pressured to do it" – Apt 613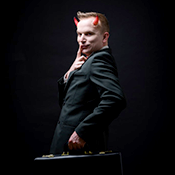 FALSE PROFITS
RANDOM SAMPLES COLLECTIVE • VICTORIA

Created by alumus Jeff Leard
Directed by alumnus James Leard
"Woe to you, when all men speak well of you, for so their fathers did to the false prophets." (Luke 6:16) "I'm stanky rich. Imma die tryin' to spend this bitch." (50 Cent) Jeff Leard takes aim at the super rich in this brand new capitalist satire. "5 Stars!" - Edmonton Journal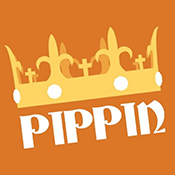 PIPPIN
St. Michaels University Music Theatre Intensive
performed at St. Michaels University School

Directed by alumnus Cam Culham
Featuring performances by alumni Victor Dolhai & Emily Piggford.
Multiple Tony award winning Broadway musical Pippin tells the story of one young man's music-filled quest to find the extraordinary at war, in love and via other such conquests and adventures, only to discover that true happiness is found in those unextraordinary moments of life. This production celebrates the 20th anniversary of this youth Musical Theatre company. Family friendly.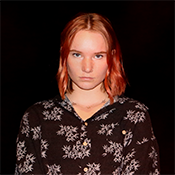 THE RAGE TRIALS
SKAM YOUNG COMPANY • VICTORIA

Written by alumna Emma Leck
Directed by alumna Mikaela Haeusser

Artistic support: Kathleen Greenfield, Artistic Director: Matthew Payne, Production Manager: Logan Swain, Stage Manager: Ariel Glidden.
A random committee of teenagers must decide if anger is beneficial or if it should be stricken from human consciousness. Their decision will last 100 years. "Whatever Theatre SKAM touches seems to turn to theatrical gold." – NOW. "Current, confrontational …provocative." – Victoria News. Written by the winner of the 2018. Winnipeg Fringe New Play Prize for "Drops in a Broken Fountain".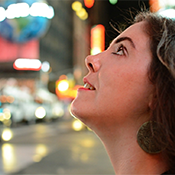 TRAVELTHEATRICS
STANDING ROOM ONLY THEATRE • VICTORIA

Created by alumna Keara Barnes

1 Woman. 18 Characters. Watch 6 TRUE travel stories enacted from across the globe. WINNER Jester's Cap Award – Calgary Fringe 2016. "A remarkable presence on stage"-CBC "I never wanted the show to end. Barnes is as astonishing a solo performer as they come" – Two Cents & Two Pence "A stage presence like none I have ever seen." – The Marble Victoria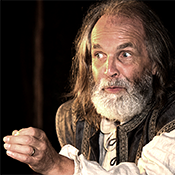 FALSTAFF
THEATRE INCONNU • VICTORIA

Created and performed by 3-time alumnus Clayton Jevne
"Jack" takes us into battles, bedrooms and bars in Clayton Jevne's one-actor adaptation of Robert Nye's Guardian Prize-winning biographical novel. Nye's anti-hero is a comical yet poignant combination of Shakespeare's self-absorbed buffoon and the actual historic figure of Sir John Fastolf (Shakespeare's original inspiration). "Amazing… wonderful story teller" – CBC. "Masterful… Sympathetic, without losing his bawdy edge." – Monday Magazine
SUNDAY FUNDAY 2019
FRINGE SPECIAL EVENT with
ATOMIC VAUDEVILLE • VICTORIA

Artisitc Producer alumna Britt Small and Artistic Director previous student Jacob Richmond

Atomic Vaudeville takes over the stage for a special Fringe edition Cabaret! AV regulars will be joined by your favourite Fringe artists for one unforgettable late night cabaret. AV's Cabarets are entirely unique, pulling from variety show, sketch comedy, burlesque, and musical satire. For more than thirteen years, they have been delighting, offending and dazzling as an audience favourite in Victoria, producing more than 75 Cabarets – and going strong!
Note: As usual, only Phoenix students (and a couple of previous students) , alumni, and other UVic grads, are listed. Kudos to the MANY MANY other artists involved!

Want more alumni stories? Check out our Alumni Profiles area of our website. Recognize anyone? If you're alumni, please tell us what you've been up to. Submit your bio online and yours could be the next alumni profile on our website!
---

Want more alumni updates? Check out the Alumni Profiles area of our website. Email your updates to us to be posted here in future eNews.


Follow the most recent department and alumni stories by liking us on Facebook or following us on Twitter. Use #phoenixalumni to stream on our alumni website or tag @UVicPhoenix for us to retweet your event!
---
Sponsor Kudos:
Thank you to the Phoenix Theatre's many individual donors and corporate sponsors for their support of our programs and talented students! A special thank you to this season's Production Resource Partner, Production Canada whose support helps realize our designer's visions on stage.
Thanks also to our supporters over the past year from the Cadboro Bay Village including: For Good Measure, Pepper's Foods, Smugglers' Cove Pub, Caddy Bay Liquor Store, and Heart Pharmacy.
Find out how your company can reach our 10,000 audience members and UVic community of over 25,000. Contact us to discuss a customized sponsorship package to meet your goals.
---
Phoenix eNews is a regular email magazine for those interested in the Phoenix Theatre, the not-for-profit productions at the University of Victoria's Department of Theatre, PO Box 1700, STN CSC, Victoria, BC, V8W 2Y2 Canada. The University of Victoria is a Registered Charity. Charitable Registration No. 10816 2470 RR0001
If you no longer wish to receive this newsletter, click here and enter your address and click Un-Subscribe. A confirmation message will be emailed to you. You can reply to this message to confirm that you want to be removed from this mailing list. This message also has a link that you can click on to complete the removal process.