MARCH 12 – 21, 2020
CANCELLED due to COVID-19 Pandemic

By Lillian Hellman
Director Peter McGuire
Written in 1934, Lillian Hellman's potent exploration of the power of lies – and the culture of fear which allows them to thrive – remains startlingly relevant in our era of"fake news" and online deception.
Lifelong friends Karen and Martha are the headmistresses of a prestigious all-girls boarding school in a small New England town in the months preceding WWII.When a vengeful pupil whispers a rumour that the two women are having an affair, it triggers a devastating chain of consequences, entangling their entire school in this toxic story of deceit. At the peril of destroying their careers, their relationships, and their lives, Karen and Martha courageously risk public shame and fight for the truth to be heard.
"The Children's Hour" is presented by special arrangement with Dramatists Play Service., New York.
Lillian Hellman
Lillian Hellman (1905-1984) was an American playwright, screenwriter and memoirist.
Her debut hit The Children's Hour premiered in November 1934 and ran for 691 performances, setting a new record for the longest single-venue run of a play. Despite the success of The Children's Hour, the play was boycotted by the Pulitzer Prize selection panel and banned in Boston, Chicago, and London. This controversy became a recurring theme in Hellman's life.
According to a 1941 New Yorker profile, Hellman was the kind of "tough broad" who "can take the tops off bottles with her teeth." She was vehemently anti-fascist and, amidst a fraught American political climate, Hellman was called before the House Un-American Activities Committee (HUAC) in 1952. Refusing to name names, Hellman famously proclaimed, "I cannot and will not cut my conscience to fit this year's fashions." As a result, Hellman was black-listed by the American film industry, however, she still reached success during her lifetime, with the adaptations of her writing receiving Academy Award recognition.
A self-proclaimed rebel, and so-called 'difficult woman,' Lillian Hellman was a prolific writer, a controversial iconoclast, and a 20th-century literary institution.
— Image caption: black and white photo of playwright Lillian Hellman from the 1930s to 1940s —
Peter McGuire
Beginning at Victoria's McPherson Playhouse Peter has enjoyed a 30-year career in the professional theatre that has included stage management, production management, talent management, administration and producing. He has worked at several major regional theatres including long-term residencies at the National Arts Centre, the Charlottetown Festival and the Stratford Festival. He has toured regionally, nationally and internationally, and worked for the Maybox Group of theatres in London's West End. Between 2003 and 2005 he was the Associate Conservatory Director at the American Conservatory Theatre in San Francisco. Happy to be back at the University of Victoria, Peter currently teaches acting, directing, production and management, and theatre survey courses to students from across the campus. He is the recipient of two Tyrone Guthrie awards. Peter holds a Masters degree in directing from the University of Victoria. Photo by Kate Loomer.
— Image caption: colour photo of the director Peter McGuire in his office wearing a red plaid shirt leaning on a ladder. —
Tickets
Single Tickets
Sales for this show begin March 3, 2020
Call: 250-721-8000 or see Ticket information
Friday & Saturday Evenings
All Seats $28
Wednesday, Thursday & Saturday Matinees
All Seats $26
Cheap Tuesdays
All Seats $15
NEW! Student Rush Tickets
(30 minutes before every show)
Students: $16
UVic Alumni
Saturday Matinees: $21
(with UVic Alumni ONECard)
Performed in the Chief Dan George Theatre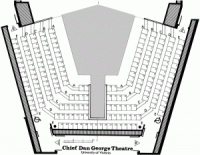 Cast & Creative
Director Peter McGuire
Set Designer Emily Friesen
Costume Designer Brodie Needham
Lighting Designer Zhe (Harry) Lin
Sound Designer Aaron Smail 
Stage Manager Cassie Holmes
Cast:
Martha Dobie Georgia Duff
Karen Wright Grace Fedorchuk
Mrs. Lily Mortar Arielle Parsons
Dr. Joseph Cardin Dawson Rutledge
Mary Tilford Sophia Radford
Mrs. Tilford Sarah Hunsberger
Agatha Maddy el Baroudi
Grocery Boy Kornel Danis
Students of the Wright-Dobie School:
Janet Lynnea Chan
Lois Fisher Zoe Salvin
Catherine Becky Miner
Peggy Rogers Sophi Murias
Rosalie Wells Jane Rees
Evelyn Munn Ashley Richter
Leslie Louey Sumners
Helen Burton Taylor Williams
Lecture

Preshow Lecture:
"The bigger the lie, the better, as always": The Children's Hour Yesterday & Today
Friday, March 13 at 7pm
Dr. Michael Nowlin, Department of English
Join us for an informative lecture prior to our first Friday performance. In Dr. Nowlin's talk – entitled with a Lillian Hellman quote about The Children's Hour  from the 1950s – he explores the different interpretations and emphases the play has been given since its first controversial production in 1934, after it was revived on Broadway in 1952, and later adapted into a Hollywood movie in 1961. He will also discuss the play's pertinence to our current cultural moment (which in his words, is arguably a moment of cultural crisis.)
Dr. Nowlin is the current Chair of UVic's Department of English and a specialist in 20th-century American literature. His most recent book, Literary Ambition and the African American Novel was published in December by Cambridge University Press, and he is currently editing a collection of essays for the same publisher on the African American writer Richard Wright.
Lectures are free and everyone is welcome, no matter which performance you have tickets for. 
This lecture will also recorded and audio files will be posted here in the week following the lecture.
Vocal Eye
Audio descriptions for the visually impaired will be offered by Vocal Eye for the matinee on Saturday, March 21 at 2pm. 
Members visually impaired community can contact the Box Office (250-721-8000) prior to March 2, 2020 to book discounted tickets ($21) for this performance. 
Advisories
Suitable for ages 13+
Includes sensitive material that may trigger some individuals.  If concerned, please read the trigger warning below.
Trigger warning
Spoiler alert
The information about this trigger warning may affect your understanding of how the play unfolds. Read below for details.
.
.
.
The Children's Hour includes themes of homophobia, a reference to an un-staged suicide, and a gunshot sound effect.
Photography by Dean Kalyan