If this email does not display properly, please see our website phoenixtheatres.ca
Behind the Scenes | 2021 Season | News | Halloween Events | Phoenix Phacts | Kudos
---
Behind the Scenes: Returning to the "Classroom" with new ways of teaching
Walking through the halls of the Phoenix building, the Department of Theatre is missing some of the hustle and bustle of previous years. But behind the passing masked faces and closed doors sporting notes that say "In a Zoom meeting!" there's evidence of ingenuity and a tight-knit community familiar to those who know how resilient theatre practitioners are.
While most classes at UVic have moved to online learning, the Department of Theatre has been given permission for many of our essential, experienced-based courses to return to the classroom under strict health and safety work plans. Other larger theatre courses are taking advantage of current technology to expand on usual classroom opportunities with national guests and new high-tech, virtual platforms.
Professor Jan Wood's third-year acting class, comprising of 12 students, has moved into the much-larger stage of the Chief Dan George theatre to allow for maximum distancing while they practice their craft (see banner image). Applied Theatre Prof. Yasmine Kandil is also working in-person with her second-year students on their projects in the McIntyre Studio. "The students are thrilled and very appreciative to be working face-to-face," says Kandil. "They are relishing the experience of being together, relating to one another, and able to savour the embodied form of expression."
Meanwhile, the fourth-year Canadian Theatre History course, has drawn almost 60 students from Theatre and across campus into Prof. Sasha Kovacs's virtual classroom. Kovacs has used the necessity of teaching on Zoom as an opportunity to break traditional geographic restraints by bringing prominent Canadian theatre artists from across the country to share their work and experiences directly with students.
Guest artists include the recently Siminovitch Prize-nominated playwright and director Tara Beagan (shown left) of the Indigenous arts company Article 11; as well as the previous Siminovitch recipient, director, creator and mentor, Maiko Yamamoto of Theatre Replacement; and artistic producer and director Cole Alvis of the Dora-nominated queer theatre company lemonTree creations and manidoons collective; the founding artistic director and disability advocate James Sanders of Realwheels Theatre); and Dora Mavor Moore Award-winning director and dramaturge Nina Lee Aquino (show below right) of Factory Theatre.
Kovacs worked with Belfry Theatre Artistic Director Michael Shamata to integrate the previous in-person Belfry@UVic Series into her online class this year. Now in its third year, this series has brought over two dozen visiting Belfry playwrights, directors, designers, actors and others into the Phoenix to engage with our students—from some of Canada's most successful actors like Martha Burns and Benedict Campbell, to up-and-coming playwrights like Matthew MacKenzie with his hit show Bears, and the much-lauded design team for The Ministry of Grace, Andy Moro and Jeff Chief (which just won Victoria's Critics' Choice Outstanding Design Award).
"Our Canadian Theatre History class is enriched enormously by the inaugural digital version of the Belfry@UVic series," says Kovacs. "Not only do these conversations connect students to critical wisdom regarding theatre creation today from some of the country's most celebrated artistic leaders, they also offer opportunities for students to consider the ongoing legacy of performance histories that we discuss and debate in class."

Likewise, technical theatre lab instructor Simon Farrow has embraced new technology for his lighting courses. The technology is so new, the company Electronic Theatre Controls just released Augment3d for EOS lighting consoles this September. This software allows students to program and visualize their lighting designs from their own computers. From teaching lighting angles and colour mixing at the first-year level, to designing and programming complex moving light rigs using a 3D model of the Roger Bishop Theatre (shown right) for his third-year students, Augment3d is helping to bring student's work to life in this virtual world.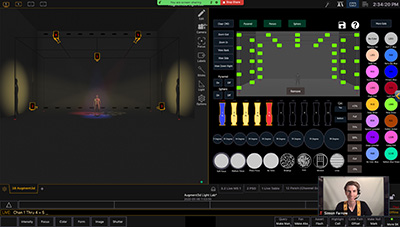 When planning distanced classes for the fall, Farrow was excited about the new software that could make sure our technical students would not miss out on this important opportunity. "Focusing on 3D modeling and programming using visualization now will help our students keep right on track when we can work together in the theatre again," says Farrow.


---
Season: Planning for Spring of 2021
The department is looking towards the spring of 2021 with hopeful plans of offering a shortened season for our audiences—even if it's only over the internet. It's essential that we can produce plays so that our third- and fourth-year students can earn the necessary performance, design and production credits required for their degrees. Currently, our faculty directors are reviewing a play for each year's class "bubble" that allows for distancing during the performance and rehearsal process. Please stay tuned for further developments!
Send us your feedback!
In the meantime, as we plan for the spring, we want to hear from you about your preferences for attending a play at the Phoenix, whether in person or streaming online. Your guidance will help us develop our plans for next term. Thank you!
We also rely on the support of our regular ticket holders and donors to offset the costs of making theatre. These costs, while different this year, will not be any less than previous years. Please consider supporting the Phoenix as you might have previously, so the quality of our students' education can be maintained through these trying times.
Questions?
Our box office is open with shortened hours to help answer questions, help with the survey, or accept donations over the phone. Hours are listed on the voice mail at 250-721-8000.


---
News: New grant helps the Phoenix stage equality
The Department of Theatre is excited to announce that we have received a $64,000 grant from UVic's Strategic Framework Impact Fund that will assist with initiatives to improve the equity, diversity and inclusion in the educational, research, community outreach, and programing opportunities at the Phoenix.
The theatre department also recently formed a committee that has already started initial work on an anti-racism plan for the department.
Under the stewardship of Profs. Yasmine Kandil and Sasha Kovacs—in collaboration with seven other departments and units on campus—the three year project entitled "Staging Equality: anti-racism & de-colonization through arts-based community engagement" will help connect the campus to the wider Victoria community to enhance conversations and exposure to theatre and the arts on issues relating to race, diversity and inclusion.
"While traditional theatre production is currently restricted by the COVID-19 pandemic," says Dr. Kovacs, "we can use this time to lead important conversations and re-imagine how theatre can address issues pertaining to systemic racism, the meaning of diversity, actionable equity, and Indigenization."
Over the three-year project, this initiative will create paid opportunities for students, artists, and community members within and beyond the UVic campus and will culminate in an outdoor theatre performance led by an Indigenous artist-in-residence (in collaboration with students and faculty) that addresses the Indigenous histories of the land on which UVic resides.
"By the project's end, we will have also created a collaborative interdisciplinary team, composed of students, interdepartmental faculty and community partners, and developed and tested news way of working for one of UVic's most community-engaged and experiential learning programs," says Dr. Kandil.
Drs. Kovacs and Kandil send thanks to colleagues in Curriculum & Instruction (Dr. Monica Prendergast); English (Dr. Sheila Rabillard); First People's House (Dr. Robina Thomas); Gender Studies (Dr. Christine Sy); Psychology (Dr. Catherine Costigan); Visual Arts (Professor Carey Newman); and Writing (Professor Maureen Bradley) for their partnership in this project.
---
SPOOKY Halloween Events!
Theatre people LOVE the spooky season and our alumni have some scary events for you to join in on the fun!
Theatre SKAM has relaunched their Pop-Up Theatre Home Delivery series with two new shows this fall. Recent alumna Olivia Wheeler's (BFA '20) original story, The Quest for the Moon, uses beautiful shadow puppetry to tell the story of a young fox who embarks on a journey to find his best friend, the Moon. Silly & Scary Stories tells spooky folktales using shadow play. Pop-Up shows can be booked to come to you, October 23-31, 2020, during 15-minute slots from 6:30-9:30pm.
Through his role in the Parliamentary Education Office in BC's Legislature, alumnus Nicholas Guerreiro (BFA '18) has organized a special spooky online event featuring a visitation with the spirit of famed architect Francis Rattenbury to explore the legislature's eeriest tales, from a vanishing house, to the premier's double, to the strange secrets of the piano-playing speaker. Rattenbury may also tell the tale of his own demise! Written and performed live daily by Guerreiro, tune in for this free event daily at 2pm or 7pm until October 30.
Blue Bridge Theatre is resurrecting Bram Stoker's iconic novel, Dracula with an adaptation by Theatre professor Brian Richmond for an online reading that includes alumni Victor Dolhai (BFA '07), Kholby Wardell (BFA '08), Laura-Jane Tresidder (BFA '15), Paul Fauteux (BFA '94) and previous student Jacob Richmond. Readings are in two parts ("In Black" and "In White") running October 29 -31.
Alumni Mack Gordon (BFA '08) and Ming Hudson (BFA '07) have teamed up to perform in a virtual audio drama of A War of the Worlds that Gordon helped adapt from the novel by HG Wells. Set in 2021 in Chicago (where Gordon's company Theatre in the Dark is located), the online production includes performers from Vancouver, Chicago, and New Orleans and runs until November 21 at 6pm (PST). Gordon, now living back in Vancouver during the pandemic, was recently interviewed by Vancouver Presents.
Charles Ross (BFA '98) will perform his one-man parody of the hit Netflix series Stranger Things both streaming online and in person as a fundraiser for his friends and co-alumni at Theatre SKAM. One Man Stranger Things (A Parody) runs live on November 6 online, however, for every $20 donated prior to November 5, you will be entered to win exclusive in-house tickets for the live show.

Phoenix Phacts: Alumni Appointments, Awards, and Opportunities
Congratulations to recent grad Taiwo Afolabi (PhD '20) for his appointment to the University of Regina's Faculty of Media, Art and Performance as assistant professor of Socially Engaged Creative Practices. In August, he appeared on the OMNI TV program New Canadians as part of a panel discussion on how his experience as a UVic Crossing Borders Scholar provided opportunities to find connections in the community. He also spoke as part of the Creative Mornings series about the artistic process entitled "Stress: To Peel or Not to Peel?" Taiwo leaves Victoria as well as his position as the Manager of Artistic and Community Engagement with the Belfry Theatre, but not before sitting down for a video chat with artistic director Michael Shamata about his time at the Belfry.

Watch for alumna Emily Piggford (BFA'11) on your TV screens this fall as she plays Esther Ishikawa, the excessively efficient forensic accountant in CBC's latest hit miniseries The Sounds.
Emily traveled to New Zealand last year to shoot this psychological thriller that you can also watch on CBC Gem. You may also recognize Emily from her roles in The Umbrella Academy, Warigami, or That's My DJ. You can watch The Sounds online for free on CBC Gem.

The Belfry Theatre's Incubator program encourages and nurtures local theatre artists to develop new works, and this year they have expanded to include as many artists as possible. We're proud to see many current Theatre students and alumni as part of this program, including Hannah Mariko Bell (BFA '19), Bragi Theatre (including Nicholas Guerreiro (BFA '18), Annie Konstantinova, and Julie McGuire); Impulse Theatre (with Andrew Barrett (BFA '12) and Patricia Reilly (BFA '11)); The Fear Projects (with Molly Beatrice (BFA '19), Emily Hay (BFA '20), Hailee Jake Friesen (BFA '20), and Alexander Moorman (BFA '20)); Collectivus Theatre (with Ellery Lamm (Writing MFA) and Anna Marie Anderson (BFA '18)); and Rage Sweater Theatre (with previous students Monica Ogden and K.P Dennis). Victoria can anticipate an amazing array of interesting projects that will grow out of this important initiative. Thanks Belfry!
This summer, current student Justin Francis Lee began assisting as the Project Coordinator for The Canadian Play Thing. Instigated in March by alumna and playwright Janet Munsil (BFA' 89), The Canadian Play Thing has presented 60 live readings with more than 300 actor-readers. This fall they partnered with Intrepid Theatre and UVic Coop to further support his role, for which Justin has developed new programs like The Apartment of Writing, where four UVic writing grads developed a script for the four-episode audio-drama called A Way Out (which will be recorded in November) as well as the Playwright2Playwright series, where emerging and established playwrights read from their work and interview each other (supported by the Playwrights Guild of Canada). Theatre alumna Lauren Frost (BFA '20) has also been assisting The Canadian Play Thing as the Outreach Coordinator.
Congrats to Theatre SKAM for winning the CRD Arts Commission Regional Impact Award at this fall's Victoria Regional Arts Awards for their amazing outdoor SKAMpede Festival. This $5000 prize, recognizing outstanding impact made by a local festival, event, or organization, was presented to their Production Manager and recent alumnus Logan Swain (BFA '20) (shown below). A special thank you to Phoenix alum, SKAM's Artistic Producer Matthew Payne (BFA '93) for making an impact on so many Phoenix alumni by hiring and mentoring dozens and dozens of our theatre artists over
SKAM's 25-years history.
Other awards given out at the October 3rd online event include two Critics' Choice Awards for Theatre Inconnu's production of Curious Incident of the Dog in the Night-Time with alumnus Clayton Jevne as Artistic Director and The Amplify Award to Atomic Vaudeville with alumni Britt Small (BFA'98 / MFA '04) and previous student Jacob Richmond.
Also at the Victoria Regional Arts Awards, Acting Dean, Allana Lindgren announced the creation of the Faculty of Fine Arts Student Community Impact Award by the Dean's External Advisory Committee (DEAC). This annual award recognizes a full-time undergraduate student in Fine Arts who demonstrates either exceptional individual achievement or an outstanding effort within a local arts organization. Our faculty and readers of this eNews will be aware that our Fine Arts students play an important role in Victoria's arts scene and many begin or live out their professional careers here in Victoria.
And for even more awards, at the 17th annual Victoria Book Prizes ceremony, Theatre and Writing alumnus and current Writing instructor Mark Leiren-Young (BFA '85) won the Children's Book Prize for Orcas Everywhere: The Mystery and History of Killer Whales.
---
Don't forgot to join, like and follow us on Facebook, Twitter or Instagram – for more Phoenix, alumni and theatre-based stories.
---
Supporting our Students Kudos:
An amazingly huge THANK YOU to the Phoenix Theatre's many individual donors and corporate sponsors for their support of our programs and talented students! Find out how your company can reach our 10,000 audience members and UVic community of over 25,000. Contact us to discuss a customized sponsorship package to meet your goals.
---
Phoenix eNews is a regular email magazine for those interested in the Phoenix Theatre, the not-for-profit productions at the University of Victoria's Department of Theatre, PO Box 1700, STN CSC, Victoria, BC, V8W 2Y2 Canada. The University of Victoria is a Registered Charity. Charitable Registration No. 10816 2470 RR0001
If you no longer wish to receive this newsletter, click here and enter your address and click Un-Subscribe. A confirmation message will be emailed to you. You can reply to this message to confirm that you want to be removed from this mailing list. This message also has a link that you can click on to complete the removal process.