If this email does not display properly, please see our website phoenixtheatres.ca
eNews | Behind the Scenes | 2021 Season | Phoenix Phacts | Perks | Kudos
---
eNews:
Returning to the "Classroom" with new ways of teaching
Walking through the halls of the Phoenix building, the Department of Theatre is missing some of the hustle and bustle of other years. But behind the passing masked faces and closed doors sporting notes that say "I'm in a Zoom class!" there's the evidence of ingenuity and a tightknit community that's familiar to those who know how resilient theatre practitioners are.
While most classes at UVic have moved to online learning, the Department of Theatre has been given permission for many of our essential, experienced-based courses to return to the classroom under strict health and safety work plans. Other larger theatre courses are taking advantage of current technology to expand on usual classroom opportunities with national guests and new high-tech, virtual platforms.
Professor Jan Wood's third-year acting class, comprising of 12 students, has moved into the much-larger stage of the Chief Dan George theatre to allow for maximum distancing while they practice their craft. Applied Theatre Prof. Yasmine Kandil is also working in-person with her second-year students on their projects in the McIntyre Studio. "The students are thrilled and very appreciative to be working face-to-face," says Kandil. "They are relishing the experience of being together, relating to one another, and able to savour the embodied form of expression."
Meanwhile, the fourth-year Canadian Theatre History course, has drawn almost 60 students from Theatre and across campus into Prof. Sash Kovacs's virtual classroom. Kovacs has used the necessity of teaching on Zoom as an opportunity to break traditional geographic restraints by bringing prominent Canadian theatre artists from across the country to zoom into her virtual classroom. Guests include the recently Siminovitch-nominated playwright and director Tara Beagan (of the Indigenous arts company Article 11); as well as the previous Siminovitch recipient, director, creator and mentor, Maiko Yamamoto (of Theatre Replacement); and artistic producer and director Cole Alvis (of the Dora-nominated queer theatre company lemonTree creations and manidoons collective); artistic director and disability advocate James Sanders (of Realwheels Theatre), and Dora Mavor Moore Award-winning director and dramaturge Nina Lee Aquino (of Factory Theatre).
Kovacs worked with Belfry Theatre Artistic Director Michael Shamata to integrate the previously established in-person Belfry@UVic series into her online class. Now in its third year, this series has brought over two dozen visiting Belfry playwrights, directors, designers, actors and others into the Phoenix to engage with our students, from some of Canada's most successful actors like Martha Burns and Benedict Campbell, to up-and-coming playwrights like Matthew MacKenzie with his hit show Bears, and the much-lauded design team for The Ministry of Grace, Andy Moro and Jeff Chief (which just won Victoria's Critics' Choice Outstanding Design Award).
Inspiring student feedback quote?
Likewise, technical theatre lab instructor Simon Farrow has embraced very new technology for his lighting courses – so new, that the tech company Electronic Theatre Controls just released their new EOS Nomad program with Augment3d. This software allows students to remotely program and visualize their lighting designs from home on their own computers, from a basic understanding of lighting directions and colour blending at the first year level, to complex lighting designs for a 3D version of the Bishop Theatre for his third year students.
When he learned that the Phoenix's actual technical equipment could not be safely sanitized between use by different students without potentially causing damage, Farrow was excited about the new software that could make sure our technical students would not miss out on this important opportunity. "Focusing on the software design and visualization now will help our students keep right on track when we can again work together in the theatre," says Farrow.
Planning for a Spring Season 2021
The department is also looking towards the spring of 2021 with hopeful plans of offering a shortened season for audiences, whether in person or over of two plays so that our third and fourth year students can earn the necessary performance, design and production credits required for their degrees. Currently, directors are working to carefully choose plays with small casts for each individual acting class so that distancing and class bubbles can be maintained through the performance process.
Ideally, we will be able to invite you, our audiences, to share in the magic and community that a live performance creates. Hopefully we can welcome some of you into the theatre with strict safety protocols, including limited and distanced seating, enhanced cleaning, and masks worn by all Front of House personnel and audience members. However, there may also be a possibility that we can only include audiences virtually by streaming the performances online.
We want to hear from you about your preferences for attending a play at the Phoenix and whether you are interested in attending in person or streaming online Please help us and share give us your feedback by filling out this short survey: https://finearts.uvic.ca/forms/phoenixaudiencesurvey
Your guidance will help us develop our plans for next term.
We also rely on the support of our regular ticket holders and donors to offset the costs of making theatre. These costs, while different this year, will not be any less than previous years. Please consider supporting the Phoenix as you might have in previous years so the quality of our students' education can be maintained through these trying times.
Contact us:
Please note that our campus Box Office is currently closed, however, our Audience Services Manager, Sandra Guerreiro, is working safely at home and can be reached by leaving a voice message at 250-721-8003 or emailing her at sguerrei@uvic.ca.


Support our students:
Participating in the process of creating theatre is fundamental to our students' education – whether or not our audience members are are able to witness the end result. Your support assists with the expenses of making theatre and helps us maintain this essential part of our curriculum for our students. Or, consider giving directly to the students who are struggling during this crisis.
While you can't be with us at the Phoenix right now, you can look back on our past shows in our online archives. Pick a season and a show and scroll down to see the photo gallery... including the full gallery for our cancelled performance of The Children's Hour March with gorgeous photos by Dean Kalyan.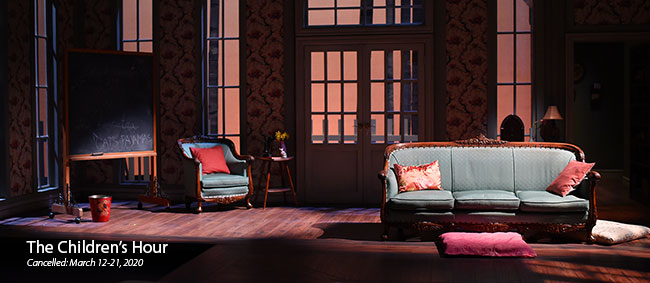 ---
Phoenix Phacts:
Online Activities, Readings, Performances & More
With our theatres and theatres everywhere standing empty right now, artists across the world are still busy writing new material, workshopping new plays and live streaming performances. Their art is greatly needed in the world today and is helping to bring solace during troubling times.
Phoenix alumni are also creating, performing, and participating in online streaming activities. Here's a few places to watch so you can connect with these artists.
The Fine Art's blog has transformed over the last month or so to become the go-to place for arts news, music performances, student book and play readings, and lectures on everything from art history to theatre. New issues of The Fine Arts Connector are posted just in time for the weekend each week, so check back often. In the meantime, listen or watch these lectures from some of our past plays or guest artists in the Orion Series in Fine Arts.
Here are some theatre highlights from the past few issues:
WEEK 6: Creative Placemaking:
A video of a panel lecture with Nathan Medd (Banff Centre for the Arts), Janet Munsil (Playwright and previous Artistic Producer of Intrepid Theatre and Victoria Fringe) and Kevin Kerr (UVic Writing Professor, playwright and Co-founder of Vancouver's Electric Company), moderated by Ian Case. (scroll to very bottom of post)


WEEK 5: The Drama of Working Across Difference with Marcus Youssef, playwright, writer and Artistic Director with introduction by Prof. Kevin Kerr (scroll to very bottom of post)


WEEK 3: Seven Stories about 7 Stories a lecture by Theatre & Writing alumnus Mark Leiren-Young, playwright, journalist, author, filmmaker and podcast creator who discusses the significance, history and secret origins of Morris Panych's masterpiece "7 Stories" during the play's 30th anniversary. (scroll down to third to last story)


WEEK 3: Comic Potential, sci-fi and speculative fiction a lecture by UVic Sociology adjunct professor Dr. Edwin Hodge about the importance of sci-fi and other speculative fiction in exploring the human condition. (scroll down to second to last story)


Looking for some inspiration? Maybe physical break to keep healthy, or maybe a mental break from your day in your new at-home office. Check out the University of Victoria's The Great Indoors, a place to experience the vibrancy of UVic's active academic community several different categories with lots of fun stories:
With so many inspiring stories, The Great Indoors hopes to help you and your family flourish during these times of self-isolation.
The National Arts Centre in Ottawa is collaborating with sponsors to support artists during the pandemic and bring their incredible talents to the screens of the nation. With $700,000 of short-term funding going directly to participating artists through a $1000 grant, artists are presenting their plays, music, book and poem readings, children's entertainment and workshops by live streaming on their own Facebook pages and through the NAC's social media. Several Phoenix artists are coming up in May. Watch for:
Still/Falling
presented by Green Thumb Theatre (by Rachel Aberle) with video design by alumnus Cameron Fraser, on Thursday, May 7.


Destiny, USA
by almuna Laura Anne Harris (shown right) on Wednesday May 13 at 11:30pm (PST) (Note that this show was presented at the Belfry's Spark Fest briefly this spring.)


Epidermis Circus
by SNAFU Society of Unexpected Spectacles, featuring alumna Ingrid Hansen and Kathleen Greenfield, on Thursday, May 14 at 7pm (PST)
The brain child of Phoenix alumna and playwright Janet Munsil, The Canadian Play Thing is an incredible initiative that shares live readings of new and under-produced Canadian plays online, helping the theatre community across Canada to connect and celebrate our playwrights. New or new-ish works can be submitted to be read (a crucial element in new play development) and audiences can join in and watch/listen along. Plays by several alumni are coming up, but many of the actors/readers and stage management team are also students or alumni so there will definitely be faces you might recognize!
Spin the Bottle
by recent grad Ciaran Volke on Saturday, May 9 at 7:30pm (PST)


Chrysothemis
by almuna Meg Braem on Sunday, May 10 at 2pm (PST)
And don't forgot to join us and like and follow on Facebook – or Twitter or Instagram – for more Phoenix, alumni and theatre-based stories.
---
Supporting our Students Kudos:
An amazingly huge THANK YOU to the Phoenix Theatre's many individual donors and corporate sponsors for their support of our programs and talented students! Find out how your company can reach our 10,000 audience members and UVic community of over 25,000. Contact us to discuss a customized sponsorship package to meet your goals.
---
Phoenix eNews is a regular email magazine for those interested in the Phoenix Theatre, the not-for-profit productions at the University of Victoria's Department of Theatre, PO Box 1700, STN CSC, Victoria, BC, V8W 2Y2 Canada. The University of Victoria is a Registered Charity. Charitable Registration No. 10816 2470 RR0001
If you no longer wish to receive this newsletter, click here and enter your address and click Un-Subscribe. A confirmation message will be emailed to you. You can reply to this message to confirm that you want to be removed from this mailing list. This message also has a link that you can click on to complete the removal process.