Vocal Jazz in the spotlight
This week's musical break features the UVic Vocal Jazz Ensemble in their 2019 Autumn Showcase. Recorded in the School of Music's Phillip T Young Recital Hall on November 24, it was sadly the final concert of the academic year by the group, as their Spring Showcase was cancelled due to COVID-19.
Under the direction of Music professor Wendell Clanton, the Vocal Jazz Ensemble has established a reputation for artistic excellence, stylistic flexibility and performances of original and inspiring arrangements. (You can check out the Vocal Jazz blog for more details.) "May any temptation to disappointment at the cancellation of the Spring Showcase be accompanied and transformed by the recognition of your artistry and enthusiasm, your skill and achievement which is undiminished by adversity," writes Clanton to the ensemble. "Please take a moment for yourselves to reflect on the joy you have brought to others through your music."
Members of the 2019/2020 Vocal Jazz Ensemble include Aaron Ruddell, Allie Bertholm, Andrew Wolf, Anton Sokalski, Ben Mendes, Brendan Ciccone, Brittnie Spriel, Cassidy Stahr, Clay Dowdell, Chris Clarke, Connie Goetz, Davey Bastin-Decaste, Dilly Cooner, Fionalee Lustado, Ila Zbarsky, Ken Kosowick, Katherine Allen, Lindsey Bellman, Megan Handley, Noah Mellemstrand, Odyn Mulder, Patrick Schjelderup, Sophie Groves andVictoria Jackson. Special guests at the Autumn Showcase included James Waddell, Rachel Burtman (bass), Noah Mellemstrand (violin) and Allie Bertholm (trumpet).
Exhibit closed, video live
Like so many artists right now, all of the current exhibitions by Department of Visual Arts professor Kelly Richardson are currently closed—and, for Richardson, that translates to the loss of three international exhibits, both solo (Attenborough Art Gallery at the University of Leicester) and group (Trondheim International Biennale for Art and Technology, Hestercome Gallery).  
But fortunately, the Hestercombe Gallery in Taunton, England, have produced this video that speaks to the work and context of their now-closed exhibition Most Admirably Improved By Art, which was due to run until June 28, 2020. Richardson's "Orion Tide" was featured alongside work by Charlotte Hodes, Rebecca Partridge and Fiona Hingston, as well as original works by 18th century English artist Coplestone Warre Bampfylde (Hestercombe's former owner). The exhibit was intented to build links between Bampfylde's Georgian endeavours and the concerns of artists today.
As Art Toronto noted, "Drawing from the aesthetics of cinema and dystopian stories, Orion Tide presents a Roswell-esque desert with spurts of light and smoke repeatedly taking off into the dark night sky, resting somewhere in the territory between science fiction and biblical wraths."
While Richardson's HD video installation may seem an unusual juxtaposition alongside paintings, sculpture and ceramic installation, Most Admirably Improved by Art brought together four contemporary artists who, like Bampfylde, began their careers drawing and painting, and now through a range of media respond to the landscapes and the environment of today, inspired through the history of art.
You can watch the eight-minute video here.
Writing student readings
Among the many, many end-of-year events cancelled in Fine Arts this spring was the annual launch party for issue 18 of This Side of West, UVic's undergraduate writing journal. But since the live readings couldn't happen, four of the contributing Department of Writing majors—Brianna Bock, Chloe Cookson, Bryant Linton and Tosh Sherkat—took the plunge and offer at-home digital readings of their work instead. Click on the playlist to watch them all.
No word yet on whether the new issue made it to the printers in time, but it's usually for sale at the UVic Bookstore.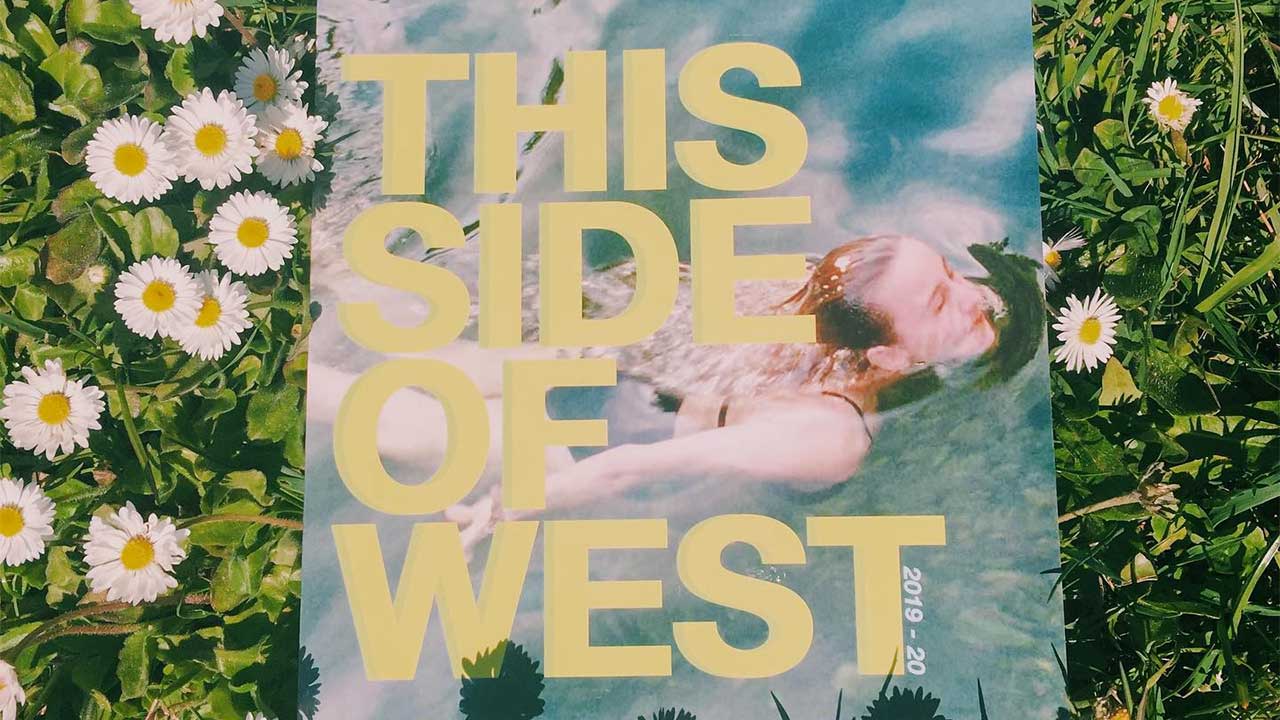 Gateway to art—and art history
If you've ever wondered what it is that art historians actually do, the Department of Art History & Visual Studieshas kicked off a new website aimed at exploring exactly that: Gateway to Art offers a layperson's look at the objects and ideas that inspire UVic's art historians. But while the idea had been germinating with AHVS chair Marcus Milwright for a while now, ironically it took the COVID-19 crisis to bring it to fruition.   
"I've always been interested in finding ways for people to engage with art history, but this came about because I was stuck at home and was trying to think what I could do with a laptop and the objects I'm interested in," says Milwright.
The new website also features a section titled Talking About Art, a series of short audio explorations of objects reflecting the various areas of research and teaching in AHVS. Ranging from the everyday (bricks, coins, maps, bowls) to the more esoteric (medieval architecture, an ancient act of iconoclasm), each 7-10 minute talk explores the central idea of what art is trying to tell us.
"We can draw out narratives from objects—what they were made from, who made them, the context of why such things were done," explains Milwright, who is both an archaeologist and art historian. "Simple objects can be really fascinating when you pull out the details; it's not just about the practical things they do."
He points to an inscribed ceramic jug from Raqqa as an example. "Someone chose to write an entire section of the Koran around the surface of it in ink, and then it becomes something entirely different—it transforms."  
Still in its early days, Milwright is working on a set of contributor guidelines for his teaching faculty and is considering future contributions from the likes of frequent AHVS colleagues in UVic's Legacy Gallery, Special Collections and possibly the Art Gallery of Greater Victoria.
"The whole point is showing why the arts are important, whether studying it or creating it."
Watch for further developments to Gateway to Art in the months ahead. But for now, be sure to take a crack at Milwright's Stay-at-Home art history visual quiz on the site: it's sure to keep you puzzling while you attempt to solve it.
Unglazed ceramic jug excavated in Raqqa, Syria. Late eighth or early ninth century. Raqqa Archaeological Museum
Creative placemaking 
From the nation's capital to one of the world's leading creative spaces, the career of Department of Theatre alum Nathan Medd (BFA '01) has gone far and fast since his graduation. Named the 2019 Distinguished Alumni Award recipient for the Faculty of Fine Arts, Medd has been making a name for himself as one of Canada's brightest young arts leaders.
Devoted to developing the performing arts in Canada, Medd is currently Managing Director of Performing Arts for the Banff Centre for Arts and Creativity—the nation's largest arts training institution and incubator of new works—a position he took up in August 2018. Prior to that, he was the Managing Director of English Theatre at the National Arts Centre, where his team successfully championed Canadian creators and initiated a new national stage for Indigenous performance. 
But prior to those key positions, he was Managing Producer of Vancouver's Electric Company Theatre, where he produced original works for Vancouver's 2010 Cultural Olympiad and co-founded Progress Lab 1422, the performing arts creation studio in East Vancouver, in 2009. And before that, he was the Operations and Development Manager for Victoria's Intrepid Theatre, where he co-founded Metro Studio — still a flagship venue for Vancouver Island — and also held positions with both the BC Arts Council (programs officer and policy analyst) and the Belfry Theatre (front of house manager), where he started right out of university.
In this video about the importance of creative placemaking (recorded in the Bishop Theatre in February 2019 as part of UVic's Alumni Week activities), Medd is joined by fellow Theatre alumni and Metro Studio co-founders Ian Case and Janet Munsil, plus Writing professor Kevin Kerr, co-founder of Vancouver's Electric Company.
"My work these past 10 years has been about building infrastructure and altering practices that were built in the 1960s but no longer serve everyone who wants to work in or attend the arts," Medd explains. "It's not just a question of physical space, but programmatic space too . . . we're making space for communities I wasn't thinking of 10 years ago. With NAC, it was the idea of becoming the living room of the capital: you start with the idea that we're all artists and we all need a space to be creative."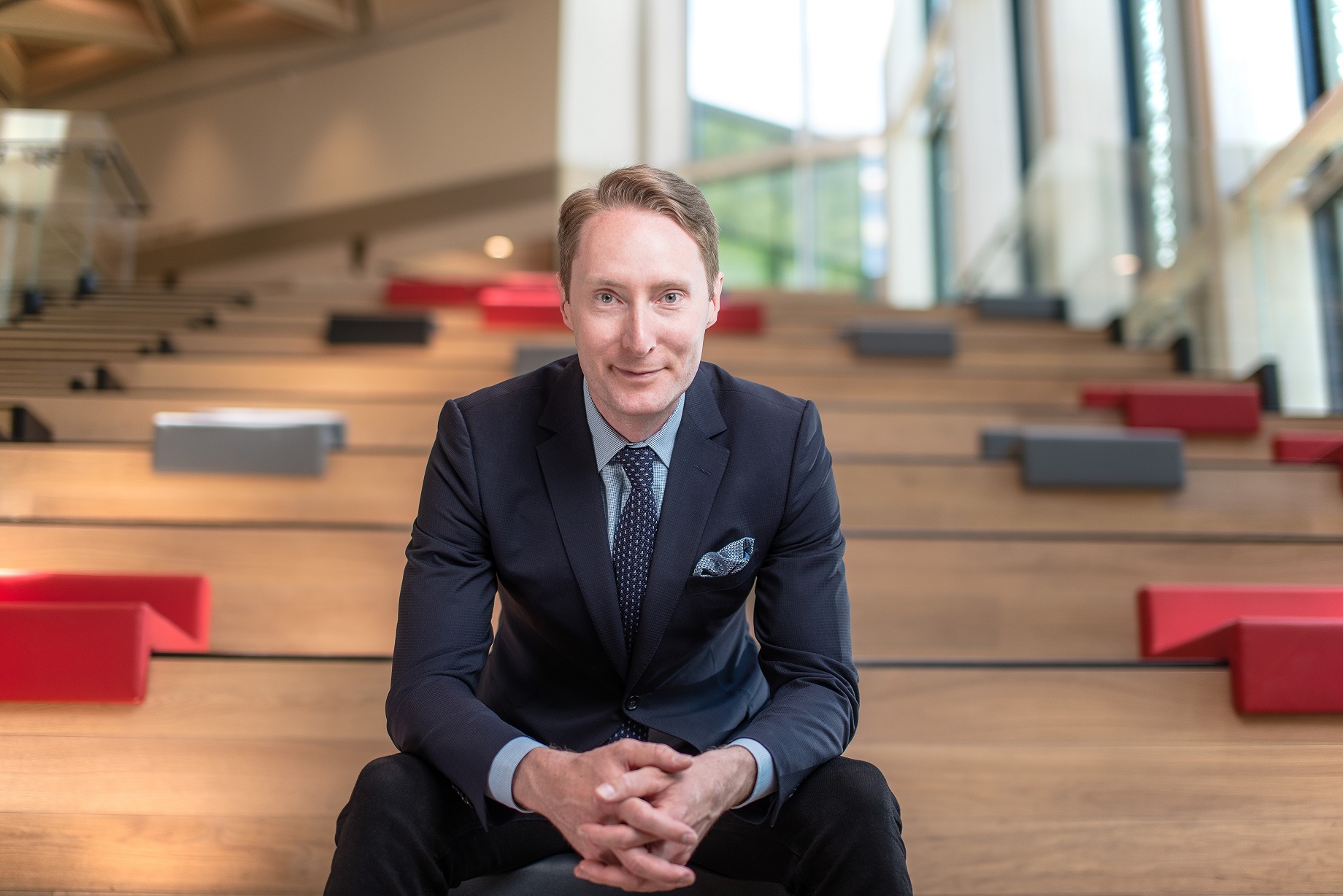 Distinguished Alumni Award recipient Nathan Medd
More to come weekly
We'll be posting more content from our faculty, students and alumni each week—be sure to check back!