UVic Music e-Pulse Mar-Apr 2018
---
**EVENT UPDATES**
PLEASE NOTE THE FOLLOWING CHANGES
TO OUR EVENT SCHEDULE:
Cancelled:
Student Composers Concert
Thursday, March 8
Time Change:
Cello Studio Recital
12:30 p.m. (from 2:30 p.m.) on Saturday, March 10
Rescheduled:
Stephanie Chua, piano & Véronique Mathieu, violin
This event was previously rescheduled to January 22-23
(from March 23-24).

For details and the most up-to-date schedule of events,
please visit our events calendar.

Global recognition for Dr. Biró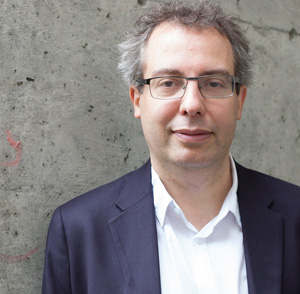 Congratulations go out to Dr. Dániel Péter Biró on being featured in the publication Canadian Excellence, Global Recognition: Canada's 2017 Winners of Major International Research Awards, published by Universities Canada. Biró is both the only UVic professor in this prestigious group and the only art researcher. His profile is titled "Researching history through musical composition" and is hooked to his recent Guggenheim Fellowship.


---

String quartets at UVic: A musical continuum
The School of Music has a history of producing outstanding string students—helped along in no small measure by the Lafayette String Quartet, who have been artists-in-residence here since 1991. Discover the next generation of outstanding string talent with Cuarteto Chroma, Canada's first graduate string quartet. The Ideafest event, String Quartets at UVic: A Musical Continuum, offers an interactive performance where Cuarteto Chroma invites the audience to make suggestions on how they should perform a particular piece—deciding things like tempo, vibrato and balance—allowing the audience to hear the effects their choices have on the musical outcome.
Afterwards, Chroma will join the LSQ for an informal Q&A session, followed by a masterclass for UVic string students. A Musical Continuum runs from 11 a.m. to 2:30 p.m. on March 6, in the Phillip T. Young Recital Hall and MacLaurin B037.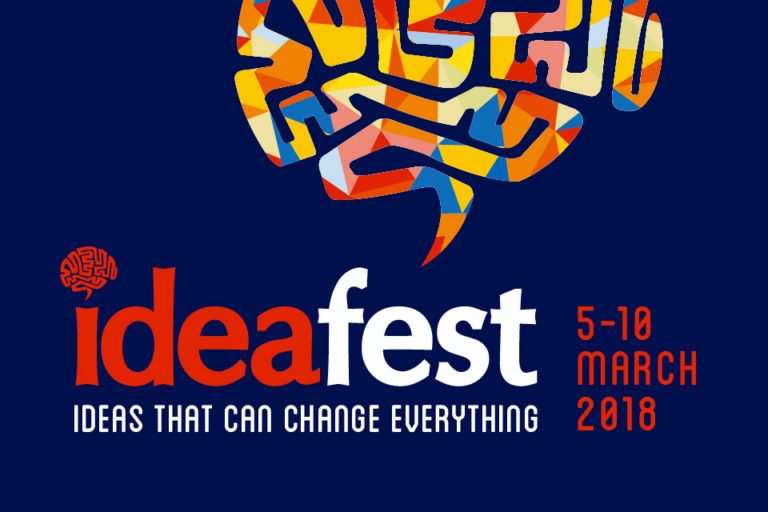 Ideafest 2018 offers the chance to explore the vast and diverse range of research and creative activity happening at UVic. Rightfully described as being about "ideas that can change everything," UVic's week-long festival of research, art and innovation runs March 5-10 and features over 40 events including Beyond the Digital Frontier: Exploring Digital and Interactive Media in the Arts on March 7 from 5-6 p.m. in the Fine Arts Building. From virtual-reality filmmaking and innovations in digital art to the recording studio with Kirk McNally and Vancouver rockers Bend Sinister, find out how UVic's Faculty of Fine Arts is a leader in 21st century creativity at this interactive, drop-in, self-guided exploration event.
All Ideafest events are free and open to the public.

---
On Stage

Guest concerts bridge old and new
Two guest concerts on March 3 offer a modern twist on some baroque music and instruments.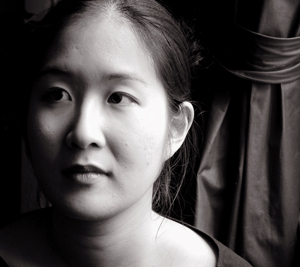 Teddie Hwang has dedicated herself to historical music performance. Fascinated by the timbral and vocal qualities of the traverso (baroque) flute, her concert on March 3 with lutist August Denhard—entitled Of Arcadian Love, a Flute-Playing King, and Parisian Fishwives—will draw inspiration from historical sources as well as the contemporary world. "The music reflects on aspects of love, childhood fantasies, and life's struggles, themes that engage us humans regardless of time or geographical boundaries," describes Hwang. Between pieces, Hwang's unique storytelling will be the silver thread that "takes the audience to places there and here, to times then and now." Hwang and Denhard will also lead individual masterclasses with students from 10-11:45 a.m. on March 3. Their concert will start at 12 p.m. All are welcome to attend.
As a 21st century trumpet player, Amy Horvey (BMus '02) is inspired to wear many hats. A baroque and modern music specialist, Horvey will demonstrate her range of repertoire in an Orion Series in Fine Arts concert at 8 p.m. on March 3 entitled Works Not Written by Men.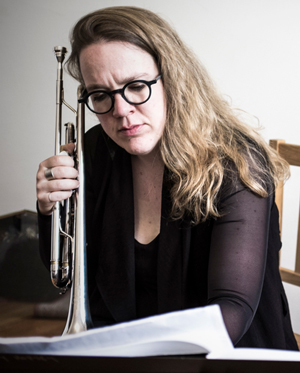 Joined by Douglas Hensley on theorbo, Horvey will perform a recreation of Barbara Strozzi's Sino alla morte. Strozzi was one of only a few women in the 17th century to publish their own compositions. Horvey's arrangement for modern trumpet pays homage to Strozzi and her endeavors to enrich the nascent repertoire of solo works for trumpet by women composers. Also on the program is Música invisible by Argentinian composer Cecilia Arditto. A musical representation of painting techniques from the works of Leonardo da Vinci, this piece uses quotes from the painter's notebooks as well as from Italian opera. Anna Höstman's (MMus '05) Interview is, similarly, a musical portrait of Edna White, an American trumpet player, bandleader, and composer. Höstman's composition addresses her near-forgotten history as the leader of one of the first successful all-female bands, and the first trumpet player to give a recital at Carnegie Hall.
Active as a creator/interpreter of new and experimental music and a researcher of the baroque trumpet, Horvey performs with the Montreal Symphony Orchestra and has appeared at many major festivals including the Montreal Baroque Festival and the Festival of New Trumpet Music.

---
Spotlight on 2017 Concerto Winner Iris Hung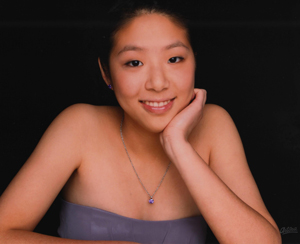 Iris Hung began playing the piano at the age of five after learning Hot Cross Buns (on two fingers) from her older sister. Since then, she has learned to use all of her fingers and greatly expanded her repertoire, which now includes Ravel's Piano Concerto in G Major, which you can hear her perform with the UVic Orchestra on March. 9.
Hung, a fourth-year School of Music piano performance major studying with May Ling Kwok, was a 2017 UVic Concerto Competition Winner. No stranger to the stage, Iris was a featured soloist for "Spark to Flame," the Victoria Conservatory of Music's Senior Concerto Showcase, and was awarded second place in the Don Chrysler Concerto Competition, both in 2016 for her performance of Mozart's Piano Concerto No. 17 in G Major. Besides music, Iris enjoys reading, writing, wandering around the world, meaningful practice-hallway chats, and the sound of snow falling on snow-covered earth.
Check out the short video below to hear Iris talk about Ravel's jazz-infused concerto and play a few excerpts.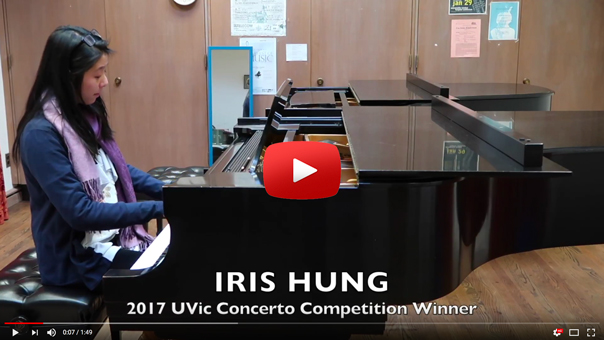 The UVic Orchestra concert on March 9, conducted by Ajtony Csaba, will also include Beethoven's Symphony No. 8, one of the shortest yet most compelling symphonies of the 19th century

---

Vogt interprets spiritual journey of Franz Liszt
Pianist Bruce Vogt has established himself as a leading interpreter of Franz Liszt. In a Faculty Concert on March 10, Vogt will examine the composer's life-long quest for spiritual expression with a program of Liszt's masterpieces, from his middle years to the haunting late works.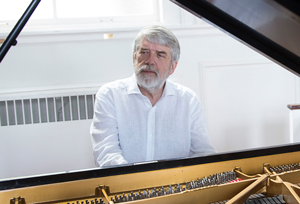 Liszt—along with Chopin and Schumann—has been described as the great poet of the piano. While his pianistic innovations long dominated his reputation, "Liszt's greatest achievement is to be found in the essence of his visionary compositions themselves," says Vogt, Professor of Piano at the School of Music. Liszt's Franciscan Catholicism was a profound inspiration throughout his life and remained at the core of his spiritual journey, "yet his vision goes far beyond any particular set of beliefs," describes Vogt. Of his late works, the composer not only anticipated the direction music was to go, Vogt says they seem to "suggest a courageous and unrelenting gaze into the abyss, where he finds much beauty as well as terror."
The concert program—which will be presented in six chapters, from "Religious Iconography" to "Transcendental Vision"—will feature selections from Deux Légendes, Études d'exécution transcendante, Harmonies poétiques et religieuses and Historical Hungarian Portraits, among others.

---

A grand Finale for Wind Symphony maestro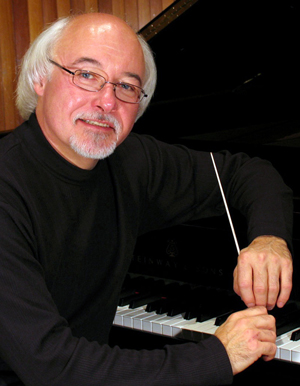 For the past 29 years, Dr. Gerald King has been the primary conductor of UVic's highly praised Wind Symphony. He will step up to the conductor's podium for the last time as maestro with the ensemble on March 23. The beloved conductor and music educator prepares to pass on his UVic baton when he retires from the School of Music in June.
The program for this special concert includes works significant to both the Wind Symphony and to Dr. King. "These are works which I consider to be cornerstone pieces. They are not necessarily all incredibly profound, but they have contributed to the growth of the Wind Symphony and have very personal meaning for me," describes King. This includes Fantasia on Klezmer Themes by Russian-Canadian composer Airat Ichmouratov, which he recalls "the audience went wild for when we performed it in 2013." Clarinetist Patricia Kostek—who retired from the School of Music at the end of 2017 after 28 illustrious years at UVic—will return for the encore performance. As colleagues, the two have collaborated extensively (clarinet is also King's instrument), so it was fitting to bring the piece back to the stage in March with Kostek. Other works on the program include Jack Stamp's Gavorkna Fanfare—a nonsense title that King conducted in his very first concert with the Wind Symphony—as well as Lux Aurumque by Eric Whitacre, LOL by Robert Buckley, A Movement for Rosa by Mark Camphouse, and others.
The UVic Wind Symphony is recognized as one of the premiere performing wind ensembles in the Pacific Northwest and among the finest University Wind Ensembles in Canada—much of that credit goes to Dr. King's expertise, commitment to the students, and sometimes tough love approach to teaching. "His seriousness encouraged us to put in maximum effort," recalls Shannon McCready (BMus '02). "He had very high expectations, which let us know that he believed in us, sometimes more than we believed in ourselves." School of Music alumna, Cooper Reed (BMus '17) feels especially grateful for all of his words of encouragement and support. "I have had so many wonderful performance opportunities since graduation because he gave me the confidence and tools I needed to be a successful musician," says Reed.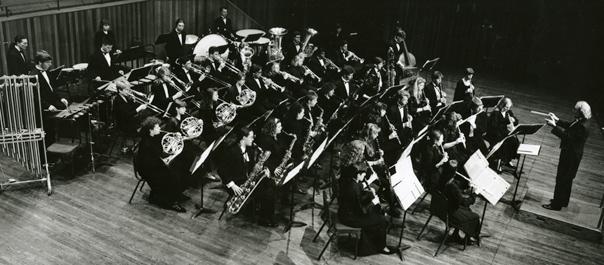 His work with the Wind Symphony is but one of the legacies he will leave behind. Dr. King started his teaching career at UVic 30 years ago in the Faculty of Education. His appointment as conductor of the Wind Symphony in 1989 was the first of many stepping stones in his vision to see Music Education formally housed in the School of Music. This became a reality in 2014 following King's two terms as the school's Director.
The Music Education program is nationally recognized and many of the provinces elementary and secondary school music educators were students of his. "I owe Dr. King so much for helping shape me into the music educator I am today," says Cameron Kenis (BMus '15), band and musical theatre teacher at Abbotsford Traditional Secondary School. "He has influenced my teaching is so many ways and I thank him for it!"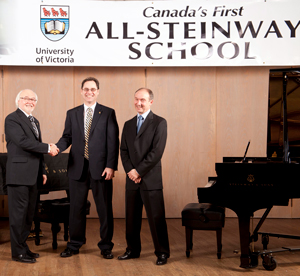 During his directorship, King was also instrumental in UVic's designation in 2008 as Canada's "first and only all-Steinway school," leading the campaign to equip all School of Music classrooms, practice studios and concert halls with over 60 Steinway pianos. Steinway pianos are known for their outstanding acoustical and performance properties and the opportunity to play on the best pianos in the world puts UVic students at a tremendous advantage.
King describes his upcoming retirement as bitter sweet. "I love the students and faculty that I've worked with over the years, but the new horizons are also very exciting," says King, who already has engagements in his calendar for guest conducting and adjudicating, keynote speaking, and working with graduate students at other institutions. "The biggest change will just be my office," remarks King.
Don't miss maestro King's Finale concert with the UVic Wind Symphony on March 23 in the University Centre Farquhar Auditorium. It is sure to be a memorable evening!

---

Calendar quick-fire
More event highlights for March and April:
SATURDAY, MAR. 10, 2:30 PM | Chapel of the New Jerusalem, Christ Church Cathedral (By donation)
UVic Voice Department presents: Fa una canzona!
Singing songs from the early music repertoire by Monteverdi, Scarlatti, Handel and others.
FRIDAY, MAR. 16, 8 PM | P.T.Young Recital Hall ($10-$20)
UVic Jazz Ensemble: Dizzy and Monk 101
Celebrating the 101st anniversary of the births of jazz innovators Dizzy Gillespie and Thelonious Monk with their best-known works alongside some of their hidden gems.
SATURDAY, MAR. 17, 3:30 PM | Christ Church Cathedral (By donation)
UVic Chorus & Chamber Singers: Celebrating the Luck of the Irish
A festive concert of choral music celebrating St. Patrick's Day.
SATURDAY, MAR. 17, 8 PM | P.T.Young Recital Hall (By donation)
Sonic Lab
UVic's experimental music ensemble presents works from our time.
SUNDAY, MAR. 18, 2:30 PM | P.T.Young Recital Hall (Free)
Thank-You Concert
The School of Music says "thank-you" to our concert-goers, the community, and supporters with a delightful afternoon of music featuring some of the School of Music's most exceptional students. All are welcome to attend! Reception to follow.
SUNDAY, MAR. 25, 7 PM | P.T.Young Recital Hall (By donation)
UVic Vocal Jazz Ensemble: Spring Showcase: Memories
A fun-filled evening of vivid reminiscences captured by ensemble vocalists and instrumentalists, featuring original arrangements and timeless classics.
THURSDAY, APR. 5, 8 PM | Farquhar Auditorium ($10-$20)
Don Wright Symphonic Winds
Featuring student musicians from all across the UVic campus performing concert band repertoire.
SATURDAY, APR. 7, 8 PM | Farquhar Auditorium ($10-$20)
UVic Orchestra: 50th Anniversary Season Finale
Performing Elgar's Cello Concerto in E Minor, Op. 85, featuring UVic Concerto Competition winner Claire Dresselhuis, and Mahler's Symphony No. 1 in D Major.

A complete list of School of Music events can be found on our website.

---
Alumni News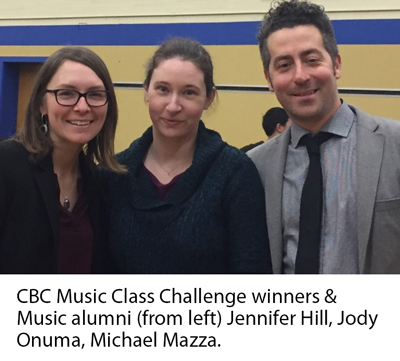 Three Music alumni win CBC's Music Class Challenge: Some people train for years to achieve Olympic glory, but two local school groups are already sounding like gold thanks to the efforts of three music teachers — all of whom are School of Music alumni. Two of the six winning ensembles in the annual CBC Music Class Challenge announced in December include the Arbutus Mixtape Orchestra, led by Michael Mazza (BMus '02) and Jennifer Hill (BMus '05) at École Arbutus Global Middle School, and the Campus View Instrumental Ensemble, led by Jody Onuma (BMus '00) at Campus View Elementary. "We're really proud of our students," says Mazza. "We were just looking for something new to do in our music program, a way to fire the kids up and connect with other schools across the country doing the same thing." The annual contest sees K-12 schools across the country competing to arrange and record one of 17 specially selected Canadian songs. Both local schools chose Marc Cholette's "CBC Olympic Theme" to work with. As a result, not only does each winning class receive a state-of-the-art recording kit (valued at over $5,000), but their videos were seen on CBC TV during the recent Winter Olympics broadcast. Read the full story and check out the winning performances here.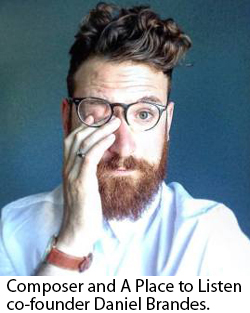 The monthly concert series A Place to Listen, co-founded by Daniel Brandes (MMus '10), is celebrating its 50th concert with a three-day festival on March 22-24. The Gentle Traces festival of experimental music welcomes special guest artist, Antoine Beuger (Germany), alongside the APTL Ensemble. "Beuger's music has been a significant inspiration for APTL, and we are excited to give Victoria listeners a rare opportunity to hear this extraordinary musician live," says Brandes. Beuger is a world-renowned composer, flutist, teacher, and concert presenter, as well as the director of Edition Wandelweiser. The festival includes new works by Kristy Farkas (MMus '04) and Brandes, as well as a solo concert by Beuger on March 23. Full festival details here.

The Victoria Composers Collective's annual Woodstockhausen concert combines the ethos of Woodstock with the innovative vision of Karlheinz Stockhausen. Featuring alumni performers Matt Kaufhold (BMus '14), Joshua Amendt-Moylan (BMus '16) and Maria Eduarda Mendes Martins (MMus '15), the program for electric instruments and amplified voices will include works by John Cage, Italian-Canadian composer Giorgio Magnanensi, plus new compositions by emerging composers. The concert is on April 29 at the Copper Owl. More details available here.


---

Join our Facebook group!
Are you on Facebook? We invite you to join the 1000+ members who have already connected through the UVic Music Alumni group (link on our website). Leave a memory on the discussion board, let everyone know what you've been up to, and say hello to old friends. Please invite any and all alumni to join this group.
Not on Facebook? Please send an email to musicalumni@uvic.ca with a short update.


---
To see this newsletter as a web page go to https://finearts.uvic.ca/music/events/e-pulse/epulse_Mar_2018.html
e-Pulse is a regular e-newsletter for those interested in the University of Victoria School of Music. If you no longer wish to receive this newsletter, click here and enter your address and click Un-Subscribe. A confirmation message will be emailed to you. You can also reply to this message to confirm that you want to be removed from this mailing list.
Follow us on Facebook (University of Victoria, School of Music) and Twitter (UVicMusic).
For a complete list of School of Music events, visit our online Events Calendar.