If this email does not display properly, please see our website phoenixtheatres.ca
eNews | Behind the Scenes | Upcoming | Phoenix Phacts | Perks | Kudos
---
eNews:
Thank you!
First and foremost, the faculty, staff and students of the Department of Theatre hope that you and yours are healthy and safe.
We all know that these are unprecedented times, and although the cancellation of our spring production of The Children's Hour due to the COVID-19 pandemic was heartbreaking for actors, designers, and audience members alike, we know it was prudent and the right decision to make for the safety and welfare of everyone involved.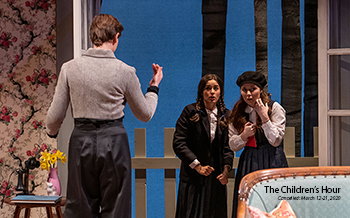 We thank you kindly for your understanding, and we were overwhelmed with the gracious and heart-warming support by so many ticket holders that donated a total of $16,733 in ticket refunds back to the Phoenix Theatre.
THANK YOU so much! These funds helped to cover the costs of building sets and costumes for this beautiful show that so few were actual able to experience.


2020-21 Season:
Initially, we had five wonderful and exciting plays lined up to offer you next season. However, with so much in flux, we are cautiously waiting to launch our new season. We are all aware that society will have to adapt to new customs to keep everyone safe, and theatre is no different.
The Department of Theatre is working closely with the University of Victoria and the advice of public health officials to determine if we will be able to offer plays to the public next season and what that season may look like. It may require us to offer less plays, accommodate less audience members, or we may only be able to include audience members in our students' educational experience in some online or virtual way this year.
We hope to learn more soon and will be contacting subscribers and regular attendees directly when we have further information. Hold tight and keep connected with us via social media until we can be together and share in our students' youth, talent and energy on stage once again.
Contact us:
Please note that our campus Box Office is currently closed, however, our Audience Services Manager, Sandra Guerreiro, is working safely at home and can be reached by leaving a voice message at 250-721-8003 or emailing her at sguerrei@uvic.ca.


Support our students:
Participating in the process of creating theatre is fundamental to our students' education – whether or not our audience members are are able to witness the end result. Your support assists with the expenses of making theatre and helps us maintain this essential part of our curriculum for our students. Or, consider giving directly to the students who are struggling during this crisis.
While you can't be with us at the Phoenix right now, you can look back on our past shows in our online archives. Pick a season and a show and scroll down to see the photo gallery... including the full gallery for our cancelled performance of The Children's Hour March with gorgeous photos by Dean Kalyan.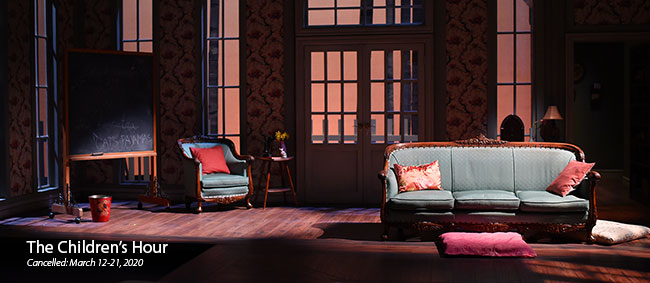 ---
Phoenix Phacts:
Online Activities, Readings, Performances & More
With our theatres and theatres everywhere standing empty right now, artists across the world are still busy writing new material, workshopping new plays and live streaming performances. Their art is greatly needed in the world today and is helping to bring solace during troubling times.
Phoenix alumni are also creating, performing, and participating in online streaming activities. Here's a few places to watch so you can connect with these artists.
The Fine Art's blog has transformed over the last month or so to become the go-to place for arts news, music performances, student book and play readings, and lectures on everything from art history to theatre. New issues of The Fine Arts Connector are posted just in time for the weekend each week, so check back often. In the meantime, listen or watch these lectures from some of our past plays or guest artists in the Orion Series in Fine Arts.
Here are some theatre highlights from the past few issues:
WEEK 6: Creative Placemaking:
A video of a panel lecture with Nathan Medd (Banff Centre for the Arts), Janet Munsil (Playwright and previous Artistic Producer of Intrepid Theatre and Victoria Fringe) and Kevin Kerr (UVic Writing Professor, playwright and Co-founder of Vancouver's Electric Company), moderated by Ian Case. (scroll to very bottom of post)


WEEK 5: The Drama of Working Across Difference with Marcus Youssef, playwright, writer and Artistic Director with introduction by Prof. Kevin Kerr (scroll to very bottom of post)


WEEK 3: Seven Stories about 7 Stories a lecture by Theatre & Writing alumnus Mark Leiren-Young, playwright, journalist, author, filmmaker and podcast creator who discusses the significance, history and secret origins of Morris Panych's masterpiece "7 Stories" during the play's 30th anniversary. (scroll down to third to last story)


WEEK 3: Comic Potential, sci-fi and speculative fiction a lecture by UVic Sociology adjunct professor Dr. Edwin Hodge about the importance of sci-fi and other speculative fiction in exploring the human condition. (scroll down to second to last story)


Looking for some inspiration? Maybe physical break to keep healthy, or maybe a mental break from your day in your new at-home office. Check out the University of Victoria's The Great Indoors, a place to experience the vibrancy of UVic's active academic community several different categories with lots of fun stories:
With so many inspiring stories, The Great Indoors hopes to help you and your family flourish during these times of self-isolation.
The National Arts Centre in Ottawa is collaborating with sponsors to support artists during the pandemic and bring their incredible talents to the screens of the nation. With $700,000 of short-term funding going directly to participating artists through a $1000 grant, artists are presenting their plays, music, book and poem readings, children's entertainment and workshops by live streaming on their own Facebook pages and through the NAC's social media. Several Phoenix artists are coming up in May. Watch for:
Still/Falling
presented by Green Thumb Theatre (by Rachel Aberle) with video design by alumnus Cameron Fraser, on Thursday, May 7.


Destiny, USA
by almuna Laura Anne Harris (shown right) on Wednesday May 13 at 11:30pm (PST) (Note that this show was presented at the Belfry's Spark Fest briefly this spring.)


Epidermis Circus
by SNAFU Society of Unexpected Spectacles, featuring alumna Ingrid Hansen and Kathleen Greenfield, on Thursday, May 14 at 7pm (PST)
The brain child of Phoenix alumna and playwright Janet Munsil, The Canadian Play Thing is an incredible initiative that shares live readings of new and under-produced Canadian plays online, helping the theatre community across Canada to connect and celebrate our playwrights. New or new-ish works can be submitted to be read (a crucial element in new play development) and audiences can join in and watch/listen along. Plays by several alumni are coming up, but many of the actors/readers and stage management team are also students or alumni so there will definitely be faces you might recognize!
Spin the Bottle
by recent grad Ciaran Volke on Saturday, May 9 at 7:30pm (PST)


Chrysothemis
by almuna Meg Braem on Sunday, May 10 at 2pm (PST)
And don't forgot to join us and like and follow on Facebook – or Twitter or Instagram – for more Phoenix, alumni and theatre-based stories.
---
Sponsor Kudos:
An amazingly huge THANK YOU to the Phoenix Theatre's many individual donors and corporate sponsors for their support of our programs and talented students!
A SUPER special thank you to this season's Production Resource Partner,
Production Canada whose support this year has helped our designer's visions be realized on stage.
A REALLY BIG thank you also goes out to our long-time supporters and neighbours in the Cadboro Bay Village including: For Good Measure, Pepper's Foods, Smugglers' Cove Pub, Caddy Bay Liquor Store, and Heart Pharmacy.
Find out how your company can reach our 10,000 audience members and UVic community of over 25,000. Contact us to discuss a customized sponsorship package to meet your goals.
---
Phoenix eNews is a regular email magazine for those interested in the Phoenix Theatre, the not-for-profit productions at the University of Victoria's Department of Theatre, PO Box 1700, STN CSC, Victoria, BC, V8W 2Y2 Canada. The University of Victoria is a Registered Charity. Charitable Registration No. 10816 2470 RR0001
If you no longer wish to receive this newsletter, click here and enter your address and click Un-Subscribe. A confirmation message will be emailed to you. You can reply to this message to confirm that you want to be removed from this mailing list. This message also has a link that you can click on to complete the removal process.