New weekly Phoenix Fire podcast
Student stories come to life in Friday afternoon interviews
In recent weeks the Phoenix has been re-envisioning our news and event blog site as a more comprehensive source for stories about the department and our students' activities.
Branded the Phoenix Fire, it also includes the addition of our first ever podcast: Friday Afternoon at the Phoenix Fire. The podcast is hosted by third-year self-directed student Mo Hatch and features interviews with students of various backgrounds, focus areas and projects in the Phoenix. 
With the plan of releasing a new podcast episode every Friday, Friday Afternoons at the Phoenix Fire will feature current events and behind the scenes glimpses into what's going on in the Phoenix. The episodes are short and bite-sized, usually under twenty minutes, and perfect to listen to when you're getting ready in the morning or ready for the weekend.
For anyone who feels like they want a more detailed understanding of what happens in the theatre department, and want to stay up-to-date with department news and events, or just want to know more about the experiences of Theatre students—this podcast is for you.
The first episode of the podcast was an in-depth discussion with two students who were involved in the staged reading production of Journey to Mapu in September. Syrah and Kaelan talked about the impact of the show, the messages it conveyed, and the importance of bringing more shows like this into the Phoenix.
Our second episode was an interview with students Sydney and Tianxu on their experiences directing the last two SATCo shows, A Kind of Apocalypse and Reset, and what advice they would give any future SATCo directors.
Watch for our third episode coming up with interviews of students who have work study jobs in the department. With over 25 positions, from box office, to costumes to the props shop, these jobs offer a variety new ways to learn new skills in Theatre. 
We hope to have you listening in on Fridays when the podcast comes out, or any other day of the week when you have the time. Make sure to check the Phoenix Fire blog for updates!
The host of the Phoenix Fire, Mo Hatch.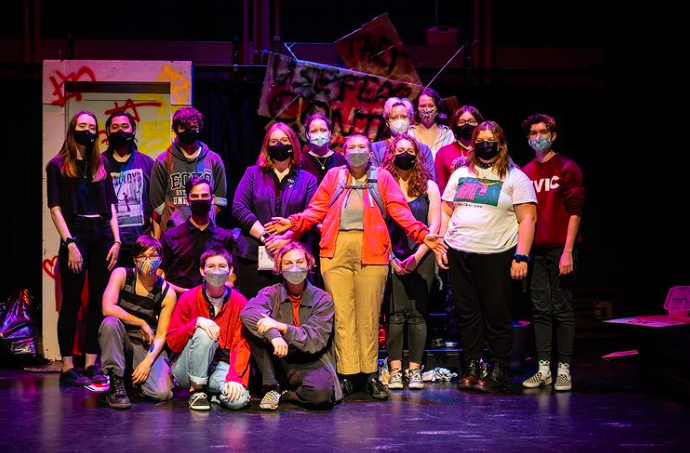 The cast of  SATCo production A Kind of Apocalypse.