Video by Jamie Tanner
Inside
By Daniel MacIvor
Directed by David Ferry
Set Designer Allan Stichbury
Costume Designer Kendra Terpenning
Lighting Designer Bryan Kenney
Stage Manager Alina Cerminara

The Phoenix Theatre will host the world premiere of Inside, written by acclaimed playwright Daniel MacIvor and directed by the renowned David Ferry. This modern tragicomedy plays host to a cross-section of Canadian experiences. Over the course of one evening, immigrants and orphans, Christians and addicts, entrepreneurs and activists alike will converge in the pulsing world of the nightclub. Between the beats of the music, boundaries will fall, tensions will rise, and lives will change forever.
Advisory: Mature subject matter, nudity and strong language.
MEDIA:
"Run -- don't walk -- fast as you can, to Inside, Daniel MacIvor's new play, performed by actors from the University of Victoria theatre department. David Ferry directs -- sparklingly -- a story of fate, death, the hereafter and the awful, unmet yearnings of urbanites on the edge. MacIvor outdoes himself to spell-binding effect. The 11 performers are stunningly good, acting as a Greek chorus or in two-hander scenes that build to a surprising, bleakly hilarious finale. Theatre doesn't get better than this."
Susan Walker, Theatre Reviewer
"After seeing the Phoenix's cast and crew fill up Fringe after Fringe with great shows I'm glad to see their talents justly rewarded with a script from a talent as large as Daniel MacIvor's....Trust me. Every decibel of applause was thoroughly earned." Culture Vulture Review
"I really liked it. A great follow up to their Twelfth Night which I told you was so great. This is a raw, gut-punch of a black social comedy with enough dramatic interchange to get you thinking about the big questions of life..."
CBC On the Island Review
Monday Magazine's feature story on this play by Amanda Farrell-Low
Times Colonist interview with director David Ferry by Adrian Chamberlain
Featuring:

Jesse Cowell Jimmy
Alberta Holden Audrey
Angie Lopez Tia
Jason Mitchell Todd
Luke Pennock Mason
Emily Piggford Kara
Alex Plouffe Brian
Shaan Rahman Armaan
Jenny Taylor Violet
Patricia Trinh Mary
Robb Wiggin Chuck
March 17 - March 26, 2011

Previews @ 8pm: March 15, 16 (all seats $6)
Evenings @ 8pm: March 17, 18, 19, 21, 22, 23, 24, 25, 26
Matinee @ 2pm: March 26 with Sign Language Interpretation

FREE Pre-Show lecture: Daniel MacIvor: Just Do It!
Friday, March 18, 7pm
Dr. Tony Vickery, a professor of Theatre History explores MacIvor 's independent, do-it-yourself initiative as a key component in his philosophies around acting, play writing and producing theatre, and how these have lead to his national and international prominence.
Listen to the pre-show lecture

Talkback session with Daniel MacIvor
Friday, March 25, aftershow
Questions and feedback with the playwright.
Sign Language Interpretation
Saturday March 26 @ 2pm:
Sign language interpretation of the play featuring international Deaf interpreter, presenter and performer Nigel Howard and Jen Ferris. Click here for sign language performance ticket order form.
Box Office: Opens March 8, 2011
Call: 250.721.8000
For ticket prices click here.
Seating Plan: Roger Bishop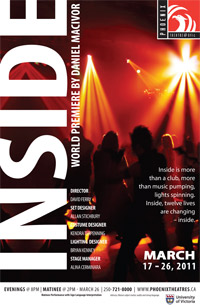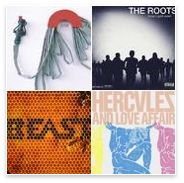 Playlist of music for Inside @ iTunes
(Ping)

A group of twenty-somethings in the dance club called "Inside" (left to right: Robb Wiggin, Emily Piggford, Shaan Rahman, Alex Plouffe (behind), Jay Mitchell, Jenny Taylor (behind), Jesse Cowell (behind) and Patricia Trinh).