If this email does not display properly, please see our website phoenixtheatres.ca
eNews | Behind the Scenes | Upcoming | Phoenix Phacts | Perks | Kudos
---

eNews:
From the Olympics to the Phoenix:
New Adjunct Professor heads up Canadian-born Broadway hit

"Mix ups, mayhem and a gay wedding! Of course the phrase 'gay wedding' has a different meaning now… but back then it just meant fun. That's all this show is – fun!" says the Man in Chair as he reads the record cover of his favourite musical from 1928, The Drowsy Chaperone.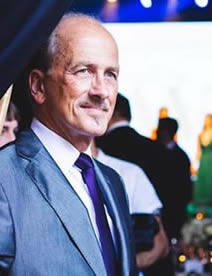 This fictitious musical is the foundation for the real 2006 Broadway hit of the same name, running at the Phoenix Theatre throughout November.
Internationally renowned director and choreographer Jacques Lemay agrees that it's the perfect antidote to the stresses of everyday life. "If you're wanting to escape reality and have a good belly laugh, this show is the perfect solution for you," he says. "The Drowsy Chaperone is pure and simple escapism."
"It's a fun pastiche of old Broadway and the music is really quite lovely," says Lemay. As well as directing and choreographing theatre students in the play, Lemay is currently teaching stage combat to fourth-year performance students this term as a new Adjunct Professor at the Department of Theatre.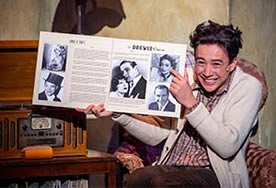 "It's remarkably both nostalgic and current, as we watch the parody of the past through the eyes of the imaginative, agoraphobic and slightly sarcastic narrator, the Man in Chair, who's stuck here in the present." (Shown right: Douglas Peerless in Phoenix production)
The real magic of The Drowsy Chaperone is derived from the transformation of the Man in the Chair's shabby one-room apartment where he listens to his records and escapes into the glamorous world of his musicals — in this instance, the glittering world of movie stars, highfalutin' mansions, fantastical weddings, and of course, menacing pastry chef gangsters.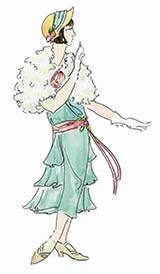 Collaborating to create this illusion is a stellar design team of UVic alumni, including set designer Bryan Kenney (MFA '12), costume designer and PhD candidate Graham McMonagle (MFA '17) (costume designs shown left and right), and lighting designer and professor Patrick Du Wors (BFA '02). Another PhD candidate, Nancy Curry, is the music supervisor and vocal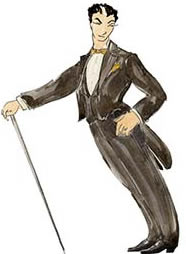 coach, and two current fourth-year students are sound designer Eva Hocking and stage manager Emily Lindstrom. Indeed, The Drowsy Chaperone is the biggest song-and-dance show the Phoenix has presented in well over a decade: so much so that an entire set of dance shoes were needed for the 19-person cast!
"The entire department has been anticipating this production since it was announced last spring," says Department Chair Allana Lindgren. "Jacques has such an impressive history — from the Royal Winnipeg Ballet to the opening ceremonies of two Olympics and the Commonwealth Games — [so] we know are in good hands."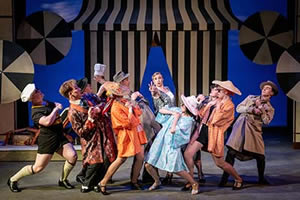 Eight years before it was the five-time Tony Award-winning Broadway musical, The Drowsy Chaperone was a skit performed at a stag party for the marriage of two Toronto actors, Bob Martin and Janet Van De Graaff. If the names and the plot sound familiar, those names are still reflected in the characters of the soon-to-be-betrothed couple in this musical-within-a-play.
Bob Martin, the groom (the actor, not the character), enjoyed the performance so much, he joined the writing team of Don McKellar, Lisa Lambert, and Greg Morrison, creating the iconic central character of the Man in Chair which he performed himself (shown below right). The Drowsy Chaperone was then remounted for the Toronto Fringe Festival, winning rave reviews and attracting the support of Toronto über-producer, David Mirvish. Since then, it has been performed everywhere from Broadway to London's West End, making toes tap and capturing the hearts of musical lovers around the world.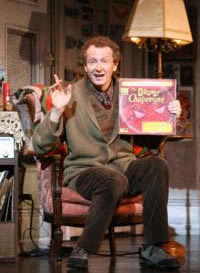 Just reported this week in the Globe and Mail, Bob Martin is working on a sequel to The Drowsy Chaperone! "We have a very specific thing that we're planning to do to follow up Drowsy," says Martin, who was inspired after recently reprising the role of ultimate musical-theatre fan Man in Chair to host a revue in New York. "I think Man in Chair will be back, but it will probably be a different show." Also in the works, Martin is working on musical version of The Princess Bride!
And while the show is based on a fictional musical, the Broadway nostalgia parodied in The Drowsy Chaperone is very real, as Theatre historian Anthony Vickery will discuss at the free Preshow Lecture on Friday, November 9 (see events below).
Ultimately, the Phoenix production — complete with a custom-built propeller plane — will literally do, as the Man in Chair says, "what a musical is supposed to do: it takes you to another world."
PHOTOS: Photography for the Phoenix Theatre production of The Drowsy Chaperone is by Dean Kalyan with thanks. See more photos on our Facebook page.
---
Phoenix Phacts: Alumni in our community and afar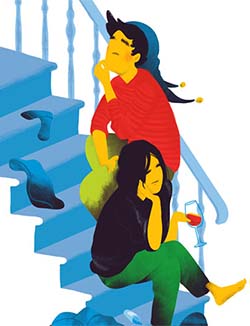 Our alumni have been busy keeping Victoria busy this month. Here's a look at what's coming up in town.
The Belfry Theatre's current production of Mustard features lighting design by alumnus Alan Brodie (MFA '16) with stage manager Jennifer Swan (BFA '99). Mustard is a playful and sometimes dark comedy story about a teenage girl and her childhood imaginary friend Mustard, who doesn't want to leave. The show continues until November 25.
Moving to Sidney for their final performances this weekend, November 9-11, is the Victoria Gilbert and Sullivan Society's production of The Mikado, complete with a new prologue writen by the New York Gilbert and Sullivan Players in consultation with Asian-American arts leaders. The production features performer Cam Culham (MFA '03), set design by Christopher Green (BFA '17), lighting design by Tori Isaak (BFA '18) and stage management by current fourth-year student, Siena Shepard.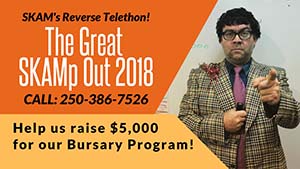 Theatre SKAM is presenting their second edition of Grownups Perform Plays That Kids Wrote on November 17. A fundraiser for SKAM School of Performing Arts Bursary Program, the event pairs four local directors with dozens of local performers to bring back some of their favourite scripts, collaboratively written by kids! There will be monsters, heroes, dancing food, time warps, princesses and plenty of lightsaber duels... and a PIZZA party. Local directors include alumni Kathleen Greenfield (BFA '05) and Nicholas Guerreiro (BFA '18). Kathleen Greenfield is the Co-Artistic Director of SNAFU Dance Theatre, who directed Concord Floral this summer and also teaches at SKAM School of Performing Arts. Nicholas Guerreiro is a recent graduate from both UVic Theatre and Writing programs who is the Artistic Director of Bragi Theatre and has writen several plays that have been produced locally, including Rural Ravaillac, Kid Viking and O, Come All Ye Faithful. Theatre SKAM is also hosting The Great SKAMp Out, a reverse telethon fundraiser for their bursary program on November 24 and 25 which features Max Crowley (AKA alumnus and SKAM's Artistic Producer, Matthew Payne (BFA '96)).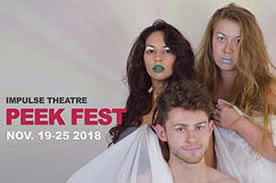 Impulse Theatre's PEEK-FEST is a new festival for emerging performing artists in Victoria running from November 19 to 25, offering an exciting look at theatre works in development from some of the province's most innovative creators. Artistic Director Andrew Barrett (BFA '11) also offers opportunities to to grow the artistic development of local artists through showcases and workshops. At PEEK-SHOW, Victoria performing artists present excerpts from new or developing works and each group is provided with only 7 minutes to present whatever art has been brewing in the back in their mind, itching to come out!
The Wonderheads, including co-founder and alumna Kate Braidwood (BFA '03), is now offering workshops across the region to share their expert skills in physical theatre, mask-making, and performance. The Storytelling Body workshop on November 25 will be part of the Impulse Theatre's PEEK-FEST.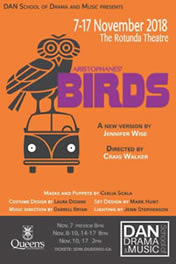 At the You Show at Intrepid Theatre, fourth-year student Megan Chandler presents Running From and To, from November 30 to December 1 about a Chinese immigrant who struggles to find acceptance in Canada as he faces new challenges in English and comes to terms with the life from which he ran away. Also at Intrepid, alumnus Charles Ross (BFA '98) presents a double-bill of his One-Man shows, including Lord of the Rings and the TV show, Stranger Things. Both shows are directed by TJ Dawe (BFA '97), and presented on December 13.
Opening up in Kingston, Ontario, retired professor Dr. Jennifer Wise's version of Aristophanes' Birds has been produced at Queen's University's Dan School of Drama, running until November 17. Since retiring last year, Dr. Wise has seen several of her plays produced across the country. Sounds like a busy retirement!
----
Want more alumni stories? Check out our Alumni Profiles area of our website. Recognize anyone? If you're alumni, please tell us what you've been up to. Submit your bio online and yours could be the next alumni profile on our website!
---
Upcoming Phoenix Events: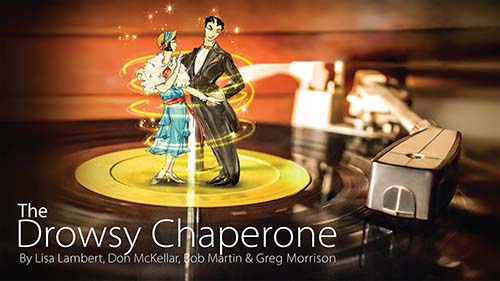 THE DROWSY CHAPERONE
November 8 – 24, 2018
Preview: November 7
Book by Bob Martin & Don McKellar
Music & Lyrics by Lisa Lambert & Greg Morrison
Guest Director/Choreographer Jacques Lemay
Winner of five Tony Awards, this original Canadian play is a fun-loving send-up of the nostalgia of old Broadway, featuring one show-stopping song-and-dance number after another! A theatre fan spends his evening curled up in a chair, playing the original cast recording of the his favourite musical, The Drowsy Chaperone, from 1928. As the vinyl spins, colourful and chaotic characters spring to life, filling his tiny one-room apartment with everyone from pastry chef gangsters to glamorous movie starlets. A parody wrapped in a love letter, this is a must-see for all musical fans!
BOX OFFICE: Tickets on sale now: $30. Discounts on weekdays: Students $16, Seniors $25. Tickets for the November 7 preview are $10 but are only available after 5pm on the night of the show. Subscription packages for 3 shows are only $40.50. Call 250-721-8000.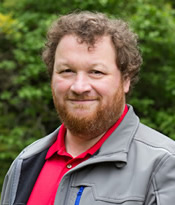 Friday, November 9, 2018
at 7:00pm
LECTURE: Broadway Nostalgia
FREE preshow public lecture with
Professor Anthony Vickery
Join Broadway theatre historian, Dr. Anthony Vickery, for a discussion of the role of Broadway nostalgia that is parodied in The Drowsy Chaperone. Our Friday night lecture series is recorded on the day and the audio file will be posted on our website the following week.
---

Want more alumni updates? Check out the Alumni Profiles area of our website. Email your updates to us to be posted here in future eNews.

Follow the most recent department and alumni stories by liking us on Facebook or following us on Twitter. Use #phoenixalumni to stream on our alumni website or tag @UVicPhoenix for us to retweet your event!
---
Sponsor Kudos:
Thank you to the Phoenix Theatre's many individual donors and corporate sponsors for their support of our programs and talented students!
Thanks also to our supporters over the past year from the Cadboro Bay Village Business Association including: For Good Measure, Pepper's Foods, Smugglers' Cove Pub, Caddy Bay Liquor Store, and Heart Pharmacy.
Find out how your company can reach our 10,000 audience members and UVic community of over 25,000. Contact us to discuss a customized sponsorship package to meet your goals.
---
Phoenix eNews is a regular email magazine for those interested in the Phoenix Theatre, the not-for-profit productions at the University of Victoria's Department of Theatre, PO Box 1700, STN CSC, Victoria, BC, V8W 2Y2 Canada. The University of Victoria is a Registered Charity. Charitable Registration No. 10816 2470 RR0001
If you no longer wish to receive this newsletter, click here and enter your address and click Un-Subscribe. A confirmation message will be emailed to you. You can reply to this message to confirm that you want to be removed from this mailing list. This message also has a link that you can click on to complete the removal process.