If this email does not display properly, please see our website phoenixtheatres.ca
eNews | Behind the Scenes | Upcoming | Phoenix Phacts | Perks | Kudos
---
eNews:
Ups and downs of new motherhood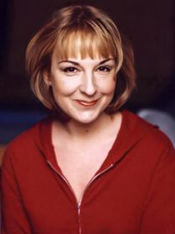 From Jedi knights and gold-rush explorers to doomed puppets and romantic clowns—over the past 15 years Phoenix Theatre's annual Spotlight on Alumni has presented a range of shows as diverse and accomplished as the graduates themselves. But this month, Phoenix is entering a world as strange and terrifying as any yet imagined: motherhood.
Just ask Theatre alumna Nicolle Nattrass, whose solo show, Mamahood: Bursting Into Light, courageously chronicles the journey of becoming a mother at age 40—complete with a rock 'n roll soundtrack.
"I don't like to be bound by restrictions like 'comedy' or 'drama'," Nattrass explains. "I really believe life is full of both, so I've always written to connect with the audience, using comedy to talk about more serious things."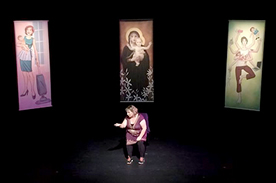 This is the first time Mamahood will be fully mounted in Victoria, following a staged reading in 2014."I'm so glad I get to come back to my Alma Mater to perform this," says Nattrass, who graduated in 1991. "UVic has been a big part of my journey as an artist and I'm constantly collaborating with other Phoenix alum, including this show's director, TJ Dawe."
With nine plays and a busy life as an actress, director, dramaturge, certified addiction counselor and parent, Nattrass is a great example of how arts alumni can transform life experiences into art. Indeed, with Mamahood, she's using her own story to reach out to other moms (and dads and grandparents) and deconstruct some prevailing motherhood myths.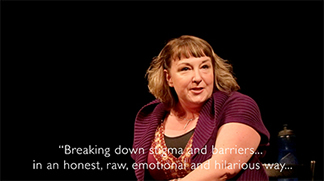 "Parenting is really an individual experience: the only one who can define how you're going to be as a mother is you," she says. "We're told it should look like a Pampers commercial—all the right outfits, everything is good—but that excludes a lot of moms. It's okay to not have an ideal experience every day of the week—or at all. Whether you're a co-parent, step-parent or foster parent, it's all about accepting your own story."
Like so many alumni, Nattrass birthed Mamahood through her fusion of teaching and creative practice. "I was asked to teach a course on Mama Memoirs at Camosun College and I realized I hadn't written down my own story yet," she says. "There's this romantic idea that we only write at perfect times—four hours with a latte at your favourite coffee shop—but the reality of motherhood is getting up at 4:30 in the morning when you're exhausted from breastfeeding and trying to get inspired."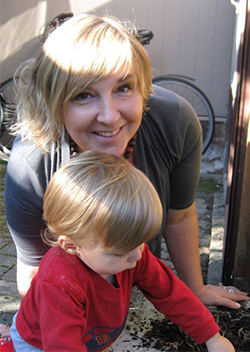 Nattrass also doesn't hesitate to talk about postpartum realities in her play, which sets it apart from straight-up comedies like Mom's The Word (recently performed at the Belfry Theatre. "The postpartum experience can be anything from anxiety, fear and sleep deprivation to issues surrounding the pregnancy or birth itself."
With that in mind, she makes a point of connecting with local birth educators and support networks wherever Mamahood tours—in Victoria, she's working with Mothering Touch Centre—and builds that into the theatrical experience. "I always do a talkback session at the end of each show, so people can not only ask me questions but also connect with resources in their community."
Ultimately, Mamahood is a comedic story about her own journey . . . so far. "The core message is that motherhood is a rock 'n roll ride," she laughs. "My son is nine now and the ride is definitely not over! My whole journey really has been about bursting into light."
Turn up your volume and watch the space-inspired Mamahood video: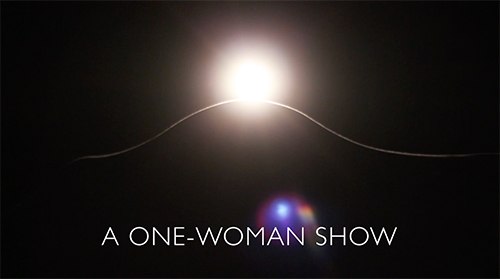 ---
Phoenix Phacts: Alumni in our community and afar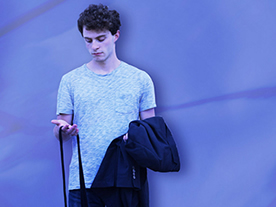 Phoenixers have always had a huge presence at the Victoria Fringe Festival, whether behind the scenes or on stage. This summer was no different with numerous alumni and students picking up awards. Alumnus Ian Case (BFA '91) directed War of 1812 which won Favourite Comedy and Favourite Ensemble. Alumna Kate Braidwood (BFA '03), co-founder of Wonderheads (the multi-award winning physical theatre company specializing in mask performance which was our Spotlight on Alumni in our 2015-16 season), won this year's Favourite Visual Theatre/Puppetry, Favourite Show Design and Favourite Family Friendly for The Wilds! Alumnus Jeff Leard (BFA '10) won Favourite Duo and Favourite Original New for his show Angels and Aliens. The Fitting Room, directed by alumna Anna Marie Anderson (BFA '18) won for Bravest Show and Overall Favourite Show with a cast including alumni Emma Grabinsky (BFA '18), Delaney Tesch (BFA '17), Elizabeth Martin (BFA '18) along with current theatre students Aaron Smail, Ciaran Volke, Emma Newton and Eva Hocking. Congratulations to all!
Blue Bridge Theatre finished their summer season with Sweeney Todd, featuring Lindsay Robinson (BFA '18), Rielle Braid (BFA '09), and Kholby Wardell (BFA '08) in the cast, with Set and Lighting Designer Patrick Du Wors (BFA '02 & Faculty) and Costume Designer Graham McMonagle (MFA '17 & PhD Candidate). Current students involved included Projection Content Creator Victoria Timmis, Puppet Builder Sasha Lazin, Front of House Manager Corina Fischer and crew members Jaxun Maron and Siena Shepard. Sweeney Todd has become a popular show with our alumni; Chris Adams (BFA '10) is producing a site-specific version in Vancouver October 10 -31.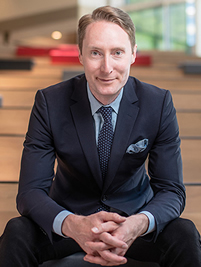 This summer, alumnus Nathan Medd (BFA '01) was announced as the new Managing Director of Performing Arts at the Banff Centre for Arts and Creativity overseeing educational programs for theatre, dance, opera, classical music, jazz, and contemporary music. Most recently, Nathan was the Managing Director of English Theatre at the National Arts Centre and this summer, he completed a Management graduate degree and a graduate certificate in Non-Profit Management from Harvard University. Also announced this summer, alumna Kate Stadel (BFA '04) is the new General Manager of Ghost River Theatre, Calgary Alberta.
Locally this fall, the Belfry Theatre's production of A Doll's House, Part 2 features alumna Jennifer Swan (BFA '99) as the stage manager. In addition to being a freelance stage manager, Jennifer is also currently the Company and Financial Manager of Electric Theatre Company in Vancouver. Britt Small (MFA '04) is directing Atomic Vaudeville's remount of the Halloween favourite, The Rocky Horror Picture Show, from October 17 – 28. Continuing in the spooky theme, Ian Case (BFA '91) directed David Elendune's adaptation of Frankenstein running until October 13 at Theatre Inconnu, as well as designing costumes, lighting and sound. Running at William Head on Stage until November 3, Crossroads is inspired by classic musicals like Cabaret, and West Side Story and Tim Burton's film Corpse Bride and features the men of William Head Prison Theatre company. They have joined with the creative forces of alumni Ingrid Hansen (BFA '09) and Kathleen Greenfield (BFA '05) of SNAFU Dance Theatre and director Kate Rubin.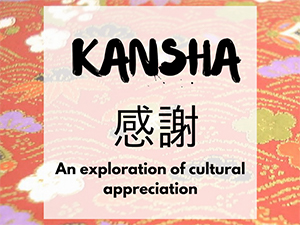 At the Intrepid Theatre's You Show, fourth-year student Hannah Bell is presenting Kansha, an exploration of cultural appreciation through the lens of Japanese culture, specifically, the history of the iconic Japanese clothing, the Kimono, running the Intrepid Club November 2-3, 2018. Also at the You Show, fourth-year student Megan Chandler presents Running From and To, about a Chinese immigrant who struggles to find acceptance in Canada as he faces new challenges in English and comes to terms with the life from which he ran away.
Cameron Anderson (BFA '07) and Annette Reilly (BFA '03) worked together on the documentary "For My Daughter" which profiled through Telus' Storyhive funding program. The film looks at the diverging experiences of two young mothers diagnosed with cancer and their relationships with their daughters. Leslie Bland's (MFA '98) documentary "Dust n' Bones" is about the legal, political and historical issues around First Nations' artifacts and burial sites. Created in collaboration with First Nations filmmaker Harold C. Joe, the film launched on Storyhive's YouTube channel this fall and is schedule to broadcast on APTN in the future.
----
Want more alumni stories? Check out our Alumni Profiles area of our website. Recognize anyone? If you're alumni, please tell us what you've been up to. Submit your bio online and yours could be the next alumni profile on our website!
---
Upcoming Phoenix Events:


October 10 – 20, 2018
MAMAHOOD: BURSTING INTO LIGHT
By Nicolle Nattrass (BFA91) | Directed by TJ Dawe (BFA'97)
A Spotlight on Alumni presentation.

Presented by:


Jessie Award-nominated playwright and actress – and mother – Nicolle Nattrass, courageously shares her ode to motherhood in this witty and profoundly moving one-woman play. In turns both hilarious and heart-breaking, she chronicles her journey of becoming a new mother at the age of 40. From initial idyllic dreams of motherhood and the pressure to choose a stylish diaper bag, to her real struggle to become the "perfect mom," her years of sleep deprivation, and her own postpartum experience, Nicolle uses humour (and '80s music) to present important realities that are rarely discussed. "Nattrass is a big-hearted and fearlessly vulnerable performer" (Georgia Straight)
BOX OFFICE: Tickets $16 to $26. Subscription packages for 3 or 4 shows start at only $40.50. Call 250-721-8000
Friday, October 12, 2018
at 7:00pm
LECTURE: Motherhood Out Loud
Free preshow public lecture
With: Dr. Sheila Rabillard, Associate Professor of English
Maternal figures have spoken from the stage in the past: Euripides' Medea, Shakespeare's Gertrude, Ibsen's Nora. Women playwrights, too, since the days of the suffrage movement, have written significant roles for mothers — although often from a daughter's perspective, and often cautiously. What happens when mothers now speak in their own voices, out and loud? Our Friday night lecture series is recorded on the day and the audio file will be posted on our website the following week.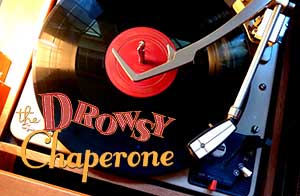 November 8 – 24, 2018
THE DROWSY CHAPERONE
Book by Bob Martin
& Don McKellar
Music & Lyrics by Lisa Lambert
& Greg Morrison
Guest Director Jacques Lemay
Winner of five Tony Awards, this original Canadian play is a fun-loving send-up of the Jazz Age musical, featuring one show-stopping song-and-dance number after another! The play gently pokes fun at a myriad of musical theatre tropes, brought to us through the droll narration of a theatre fan who spends the evening alone, curled up in a chair in a one-bedroom apartment, playing the original cast recording of the 1928 musical, The Drowsy Chaperone. As the vinyl spins, colourful and chaotic characters spring to life, filling the living room with everyone from pastry chef gangsters to glamorous movie starlets. A parody wrapped in a love letter, this is a must-see for all musical fans.
BOX OFFICE opens for this show opens on October 30. Subscription packages for 3 or 4 shows are available now and start at $40.50. Call 250-721-8000
---

Want more alumni updates? Check out the Alumni Profiles area of our website. Email your updates to us to be posted here in future eNews.

Follow the most recent department and alumni stories by liking us on Facebook or following us on Twitter. Use #phoenixalumni to stream on our alumni website or tag @UVicPhoenix for us to retweet your event!
---
Sponsor Kudos:
Thank you to the Phoenix Theatre's many individual donors and corporate sponsors for their support of our programs and talented students!
Thanks also to our supporters over the past year from the Cadboro Bay Village Business Association including: For Good Measure, Pepper's Foods, Smugglers' Cove Pub, Caddy Bay Liquor Store, and Heart Pharmacy.
Find out how your company can reach our 10,000 audience members and UVic community of over 25,000. Contact us to discuss a customized sponsorship package to meet your goals.
---
Phoenix eNews is a regular email magazine for those interested in the Phoenix Theatre, the not-for-profit productions at the University of Victoria's Department of Theatre, PO Box 1700, STN CSC, Victoria, BC, V8W 2Y2 Canada. The University of Victoria is a Registered Charity. Charitable Registration No. 10816 2470 RR0001
If you no longer wish to receive this newsletter, click here and enter your address and click Un-Subscribe. A confirmation message will be emailed to you. You can reply to this message to confirm that you want to be removed from this mailing list. This message also has a link that you can click on to complete the removal process.