If this email does not display properly, please see our website phoenixtheatres.ca
eNews | Behind the Scenes | Upcoming | Phoenix Phacts | Perks | Kudos
---
eNews:
Annual Phoenix Fringe round up!
It's almost time for Victoria's International Fringe Festival and once again we're happy to help celebrate this fantastic theatre event. Not only does the Fringe bring our community some of the most thought-provoking, inspiring — and sometimes downright crazy — theatre, it also serves an important testing ground for new works. Likewise, the Department of Theatre is a place where new plays and new theatre companies are born. Below. we're proud to list the Fringe shows that our students and alumni are involved in, some were first created for the Student Alternative Theatre Company (SATCo), others presented by alumni-based companies that prove the longstanding bond of the friendships created at the Phoenix. There's even a family show with several generations of Phoenixers! Take advantage of the talent this festival brings to Victoria. And happy Fringing everyone!
Behind the Scenes: From Fringe to Air Farce:
Funny pays off for alumni Chris Wilson
By John Threlfall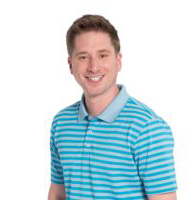 After a decade on the Fringe circuit, Department of Theatre alumnus Chris Wilson (BFA '08) has started a new job, a role he describes as "a dream come true."
This summer, Wison is one of two new cast members to join the veteran Canadian comedy ensemble Air Farce. As well as comedy, he's singing and dancing his way through his debut in the Air Farce Canada 150 Special, which aired July 1 on CBC TV.
Best known as one-half of the sketch comedy duo Peter N' Chris with Peter Carlone (BFA'08), the three-time Canadian Comedy Award-winning pair have built a large following in Canada and the US. In addition to shows like Peter N' Chris Save the World, Peter N' Chris and the Mystery of the Hungry Heart Motel (performed as the Phoenix Theatre's Spotlight on Alumni in 2012), Peter N' Chris and the Kinda OK Corral, Peter N' Chris Explore Their Bodies, and A Peter N' Chris-tmas Carol, the team have wowed audiences at Just For Laughs, JFL42, The Toronto Sketch Comedy Festival (2013, 2014) and at sketch festivals in Chicago and San Francisco.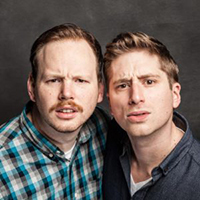 Wilson's Air Farce gig came about as a direct result of his success with Carlone. "We were pitching to a panel at Just For Laughs for a Peter N' Chris TV show and Air Farce's Don Ferguson was on the panel," he says. "They then asked me to audition because they were looking to expand the cast. But Peter and I are always working on other projects, and we are trying to move into doing more film and TV anyway."
"It was pretty fun," he says of the audition process in a Times Colonist article. "They just sent some scripts from past shows. From there, I just put my own take, my own spin on things. That was that."
While working for a mainstream comedy ensemble like Air Farce may be a bit more traditional than his own off-the-cuff comedy stylings, Wilson says he's still got room to improvise. "In the rehearsal process, we'll improvise and riff on lines . . . if they like it, they'll write it down and it'll be in the next script draft."
Air Farce has a long and enviable track record in the Canadian comedy scene, dating back to 1970 and boasting both a 24-year CBC Radio series and a 15-year CBC TV series. Lately, however, the Air Farce has been focusing on seasonal specials, like their annual New Year's show and this week's Canada 150 special.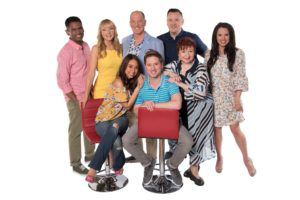 Wilson and fellow new cast member Isabel Kanaan join the six others in the troupe, including founding members Luba Goy and Don Ferguson. And considering over two million Canadians watched the Air Farce's 2016 New Year's special, it's great exposure for Wilson . . . including with his own family.
"It was one of my uncle's favourite shows, actually, and my dad would watch it—it was always on. It's pretty great to be part of that history now. This was one of the first times my parents were, like, 'Oh wow!' about something I'm doing. Normally I say we're doing Fringe shows and they're pleased, but this time they were noticeably more excited—'It's television!'"
His new role mirrors the direction he and Carlone want to take their comedy work with Peter N' Chris. "Our goal is our own television show, something we can write, direct, star in and have full creative control over — you know, something that will never happen," he chuckles. "Our next major goal is to finish a feature film script we're working on."
"The Fringe circuit is great and it'll always be there — it's a nice source of income and, after 10 years, we pretty much know exactly how much we'll make — but we both want to try a different kind of project."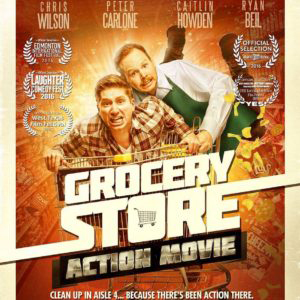 That being said, both alumni have already been branching out into different mediums. Both are writers for CBC Radio's The Irrelevant Show and have appeared on the popular comedy site CollegeHumor.com, as well as the web series White Ninja, and the Leo Award-nominated short film, Grocery Store Action Movie.
When asked about the influence his Theatre education had on his life — beyond meeting classmate Carlone and working on their first seven-minute show together as a class assignment — Wilson points to the department's comprehensive approach.
"I'd say it was the multi-disciplinary aspect," he says. "UVic really encourages you to make your own work, whether through SATCo or off-campus, and that was invaluable. You meet a lot of UVic alumni on the Fringe doing their own work. UVic really encouraged that . . . having that support, that network, is one of the most valuable things — especially when you're out of school working and can connect with others."
Wilson admits he was influenced by the success of fellow Phoenix alumni TJ Dawe and Charles Ross. "Seeing Charlie do his One-Man Star Wars was amazing — it was pretty much what I wanted to do."
But it was the influences of both current performance professor Jan Wood and former professor Ned Vukovic to which he is most indebted. "I always think about Jan Wood — it was her class where you had to create your own show. And I think a lot about Ned's advice: 'Dare to be boring; don't try to act so much. You're more interesting just standing there than you think.' That's totally true, especially with film acting."
Except, of course, when you have to sing and dance on TV.
.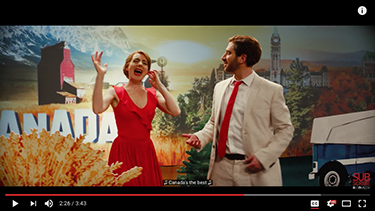 ---
Phoenix Phacts: Your guide to Phoenix Fringers!
Whether acting, writing, directing, designing or managing backstage, our alumni and students are always an integral part of the Victoria Fringe Fest! Check out the list of this year's Fringe shows involving Phoenixers. A special shout out to those alum and students working with Intrepid Theatre to get this event up, including Technical Assistants Simon Farrow and Carolyn Moon, and Ticket Rocket box office support with Kristen Iversen and Kate Loomer. Happy Fringing!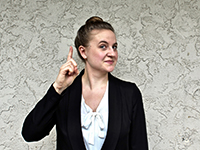 A WOMAN'S GUIDE TO PEEING OUTSIDE & OTHER ADVENTURES
HOLLY BRINKMAN • VICTORIA

Directed by Andrew Barrett (BFA '12)

Ever wondered how to perform the "Assisted Pee Over Water"? Ever struggled with a sense of self? Still grieving the death of Jack Dawson? Join storyteller Holly Brinkman in "A Woman's Guide to Peeing Outside and Other Adventures…" You'll laugh. You'll cry. You'll try not to pee your pants.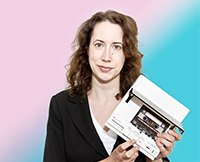 AFTER THE BEEP
Pamela Bethel & Theatre SKAM • VICTORIA

Created by Pamela Bethel (BFA '99), Design Consultation by Erin Macklem (BFA '98)
Theatre SKAM: Matthew Payne (BFA '93), Andrew Barrett (BFA'12), Kathleen Greefield (BFA'05) current students Bridget Roberts, Brendan Agnew, and Emma Leck.

Pamela found cassettes from her very own answering machine she had as a teenager during the early 1990's. Despite the obvious risk of death by embarrassment, she's sharing this archive of adolescence with live audiences. Part confessional, part show-and-tell, it's an exploration of awkward times revealed by the recorded voices of BFs, BFFs, a frenemy and wrong numbers. Sold out premiere at UNO Fest 2017

ALL THESE PEOPLE WATCHING
4 Small Actors with Big Parts
• VICTORIA/PORT COQUITLAM

Featuring Matt Lees (BFA '90), Krista Wallace (BFA '89), and current student Maggie Lees (their daughter), (also joined by their son David Lees), with stage manager Molly Mcdowell-Powlowski (current student), and script advisor Nicole "Coco" Roberge (BFA '98).

A family of actors on stage together for the first time: Mum, Dad (Phoenix grads), Son (CapU grad) and Daughter (current Phoenix student), explore themes of family, friendship, life and death. How does a tight knit family stay that way amidst life's challenges? Pie and beer may be mentioned.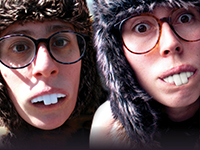 BEAVER DREAMS
Lost and Found Puppet Co. • MONTREAL

Featuring Mika Laulainen (BFA '12)
A schtick you can to sink your teeth into. Winner of 2 and nominated for five Montréal Fringe Awards. "Nothing less than brilliant"– Savage Clown Montréal. One family. Generation after generation. AND BEAVERS! Sharing the same land, the same lake, and the same nightmare depicting commercial development threatening their corner of paradise in the Laurentians, Quebec. The best dam show! Click for Facebook event.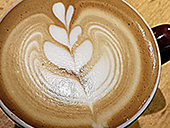 CAFE SOAP OPERAS
workingclass theatre • VICTORIA

Created by Tristan Bacon (BFA'14) Directed by Tristan Bacon, Joanne James (BFA'14), Emma Hughes (BFA15), Featuring Markus Spodzieja (BFA'15), Emma Hughes, and Tristan Bacon.
After a sold-out run at last year's Fringe Festival, everyone's favorite coffee-shop sitcom is back with more caffeine, more drama and more NERF than ever. Featuring an all-new season of original, sitcom length episodes, Cafe Soap Operas! is good to the last drop. Don't forget to tip your Barista!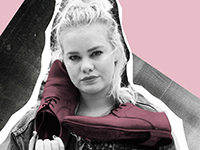 DADDY ISSUES
HUMAN VOLTAGE THEATRE PROJECT • VICTORIA

Directed and Created by Colette Habel (BFA '16), with Grace Le (BFA '17), and current students SJ Valiquette and Arielle Parsons. Performed by Colette Habel, Grace Le, SJ Valiquette and Arielle Parsons. Design by Delaney Tesch (BFA '17), with stage management by current students Molly McDowell-Powlowski and Siena Shephard, and marketing by Victoria Simpson (BFA '17).
Devised from true stories and memories, Daddy Issues is a collage of vintage denim and classic rock that explores the relationships between daughters and their fathers. This is for the dads that were always there and never there; the dads we chose and those we didn't; the dads we wanted gone, and the dads who left us too soon. Instagram: @humanvoltagetheatreproj
THE DROWSY CHAPERONE
St. Michaels University School
performed at St. Michaels University School

Directed by Cam Culham (MFA '03)

In the spirit of Canada 150, SMUS presents the homegrown, smash hit musical, The Drowsy Chaperone, winner of 5 Tony awards on Broadway. New York Magazine has called it "the perfect Broadway musical," as it gently pokes fun at the myriad tropes that characterize the musical theatre genre. Meet Man in Chair, an eccentric and engaging music theatre enthusiastic, as he introduces us to a fictitious 1928 musical. It is an affectionate send up of the Jazz Age musical, full of toe-tapping songs and colourful characters, from pastry chef gangsters to starlets.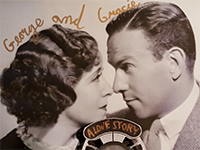 GEORGE AND GRACIE: A LOVE STORY
WHERE'S NOONAN? • VICTORIA

Created by David MacPherson (BFA '91)
Melissa Blank and David MacPherson present a loving tribute to George Burns and Gracie Allen. "George: Do you like to kiss? Gracie: No. George:What do you like? Gracie: Lambchops. George: (To himself) Lambchops. George: Could you eat two big lamb chops alone? Gracie: Alone? Oh no, not alone, with potatoes I could. George: You could. Gracie: Yep."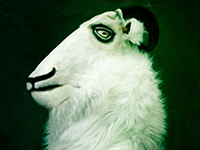 GRUFF
PUENTE THEATRE • VICTORIA

Featuring Trevor Hinton (BFA '07)

A rollicking puppet musical about what happens when the grass really is greener on the other side, performed outdoors in a beautiful little park by the sea — created by Mercedes Bátiz-Benét (Puente Theatre), Judd Palmer (the Old Trout Puppet Workshop) and Brooke Maxwell (composer of Ride the Cyclone). Singing goats! What more do you want?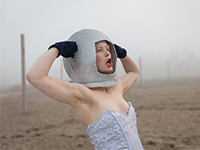 INTERSTELLAR ELDER
SNAFU DANCE THEATRE • VICTORIA
Co-creators by Kathleen Greenfield (BFA'05), Ingrid Hansen (BFA '09)and Britt Small (MFA '04), Featuring Ingrid Hansen, with puppetry coach Mike Petersen (previous student 1980-82). SNAFU Dance Theatre began at the Phoenix in 2006!
From Creators of sold-out shows Little Orange Man (5 stars– Vue Weekly) and Kitt & Jane (4½ stars – Edmonton Journal). Meet Kitt, fierce lone geriatric astronaut adrift in a spaceship carrying cryogenically frozen human cargo. Her mission: protect the last of humankind. "Amazingly versatile physical comedian with the Best Ending in the History of Fringe." – Montreal Gazette.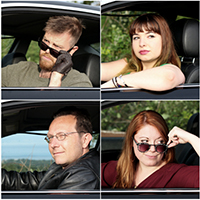 JUKEBOX DRIVE
ENIGMATIC EVENTS • VICTORIA

Featuring current student Natasha Guerra and Amy Culliford (BFA '14). with current student Emily Bamletter as co-director and technical lead).

With Bon Jovi, they speed away from the scene of a crime; with Sinatra, they share their first kiss; with Adele, they spread the ashes of their dead friend. With music providing the backdrop, the actors of Jukebox Drive take a different improvised road trip each night, with a soundtrack influenced by the audience. See Facebook event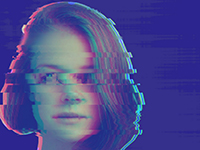 LOLCOW
HAWK MOM PRODUCTIONS • VICTORIA

Created by Robbie Huebner (UVic Writing BFA '14, MFA'16), directed by current student Karin Saari, featuring Pascal Lamothe-Kipnes (BFA '17) and current students Annie Konstantinova, Taryn Roo Yoneda, and Caitlin Holm. With film director Max Johnson (BFA '14), music/sound design by Graham Roebuck (BFA '11) amd stage management by Maggie Lees and Emily Friesen.
"lolcow: (lol-ka?), n. person whose foolish behavior can be 'milked' for amusement." Sheena's boyfriend, Stan, is a lolcow. As an e-celebrity Stan is successful, but Sheena finds herself targeted by online trolls, the topic of an invasive podcast. A dark comedy that explores isolation, longing, identity, and the thinning line between public and private life in an increasingly digitized world.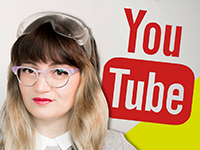 MONICA VS. THE INTERNET (TALES OF A SOCIAL JUSTICE WARRIOR)
PATRONUS THEATRE • VICTORIA

Created by previous student Monica Ogden and current student Ann-Bernice Thomas.
Monica vs. The Internet (Tales of a Social Justice Warrior) is an honest account of a Filipina feminist on YouTube. Blending storytelling, videos, and comments from her own channel, Monica explores the implications of words through humor. Created by Monica Ogden, creator of Fistful of Feminism, from award-winning Paper Street Theatre, and Ann-Bernice Thomas, 2016 Youth Poet Laureate of Victoria.
O COME ALL YE FAITHFUL
Nicholas Guerreiro • VICTORIA

Written by current student Nicholas Guerreiro, directed by current student Elizabeth Martin, featuring students Brett Hay, and Anna Watts, with design by Delaney Tesch (BFA '17) and Victoria Simpson (BFA'17) and current student Matthew Wilkerson and stage mangement by current student Siena Shepard.
We promise it's not about Christmas. Well, it's a little bit about Christmas. It's also about a mysterious circular painting, a security guard with an angry streak, a foul-mouthed art aficionado with a fake name, and a Slovenian nihilist on a secret crusade. It's about family, faith, and non-representational art, and the weird bonds that hold people together.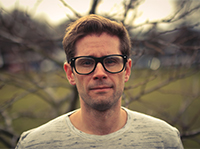 SIX FINE LINES
LEVEL-HEADED FRIENDS PRODUCTIONS • VANCOUVER

Created and performed by Mack Gordon (BFA '08)

Part-gameshow, part-memoir, part-house party, Six Fine Lines is a living collage that combines fun and prizes with a story about losing the people closest to you. A rolling, heaving, gameshow memoir, Six Fine Lines is pop rocks for your head and heart.
Note: As usual, only Phoenix students and alumni, and other UVic grads, are listed. Kudos to the MANY MANY other artists involved!
Other Alumni Events: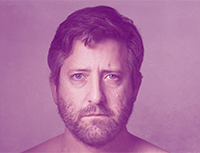 SHYLOCK
Bard on the Beach in Vancouver
September 6-15, 2017
Written by Mark Leiren-Young (BFA'85)
Meet Jon Davies, an actor and a Jew, condemned by his own community for his portrayal of the Jewish moneylender in Shakespeare's The Merchant of Venice. When the production is cancelled, Davies uses his final post-show talkback to raise provocative questions about censorship in general and the political correctness of Merchant itself. Shylock was first produced in 1996 at Bard and has since been staged around the world.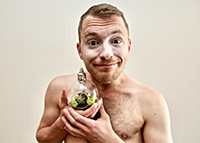 PEEK-FEST
Impulse Theatre in VICTORIA
September 22 - 24, 2017
Featuring plays and workshops by Andrew Barrett (BFA '12), Katherine Greenfield (BFA'05), Randy Edmundston (BFA '12)/
Impulse Theatre's PEEK-FEST is a new festival for emerging performing artists in Victoria. The festival offers exciting new looks at work in development from some of the province's most innovative creators, while seeking to grow the artistic development of local artists through showcases and workshops.

Want more alumni stories? Check out our Alumni Profiles area of our website. Recognize anyone? If you're alumni, please tell us what you've been up to. Submit your bio online and yours could be the next alumni profile on our website!
---
Upcoming Phoenix Events:

September 5 – 8, 2017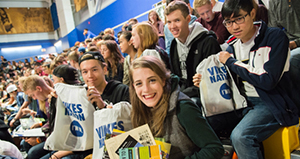 NEW NEW STUDENT WELCOME
September 5
& UVSS CAMPUS KICK OFF
September 6-8
Soon, our students will return and our new students will arrive to discover UVic for the first time. If you're a new student, attend the New Student Orientation day on September 8. Check out the great line up of fun campus events and concerts the UVSS presents during the first weeks of school, including a Pancake breakfast, Bands on the Roof, Movie in the Park, a Farmers' Market, Clubs & Course Union days.
Tuesday, September 19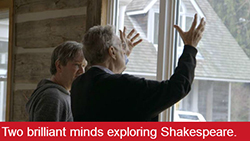 DOCUMENTARY SCREENING:
Robin & Mark & Richard III
PHOENIX THEATRE
Free event presented by the
Orion Series in Fine Arts
Robin & Mark & Richard III is the story of an unusual collaboration between one of Canada's most influential directors, the late Robin Phillips and gifted comedian, Mark McKinney (of Kids in the Hall, Saturday Night Live and Slings and Arrows fame). Over three years, they dive into the mysteries of Shakespeare's Richard III and discover the power of "Shakespearituality". Afterward the screening, join the film's producers and co-directors, Martha Burns and Susan Coyne for a Q&A. Check out the film trailer and read artist biographies.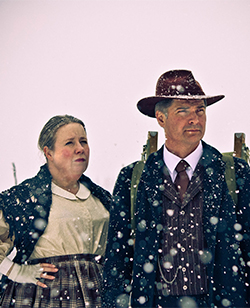 October 12 – 21, 2017
WEST: A tribute to BC Trailblazers
A double bill by
Histrionics Theatre Company
A Spotlight on Alumni featuring:
Danette Boucher (BFA '89, MA '11)
and James Douglas (BA English ' 00)

Presented by:


Two solo plays profiling two of our nation's pioneering spirits. Travel with Catherine O'Hare Schubert in Lady Overlander for a lively first-person account of the legendary woman who – while pregnant! – walked from Winnipeg to Kamloops in 1862 with dreams of finding gold and a home in a tantalizing new land called British Columbia. Then, join charismatic American prospector Fred Marshall Wells in The Fred Wells Show. Follow his life, his love of pancakes, and his 1930s discovery of the greatest mother load of the Depression-era gold rush. "If only history class had been this much fun... a stellar performance." - WINNIPEG FREE PRESS

BOX OFFICE opens on October 3. Subscription packages for 3 or 4 shows are available now and start at $39.00.
November 9 – 25, 2017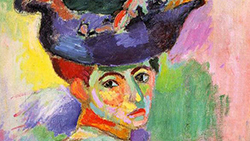 THE MADWOMAN OF CHAILLOT
By Jean Giraudoux
Adapted by Maurice Valency
Directed by Conrad Alexandrowicz

Welcome to the whimsical world of Countess Aurelia, a flamboyant holdover from a less cynical time. She whiles away her days sharing her joie de vivre and cryptic wisdom with everyone she encounters until corrupt businessmen discover oil beneath her Paris neighbourhood. With everything she holds dear suddenly under threat, the Countess is driven to unite the artists, vagabonds, oddballs and dreamers of Chaillot to fight back. A poetic and comic fable of the triumph of good over evil originally written in 1943 during the Nazi occupation of Paris, this play has a whole new relevance in our current era of pipelines and protests.

BOX OFFICE opens for this show opens on October 31. Subscription packages for 3 shows, 4 shows are available now and start at $39.00.
---

Want more alumni updates? Check out the Alumni Profiles area of our website. Email your updates to us to be posted here in future eNews.

Follow the most recent department and alumni stories by liking us on Facebook or following us on Twitter. Use #phoenixalumni to stream on our alumni website or tag @UVicPhoenix for us to retweet your event!
Subscribe & Save! The best and most economical way to see great theatre is to subscribe to a season of shows. Chose 3 or 4 show packages for $39 or $52. Plus, subscribing gives you other useful perks like flexible free ticket exchanges to other performances and discounts on extra tickets. Fill out the online subscription form or call Sandra at 721-8003 (after September 1) to book.
---
Sponsor Kudos:
Thank you to the Phoenix Theatre's many individual donors and corporate sponsors for their support of our programs and talented students!
Thanks also to our supporters over the past year from the Cadboro Bay Village including: For Good Measure, Pepper's Foods, Smugglers' Cove Pub, Caddy Bay Liquor Store, and Heart Pharmacy.
Find out how your company can reach our 10,000 audience members and UVic community of over 25,000. Contact us to discuss a customized sponsorship package to meet your goals.
---
Phoenix eNews is a regular email magazine for those interested in the Phoenix Theatre, the not-for-profit productions at the University of Victoria's Department of Theatre, PO Box 1700, STN CSC, Victoria, BC, V8W 2Y2 Canada. The University of Victoria is a Registered Charity. Charitable Registration No. 10816 2470 RR0001
If you no longer wish to receive this newsletter, click here and enter your address and click Un-Subscribe. A confirmation message will be emailed to you. You can reply to this message to confirm that you want to be removed from this mailing list. This message also has a link that you can click on to complete the removal process.