eNews: Final week of Alumni Fest: Bring on the Clowns!
We're into our final week of the Alumni Festival! We're so honoured that alumna Shannan Calcutt has returned to the Phoenix from her home in Las Vegas where she has performed in Cirque du Soleil's show Zumanity for the past 10 years. She is also the show's Co-Comedic Director and the Clown Coach for Cirque du Soliel's resident shows. She has been called "a Jedi master of improvisation" and her shows "...a spell-binding, comic/poignant tour-de-force performance." Read more below.

Behind the Scenes:
Clowning Around:
From the Phoenix to Cirque du Soleil and back
By John Threlfall,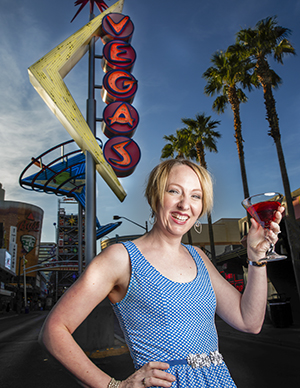 from UVic's Torch Magazine
"There is nothing so funny, sad, and purely entertaining as a highly skilled clown, and Shannan Calcutt is that, to be sure." - The Georgia Straight,
For most people, Las Vegas is a place of escape and relaxation. But for Shannan Calcutt, what happens in Vegas keeps her in Vegas.
Calcutt, (BFA '97), has spent the past decade starring in Cirque du Soleil's Zumanity at the New York New York Hotel and Casino. Part burlesque and part cabaret, Zumanity is billed as an "erotic thrill ride" and has become one of the must-see sensations in a city built on sensory overload. Yet Calcutt plays down the show's sensational side and instead sees it as that rarest of theatrical gems: a steady job.
"It's a great, great gig," she says. "We do two shows a day, five days a week, 477 shows a year. That's a lot of audience members."
And while it's Calcutt who got the job, it's her famed alter-ego clown Izzy who has entertained over half-a-million Cirque spectators in Zumanity, and who will be appearing at the Phoenix in October as part of the 50th anniversary celebrations. "My partner and I are the comedians in the show, and we change what we do every night based on what the audience says and does. That keeps it fresh."
While Calcutt had mask and movement training at UVic, she didn't formally study clowning until after graduation, when she attended California's acclaimed Dell'Arte International School of Physical Theatre on the advice of then-Theatre professor John Krich.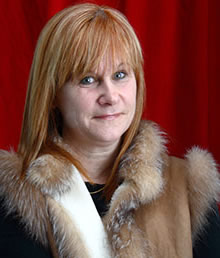 It was there Calcutt met master teacher Sue Morrison (shown right), which resulted in her studying with noted Calgary physical theatre company The Green Fools; and it was there, during a Morrison-led workshop in Clown & Bouffon, that Izzy first emerged with what became her signature line.
"We were doing duos at a cabaret in front of an audience and I asked my clown partner, 'Do you think I'm pretty?' That's really where Izzy was born."
It didn't take long for Calcutt to make a name for herself with the Izzy trilogy—Burnt Tongue, It's Me, Only Better! and Out of My Skin—winning multiple awards and playing to sold-out audiences across North America and as far afield as the Sidney Opera House.
She was scouted by Cirque du Soleil as early as 2000 ("I was put forward for Varekai and Corteo"), but it wasn't until 2005 she joined Zumanity. Not that she's been resting on Izzy's laurels since then. "I just finished a Master of Fine Arts in Writing for Dramatic Media with the University of Nevada, Las Vegas," she says. "I spent a lot of time in the dressing room writing papers."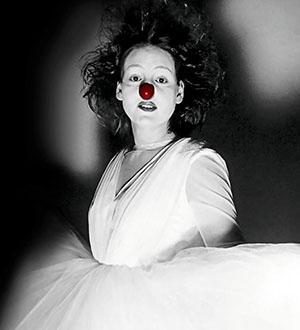 In addition to John Krich, Calcutt also notes Theatre professors Linda Hardy and now-retired Julianna Saxton as key influences, but names the late legendary professor Kaz Piesowocki as being singularly important.
"As the movement coach, Kaz was a huge influence on me... he made such an impact on us all — the way he taught impulse, physicality, the breath — it was all so simple, but resonates in everything I've done since."
This kind of dynamic learning is what makes UVic's Theatre department different from other Canadian universities, notes department chair Dr. Allana Lindgren. "In addition to our 'hands on' approach to education, we offer a comprehensive program that equally values practical and more traditionally academic courses," she says. "These factors mean that our students leave our undergraduate and graduate programs with numerous options ... it also doesn't hurt that we also have one of the best educational theatre facilities in the country."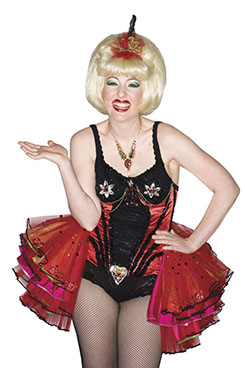 While it's been nearly 20 years since she graduated, the 40-year-old Calcutt is philosophical about aging alongside her character. "As you get older, so does your clown, so Izzy has really grown up here in Vegas," she explains. "In Burnt Tongue, Izzy is very innocent—it's her first show, she's all about finding a guy—but now she's one of the sex experts in Zumanity. (An older, 'more experienced" Izzy shown right!) Izzy has a husband in the show—played by my clown partner, Nicky Dewhurst—but my 'real life' husband Darren Pitura is our back-up, so I do work with him on occasion too. Darren and I have had two kids, so my body isn't 25 anymore ... that's the beauty of being a clown—instead of having the shame of not looking like you used to, you shamelessly celebrate it instead."
As well as her work with Cirque du Soleil, Shannan has also been teaching the art of clowning, including a recent workshop called "Celebrate Your Ridiculousness" at the Vegas Theatre Hub (photo below). "The more I teach, the more I realize how important this work is. Not just for artists, but for all of us. The art form of Clown is simply extraordinary. Clowns show us their flaws, so that we can forget our own. Clowns celebrate their shortcomings, so we can laugh at ours. Clowns show us their humility and vulnerability and wear their hearts on their sleeves. They remind us that we're all simply human and shouldn't take ourselves so bloody seriously," Shannan said of her experience. "Let's face it, we need clowns now more then ever!"
Best advice she was ever given as a theatre artist? "Make your own show; don't wait to be cast. Look at the alumni coming back — Charles Ross or TJ Dawe or myself — we've all created our own vehicles to perform. Don't wait for someone to decide that you're good enough, or smart enough, or talented enough. Talent is great, but you'll never have more than you do today; you can work on skills and training, but it's motivation and drive that will get you where you want to go."

Interesting Links:
---
Upcoming Events:

ANNIVERSARY ALUMNI FESTIVAL
Presented by our Anniversary Alumni Partner:

Shannan Calcutt: Burnt Tongue
Tuesday - Saturday, October 25-29 @ 8pm
Saturday, October 29 @2pm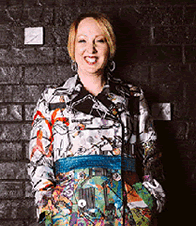 This Cirque du Soleil artist is usually seen on the stages of Zumanity in Las Vegas. She is also known as her alter ego, Izzy the Clown, who is the star of this quirky solo show about a clown who's eager to find love – so eager she shows up to her first blind date wearing a wedding dress!

"Shannan Calcutt is an absolute darling of an actor, and I defy you not to fall under her desperately fragile spell." - CBC TV
Box Office now open for all Festival tickets. Call 250-721-8000. Subscription packages for 3 shows, 4 shows – or all 8 shows! – start at only $39.00.
November 10 – 26, 2016 | PREVIEWS: Nov 8 & 9
LES LIAISONS DANGEREUSES
By Christopher Hampton | Directed by Fran Gebhard
Presented by our Anniversary Alumni Partner:
Adapted into the Oscar-winning film Dangerous Liaisons, Hampton's award-winning original play tells a chilling tale of sensual decadence and revenge played among the rich and bored French aristocracy as a high-stakes game of life and death. When Valmont is challenged to prove his seductive powers, an innocent bride-to-be and the virtuous woman are caught in the middle. But while sabotaging others' hearts and reputations, their own prove even more fragile.
Box Office opens for Les Liaisons Dangereuses tickets on November 1. Subscription packages for 3 shows, 4 shows – or see all 8 shows! – are available now and start at $39.00.
November 11-13, 2016
50th ANNIVERSARY
ALUMNI REUNION
Presented by our Anniversary Alumni Partner:

Due to overwhelming demand, we've expanded the events over our 50th Anniversary Alumni Reunion. So many Department of Theatre alumni (and their families!) are already planning to join us over the long weekend. Come connect with five decades of grads, talk to old friends and meet new ones! Join us for any or all of the following events:

With amazing support from our sponsors, iA Financial Group and the UVic Alumni Association, we've kept the prices incredibly low. We want as many people as possible to attend. Alumni, faculty, staff and their guests should register online soon as the prices go up again on November 1.
---
Phoenix Phacts:
Want more alumni updates? Check out the Alumni Profiles area of our website. Email your updates to us to be posted here in future eNews. Submit your bio online and yours could be the next alumni profile on our website!
Follow the most recent department and alumni stories by liking us on Facebook or following us on Twitter. Use #phoenixalumni to stream on our alumni website or tag @UVicPhoenix for us to retweet your event!

---
Sponsor Kudos:
Thank you to the Phoenix Theatre's many individual donors and corporate sponsors for their support of our programs and talented students!
Thanks also to our supporters over the past year from the Cadboro Bay Village including: For Good Measure, Pepper's Foods, Smugglers' Cove Pub, Caddy Bay Liquor Store and Heart Pharmacy.
Find out how your company can reach our 10,000 audience members and UVic community of over 25,000. Contact us to discuss a customized sponsorship package to meet your goals.
---
Phoenix eNews is a regular email magazine for those interested in the Phoenix Theatre, the not-for-profit productions at the University of Victoria's Department of Theatre, PO Box 1700, STN CSC, Victoria, BC, V8W 2Y2 Canada. The University of Victoria is a Registered Charity. Charitable Registration No. 10816 2470 RR0001
If you no longer wish to receive this newsletter, click here and enter your address and click Un-Subscribe. A confirmation message will be emailed to you. You can reply to this message to confirm that you want to be removed from this mailing list. This message also has a link that you can click on to complete the removal process.