Every season at the Phoenix begins with our Spotlight on Alumni showcase, when we invite a Phoenix graduate to return to their alma mater and perform their work on one of our stages.
But this upcoming fall, in honour of our 50th Anniversary, we've decided to do something a little different. We're bringing back not one, not two, but three of our former students to perform five different shows in a jam-packed Alumni Festival! (The Phoenix Theatre's full season can be viewed on our main website.)
One-Man Star Wars
One-Man Lord of the Rings
One-Man Dark Knight
Oct 11-17, 2016
Actor and playwright Charles Ross is a self-proclaimed 'professional geek.' Three of his hit shows – One-Man Star Wars and One-Man Lord of the Rings, as well as his newest trilogy, One-Man Dark Knight: A Batman Parody – are side-splitting parodies of famous film trilogies performed solely by Ross as he seamlessly shifts between iconic characters and scenes. He's taken these shows around the world with praise and approval from the likes of George Lucas and Sir Ian McKellen: from New York to London, from Dubai to Glastonbury, with stops in Singapore, New Zealand, and even Lucasfilm's Star Wars conventions. For our festival, he performs all three hilarious spoofs over the course of a week!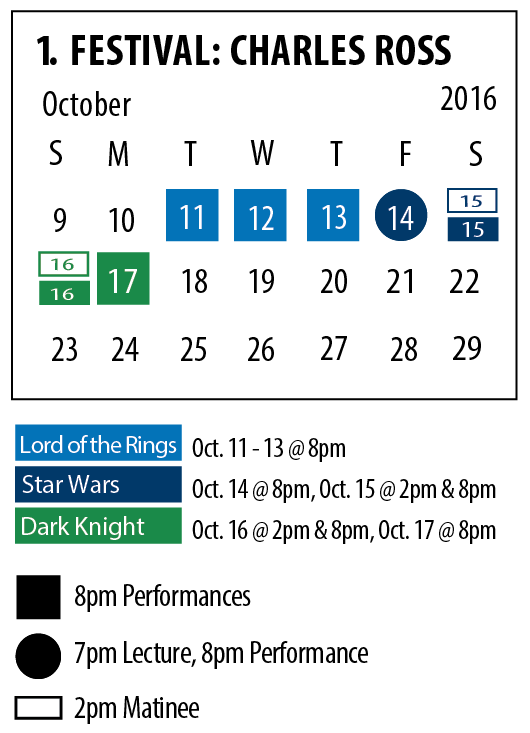 The Slipknot
Oct 18-22, 2016
Playwright, director, and dramaturg TJ Dawe is also an international Fringe icon, regularly performing his 14 autobiographical solo shows around the world. His play Toothpaste & Cigars (written with alumnus Mike Rinaldi) was adapted into the 2013 feature film The F Word, which starred Daniel Radcliffe and Zoe Kazan. In The Slipknot, Dawe performs a spellbinding comic monologue about three equally lousy jobs – from stock boy, to driver, to post office customer service. In turns of hysterical and heartbreaking, frantic and thoughtful, The Slipknot offers wise observations on relationships, Santa Claus, recreational Gravol, and why you should never put meat in the mail.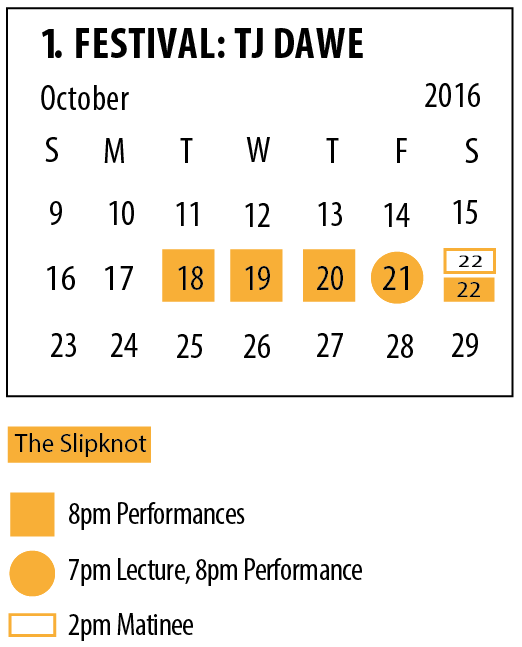 Burnt Tongue
Oct 25-29, 2016
For the past decade, writer, actor, instructor and clown extraordinaire Shannan Calcutt has called the Las Vegas stage of Cirque du Soleil's show Zumanity her home. As well as being the shows Co-Comedic Director and the clown coach for Cirque du Soleil's resident shows, Shannan is best known as Izzy, the charming and radiant clown with a keen sense of timing and a razor sharp wit. In Burnt Tongue, Izzy has met a man on the internet and decides this is the guy for her! She arrives for their blind date wearing a wedding dress insisting she's just "totally prepared to be spontaneous."