eNews: Week two of the Alumni Festival with TJ Dawe
Wow! That was a fun time with Charles Ross last week! This week, Fringe veteran TJ Dawe bares his soul in one of his first solo-shows, The Slipknot. Read more below about how far he's come since it was written!
Behind the Scenes:
Veteran Fringe artist bares his soul to audiences
After years of success on the Fringe theatre circuit and touring around the world, alumnus TJ Dawe brings his one of his earlier, and now published plays, back to the Phoenix stage.
The Slipknot has been described as hilarious, hypnotizing and hard. Dawe literally "slips" between three monologues – based on three horrible jobs he has done in his life – never skipping a beat, with a total of 14,000 words following a rapid fire rhythm. Stepping seamlessly from one story to the next, he chronicles his time as a stock boy in a drugstore, the inexperienced driver of a massive bin hauler, and a berated customer service person at Canada Post.
Nothing is too personal for Dawe to share with the audience; from relationships, to recreational Gravol, Santa Claus, and why you should never put meat in the mail. But although he brings his personal history to the stage, and lets you laugh at his mistakes, the life lessons are always greater than just his experience and audiences walk away with insights about their own life. It is this element of all his shows that has made his plays must-see events wherever he tours.
Since The Slipknot was written in 2001, it has become Dawe's most performed and purchased play. "Ironically," says Dawe, "The Slipknot has actually made me enough money to get out of the world of horrible jobs."
Many things have changed in Dawe's life since he wrote The Slipknot, which also has the honour of being the first Spotlight on Alumni presentation at the Phoenix Theatre in 2003. Dawe now has 14 solo, auto-biographical shows which he tours to great acclaim around the world, earning himself titles such "Fringe Veteran" and "King of the Monologue on the Canadian fringe theatre circuit".
Dawe is not only a performer and writer but he also is also a director. He has directed all of Charles Ross' (BFA' 98) one-man shows, which were presented at the Phoenix just the last week. Ross and Dawe were close friends during their time at UVic, proving the that the amazing friendships you make at university stay with you for life. In this case, the friendship extends to the stage as life-long artistic collaborators too.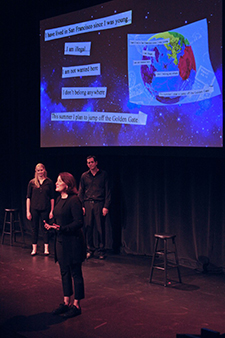 Over the years he has worked with many artists, a number of them also Phoenix grads. Dawe comes to Victoria directly from the Firehall Theatre in Vancouver where he directed alumna Nicolle Natrass' (BFA '91) play Mamahood: turn and face the strange that has just opened. He is also the director of playwright and author Mark Leiren-Young's (BFA'85) Never Shoot a Stampede Queen, based on Mark's Stephen Leacock-winning novel. The solo play featured Phoenix grad Zach Stephenson (BFA'03). Recently he co-created PostSecret: The Show, a stage production based on the popular blog site, PostSecret.com (which was also turned into a book and Smithsonian exhibitions) where people can anonymously share personal stories that they would never speak aloud. The presentation featured other Phoenix alumni Ming Hudson (BFA'07), Nicolle Nattrass (BFA'91) and Sam S Mullins (BFA'08).
The play that has brought Dawe the most fame is a two-hander called Toothpaste and Cigars, which was co-written with alumnus Mike Rinaldi (BFA' 96) and toured in 2003. At the time, the pair could never have dreamed that this quirky modern-day love story would become a Hollywood movie starring famous Harry Potter actor Daniel Radcliffe and Zoe Kazan. Dawe and Rinaldi had sought out Canadian filmmakers about a potential little low-budget indie film and Toronto screenwriter Elan Mastai picked up the rights.
After several attempts the momentum was almost lost, until 2010, when Fox Searchlight picked up the rights with plans for an A-list cast. Now it was going Hollywood! After several cast changes (originally Casey Affleck was cast as the main character) and more time on hold, Hollywood director Michael Dowse was enlisted and the Daniel Radcliffe/Zoe Kazan cast was confirmed for the movie, now renamed The F Word (click to watch trailer), (or "What If" for American movie goers). "And then it was crazy news when they said Radcliffe was onboard," Rinaldi said. "Suddenly, with a star like that, there's all this interest in distribution. I guess that's how it works," said Rinaldi in an interview before the movie was presented at the Toronto Film Festival. Since it has garnered excellent reviews, fandom from 20-somethings around the world, and won the 2014 Canadian Screen Award for Adapted Screenplay.
Dawe is looking forward to interacting with the students when he's back at his Alma Mater this week. When asked what lessons he would to pass on to current theatre students, Dawe offered some great advice to pass on:
A great deal of learning is done by osmosis. Go see lots and lots of theatre! See Fringe shows. See Belfry shows. See Inconnu shows. See Langham shows. He says, "It will hugely enrich your understanding of what to do, what not to do, what kind of theatre you like, etc. The more theatre you see, the better you'll be oriented to what kind of theatre you'd like to be a part of. "
Take advantage of the free art on campus too! Free concerts in the music department, art shows in the visual arts building, readings in the writing department. "It'll feed your artistic soul," says Dawe.
The friendships you make at school can turn into artistic partnerships in the professional world. The friendships you make in the department, the creative jamming that happens with people you click with - that's part of your education too. A big one. TJ is still creating with friends he met at the Phoenix, which "grew very organically out of how much they enjoyed hanging out and jamming on ideas and making each other laugh."
Don't be discouraged. Rejection doesn't mean you don't have talent, it doesn't mean you don't have what it takes to make it. There are many projects that you create from the ground up. Put on a SATCo show. Organize a poetry slam or open mic or improv night or sketch show or cabaret. Make your own work. He says

"I've built a career out of original, self-created theatre, something I first did in the classrooms and rehearsal spaces in this building. Self-created theatre has gained much more of a foothold in the last twenty years. In my student days it barely existed. Now it's thriving.... Maybe some of the students are going through what I did as an undergrad. Maybe I'll light the fire for one or two of them. Maybe you'll be seeing them here in twenty years."
Interesting Links:
---
Upcoming Events:

ANNIVERSARY ALUMNI FESTIVAL
Presented by our Anniversary Alumni Partner: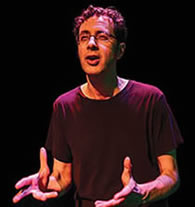 TJ Dawe: The Slipknot
October 18 - 22 @ 8pm
Saturday October 22 @ 2pm.

"5 STARS!...[Dawe has] a way of weaving stories together that would inspire quiet awe if one weren't busy laughing so hard." - Winnipeg Free Press

" If Jerry Seinfeld and George Carlin had a baby, it'd be TJ Dawe."

Writer, performer, director and Fringe veteran, TJ Dawe performs his hilarious coming-of-age tale about working in lousy jobs. Hysterical yet heartbreaking, he shares his observations and life's lessons from his experiences. Dawe regularly performs his 14 autobiographical solo shows around the world and his play Toothpaste & Cigars (written with theatre alumnus Mike Rinaldi), inspired the movie The F Word.
Shannan Calcutt: Burnt Tongue
October 25-29 @ 8pm
Saturday October 29 @2pm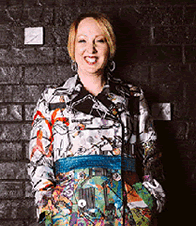 This Cirque du Soleil artist is usually seen on the stages of Zumanity in Las Vegas. She is also known as her alter ego, Izzy the Clown, who is the star of this quirky solo show about a clown who's eager to find love – so eager she shows up to her first blind date wearing a wedding dress!

Box Office now open for all Festival tickets. Call 250-721-8000. Subscription packages for 3 shows, 4 shows – or all 8 shows! – start at only $39.00.
November 10 – 26, 2016 | PREVIEWS: Nov 8 & 9
LES LIAISONS DANGEREUSES
By Christopher Hampton | Directed by Fran Gebhard
Presented by our Anniversary Alumni Partner:
This award-winning play, adapted into the Oscar-winning film, tells a chilling tale of sensual decadence and revenge played among the rich and bored French aristocracy as a high-stakes game of life and death. When Valmont is challenged to prove his seductive powers, an innocent bride-to-be and the virtuous woman are caught in the middle. But while sabotaging others' hearts and reputations, their own prove even more fragile.
Box Office opens for Les Liaisons Dangereuses tickets on November 1. Subscription packages for 3 shows, 4 shows – or see all 8 shows! – are available now and start at $39.00.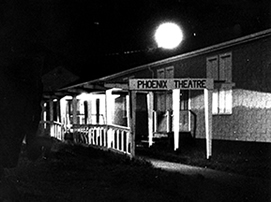 November 11-13, 2016
50th ANNIVERSARY
ALUMNI REUNION
Presented by our Anniversary Alumni Partner:
Due to overwhelming demand, we've expanded the events over our 50th Anniversary Alumni Reunion. So many Department of Theatre alumni (and their families!) are already planning to join us over the long weekend. Come connect with five decades of grads, talk to old friends and meet new ones! Join us for any or all of the following events:

With amazing support from our sponsors, iA Financial Group and the UVic Alumni Association, we've kept the prices incredibly low. We want as many people as possible to attend. Alumni, faculty, staff and their guests should register online soon as the prices go up again on November 1.
---
Phoenix Phacts: Alumni Shows not to miss...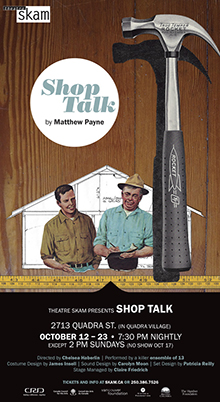 Theatre SKAM is presenting a new play written by founding member, Artistic Producer and alumnus Matthew Payne (BFA '96). Shop Talk explores sexual politics in the work place, combining the nonchalance and arrogance of carpenters, along with the worst jokes of the Internet. Shop Talk runs from October 12 – 23 and is directed by alumna Chelsea Haberlin (BFA '07), one of several Phoenix alumni who founded ITSAZOO Productions in Vancouver. Others involved include alumni Connie McConnell (BFA '92), Patricia Reilly (BFA '11), Jennifer Ault (BFA '01, MFA '14), Sarah Cashin (BFA'15), Brian Culp (BFA '09), Carolyn Moon (BFA '16) and current students Grace Le, and Amelia Petscheleit. Check out the current review by Janis La Couvee.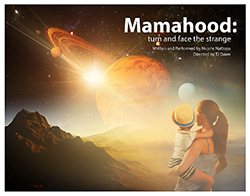 Nicolle Nattrass (BFA'91) continues to amaze with her one-woman shows. Nicolle's most recent work, Mamahood: turn and face the strange, will be presented at the Firehall Arts Centre from October 18 to 29. Written and performed by Nicolle, this "trip to Planet Motherhood" is also directed by alumnus TJ Dawe (BFA '97).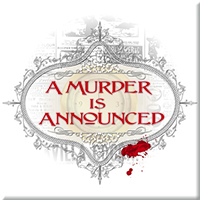 St. Luke's Players production of A Murder is Announced features the set design by fourth-year design student Barbara Clerihue. According to a recent review, she has "created a faithful representation of an English drawing room, filled to overflowing." Barbara is currently designing the set for our upcoming production of Les Liaisons Dangereuses in November. Also in the production is recent alumna Euphemia MacMurphy (BFA'16) as Julia. The production continues until October 23.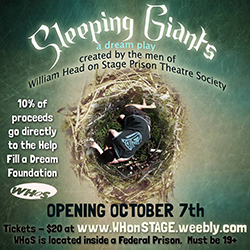 Also continuing this month, is the co-production of Sleeping Giants by William Head on Stage (WHOs) and SNAFU Theatre. Directed by alumna Kathleen Greenfield (BFA'05), Sleeping Giants is a play about what happens when the world stops dreaming. The show began inspired by such stories as A Midsummer Night's Dream and Rip Van Winkle, and soon grew and evolved into a wholly original piece with music, costumes, lighting, set and props--all designed and built by the inmate team. Read more in a Times Colonist interview with Kathleen or a review here.
---
Want more alumni updates? Check out the Alumni Profiles area of our website. Email your updates to us to be posted here in future eNews. Submit your bio online and yours could be the next alumni profile on our website!
Follow the most recent department and alumni stories by liking us on Facebook or following us on Twitter. Use #phoenixalumni to stream on our alumni website or tag @UVicPhoenix for us to retweet your event!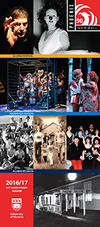 Subscribe & Save! The best and most economical way to see great theatre is to subscribe to a season of shows. Chose 3 or 4 shows, ranging from $39 to $52, or attend all the remaining shows during our anniversary season (only available until October 29). Subscribing gives you other useful perks like flexible free ticket exchanges to other performances and discounts on extra tickets. Fill out the online subscription form or call Sandra at 250-721-8003 to book.

---
Sponsor Kudos:
Thank you to the Phoenix Theatre's many individual donors and corporate sponsors for their support of our programs and talented students!
Thanks also to our supporters over the past year from the Cadboro Bay Village including: For Good Measure, Pepper's Foods, Smugglers' Cove Pub, Caddy Bay Liquor Store and Heart Pharmacy.
Find out how your company can reach our 10,000 audience members and UVic community of over 25,000. Contact us to discuss a customized sponsorship package to meet your goals.
---
Phoenix eNews is a regular email magazine for those interested in the Phoenix Theatre, the not-for-profit productions at the University of Victoria's Department of Theatre, PO Box 1700, STN CSC, Victoria, BC, V8W 2Y2 Canada. The University of Victoria is a Registered Charity. Charitable Registration No. 10816 2470 RR0001
If you no longer wish to receive this newsletter, click here and enter your address and click Un-Subscribe. A confirmation message will be emailed to you. You can reply to this message to confirm that you want to be removed from this mailing list. This message also has a link that you can click on to complete the removal process.