eNews: Ready, Set... Celebrate!
We're getting really excited for our 50th Anniversary and all the alumni that will be returning this fall... on our stages – including Charles Ross' One-Man Marathon that launches our Alumni Festival this week – and for our alumni reunion in November!
Behind the Scenes:
One-Man "globe-trotting" and "shining star" returns to UVic to shine on next generation.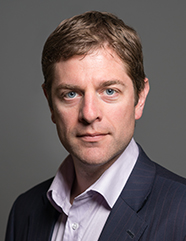 In 2001, Charles Ross wrote his own ticket to travel the world. Since then, he has created two more – he just calls them block-buster one-man shows.

A hilarious homage to the original three Lucasfilm movies, Charles Ross' One-Man Star Wars Trilogy has been performed across the globe, from London's West End, Off-Broadway and the Sydney Opera House. He has toured almost every continent, across the US, to Singapore, New Zealand and Dubai. He has even performed for George Lucas himself at a Lucasfilm Star Wars convention! This week he returns from an 18-city tour of the UK (including the famous Edinburgh Fringe Festival) to be one of three special invited artists at the Phoenix Theatre's 50th Anniversary Alumni Festival.

While Ross says it's an honour to be asked to perform for his Alma Mater UVic, he laughs that he almost didn't get into the theatre program over 20 years ago. In a recent interview with the Times Colonist he explains: he had moved from Nelson to Victoria before learning that, because he applied late, the program was already full. "I was devastated," he said, so devastated that he went to the department to plead his case. He thought, "Yes, I'm going to make an ass of myself. But I'm going to do it anyway…. I told them: 'Oh God please, if something comes up, can you give me a bit more consideration? I'm an idiot. I've already moved down here.'" After a "completely bummed out" summer on the wait list, he learned only two weeks before classes that he was in! About taking his future into his hands for the first time, he says "I feel like a made man." A few years after graduating in 1998, he would do it again.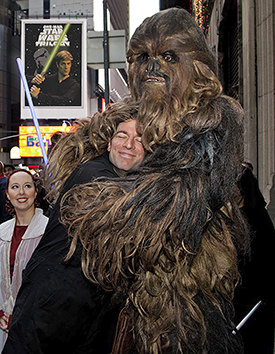 The origin story of the One-Man Star Wars Trilogy show also has ties to the Department of Theatre. Ross was playing Frisbee with alumnus TJ Dawe (BFA'97), who he met while at the Phoenix, when the idea of reenacting the Star Wars movies was proposed. Both had a love for the original movies, now referred to as Episodes 4, 5 and 6. Ross tells the story of growing up in small-town BC without cable television and watching his Star Wars VHS tapes till they were worn thin. Ross and Dawe sat down to write the play, and began rehearsing it, with Dawe directing. Dawe has an experienced eye and is "someone you can (cheerfully) argue with", Ross said.

Over the past 15 years, the play has only gotten better, with Ross playing lightning-fast character changes. With a quick turn or a side-step, he slips easily from the voices of Luke and Princess Leia, to Yoda, Chewbacca or the animated beeps of R2D2. Throw in all the sound effects, be it light sabers or the explosion of the Death Star, and suddenly the stage has transformed into a galaxy far, far away. "To my mind there was nothing more absurd than seeing a man on stage wearing black clothing trying to be everything out of Star Wars. It's like watching an eight-year-old child, except it's a fully grown man," said Ross when interviewed by the UK news site BigIssue.com.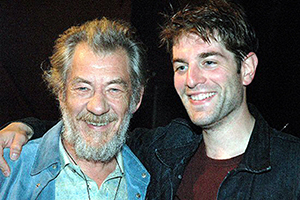 Two years later he started on his next challenge, one that he still finds his most exhausting show to perform – the One-Man Lord of the Rings Trilogy. This play follows the original JRR Tolkien books with Frodo Baggins and friends as they carry the one ring across Middle-earth to confront orcs, goblins, wraiths, and Sauron's other forces of evil. "The hardest part is falling a lot on my arms, shoulders and knees," says Ross to BigIssue.com. "Lord of the Rings has a lot more falling and a lot more brutal, violent death, creatures and orcs, and it's very fast. But I've got it under control, I'm not hurting myself," he insists. The show has also become a block-buster, being performed across the globe, and has even lead to Ross meeting Sir Ian McKellen in person!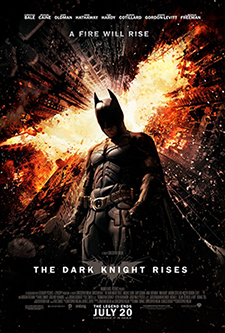 Most recently Ross has channeled his love of superheroes into his newest one-man show: One-Man Dark Knight: A Batman Parody. Again working with TJ Dawe as a director, Ross also consulted with another Phoenix alumni who is a Batman aficionado, Ian Case (who is also the Director of the Farquhar Auditorium at UVic). The play follows the major plot developments across Christopher Nolan's trilogy of movies, Batman Begins (2005), The Dark Knight (2008) and The Dark Knight Rises (2012). The brooding and conflicted Batman (aka Bruce Wayne) offers plenty of humour when parodied and played against his arch-nemesis The Joker.
If you feel you have to be a super fan of the movies to understand what Charles Ross does on stage, he says not to worry. There are some people who have never seen Star Wars or Lord of the Rings. "I could conceivably be their introduction to it," he shared with BigIssue.com. One night in Edinburgh there was a young couple that had seen practically no movies, much less Peter Jackson's 12-hour mammoth Tolkien trilogy. "But that couple came to the show out of youthful curiosity, they weren't daunted by the fact they haven't seen it."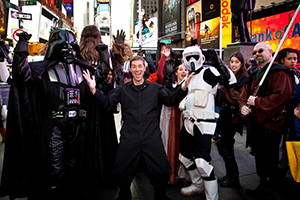 For the fans, it can also offer a different approach to the stories they love. "I'm hoping that taking something so high-tech and breaking it into so many components, that fans will take something new away from it."
Some fans take it to new heights, including the fantastic story of Richard, a man with a Storm Trooper outfit. "Richard works for the British rail system and he makes really good money, a really normal kinda guy, but he decided he wanted to tour with me in the UK. He did three different tours, and probably attended 120 or more shows in costume. Richard was like having my own personal storm trooper who was with me all the time!"
He greatly appreciates the fans. "In a way, when you celebrate the love of something like this together it's no different than if you've been to a science-fiction convention, it's like a religious revival, everybody is worshipping the same thing," he said to BigIssue.com.
"Today, being a nerd is a good thing," says Ross.
He's excited to be presenting his work to the next generation of UVic Theatre students and while here for the Alumni Festival, he will be doing workshops and classroom visits.
Interesting Links:
---
Upcoming Events:

October 11 – 29, 2016
ANNIVERSARY ALUMNI FESTIVAL
Presented by our Anniversary Alumni Partner:

To celebrate our 50th Anniversary we've invited three special alumni to return to the stages of the Phoenix to present a total of 5 different shows over 21 performances!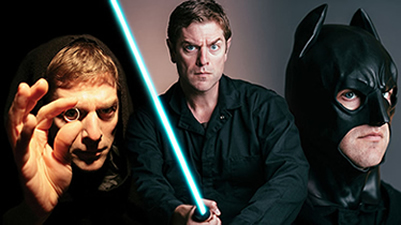 Charles Ross:
One-Man Marathon
October 11-17
Best known for his One-Man Star Wars Trilogy, Ross will present ALL of his one-man nerd trilogies in a One-Man Marathon of:

Lord of the Rings (Oct. 11-13)
Star Wars* Trilogy (Oct. 14 -15)
Dark Knight: A Batman Parody (Oct. 16 -17)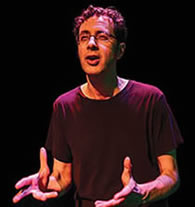 TJ Dawe: The Slipknot
October 18 - 22
Writer, performer, director and Fringe veteran, TJ Dawe performs his hilarious coming-of-age tale about working in lousy jobs. Hysterical yet heartbreaking, he shares his observations and life's lessons from his experiences. Dawe regularly performs his 14 autobiographical solo shows around the world and his play Toothpaste & Cigars (written with theatre alumnus Mike Rinaldi), inspired the movie The F Word.
Shannan Calcutt: Burnt Tongue
October 25-29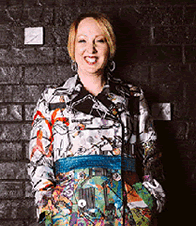 This Cirque du Soleil artist is usually seen on the stages of Zumanity in Las Vegas. She is also known as her alter ego, Izzy the Clown, who is the star of this quirky solo show about a clown who's eager to find love – so eager she shows up to her first blind date wearing a wedding dress!

Box Office now open for all Festival tickets. Call 250-721-8000. Subscription packages for 3 shows, 4 shows – or all 8 shows! – start at only $39.00.
November 10 – 26, 2015
PREVIEWS: Nov 8 & 9
LES LIAISONS DANGEREUSES
By Christopher Hampton
Directed by Fran Gebhard
Presented by our
Anniversary Alumni Partner:
This award-winning play, adapted into the Oscar-winning film, tells a chilling tale of sensual decadence and revenge played among the rich and bored French aristocracy as a high-stakes game of life and death. When Valmont is challenged to prove his seductive powers, an innocent bride-to-be and the virtuous woman are caught in the middle. But while sabotaging others' hearts and reputations, their own prove even more fragile.
Box Office opens for Les Liaisons Dangereuses tickets on November 1. Subscription packages for 3 shows, 4 shows – or see all 8 shows! – are available now and start at $39.00.
November 11-13, 2016
50th ANNIVERSARY
ALUMNI REUNION
Presented by our Anniversary Alumni Partner:
Due to overwhelming demand, we've expanded the events over our 50th Anniversary Alumni Reunion. So many Department of Theatre alumni (and their families!) are already planning to join us over the long weekend. Come connect with five decades of grads, talk to old friends and meet new ones! Join us for any or all of the following events:

With amazing support from our sponsors, iA Financial Group and the UVic Alumni Association, we've kept the prices incredibly low. We want as many people as possible to attend. Alumni, faculty, staff and their guests should register online soon as the prices go up again on November 1.
---
Phoenix Phacts: What our alumni our up to!
Recent applied theatre graduate Jasleen Powar (BFA'16), is making a name for herself as Vancouver rapper Horsepowar. She has been receiving the kind of media attention most emerging artists only dream about from the likes of CBC to Rolling Stone India. Her 2015 track "Queen" has earned almost 74,000 YouTube views – not too bad for a 24-year-old "Desi girl." Jasleen performed at the prestigious SXSW Music Festival this past spring to great appeal. Congrats and good luck Jasleen!
This past April, Amiel Gladstone (BFA '94) directed the musical Onegin that he co-wrote with Veda Hille. Held over twice at the Arts Club Theatre in Vancouver, it won 10 Jessie Awards! Fellow alumna Meg Roe (BFA '04) received the Jessie for Outstanding Actress for her role in this production. The Globe and Mail says "This show rises to another level: It is a searing love story with authenticity that cuts through the song-and-dance spectacle and strikes the audience at its core." Amiel focuses on "theatre for people who hate theatre" (as he puts it in the title of his blog) and the world seems to agree that Onegin has hit the mark!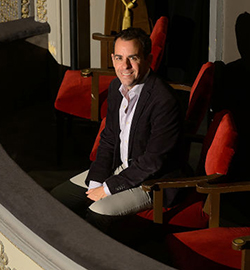 Congratulations Dennis Garnhum (BFA '90) on becoming the Artistic Director of the Grand Theatre in London, Ontario! Dennis has been making a name for himself at Theatre Calgary where he directed nearly 20 productions, including the world premieres of Lost – A Memoir, Beyond Eden and Timothy Findley's The Wars, the musical adaptation of The Little Prince, and Janet Munsil's (BFA '89) adaptation of Pride and Prejudice. In September Janet Munsil was awarded one of six Mayor's Medals at Thinklandia, part of the Rifflandia Music Festival, for her commitment to the arts and theatre in our community. Janet is a nationally recognized playwright who was also the Artistic Director of Intrepid Theatre, (the producer of the Victoria Fringe Festival) for many years. She is a great advocate for experimental theatre and has mentored many up and coming theatre artists. Janet was recently named the Artist in Residence of UVic's Centre for Studies in Religion and Society, where she is busy writing a new play, Act of Faith. Thank you to your service to our community Janet!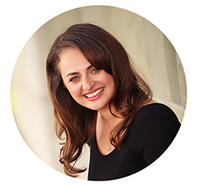 Theatre SKAM is presenting a new play written by founding member, Artistic Producer and alumnus Matthew Payne (BFA '96). Shop Talk explores sexual politics in the work place, combining the nonchalance and arrogance of carpenters, along with the worst jokes of the Internet. Shop Talk runs from October 12 – 23 and is directed by alumna Chelsea Haberlin (BFA '07), one of several Phoenix alumni who founded ITSAZOO Productions in Vancouver. Others involved include alumni Connie McConnell (BFA '92), Patricia Reilly (BFA '11), Jennifer Ault (BFA '01, MFA '14), Sarah Cashin (BFA'15), Brian Culp (BFA '09), Carolyn Moon (BFA '16) and current students Grace Le, and Amelia Petscheleit.
Nicolle Nattrass (BFA '91) continues to amaze with her one-woman shows. Nicolle's most recent work, Mamahood: turn and face the strange, will be presented at the Firehall Arts Centre from October 18 to 29. Written and performed by Nicolle, this "trip to Planet Motherhood" is also directed by alumnus TJ Dawe (BFA '97).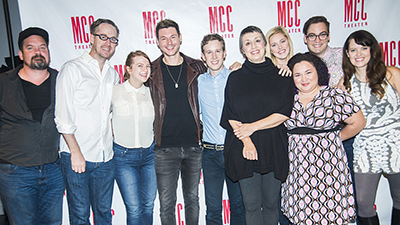 Everyone is excited that Ride the Cyclone, the Victoria-grown play that originated with Atomic Vaudeville co-founders, Britt Small (MFA '04), previous student Jacob Richmond, and local musician Brooke Maxwell (Jacob and Brooke shown above on left) is opening at MCC Theatre Off-Broadway this December. Last year it was a smash hit at the Chicago Shakespeare Theater with a held-over run. Joining the Off-Broadway cast, as he did in Chicago, is alumnus Kholby Wardell (BFA '08) (shown above, back row, far right). Kholby has performed in this play since its first production and across several Canadian tours. Lots of fun media coming out about the show from Playbill to Broadway.com. Good luck to everyone and break a leg!
Nathan Medd (BFA '01) is heading back to school to pursue a graduate degree in management at the prestigious Harvard University – all while maintaining his position as Managing Director of English Theatre at the National Arts Centre. Before heading to Ottawa, Nathan was the Managing Producer of Vancouver's Electric Company Theatre in where he also co-founded the Progress Lab 1422, a multi-tenant production centre. Good luck with your studies Nathan!
---
Want more alumni updates? Check out the Alumni Profiles area of our website. Email your updates to us to be posted here in future eNews. Submit your bio online and yours could be the next alumni profile on our website!
Follow the most recent department and alumni stories by liking us on Facebook or following us on Twitter. Use #phoenixalumni to stream on our alumni website or tag @UVicPhoenix for us to retweet your event!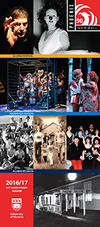 Subscribe & Save! The best and most economical way to see great theatre is to subscribe to a season of shows. Chose 3 or 4 or attend all 8 shows during our anniversary season (only available until October 14). Packages range from $39 to $52 to $125. Plus, subscribing gives you other useful perks like flexible free ticket exchanges to other performances and discounts on extra tickets. Fill out the online subscription form or call Sandra at 250-721-8003 to book.

---
Sponsor Kudos:
Thank you to the Phoenix Theatre's many individual donors and corporate sponsors for their support of our programs and talented students!
Thanks also to our supporters over the past year from the Cadboro Bay Village including: For Good Measure, Pepper's Foods, Smugglers' Cove Pub, Caddy Bay Liquor Store and Heart Pharmacy.
Find out how your company can reach our 10,000 audience members and UVic community of over 25,000. Contact us to discuss a customized sponsorship package to meet your goals.
---
Phoenix eNews is a regular email magazine for those interested in the Phoenix Theatre, the not-for-profit productions at the University of Victoria's Department of Theatre, PO Box 1700, STN CSC, Victoria, BC, V8W 2Y2 Canada. The University of Victoria is a Registered Charity. Charitable Registration No. 10816 2470 RR0001
If you no longer wish to receive this newsletter, click here and enter your address and click Un-Subscribe. A confirmation message will be emailed to you. You can reply to this message to confirm that you want to be removed from this mailing list. This message also has a link that you can click on to complete the removal process.