If this email does not display properly, please see our website phoenixtheatres.ca
eNews | Behind the Scenes | Upcoming | Phoenix Phacts | Perks | Kudos
---
eNews: Phoenix BackstagePASS
In a world still fraught with strife, the Phoenix Theatre presents a provocative interpretation of Romeo & Juliet set in the Holy Land. Director, Brian Richmond comments "Perhaps now, more than ever, we need the great plays of Shakespeare to remind us of just how sad and tragic the consequences of this failure to resolve our differences is to us, and the youth that will inherit the world we have created."
See below for more about the desert-inspired set design and the Turkish-born designer who brings his experience and innate understanding of Eastern cultures to the design of our Romeo & Juliet.
Behind the Scenes: Romeo & Juliet's set designed from Kerem Çetinel's 'old world' perspective
Shakespeare's enduring and tragic love story undergoes a provocative change of scenery in the Phoenix Theatre's production of Romeo & Juliet. Director Brian Richmond places his production in the Holy Land, and, through the lens of the many cultures that inhabit this region, brings a politically-charged and universal reading to the themes in Shakespeare's classic play.
"It's not likely that Shakespeare ever visited Italy...This has led me to believe that what he had in mind ... had nothing to do with drawing a portrait of the enormously creative , yet politically unstable setting of Italian states, but rather an allegory for his own time and equally volatile country." says Richmond.
In my view, the allegory of Romeo and Juliet paints – first a comic, then a tragic – portrait of a society that suffers from its inability to solve its ancient enmities between man and man, and man and women," says Richmond.
Richmond repositions this allegory into a land that has a tumultuous history of political divisions and cultural differences with the assistance of set designs by department sessional instructor Kerem Çetinel and elaborate costumes designed by professor Mary Kerr.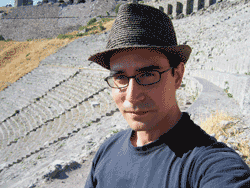 Kerem Çetinel at the Pergamum ancient
hillside theatre near Bergama, Turkey.
Born and raised in Turkey, Kerem brings his experience and innate understanding of Eastern cultures to his unique desert-inspired set design. With a stage floor full of desert sand and a backdrop featuring a weathered and war-torn wall, his scenery creates an atmosphere that symbolizes the divided territory.
"It was important for the set to capture a feeling of the old world," says Kerem. "A world that has thousands of years of history making its mark on the land and the people living on it."
He describes this old world feeling conceptually: as layers upon interconnected layers of dirt and dust, covering rich mosaics, encrusted by ancient plaster, chipped by time, changed by different cultures, and covered again by sand. For his set of Romeo and Juliet, Kerem uses light projections of cultural symbols and iconography to illustrate these layers.
"Dusty at first sight, but when you sift through it there are riches of history, religion and traditions that are revealed." says Kerem.
It reveals beauty, but it is also part of the strife that is be found in these regions. Kerem uses a weathered and bullet-ridden wall to symbolize these strifes and the divisions between cultures. "There are many walls in the Holy Land – the seperation wall in West Bank and the ancient wailing wall are just two examples – that stand and represent traditions and beliefs and yet they are physically part of these people's everyday lives."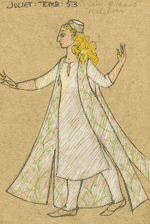 Kerr's costume design for Juliet inspired by Muslim clothing.
"Just like the forces that separate Romeo from Juliet, I wanted the backdrop wall of the set to symbolize walls that are errected by traditions and religions and to physicalize these separations."
Mary Kerr's costumes continue this representation of the cultural barriers between the families representing the Montagues as Jewish, the Capulets as Muslims, and the Prince and Friars as Christian representatives of a UN Peacekeeping troupe. Researched and drawn from traditional sources, they offer an abstracted and theatricalized version of their traditional inspirations.
Shakespeare's allegory of a land divided by feuding still resonates today, as the television brings us words images of distant lands locked in decades of strife. Brian Richmond believes, there is still something for contemporary audiences to learn from the great plays of Shakespeare, perhaps now, more than ever.
---
Upcoming Events: November
November 5– 21: Romeo & Juliet
By William Shakespeare
Directed by Brian Richmond
Presented by
NOW OPEN: Box Office Open for Romeo and Juliet tickets. Please note there is an alternate cast for some performances. Click here to see the schedule.

November 6 at 7:00pm: Free Pre-Show Lecture
Everyone is welcome to join us for our FREE Pre-Show Lecture, Friday November 6 at 7:00pm with Dr. Janelle Jenstad from UVic's Department of English for her talk Shakespeare's Experiment in Comi-Tragedy. This free lecture is open to everyone, including those with play tickets for alternate evenings.
November 27: 2009/10 "Spotlight on Alumni" Call for Submissions
The Department of Theatre invites our alumni to submit a proposal for the department's October 2010 "Spotlight on Alumni" position in the Phoenix Theatre's 2010/11 season. Click here for details. Deadline for submissions is November 27, 2009.
February 18 – 27, 2010: Problem Child
By George F. Walker
Guest Director Michael Shamata (Artistic Director, Belfry Theatre)
March 18 – 27, 2010: Wreckage
By Sally Stubbs
Directed by Fran Gebhard
---
Phoenix Phacts:
News on Alumni, Faculty, Staff and Students
Pacific Opera Victoria's upcoming production The Rake's Progress (November 12-21) features a set design by Theatre professor Allan Stitchbury. Stichbury has just completed a set for The Miracle Worker at the Vancouver Playhouse Theatre.
Kate Dion Richard (BFA'06), the sister of Samantha Richard, one the actors performing the role of Juliet in the Phoenix production, is making a splash in London England. She stars as Nora in the Candyking Theatre Company's production of A Doll House which played at the Greenwich Playhouse in September.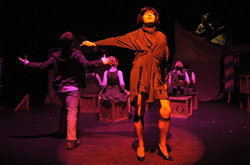 A cyclone roared back into Victoria in October as Atomic Vaudeville re-launched the Jacob Richmond and Brooke Maxwell play Ride the Cyclone featuring a roller-coaster car full of theatre alumni including Rielle Braid (BFA'08), Kholby Wardell (BFA'07), Celine Stubel (BFA'02), Timothy Johnston (BFA'07), Sarah Pelzer (BFA'08) and Carey Wass (BFA'07).
Theatre professor Mary Kerr's set design for Copper Thunderbird – a production from 2007 at the National Arts Centre – was chosen from over a thousand entries as a finalist in the international World Stage 2009 competition, held in Seoul, Korea. It was one of 259 finalists that will be shown in a gallery exhibition in conjunction with the competition. She is currently working with the Citadel Theatre for their 2010 production of Sweeny Todd.
Check out past Phoenix Phacts on our website.
---
Email Perks & Interesting Links:
Phoenix Subscription Deal
Season subscriptions for the 2009/10 season are still available for $33 for 3 mainstage shows. Some performance nights are already sold out. Click here for details about the season and subscription information or order through the Phoenix Box Office or by calling 250-721-8000.
---
Sponsor Kudos:
The Phoenix Theatre would like to thank our individual donors and community sponsors for their support of our programs and talented students! Thank you!
Season Community Partner:

Cadboro Bay Village Merchants
Cadboro Bay Book Company, Cadboro Bay Village Service & Auto Repair, For Good Measure, People's Compounding Pharmacy, Pepper's Foods, Smugglers Cove and Vision 2000 Blaney's Travel
Season Ticket Sponsor:


Grand & Toy: Performance Enhancing Offices
Contact Adrienne Holierhoek for information about how your company can support emerging theatre artists at UVic.
---
Phoenix eNews is a regular email magazine for those interested in the Phoenix Theatre, the not-for-profit productions at the University of Victoria's Department of Theatre. Do you know someone who would love to know more about us? Please feel free to forward this message to a friend!