The Orion
Lecture Series in Fine Arts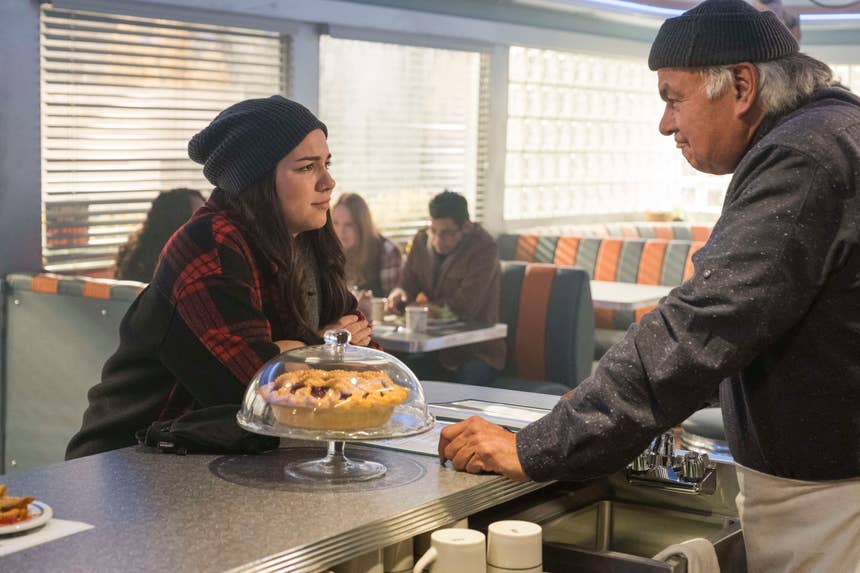 Gary Farmer & Kaylayla Raine in Resident Alien for the SyFy Network.
My Life as a Baby Clown

Tuesday, March 23 at 12:30pm
Free Zoom Lecture
Gary Farmer 
Actor, Filmmaker, Musician, Publisher, Activist
Gary Farmer is a filmmaker, musician, publisher, activist, and multi-award-nominated actor, who has worked in film, theatre, radio and television. He is currently performing the role of Dan Twelvetrees in Syfy Network's TV show Resident Alien.
Farmer has won Best Actor awards at the American Indian Film Festival for his roles in Powwow Highway in 1989 and Dead Man (opposite Johnny Depp) in 1997. He received nominations for the Independent Spirit Award for his roles in Powwow Highway, Dead Man, and Smoke Signals. In 2001, he was honoured with the Taos Mountain Award for lifetime achievements of an outstanding Native film professional, and in 2017, with the Lifetime Achievement Award at the Annual Native American Music Awards for his role as the harmonica playing frontman in the band, Gary Farmer & The Troublemakers.
Farmer is also widely recognized as a pioneer in the development of media for Indigenous peoples in Canada, launching the magazine Aboriginal Voices and founding the urban Indian radio network Aboriginal Voices Radio Network.
In this lecture, Gary Farmer will discuss his freedom to explore his cultural identity through the performing arts, working with diverse human storylines for better thinking humans since 1975.
Register here to attend this Free Zoom webinar.
Free and open to the public  |  Capacity is limited to 500 Zoom connections
Visit our online events calendar at www.uvic.ca/events

About the Orion Fund
Established through the generous gift of an anonymous donor, the Orion Fund in Fine Arts is designed to bring distinguished visitors from other parts of Canada—and the world—to the University of Victoria's Faculty of Fine Arts, and to make their talents and achievements available to faculty, students, staff and the wider Greater Victoria community who might otherwise not be able to experience their work.
The Orion Fund also exists to encourage institutions outside Canada to invite regular faculty members from our Faculty of Fine Arts to be visiting  artists/scholars at their institutions; and to make it possible for Fine Arts faculty members to travel outside Canada to participate in the academic life of foreign institutions and establish connections and relationships with them in order to encourage and foster future exchanges.