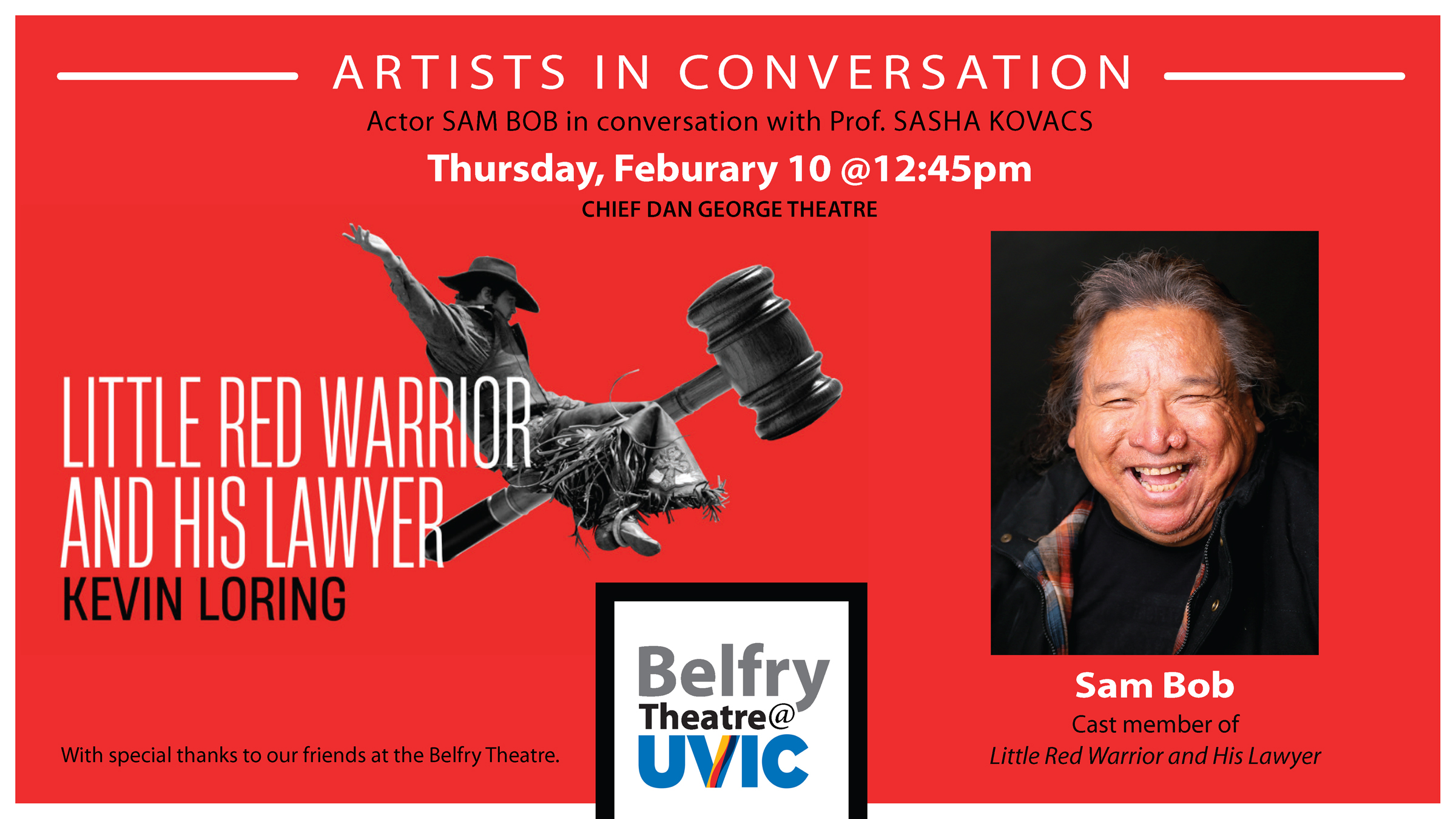 Thursday, February 10 at 12:45 pm
In-person at the Phoenix Theatre*
Belfry@UVic with Sam Bob
Unfortunately, due to unforeseen circumstances,
this event has been CANCELLED. 
Join cast member Sam Bob in conversation about his work on Little Red Warrior and his Lawyer, an irreverent comedy about power, land claims and procreation. 
Sam Bob is a Vancouver-based actor who has performed in TV, film, radio, and theatre. His family is from the Nanoose Indian reservation on Vancouver Island. His mother is from Lyackson First Nation and his father is from Snaw-Naw-us First Nation. After residential school at Kuper Island, he moved to LA and went there for grades 3-10 then moved back to Vancouver. He is a Jessie Richardson GVTA nominee for Best Actor in a theatre production called Out of the Silence as an abusive father and also nominated for Best Actor by Edmonton's Dreamspeaker's Film Festival for his performance in The Red Paper as a Native King Louie XIVth. Sam has performed across Canada on stage from coast to coast. He worked with the great Anthony Hopkins in a film called Go With Me shot in Enderby BC, a true honour to work with a true legend. Sam's traditional name is Tulkweemult.
Highlights include doing a children's show Wahkeja as a puppeteer as Terry the Turtle (think like a Native Elmo voice) which he had to choose between the kid's show and a play that was headed to the Edinburgh Fringe in Scotland..he did Wahkeja. Another highlight was two fight scenes one jailhouse fight scene in Touching Evil which was fun but dangerous as Sam toughed out an errant elbow to his nose (Don't cut!" Keep rolling!") Also a fight with Raul Trujillo in Destiny Ridge which was a 12 sequence knife fight which was as fun to shoot as gruelling to complete. Lastly, Sam enjoyed morphing once into a panther in So Wierd and also morphed once into a sexy woman in Health Nutz (thank heavens they cut before the kiss…but the red dress was to die for —  jus sayin').
The Belfry@UVic Series at UVic's Department of Theatre continues this year with engaging conversations with theatre artists. Many thanks to The Belfry Theatre for this amazing collaboration that connects UVic students with playwrights, directors, designers, actors and more. 
*VERY LIMITED CAPACITY:
The department is limited to 50% capacity for this event. Students in specific classes will be given priority access. Additional attendees will be seated first come first serve following the classes if space is available.