If this email does not display properly, please see our website phoenixtheatres.ca
eNews | Behind the Scenes | Upcoming | Phoenix Phacts | Perks | Kudos
---
eNews:
Spotlight on Storytelling
It's been a busy beginning of the season and our Spotlight on Alumni presentation is already off and running! If you haven't seen the reviews for Sam Mullins' wonderful evening of storytelling scroll down to the excellent reviews. Below, meet Sam and learn more about his approach to storytelling: "be present, tell the truth."
Behind the Scenes:
Telling the truth on stage
Alumnus Sam Mullins talks about the magic of storytelling

As an alumnus of the performance program here at UVic, Sam Mullins admits, he never really loved acting. It's in writing and storytelling that he's found his passion. But what's the difference between acting and storytelling?
"Technically, if I'm in a 300-seat theatre with lighting and sound…the only gimmick I have is, be present, tell the truth. Make sure you look people in the eyes. Break the fourth wall," said Sam in an interview with the Edmonton Journal.
"Being a storyteller, I am pretty much exclusively working off of my own personal experience."
A Spotlight on Alumni presentation sponsored
by:
"Weaksauce is about a summer of firsts," Sam shared with The Charlebois Post. "First job. First time away from home. First love. When I sat down to start writing my memories, I realized that all I had to go off of were just the vague residue of faded feelings. I don't remember the conversations I had with my first love. I don't remember how I dressed… I just remember the adrenaline, the nausea, and the excitement of falling in love for the first time. I remember the depression of having my heart broken when someone else won her affection. I remember the freedom of being away from home by myself for the first time. I remember how it felt when the wheels of the plane left the runway in Toronto to take me back home, and how I knew that things would never be the same."
"As a writer, I'm almost glad that my memory is so scatter-shot. It gives me the wiggle-room to get at larger truths. I'll create the conversations that make me feel the way that I felt. I'll fabricate the conversations so that when I'm before an audience, I can tell them the truth."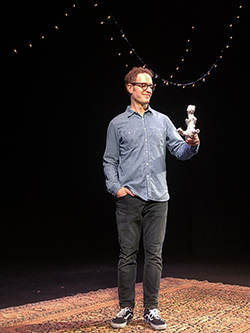 "I need to trick myself into getting really excited to go onstage... I think, "OK, I'm at a party, and someone says, 'hey, what's that story you have about when you fell in love when you were a teenager?' or 'what was that thing, when you were in the restaurant? Tell us that story.' I imagine we're in a living room and that calms me down, and really, once you get that first laugh… I always try to get a laugh in the first 10 seconds," he said.
'But nervous energy is a good thing for me on stage. It's really easy to be vulnerable on stage when you feel really vulnerable. I don't have to pretend."
"Storytelling is magic," he says in one of his blog post. "It is capable of changing people's lives in a way that few other forms of expression can. A well-told story will make a room laugh as one, cry as one, breathe as one. It can bring people together in a way that almost nothing else can. It is truly a special thing."
"Weaksauce is my favourite thing I've ever written and I'm delighted to be back onstage where my theatre journey began," Sam writes in his programme notes for the "Spotlight on Alumni" performance at the Phoenix Theatre. "Truly everything I know about theatre I learned inside the walls at the Phoenix. This is a very special place to me, and I couldn't be more pleased to be bringing my most special piece back here."
Weaksauce Media Round up!
Mullins' Weaksauce hits the mark, like a good hockey pass review in Monday Magazine (October 11)

"This soul-searching biographical collection of tales ...left the audience and this reviewer grinning a lot and laughing out loud at times. His down-to-earth delivery and willingness to reflect on sometimes painful memories came across as refreshing and honest and kept the audience with him."

UVic alumnus Sam Mullins returns to tell his own story in Weaksauce preview article in the Times Colonist (October 10)

"After doing all of this tried-and-tested material I've done everywhere, it's kind of fun to throw something in that makes me utterly terrified," he said.

Check the Programme mini-review on Facebook page (October 11)
"The feel-good vibes of 'Weaksauce' are balanced nicely with an offbeat trio of short stories Mullins has chosen for his second half, perhaps an even stronger showcase of his gift as a writer. ... this particular set is a masterclass in pacing, story structure and comic timing that delivers sharp meditations on spontaneity, parenthood and chance encounters with Mullins' trademark charm and sincerity... If you love to be told a good story (or four), 'Weaksauce and Other Stories' is well worth the trip to campus."
Stage Left: Weaksauce has lots of strong points review in the Times Colonist (October 12).
"What saves Weaksauce (the title references hockey slang) from being just another jejune trope is the sensitivity and intelligence of his writing. It also benefits from his easy, likable acting style — Mullins relates to a theatre full of people as though confiding to a single listener."
---
Phoenix Phacts: Fall update on Phoenix alumni in the community and afar!
Past and present Phoenixers are often widely represented at the Victoria Fringe Festival, and this summer was no different, taking home awards for: Summer Bucket List, directed by Anna Marie Anderson (BFA '18), which won Favourite Original New Work as well as Favourite Drama. The show also included Aaron Smail, Hina Nishioka, Devon Vecchio, Arielle Rose Parsons, Emily Hay, and previous student Willa Hladun. Jeff Leard (BFA '10) won Best Performance by a Fringe Artist for his performance in False God. Most Audacious Risk-Taker award was won by previous students Monica Ogden and K.P. (Ann-Bernice) Thomas for LUB DUB. Congratulations to everyone involved! "
This summer at the Jessie Richardson Theatre Awards, Dr. Jennifer Wise, Theatre Professor Emeritus, won the Critic's Choice Innovation Award for her contemporary adaptation of Bard on the Beach's production of Lysistrata (along with Lois Anderson), and Sweeney Todd: The Demon Barber of Fleet Street, directed by Chris Adams (BFA '11), received four awards. Congratulations to you both!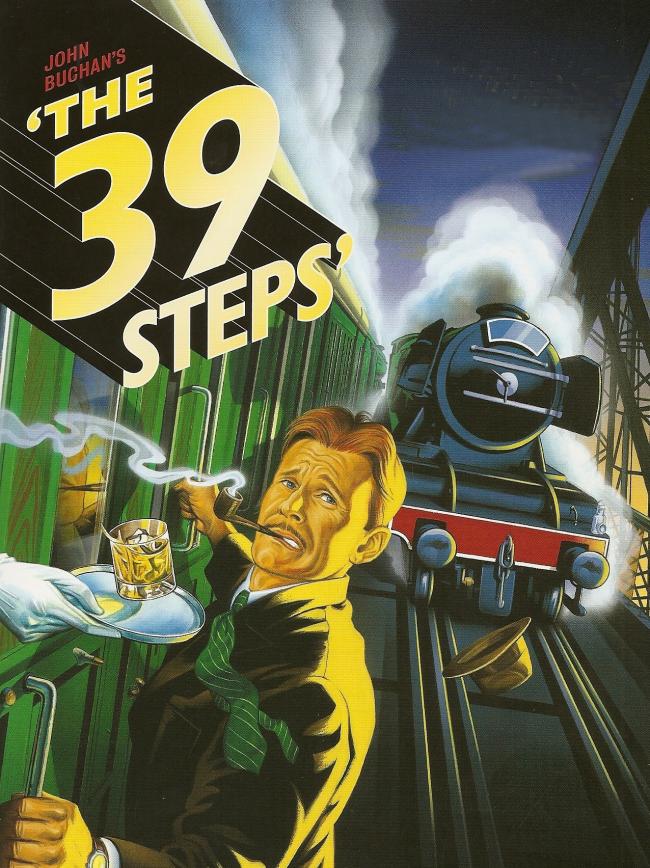 Blue Bridge Repertory Theatre's production of Barefoot in the Park this past summer was directed by Phoenix professor Fran Gebhard and included Laura-Jane Tresidder (BFA '15), Jonathan Mason (BFA'12), previous student, Jacob Richmond, Jacqueline Gilchrist (BFA '16), Rebekah Johnson (BFA '83), and current students Ted MacRae and Emma Jo Conlin. A Funny Thing Happened on the Way to the Forum included current students Ciaran Volke, Carter Gulseth, Grace Fedorchuk, and Emma Jo Conlin, previous student Jacob Richmond, and alumnae Britt Small (MFA '04) and Rebecca Marchand (BFA '16). One of Victoria's newer theatre companies, hapax theatre, featured Phoenix alumni Brendan Elwell (BFA '19), and also included current students Taylor Guidotti and Aaron Smail in their production of Constellations.
The Greater Victoria Shakespeare productions Two Gentlemen of Verona and Julius Caesar featured current students Sivert Das, Aaron Smail, Julie McGuire, Emily Wilcox, Olivia Wheeler, previous student Hilary Wheeler, and alumni Douglas Peerless (BFA '19), Jack Hayes (BFA '17), Taylor Lewis (BFA '09) and Cam Culham (MA '03). Theatre SKAM's SKAMpede, the outdoor performance festival along Galloping Goose Trail, included Logan Swain (BFA '19), Tiffany Tjosvold (BFA '13), Sophie Underwood (BFA '18), Andrew Barrett (BFA '12), Matthew Payne (BFA '93), Hannah Bell (BFA '19), Emma Leck (BFA '18).
Hope McIntyre (MFA '96) began her new position at the University of Winnipeg's Department of Theatre and Film as Assistant Professor in Performance this fall. PhD candidate and current sessional Taiwo Afolabi has recently started at the Belfry Theatre as the Artistic and Community Liaison, and we would like to welcome Yasmine Kandil (MFA '05), (PhD '12) back to the Phoenix as a Professor of Applied Theatre.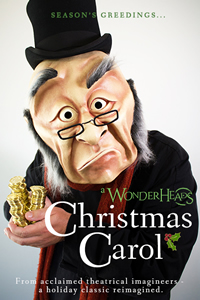 The Belfry Theatre's production of The Children (September 17-October 13) included Molly McDowell-Powlowski (BFA '19) as the Assistant Director of this show, funded by the Emerging Artist Enhancement Program as well as Alan Brodie (MFA '16) At Blue Bridge, previous student Jacob Richmond will be directing The 39 Steps (October 22-November 3), with designs by alumnae Jacqueline Gilchrist (BFA '16), and Rebekah Johnson (BFA '83), and Alan Brodie (MFA '16). Victoria Operatic Society presents Mamma Mia November22-December 1 at the Mcpherson Theatre. This show will feature performances by current students and alumni Brock Kneeler and Ashley Richter and Hailey Fowler (BFA '19).
This December, the WONDERHEADS, co-founded by Kate Braidwood (BFA '03), present a giant-masked take on a holiday classic, Christmas Carol, which will be touring across the island from December 3-21.
Upcoming Phoenix Events:


October 9 – 19, 2019
WEAKSAUCE AND OTHER STORIES
By Sam Mullins (BFA'08)
A Spotlight on Alumni presentation.

Presented by:


Weaksauce & Other Stories is a greatest hits collection of stories by Sam Mullins featuring the full-length version of his five-time Best-of-the-Fest-winning story. Weaksauce is the story of the summer that Sam turned 16 when he left home to work as a camp counselor only to be blindsided by the first great romance of his life. This achingly angsty and tender coming-of-age story is a comedy of first times, second chances and third wheels. Also included in the evening are two 10-minute-long stories based on his hit shows Tinfoil Dinosaur and The Untitled Sam Mullins Project and the premiere of a new story about the bleary-eyed joys of fatherhood. "Fresh, funny and heart-poundingly alive." Now Magazine
BOX OFFICE: Tickets $15 to $28, including $15 CHEAP TUESDAYS and $16 Student Rush Seat (every night, 30 minutes at the door.) Subscription packages for 3 or 4 shows start at only $42. Call 250-721-8000
November 7 – 23, 2019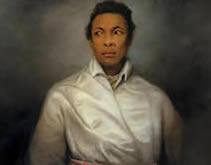 OTHELLO
By William Shakespeare
Director Brian Richmond
Previews: November 5 & 6 at 8pm
Preshow Lecture: Friday, November 8 at 7pm
"Othello at the Globe" with Dr. Will Tosh, Research Fellow & Lecturer from Shakespeare's Globe in London.

With its disturbing portrait of a world infused with racial politics, misogynist social structures and backstabbing treachery, Shakespeare's Othello feels like it's been ripped from today's headlines – not written over 400 years ago. Two lovers come from very different worlds: Othello, a mighty General from a foreign land, and Desdemona, a beautiful Senator's daughter. They marry, undeterred by the prejudices that surround them. But no sooner are their vows sealed than their love is put to the test, as bigotry, envy, and jealousy begin to pull them apart. In its raw emotions and ruthless politics, Othello remains an ageless and poignant tragedy.
BOX OFFICE opens for this show on October 29. Subscription packages for 3 or 4 shows are available now and start at $42. Call 250-721-8000
---

Want more alumni updates? Check out the Alumni Profiles area of our website. Email your updates to us to be posted here in future eNews.


Follow the most recent department and alumni stories by liking us on Facebook or following us on Twitter. Use #phoenixalumni to stream on our alumni website or tag @UVicPhoenix for us to retweet your event!
---
Sponsor Kudos:
Thank you to the Phoenix Theatre's many individual donors and corporate sponsors for their support of our programs and talented students! A special thank you to this season's Production Resource Partner, Production Canada whose support helps realize our designer's visions on stage.
Thanks also to our supporters over the past year from the Cadboro Bay Village including: For Good Measure, Pepper's Foods, Smugglers' Cove Pub, Caddy Bay Liquor Store, and Heart Pharmacy.
Find out how your company can reach our 10,000 audience members and UVic community of over 25,000. Contact us to discuss a customized sponsorship package to meet your goals.
---
Phoenix eNews is a regular email magazine for those interested in the Phoenix Theatre, the not-for-profit productions at the University of Victoria's Department of Theatre, PO Box 1700, STN CSC, Victoria, BC, V8W 2Y2 Canada. The University of Victoria is a Registered Charity. Charitable Registration No. 10816 2470 RR0001
If you no longer wish to receive this newsletter, click here and enter your address and click Un-Subscribe. A confirmation message will be emailed to you. You can reply to this message to confirm that you want to be removed from this mailing list. This message also has a link that you can click on to complete the removal process.