If this email does not display properly, please see our website phoenixtheatres.ca
eNews | Behind the Scenes | Upcoming | Phoenix Phacts | Perks | Kudos
---
eNews:
Recreating the past: a 30-year old set design gets remounted for its birthday.
By Kaitlin Adams with contributions by John Threlfall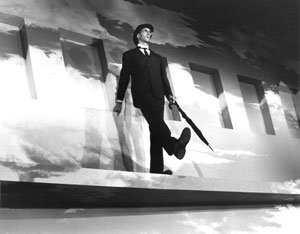 The Phoenix Theatre's production of 7 Stories by Morris Panych is taking a step into the past.
Premiering 30 years ago in May of 1989 at the Arts Club Theatre in Vancouver (shown right with Peter Anderson as the Man), it was Panych's first major play and is considered to be one of his best.
Ken MacDonald's original set design was also considered a masterpiece. Inspired by the surrealist art of René Magritte the cloud-covered set of the seventh-storey of a building emphasized the very nature of the play.
"I've waited thirty years to direct this play," says Phoenix director and UVic Theatre professor Fran Gebhard (shown below), whose past shows at the Phoenix include Crackpot, Wreckage, Midsummer Night's Dream and Les Liaisons Dangereuses.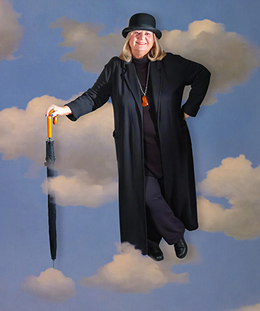 "Ken MacDonald's original set is so iconic. It adds an important layer to the meaning of the play, with the surreal elements of Magritte's work perfectly underscoring Panych's existential themes. I really couldn't see the play with any other design," says Gebhard.
And so, to celebrate the play's 30 anniversary this year, Gebhard asked her good friends Morris Panych and Ken MacDonald if she could direct Panych's play using MacDonald's original 30-year-old set design.
7 Stories takes place on a seventh-storey window ledge where a man is in the midst of an existential crisis and is considering jumping. While reflecting on his life, he is interrupted by the quirky residents and their hilarious, self-absorbed problems. Through their interactions, the Man finds the courage he needs to take the next step. It's a quick-witted, fast-paced comedy that philosophizes about life and death, right up to its existential conclusion.
"I want people to look at this play, see themselves in these characters,and understand that's it's OK to laugh at ourselves!" says Gebhard.
Fourth-year Theatre student Conor Farrell oversaw the design adaptation of MacDonald's original vision. Logistically, this meant adapting plans from the 20th anniversary mounting at Theatre Calgary in 2009 (which echoed the original set with a few modifications by MacDonald for their theatre space) and creating one cohesive construction that works with the Phoenix Theatre's Roger Bishop space and accommodates the safety fire curtain in the Bishop. The resulting set structure stands over 23 feet tall and includes a flexible, quick-release portion that gives way in the case of a fire so that safety procedures are maintained.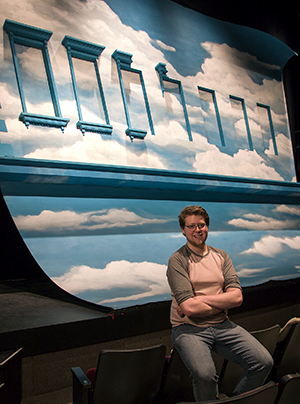 "Ken's original design was built for a very different space, so we're changing it slightly," explains Farrell, "We're taking the base design and trying to keep all the integral parts. We've spoken with him about how we need to change it and gotten his okay for that."
"It's a new kind of challenge," says Farrell. "At the end of the day, it doesn't matter if I would do something differently, because it needs to keep the spirit of the original design alive."
Farrell is also a member of the seven-person painting class that has been learning about scenic painting. Overseen by Bryn Finer, also the Phoenix Props Coordinator, this team of upper-level students has been tasked with painting all of the sets this season. The huge set of 7 Stories is painted with blue skies and fluffy clouds required almost 20 gallons of paint brushed on to 2046 square feet of canvas, The canvas was prepainted on the floor of the stage, and then picked up and applied laid over the set construction that underpins the massive 23-foot wall of the apartment building.
Much of 7 Stories relies on the actors being able to get used to rehearsing with the specific architectural elements of the set, like the windows and ledges. The construction of the structure however took seven weeks to build, overseen by Head of Scenic Construction, Charles Procure, with his team of student carpenters. While it was in construction, actors rehearsed on a moveable set piece that was built to perfectly replicate the functions of the actual set structure. This moveable rehearsal set meant actors could get used to the physicality of the set, while also ensuring the safety of the actors — especially second-year student Lyle Hendriks, portraying The Man, who is perched on the building's ledge.
For 7 Stories, the fantastical set piece is almost like an added character, creating opportunities and challenges for the actors to tell their stories. As Conor Farrell sees it, "That's the fun of the show: how to act with very limited space," he says. "This set is a challenge that the actors have to solve."
And we're all looking forward to seeing this amazing architecture come to life on opening night.
---
Phoenix Phacts:
First staged at the Phoenix Theatre in 2005, Janet Munsil's (BFA '89) Governor General's Award-nominated play, That Elusive Spark runs at Langham Court Theatre until March 16. The production features Trevor Hinton (BFA '07) (who also played Phineas Gage in the Phoenix production), Laura-Jane Wallace (BFA '16), graduating student Aidan Dunsmuir and costume design by Jacqueline Gilchrist (BFA '16). Janet Munsil is also a current MFA candidate in the Department of Writing. She and other grad students presented and performed excerpts from their graduating manuscripts at this year's Ideafest at UVic in March.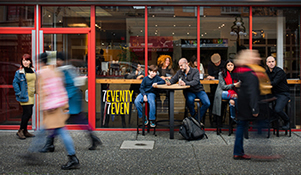 Theatre SKAM's latest production, 7eventy 7even, featured lots of Phoenix alumni including: director Pamela Bethel (BFA '99), actors Grace Le (BFA '17) and Carey Wass (BFA '08), and designers Rebekah Johnson (BFA '83), Delaney Tesch (BFA '17), Shayna Ward (BFA '15), and graduating student Aidan Dunsmuir. Theatre SKAM now offers workshops for adults, including a grant writing course with Matthew Payne (BFA '93) and a workshop on solo show creation with Charles Ross (BFA '98).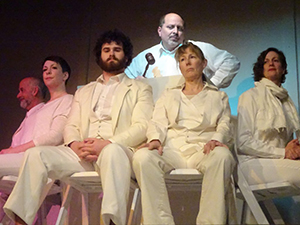 Theatre Inconnu recently mounted the hilarious and poignant play, The Last Days of Judas Iscariot,by Pulitzer Prize-winning playwright Stephen Adly Guigis. This purgatory courtroom comedy was directed by alumnus and current sessional instructor Clayton Jevne (BFA '85 MFA '87 and PhD '03) and included Evan Coates (BFA '18), Cam Culham (MA '03), and David MacPherson (BFA '92) among the cast.
Collectivus Theatre, co-founded by Anna Marie Anderson (BFA '18) will remount its hit play The Fitting Room (written by co-founder Ellery Lam)at the Havana Theatre in Vancouver from May 14-18. The Fitting Room won Overall Favourite Show and tied for Bravest Show at last year's Victoria Fringe, with student Ciaran Volke selected as runner-up for Favourite Performer. The Vancouver show will feature students Ciaran Volke and Una Rekic, design by Aaron Smail and Delaney Tesch (BFA '17) and direction by Anna Marie Anderson.
Alumni! What are you up to? Send your alumni stories, updates and show projects to phoenixalumni@uvic.ca. Or submit your bio online. Our new website will be updated with more Alumni Profiles in the spring. Send your information to be included!
---
Upcoming Phoenix Events: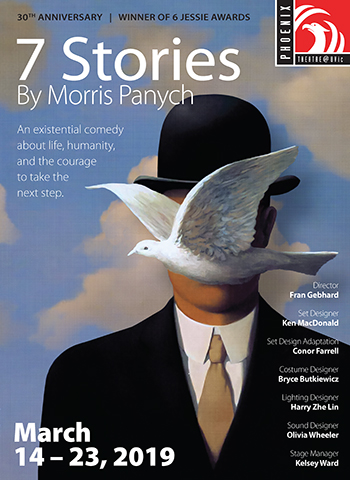 7 STORIES
March 14 – 23, 2019
Preview: March 12 & 13
Written by Morris Panych
Director Fran Gebhard
Set Design Ken MacDonald
Design Adaptation Conor Farrell
Costume Design Bryce Butkiewicz
Lighting Design Harry Zhe Lin
Sound Design Olivia Wheeler
Stage Manager Kelsey Ward

Fast-paced and full of eccentric characters, this dark comedy takes place on the seventh-storey window ledge building where a man is contemplating jumping. Endlessly interrupted by a variety of quirky building residents, he becomes drawn into the absurdity of their daily lives. So self-absorbed are his neighbours, that no one even bothers to ask why he's out there! This quick-witted, sophisticated satire will have you philosophizing about life and death, right up to its existential conclusion. Written by the award-winning Canadian playwright Morris Panych 30 years ago this year, 7 Stories is the winner of six Jessie Awards, including Outstanding Original Play.

BOX OFFICE: Tickets on sale now: $26 Discounts on weekdays & matinees: Students $16, Seniors $21. (Previews $8 after 5pm) Call 250-721-8000.
Friday, March 15, 2019 at 7:00pm
LECTURE: Seven Stories about 7 Stories
FREE preshow public lecture
with Mark Leiren-Young Sessional Instructor
UVic Department of Writing
Award-winning Victoria playwright Mark Leiren-Young talks about the significance, history and secret origins of Morris Panych's modern masterpiece 7 Stories in celebration of the play's 30th anniversary. Mark is currently teaching humour writing and TV writing at UVic.
---

Want more alumni updates? Check out the Alumni Profiles area of our website. Email your updates to us to be posted here in future eNews.

Follow the most recent department and alumni stories by liking us on Facebook or following us on Twitter. Use #phoenixalumni to stream on our alumni website or tag @UVicPhoenix for us to retweet your event!
---
Sponsor Kudos:
Thank you to the Phoenix Theatre's many individual donors and corporate sponsors for their support of our programs and talented students!
Thanks also to our supporters over the past year from the Cadboro Bay Village Business Association including: For Good Measure, Pepper's Foods, Smugglers' Cove Pub, Caddy Bay Liquor Store, and Heart Pharmacy.
Find out how your company can reach our 10,000 audience members and UVic community of over 25,000. Contact us to discuss a customized sponsorship package to meet your goals.
---
Phoenix eNews is a regular email magazine for those interested in the Phoenix Theatre, the not-for-profit productions at the University of Victoria's Department of Theatre, PO Box 1700, STN CSC, Victoria, BC, V8W 2Y2 Canada. The University of Victoria is a Registered Charity. Charitable Registration No. 10816 2470 RR0001
If you no longer wish to receive this newsletter, click here and enter your address and click Un-Subscribe. A confirmation message will be emailed to you. You can reply to this message to confirm that you want to be removed from this mailing list. This message also has a link that you can click on to complete the removal process.