If this email does not display properly, please see our website phoenixtheatres.ca
eNews | Behind the Scenes | Upcoming | Phoenix Phacts | Perks | Kudos
---
eNews:eNews: The staying power of satire.
Satire. It's just as important now as it was in 1928 when Bertolt Brecht and Kurt Weill used the humorous and cutting vehicle to comment on corruption in German society. Today, pseudo "news" sources like The Onion, The Beaverton, The Daily Show, Last Week Tonight with John Oliver and This Hour has 22 Minutes have taken on the popular role of commenting the political and social ills of our time. Yes it makes us laugh, but satire is also still an incredibly effective way to remind us of what it is to be human. It tries to awaken us to the changes that need to be made in our world – changes that hopefully show we've learned from our mistakes, changes that might create a world based on a more balanced and compassionate vision of humanity.
Behind the Scenes: Mackie's back in town!
Different translations and changing representations of theatre's most notorious villain
For a song written only days before the premiere, Mack the Knife has not only become the most recognized song of The Threepenny Opera, but also a music standard performed by some of world's greatest artists. The history of the song also represents an interesting journey for how we view theatre's most notorious villain, MacHeath.
Bertolt Brecht's The Threepenny Opera is a landmark of modern theatre. After opening in 1928 in Berlin, it became one of the biggest hits of the 1920s. Here was a satire so irreverent and cutting in its humour, so gritty in its reflection of the down-and-out, and so uncompromising in its criticisms of post-WWI German society that it would influence all theatre thereafter. Kurt Weill's precedent-setting, jazz-influenced music would create a resurgence in the musical worldwide.
Mack the Knife, the song that has since become an iconic symbol of the play, was only added at the last minute at the behest of Harald Paulsen, the actor playing MacHeath. He wanted a number that would better introduce his character. Ironically, the actor never sang the song, but instead, it was presented as a "moritat," (a ballad about murder that was traditionally performed by strolling minstrels) and the song given to the Street Singer role to open the play and set the scene.
There have been several important English translations of the original German play, Die Dreigroschenoper, and thus its famous opening song. Only five years after its premiere, when Brecht and Weill were forced to flee Germany in 1933 because of the Nazi threat, the play had already been translated into 18 different languages. That same year, a translation by Gifford Cochran and Jerrold Krimsky was produced in New York City, but it failed to capture the imagination of American audiences. Reviewed as "a gently mad evening of theater", it closed after only ten days.
Twenty years and another world war would pass before Marc Blitzstein's 1954 translation would make The Threepenny Opera a hit in America and ensconce the play and its music into popular culture. Conducted by the preeminent Leonard Bernstein (a friend of Blitzstein) and featuring Lotte Lenya (Kurt Weil's widow who was part of the Berlin premiere in 1928), it ran Off-Broadway for over six years and broke records set by Oklahoma.
It was the Blitzstein's translation of Mack the Knife that was famously recorded by some of the biggest stars in the 1950s and 60s, including Louis Armstrong, Bobby Darin, Ella Fitzgerald and Duke Ellington and Frank Sinatra. While based on the Blitzstein version, each artist made the song his or her own, accentuating or repeating different lyrics to highlight Mackie's exploitive playboy nature. Musically, some interpreted the song with more swing, more jazz, more up-tempo, more lounge, as best fit the artist's style. Armstrong spontaneously added Lotte Lenya's name into the lyrics as she watched his recording session. Sinatra added references to many previous singers in his lyrics.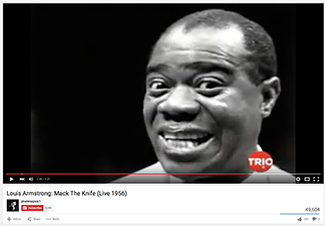 In 1976, a new translation of The Threepenny Opera opened on Broadway, which was later made into a movie. Translated by Ralph Manheim and John Willett, this interpretation featured a version of Mack the Knife that returned to Brecht and Weill's original idea of a "moritat" murder song, accentuating MacHeath's trail of victims more than his womanizing ways. This version was recorded by 80s and 90s stars like Lyle Lovett, Sting and Nick Cave.
In 1994, Robert David MacDonald and Jeremy Sams hoped to recapture some of the original edginess of Brecht's irreverent cutting humour. In this translation, the emphasis on Mackie's more gruesome villainous ways is evident right from the opening lines. Here's a comparison of the 1954 and 1994 versions.
Marc Blitzstein in 1954:
Oh the shark has pretty teeth dear
And he shows them pearly white
Just a jack-knife has Macheath dear
And he keeps it out of sight.

Jeremy Sams in 1994:
Though the shark's teeth may be lethal
Still you see them white and red
But you won't see Mackie's flick knife
Cause he slashed you and you're dead.

(Click here to compare the full song in all three translations.)
It is this most recent translation of The Threepenny Opera that director Brian Richmond chose for the production at the Phoenix Theatre. "Directors often ask not only how, but why an audience responded to a particular work at the time of its premiere," says Richmond "and then try to build an interpretive bridge between this central nerve, or zeitgeist, of the culture from which the work arose and the times in which we live now."
A scene from the 1928 premiere at Berlin's Theater am Schiffbauerdamm.
Still reeling in the aftermath of the war, the German government was plagued with hyperinflation, political extremists, severe poverty and famine. At the same time, there was false sense of affluence and indulgence among the elite, leaving Germany teetering on the brink of inevitable disaster. As young artists and political activists, no doubt Brecht, Weill and friends could see that this house of cards was about to fall.
The 1994 translation restores the grittiness and angst of the original for today's audiences. "Looking at the present day conditions – economic, political and social – it's not difficult for current audiences to relate to this fear of an impending collapse of society..." says Richmond, and then adds, "but thankfully this has not happened yet... which is why we decided to set this production in the future where we can take for granted that society has already collapsed. We felt that an absurd dystopian future would further highlight the absurdity of how man's appetite for greed, lust and gluttony, keeps contributing to our downfall."
DON'T MISS A SINGLE PLAY THIS SEASON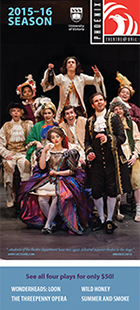 Subscription tickets for the 2015/16
Phoenix season are still available !
Sign up for the remaining three plays in our season for only $37.50. That's a savings up to 50% off regular priced tickets. Book soon! We're close to selling out of all our subscription packages for this year. Plus you receive great perks, like our flexible exchange policy to help you switch nights if your schedule changes. No extra charges, no worries!
Fill out the subscription order form now. Or call us at 250-721-8003 to speak directly to our Audience Services Manager, Sandra Guerreiro.
UPCOMING EVENTS: November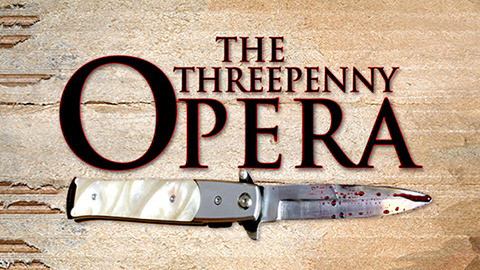 November 5 – 21, 2015
PREVIEWS: Nov 3 & 4
The Threepenny Opera
By Bertolt Brecht
Music by Kurt Weill
Directed by Brian Richmond
Music Director Hank Pine with Live Band
(See full creative team, band and cast.)

Previews @8pm: November 3 & 4 ($7.50 preview night tickets are available after 5pm on the night of the show.)
Evening Performance @8pm: Tuesday to Saturday
Matinee @2pm: Saturday November 21
Free Friday Lecture @7pm: November 6
Director and faculty member Brian Richmond will speak about his vision for The Threepenny Opera. This free lecture is open to all (no matter which night you have tickets for) and will be recorded for podcast.
Theatre's most iconic rogue, Mack the Knife, and his criminal conquests are set in an absurd dystopian future in this timeless musical satire. Irreverent and gritty, Threepenny makes us question why society seems destined to always be corrupt – yet makes us laugh at humanity's foibles, snigger at authority, and hum along to the unforgettable music of society's downfall.
Box Office is open now for single tickets. Three-show subscription packages are still available fore the season for only $37.50.
---
Phoenix Phacts:

The department is honoured to have applied theatre Assistant Professor Dr. Kirsten Sadeghi-Yekta speaking as part of the TEDxVictoria event on November 21. TEDxVictoria is the local version of TED.com, the online sensation that shares short, interesting lectures. Kirsten will be drawing attention to the strength and compassion of artists that work in areas of war and conflict around the world.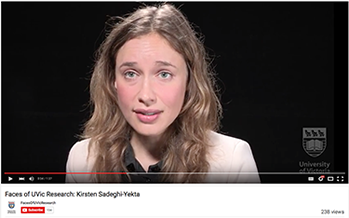 She will discuss what can be learned from theatre practitioners working in these difficult and contentious spaces and how these ideas can be applied to our own lives to inspire social change in our community. Watch her speaking about her research in this UVic Research video, and be sure to join her at TEDxVictoria to learn about the power of arts in the wake of war and conflict.
In October, design Professor Allan Stichbury was part of UVic's prestigious Dean's Lunchtime Lecture Series. Stichbury, who has created set and lighting designs for the Phoenix since 1988, drew from his wealth of experience working in professional theatre on Broadway and around the globe to discuss whether or not a theatre designer's personal style should be recognizable in their work.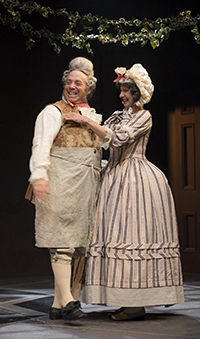 Happy birthday to the Belfry Theatre, which celebrates its 40th anniversary this season! Alumna Celine Stubel (BFA '02) recently starred in Speed-the-Plow, the first production of what looks to be a fantastic year. Celine is also returning to the Belfry to reprise her role as Mrs. Cratchit in a remount of the 2012 production of A Christmas Carol. Running December 1-20, this holiday favourite will also feature the return of Gerry Mackay (BFA '86) as Jacob Marley, and Assistant Professor Jan Wood and her husband, noted actor and sound designer Brian Linds, as the warm-hearted, party-loving Fezziwigs! (Shown left, photo by David Cooper.) On the production side, Tristan Bacon (BFA '14) is the Assistant Director and current MFA directing candidate Alan Brodie will be designing the lights.
Alumnus Chris Adams (BFA '10) has again taken up his role as the Associate Producer and Sound Designer of the acclaimed production Snapshots: A Musical Scrapbook,which returned to Vancouver for a repeat engagement from October 28 – November 8. Showcasing the music of legendary Broadway composer Stephen Schwartz, Snapshots was such a sold-out hit last year that audiences clamoured for more.
This October, alumna Jeny Cassady (BFA '97) participated in CBC's first season of Crash Gallery, a television show that pits Canadian artists against each other in a three-way art battle on every episode. Jeny used her experience as a puppet-master to compete with graffiti artists, make-up artists, sculpters and more in front of a live audience that determined the winner.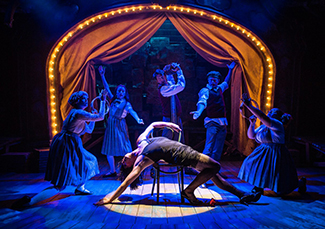 The Victoria-grown musical Ride the Cyclone has found 5-star success in Chicago! Written by former Phoenix student Jacob Richmond and composed by Victoria's Brooke Maxwell, this local hit – now backed by Tony-winning commercial producer Kevin McCollum – had its American premiere at the Chicago Shakespeare Theatre in October. A veteran of the cast from every Canadian version of the show, alumnus Kholby Wardell (BFA '08) has reprised his role as Noel Gruber in the Chicago production. With outstanding reviews, sold-out houses, and an extended run until November 15, critics are predicting a very possible future for Cyclone on Broadway! Jacob's father and Threepenny director Brian Richmond will head down to Chicago to catch one of the last performances. We're all very proud!
---
| | |
| --- | --- |
| | Want more alumni updates? Check out the Alumni Profiles area of our website. Email your alumni stories to us to be posted here in future eNews. Theatre alumni are also invited to join the Phoenix Alumni Network Facebook group. |
| | Follow the most recent department and alumni stories by liking us on Facebook or following us on Twitter. Use #phoenixalumni to stream on our alumni website or tag @UVicPhoenix for us to retweet your event! |
---
Sponsor Kudos:
Thank you to the Phoenix Theatre's many individual donors and corporate sponsors for their support of our programs and talented students!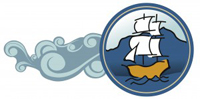 Thanks also to our supporters from the Cadboro Bay Village including: For Good Measure, Pepper's Foods, Smugglers' Cove Pub, Caddy Bay Liquor Store, Yew Tree Yoga and Heart Pharmacy.
Find out how your company can reach our 10,000 audience members and UVic community of over 25,000. Contact us to discuss a customized sponsorship package to meet your goals.
---
Phoenix eNews is a regular email magazine for those interested in the Phoenix Theatre, the not-for-profit productions at the University of Victoria's Department of Theatre, PO Box 1700, STN CSC, Victoria, BC, V8W 2Y2 Canada. The University of Victoria is a Registered Charity. Charitable Registration No. 10816 2470 RR0001
If you no longer wish to receive this newsletter, click here and enter your address and click Un-Subscribe. A confirmation message will be emailed to you. You can reply to this message to confirm that you want to be removed from this mailing list. This message also has a link that you can click on to complete the removal process.