If this email does not display properly, please see our website phoenixtheatres.ca
eNews | Behind the Scenes | Upcoming | Phoenix Phacts | Perks | Kudos
---
eNews: Fall Homecomings
Like many universities, the Department of Theatre has it's own "homecoming" celebrations each fall when it invites alumni to return to their Alma Mater and to the stages of the Phoenix Theatre. Chosen from an annual call for submissions (see below for next year's), the department's "Spotlight On Alumni" profiles the successes of our graduates on stage in a new or preproduced work. This year, we're proud to present Love Kills, produced by Theatre Inconnu and featuring three alumni, Clayton Jevne (BFA '85, MFA '87 and PhD '03), Marina Lagacé (BFA '10) and Cam Culham (MFA '03). Read on to hear more about Love Kills and the 1958 event that this rock musical is based on.
Behind the Scenes: Shocking history repeats in film and theatre
In his critically acclaimed rock musical Love Kills, OBIE Award-winning, New York playwright Kyle Jarrow revisits the aftermath of one of America's most shocking killing sprees. Through music and dialogue, Jarrow brings us inside the jail and inside the hearts of two teenage lovers, 19 year-old Charlie Starkweather and his 14 year-old girlfriend Caril Ann Fugate. Leaving the horrors of the eleven murders to our imagination, the play follows the psychological intrigue of the investigation and tries to get us to understand the influences on their actions.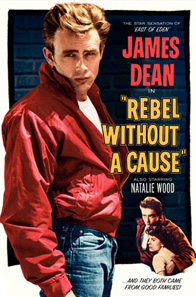 In 1958, Charlie Starkweather was part of a new generation of teenagers that were caught between the wholesome morality of the early 1950s and the social and political upheaval of the 1960s. In cinema, new heroes like James Dean in Rebel Without a Cause (1956) and Marlon Brando in The Wild One (1953) were influencing their music, clothes and attitudes. With their hair combed back, their jeans rolled up, and clad in black leather jackets, these youths found themselves questioning their parents and society. Starkweather was a social outcast who embraced the idea of rebellion and was influenced by these films.
The events in the quiet town of Lincoln, Nebraska, shook all of America to its moral core in 1958. These two teenagers shot and sometimes mutilated eleven people, most of whom they knew, including Caril's mother, step father and baby sister. It's hard to imagine by today's mass-media standards -- where murder tops each evenings news cast -- how frightening this would be in a town where almost everyone knew each other. As the Omaha World-Herald editorial commented in 1958, it was not only the horrific nature of the crimes that frightened America so much, but also the fact that they were representative of a generation of seemingly normal teenagers who were turning away from traditional values.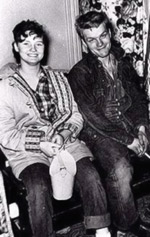 "If Charles Starkweather were a case apart, a biological accident, a monstrous freak of nature, then today all Americans could take a deep breath of relief and give thanks that his mad career of murder had been brought to an end. But although his crimes were of a violence beyond precedent, nevertheless there was a certain flavor to the Starkweather story which brought back to mind a thousand others which have been told in recent years to an unbelieving America. The sideburns, the tight blue jeans, the black leather jacket – those have become almost the uniform of juvenile hoodlums. And the snarling contempt for discipline, the blazing hate for restraint, have become a familiar refrain in police stations and juvenile courts throughout the land. To a greater degree than ever before, influences are pulling some youngsters away from the orbit of the home, the school, and the church, and into the asphalt jungle. That is the problem." (Omaha World-Herald)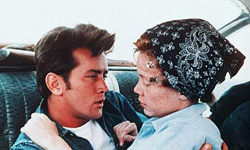 The senseless, seemingly unprovoked nature of their brief and explosive burst of violence has continued to fascinate and disturb a new generation. It has inspired books, movies, and songs including Bruce Springsteen's song "Nebraska," and a plethora of films including Oliver Stone's Natural Born Killers, Terence Malick's Badlands, Dominec Sena's Kalifornia, David Lynch's Wild at Heart and Tony Scott's True Romance (written by Quentin Tarantino). And of course, Kyle Jarrow's play, Love Kills.
Why do artists continue to wrestle with these themes and reproduce these stories? Do artists reproduce the horror or demand that we, the audience, must grapple with the motivations behind and the implications resulting from, the action of cutting a life short through violence? Director Clayton Jevne wonders if it forces us to consider our own sense of empathy. "Perhaps efforts such as Jarrow's – to look empathically at one specific horrific case – are motivated by a need to find the human understanding that may somehow lead to ending the parade of comparable acts unfolding around us second by second in this insane world."
Theatre Professor Emeritus, Alan Hughes will also consider these ideas in his preshow lecture (see event details below) when he discusses the fascination our culture has with art inspired by stories of violence in our society.
Learn more:
Follow the band:
Set at the time of the beginnings of rock and roll, Love Kills is a rock musical which integrates Jarrow's thought provoking script with the heightened emotions of this intense drama. The local Victoria band The Party on High Street supports the cast every night of the play. Listen to their music on Myspace, follow them on Facebook, or head out to their regular local gig every Monday night at Felicita's Pub on campus.
---
Upcoming Events: October / November
October 13 – 22, 2011: Love Kills
SPOTLIGHT ON ALUMNI:
By Kyle Jarrow | Produced by Theatre Inconnu
Evening Performances @ 8pm
Matinee October 22 @ 2pm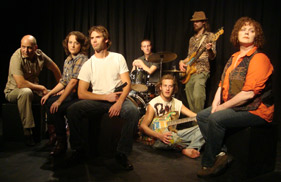 How far would you go for love? Based on the 1958 killing spree by Charlie Starkweather and Caril Ann Fugate that shook America to its moral core, OBIE Award-winning, New York playwright, Kyle Jarrow's critically acclaimed rock musical and psychological drama brings us inside the jail and inside the heads of two teenage lovers accused of murder. When interrogated by the town sheriff and his wife, facts blur and loyalties shift as the teenage lovers are pressured to confess before dawn. Advisory: Partial nudity, mature subject matter and strong language.
Friday, October 14 @ 7pm:
"Art and Violence" Preshow Lecture for Love Kills
Join us for a free lecture on the first Friday of each production. This Friday, Professor Emeritus Alan Hughes discusses the influence of films and music on the 1958 spree killings by Charlie Starkweather and looks at those that were inspired by this horrific event. This lecture is FREE to everyone. It will also be recorded and the audio file posted on the Phoenix website. Stay tuned!
November 3 – 19, 2011: Rookery Nook
By Ben Travers
Directed by Bindon Kinghorn
Fast paced and full of witty repartee, this stylish 1920s British farce is comparable to the comedies of Traver's contemporary, Noel Coward. On holiday at the Somerset seaside, two fun-loving young friends, Gerald and Clive, get caught in a tangled web of silly white lies and flirtatious innuendos. But what's a gentleman to do when a pretty girl arrives in wet pyjamas seeking protection and a shoulder to cry on? With tyrannical Nosey Parkers for relatives and neighbourhood busybodies lurking in the kitchen (with the cat!), Gerald could find his six-week old marriage in the lurch!
Thank you to our Presenting Sponsor:


November 19, 2011 @ 2pm
Sign Language Interpretation performance of Rookery Nook
We are pleased to present sign language interpreatation for a play each year for our audiences in the Deaf and Hard of Hearing community as well as all audience members. Come out to experience this fascinating interpretation featuring international Deaf interpreter, presenter and performer Nigel Howard and hearing interpreter Jen Ferris.
January 13, 2012 - Deadline
Call for Submissions for 2012/13 Spotlight on Alumni
Alumni! Are you working on a production with other UVic Theatre alumni that might make an excellent contribution to the Phoenix Theatre's 2012/13 season? Click here for details on how to submit your proposal.
Check out other events at UVic Faculty of Fine Arts.
---
Phoenix Phacts: Faculty and alumni updates and accolades
Read on to hear about how our faculty and alumni have been dazzling audiences and winning awards this summer!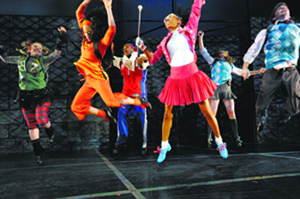 Faculty member, director, writer, choreographer, and the artistic director of Wild Excursions Performance Conrad Alexandrowicz, directed the musical, i think i can last spring at the Lorraine Kimsa Theatre for Young People as part of the National Arts Centre English Theatre: Main Stage Series. This 2007 Dora Mavor Moore Award Winning musical was co-created by Florence Gibson and Shawn Byfield.
Atomic Vaudeville's carnival-set musical, Ride The Cyclone continues its meteoric climb and gathers more acclaim on its national tour across Canada. Written by former student Jacob Richmond and co-directed by Richmond and Britt Small (MFA '04) it features choreography by Treena Stubel (BFA'95) and a host of alumni on stage including Rielle Braid (BFA '09), Matthew Coulson (BFA'10), Sarah Jane Pelzer (BFA '09) and Kholby Wardell (BFA '08). After a sold out run at the Belfry Theatre, and currently doing the same in Vancouver at the Revue Stage (until October 15) it travels to the Yukon Arts Centre in Whitehorse and then on to Theatre Passe Muraille in Toronto. Rumours have it that the Cyclone is bound for Broadway!
Theatre alumnus and Prague-based Canadian director Ewan McLaren (MFA'08) and playwright Miroslav Bambušek won the Czech Theatre News Award for directing their site-specific performance Miner's Day at the Michal Mine in Ostrava, Czech Republic. This prestigious cash award was presented for best independent production in the 2009-2010 season. Ewan McLaren was also recently appointed artistic director of the Alfred Ve Dvore Theatre in Prague.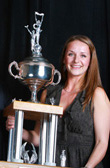 Theatre student, Perri Espeseth, who also plays women's field hockey, accepted the President's Cup, which is awarded to a UVic student who best combines academic and athletic achievement.
Theatre alumni, Shaan Rahman (BFA'11) is performing on screen these days, working with UVic's Writing 320 class on their recent production called How Socrates Bought The Farm. Last year's class won a Leo Award for their web series project, Freshman's Wharf.
Victor Dolhai (BFA'07), is continuing in his second season at the Stratford Theatre Festival this year. After making his festival debut in 2010 in As You Like It and A Winter's Tale, he will be performing in The Merry Wives of Windsor, Twelfth Night and The Misanthrope.
Peter Outerbridge (BFA '88) performed the Canadian historic character of George Brown in the CBC's recent docu-drama John A.: Birth of a Country which dramatizes Macdonald and Brown's political rivalry during the contentious years in Canadian politics leading up to confederation.
Faculty member and scenic designer, Allan Stitchbury and Claire Hill (MA candidate) travelled with 20 current and former UVic students and four professors to the Czech Republic for the Prague Quadrennial of Performance, Design, and Space, an internationally important theatre exhibition held every four years. The UVic Theatre Department participated in the student exhibition with a digital retrospective of the past four years of set and costume design at the Phoenix Theatre. Click here to see the department's design presentation.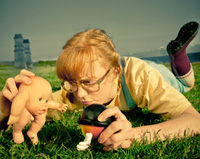 Also in Prague this summer was alumna Ingrid Hansen (BFA'09) of SNAFU Dance Theatre. She participated in a movement-based performance called Six Acts, which was the central project of Scenofest 2011. She also took her 2010 award-winning Fringe production of Pretty Little Instincts to Fort York National Historic Site in Toronto as part of the 2011 Summerworks Theatre Festival. Her 2011 Fringe production of Little Orange Man won rave reviews and was recently held over in Vancouver after receiving multiple awards at both the Victoria and Vancouver Fringe Festivals. Winning the prestigious new Playhouse Award gives Ingrid a spot in the Vancouver Playhouse's upcoming season!
We're proud of all of our theatre students and alumni who picked up awards at both the Victoria Fringe Festival and Vancouver Fringe Festival . Here are more of the highlights:

Kate Braidwood (BFA'03) is a mask-maker and co-founder of Wonderheads Theatre Fantastical, which found success fringing across Canada this summer with holdovers in both Edmonton and Vancouver for her company's deathly comedy in full-face mask, Grim and Fischer. Multiple awards included "Best of the Fringe" in Victoria and "Best of the Fest" Calgary.

Chris Wilson (BFA'08) and Peter Carlone (BFA'09) are co-creators of the popular Peter n' Chris Show. They were a comedy favorite again during this summer's Fringe circuit for their new sketch comedy, Peter n' Chris and the Mystery of the Hungry Heart Motel, receiving the "Best Fringe Comedy" award in Victoria and the "Public Market Pick of the Fringe" award in Vancouver.

Darcy Stoop (BFA'11), artistic director of Suspicious Moustache Theatre Company, won the award for "Best Family Fringe" in Victoria for his adapted play Struwwelpeter. A total of thirteen students from the department worked on and performed in the production!
Theatre SKAM, with artistic director Matthew Payne (BFA'93) and general manager Allison Bottomley (BFA '98) presented the third-annual Bike Ride this summer which took audiences on a "treasure hunt" to find many of our students and alumni performing original theatre work.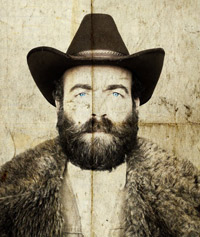 Among them were Ian Case (BFA'91) and Giggling Iguana Productions which contributed the headless rider of the Galloping Goose and Impulse Theatre's "blind-storytelling" piece from co-artistic director's Andrew Barrett (a current theatre student) and theatre alumna Emily Piggford (BFA'11). Theatre SKAM will be workshopping their newest work My Memory's Not So Good with Theatre professor Jan Wood at the Banff Centre for the Arts this fall. On the way back they will be touring their show Cariboo Buckeroo across BC and in Victoria (October 25-30, 2011).
From our Theatre History program... David Christopher (MA'10) is having his theatre history research on James Boaden's stage adaptations of Gothic literature published in the upcoming issue of the UK's prestigious Theatre Notebook. This summer, David established KeepItSimple Theatre Productions for which he produced, directed, performed, and edited the text of their debut performance of Shakespeare's Henry V. The play featured perfomances from Andrew Wade (BFA'11) and current students Graham Miles and Robin Gadsby. The company's "History through Drama" series will continue next summer with performances of Henry IV Part 1.
And from our Applied Theatre program... current UVic BEd student Barb Hall (BFA'10) will be co-facilitating the workshop "Drama and Student Empowerment" with UVic drama in education instructor and public school teacher, Phil Duchene, on Saturday October 15 at UVic's Fall 2011 Education Conference. The workshop explores drama-based methods in which children are given an opportunity to help resolve complicated educational issues, empowering them to facilitate democracy and justice within their classrooms, their schools, and the society in which they live. The conference is open to anyone and tickets are available for $20.
---
Email Perks & Interesting Links:
Theatre SKAM's Cariboo Buckeroo rides again! Answer the question below and you could win tickets!
What do the letters S-K-A-M in Theatre SKAM's name stand for? (Hint - check out SKAM's history on their website.)
Correct answers will be entered to win a pair of tickets to any show during the run, October 25 - 30, 2011). Email your answer before October 20 to win!
---
Sponsor Kudos:
The Phoenix Theatre would like to thank our sponsors and individual donors and community sponsors for their support of our programs and talented students! Thank you!
Community Friend: Cadboro Bay Village Merchants
Including: Cadboro Bay Book Company, For Good Measure, People's Compounding Pharmacy, Pepper's Foods and Smugglers Cove Pub
Do you want to see your logo in this email sent to over 1700 subscribers? Find out how to reach our Phoenix community of audience members, UVic students and staff ...and you'll also be supporting emerging theatre artists. Contact Adrienne Holierhoek to discuss a customized sponsorship package to meet your company's goals.
---
Phoenix eNews is a regular email magazine for those interested in the Phoenix Theatre, the not-for-profit productions at the University of Victoria's Department of Theatre. Do you know someone who would love to know more about us? Please feel free to forward this message to a friend!