If this email does not display properly, please see our website phoenixtheatres.ca
eNews | Behind the Scenes | Upcoming | Phoenix Phacts | Perks | Kudos
---
eNews: Reinterpreting and mentoring
How do you know if you REALLY know something? Try tearing it apart and putting it back together again! This is what playwright, critic and our esteemed guest director has done with several of Shakespeare's classic plays...except when Charles Marowitz reconstructs a play, he puts a bit of a spin on the original interpretation! Read on to learn more about his version of Hamlet and our students' experiences in working with this legendary man of the theatre.
Behind the Scenes: Theatre students work with Shakespeare scholar and legendary man of the theatre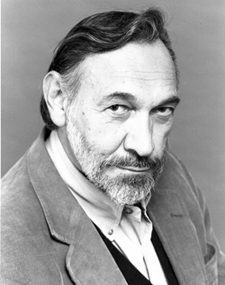 Imagine that Shakespeare's works are a precious vase, and then someone comes along to smash the vase and piece it back together anew. Charles Marowitz had the nerve – and credentials – to do just that, not once but seven times, in his re-workings of Shakespeare's classics.
A renowned playwright, director, critic, and author of over two dozen books, Marowitz has – over his illustrious career – directed hit plays on Broadway, written for most of the leading theatre media, and worked at the Royal Shakespeare Company where he collaborated with renowned Peter Brook. It was during the 1960s period of experimentalism that he began to rework Shakespeare's classics – cutting them into what he describes as a 'collages.' He continued to utilize Shakespeare's own words, but rearranged the lines and condensed the story in a fashion that, while coherent to the audience, emerges as a commentary on the play and its characters.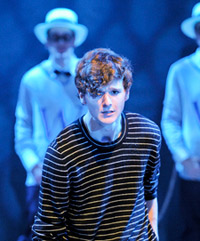 Marowitz has made himself known for re-working many of Shakespeare's classics to tell their stories anew. As well as his 'collage' of Hamlet, he has also paid homage to the character of Ophelia in Hamlet with his play Death of Ophelia. He also reinterpreted Taming of the Shrew – simply named The Shrew in his version – writing entirely new scenes and changing the plot while maintaining Shakespeare's original ending.
In his version of Hamlet (shown left and below in photos by David Lowes), the play is reconstructed to reflect Hamlet's mind as he descends into insanity. Marowitz explains in his director's notes,"We see the sights because they are reflected through Hamlet's sensibility. Elsinore is a figment of Hamlet's imagination; so are Gertrude, Claudius, and the Ghost. So is poetry; so is comedy; so is pleasure and pain. Hamlet's cerebrum is our cyclorama, his forehead our proscenium arch."
"I love and admire Shakespeare's play, but am passionately negative about the character of Hamlet," says Marowitz. "He's like the classic armchair liberal who has opinions about everything and talks a good game but never dirties his hands by actually doing something."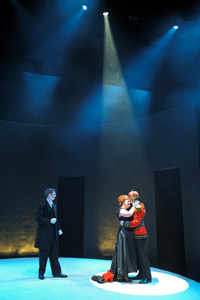 Therefore it is not surprising that in his play, Marowitz explores Hamlet's feelings of ineffectiveness and his inability to take vengeance or act against the new King. A refrain of "A father slain, a mother stained," repeats as a theme in the play and in Hamlet's descent. Marowitz's version has Hamlet comparing the seeming infidelity of Hamlet's mother with mistrust for Ophelia's feelings. It pokes fun at Hamlet's great oratorios as the Clown prompts him to deliver his lines with more feeling. Marowitz even gathers all the small moralistic lessons and advice that Shakespeare has peppered his play with and presents them all in one scene as a literal school lesson by Gertrude. In the end, Marowitz's play challenges us to rethink the subtext of Shakespeare's original. "Once the narrative sequence is broken," he says, "one has direct access to the play's ambiences."
Marowitz' works have often appeared on the stages of New York and London. Bringing his work to UVic's Phoenix Theatre presents a rare and exciting opportunity to its students working closely with him to bring together this 'collage' of The Marowitz Hamlet.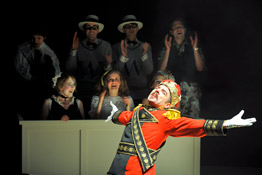 Among those students are Mika Laulainen, assistant director, Michelle Lo, costume designer, and Bryan Kenney, set and lighting designer. "Because this is his play which he has directed so many times, he understood the motivations of each character so clearly and was able to express the difference between Shakespeare's original and this play to the actors," says Laulainen. "I could see how well the actors responded to his depth of knowledge about their characters."
"He allowed me to explore ways to have fun with his characters, to make them more 'theatrical', while still encompassing the direction he wanted," says Lo, of her process of designing the costumes. "We really had some insightful discussions about how the actors could best use the set to get his story across. He was very open to my ideas in the rehearsal progress," says Kenney.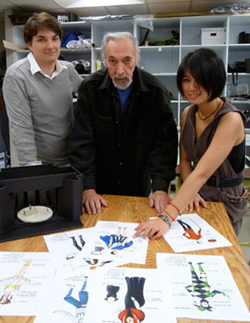 This paints a portrait of a man who, with all his depth of knowledge and experience, is still open to new and fresh ideas. "There's a clean slate with young students," says Marowitz. "They avoid clichés and haven't developed any bad habits. Professionals tend to draw from their experience, recycling and distilling actions or ideas from other productions, other experiences. There's a freshness to working with young people that I think is healthy for a director. The kick is working with kids that are really smart to produce something that, while exactly what the director wants, is an 'entente' between the two."
---
Upcoming Events: March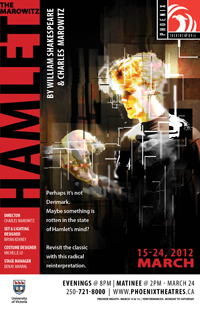 March 14, 2012:
The Marowitz Hamlet
Public Preview Night
The public are welcome to join us on preview nights, the Tuesday & Wednesday prior to the opening night of of the show for only $7. Tickets for these shows are made available to the public only after 5pm on these days.

March 15 – 24, 2012:
The Marowitz Hamlet
By William Shakespeare &
Charles Marowitz
Directed by Charles Marowitz
Using the same poetic language, Charles Marowitz reinvents Shakespeare's classsic, revealing the layers of insanity in a young Prince's vengence. Notorious for his Shakespearean collages, the acclaimed Broadway and West End director, playwright and critic presents his radical reinterpretation on the Phoenix mainstage.
Friday, March 16 @ 7pm:
FREE Preshow Lecture for The Marowitz Hamlet
Michael Best, a Professor Emeritus in the Department of English and the Founder and Coordinating Editor of Internet Shakespeare Editions, will compare and contrast Charles Marowitz's reinterpretation of Hamlet with the original Shakespearean text. Everyone is welcome to attend this free lecture. Can't make it? This lecture will be recorded and the audio file posted on our website the following week.
Check out other events at UVic Faculty of Fine Arts.
---
Phoenix Phacts: Faculty and alumni updates and accolades

The Monday Magazine 10th Annual M Awards nominations have been announced and Phoenix alumni, faculty and students have earned an impressive number of nominations in various categories.
Professor Linda Hardy's groovy '60s interpretation of Twelfth Night for the Phoenix Theatre was nominated for Favourite Director along with her colleague Professor Brian Richmond for Blue Bridge Repertory Theatre's Who's Afraid of Virginia Woolf? and former theatre student Jacob Richmond and alumna Britt Small (BFA '98 MFA '04) for Ride the Cyclone.
All five nominees for Favourite Overall Production have a connection to the Phoenix Theatre, from the aforementioned Twelfth Night, Ride the Cyclone and Who's Afraid of Virginia Woolf? to Langham Court Theatre's The Laramie Project (featuring students Matthew McLaren, Tito Martin-Nemtin, Eric Smith, Joanne James and Melissa Taylor) and Theatre Inconnu's A Day in the Death of Joe Egg (directed by Clayton Jevne, BFA '85, MFA '87 and PhD '03).
Nominees for Favourite New Production include the Phoenix Theatre's world premiere of Daniel MacIvor's Inside, as well as SNAFU Dance Theatre's Little Orange Man, created by former theatre student Kathleen Greenfield and alumna Ingrid Hansen (BFA '09).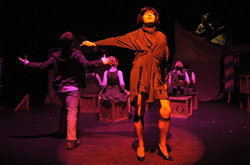 Ride the Cyclone, starring alumni Rielle Braid (BFA '09), Matthew Coulson (BFA '10), Kholby Wardell (BFA '08) (shown at right) and Sarah Jane Pelzer (BFA '09), was also nominated for Favourite Musical. This category also included Good Timber: Songs and Stories of the Western Logger, directed by Ross Desprez (MFA '96) and Tobin Stokes (BMus). The show, based on the collection of poems Rhymes of a Western Logger by Robert E. Swanson and set to go on tour in 2012, features UVic alumni Colleen Eccleston (BFA '86), Sarah Donald and Mark Hellman (BFA), and included Keith Houghton (BFA '01) and Erin Macklem (BFA '98) as lighting and costume designers.

You can still vote for your favourite productions and other arts events in the city. Votes will be accepted until March 23 at http://www.mondaymag.com. Congratulations to all of the nominees, and good luck!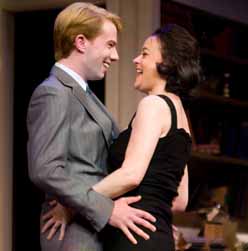 Blue Bridge Repertory Theatre, now in its third year of production, has moved to a new home in Chinatown's Fan Tan Alley. The company, founded and helmed by Professor Brian Richmond, recently took home three Victoria Critics' Choice Awards for its production of Who's Afraid of Virginia Woolf?, which featured UVic graduates Alex Plouffe (BFA '11) (shown above with Meg Tilly) and Celine Stubel (BFA '02). Phoenix Theatre alumni and students are well represented in Blue Bridge's upcoming fourth season. Former theatre student Jacob Richmond and current MFA candidate Christine Willes will be appearing in George Bernard Shaw's Arms and the Man in June. David Ferry (MFA '04), last seen at the Phoenix directing 2011's Inside, will be starring as George in the company's July production of John Steinbeck's Of Mice and Men, which also includes alumni Sebastien Archibald (BFA '07) and Samantha Richard (BFA'10). Finally, Blue Bridge's season ends with Alan Menken and Howard Ashman's Little Shop of Horrors, choreographed by Treena Stubel (BFA '95) and starring Kholby Wardell (BFA '08) as Seymour. Their design team includes alumni Patrick DuWors (BFA '02), Nathan Brown (BFA '09), Patricia Reilly (BFA '11), Rebekah Johnson (BFA '83) and professor emeritus Giles Hogya.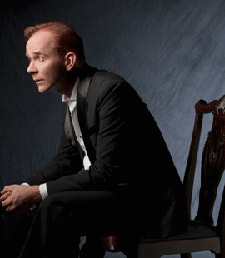 Graeme Somerville (BFA '96) is playing a leading role in at the Shaw Festival this summer (opens April 27) playing Richard Shannon, the titular man in their production of A Man and Some Women. The 1913 play, penned by Githa Sowerby, examines Shannon's desires to leave his job and become a scientific advisor in Brazil – and the wife and two sisters he is obligated to stay and support.

This past February, Chris Adams (BFA '10) served as Sound Designer and Associate Producer for Intimate Theatre Productions' I Love You Because. The company's inaugural production was a six-role romantic comedy musical, and Chris' first time producing a show.
The Times Colonist recently reported that Ian Case (BFA'91), General Manager of Intrepid Theatre, had resigned from his position to become the Director of the University Farquhar Auditorium at UVic. Whether it be as a director, actor, producer, general manager or behind the scenes, Case has worked tirelessly to help build Victoria's vibrant arts community to what it is today. He also runs the local theatre company Giggling Iguana and has worked with William Head on Stage, the Victoria Shakespeare Society and the Canadian College of Performing Arts.
Alumni! Want to see your activities listed here? Send your recent success stories and we'll publish them in our next Phoenix Phacts!
---
Email Perks & Interesting Links:

Like us on Facebook to follow what's happening at the Phoenix and Department of Theatre, see links to play photos and reviews, check out contests and interesting theatre news.
---
Sponsor Kudos:
The Phoenix Theatre would like to thank our sponsors and individual donors and community sponsors for their support of our programs and talented students! Thank you!

Community Friend: Cadboro Bay Village Merchants
Including: Cadboro Bay Book Company, For Good Measure, People's Compounding Pharmacy, Pepper's Foods and Smugglers Cove Pub
Do you want to see your logo in this email sent to over 1700 subscribers? Find out how to reach our Phoenix community of audience members, UVic students and staff ...and you'll also be supporting emerging theatre artists. Contact Adrienne Holierhoek to discuss a customized sponsorship package to meet your company's goals.
---
Phoenix eNews is a regular email magazine for those interested in the Phoenix Theatre, the not-for-profit productions at the University of Victoria's Department of Theatre. Do you know someone who would love to know more about us? Please feel free to forward this message to a friend!