If this email does not display properly, please see our website phoenixtheatres.ca
eNews | Behind the Scenes | Upcoming | Phoenix Phacts | Perks | Kudos
---
eNews: Phoenix BackstagePASS
It's here! The Phoenix Theatre has announced its 2010-11 Season and the brochures are hot off the press. Read on for details about the plays and amazing guest artists in our new season and to learn about some of the other fantastic theatre going on in town over the summer.
Behind the Scenes: Phoenix presents world premiere of new MacIvor play
A world premiere by one of Canada's most acclaimed contemporary playwrights is a highlight in the Phoenix Theatre's 2010/11 season.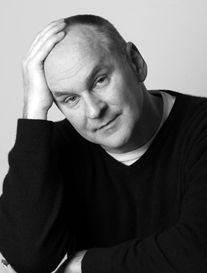 Daniel MacIvor, (right) author of the award-winning plays Marion Bridge, Never Swim Alone, This Is A Play, You Are Here, See Bob Run – to name just a few – will produce his new drama, Inside, with the Department of Theatre's student actors, running March 17 – 26, 2011.
The play will be directed by UVic alumnus David Ferry (MFA '04). Featuring a group of twenty-somethings as they confront life in the modern world, the play will be well suited for the acting company of the Phoenix Theatre. Inside follows eleven characters – ranging from new immigrants, orphaned children, born-again Christians to drug addicts and entrepreneurs – who become interconnected over a single, life-changing day.
"We were so pleased with the quality of preparation and talent that we saw and now have a fabulous cast that we are so looking forward to working with," said David Ferry about the casting auditions that happened in early March.
"I've wanted to work with David for years and I'm thrilled that UVic is giving me the opportunity to work with him and their talented young actors while I develop this new play," said Daniel MacIvor.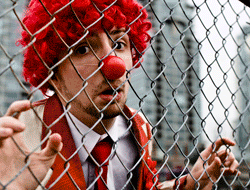 The Phoenix Theatre's 2010/11 season of four plays begins October 14-23, 2010 with our annual Spotlight on Alumni, featuring the Vancouver-based company ITSAZOO presenting Death of A Clown. Written by Sebastien Archibald (left, as "Roy" the clown) and originally performed as a SATCo production (Student Alternative Theatre Company) in 2004 here in the department of Theatre, the play has evolved through several workshop processes over the past 6 years into a full-scale multi-media production featuring a live band and original songs. Many of the actors, musicians and designers who comprise ITSAZOO are proud alumni of UVic's theatre department!
November 11-27, 2010, Department Chair Warwick Dobson will direct Federico García Lorca's "tragic poem" Yerma. Set within the strict moral code of mid-20th century, rural Spain, Yerma chronicles the passion, frustration and anguish of a young married woman. Yerma, meaning "barren" in Spanish, features a large cast of 23 actors and marks Dobson's directing debut at the Phoenix Theatre.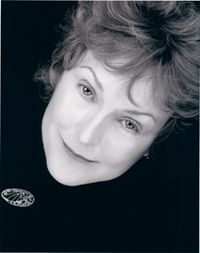 From February 24-March 5, 2011, the department presents one of Shakespeare's most loved comedies, Twelfth Night, directed by professor Linda Hardy (right). From its unforgettable opening line, to its deliriously comic conclusion, Twelfth Night tells the stories of Viola and her twin Sebastian, the Duke Orsino and his love for Olivia, and Olivia and her many, many suitors. Mayhem ensues as disguise, deception and desire play havoc with everyone's intentions.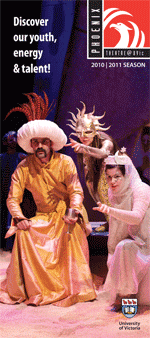 This is the Phoenix Theatre's forty-fourth season of showcasing the youth, energy and talent of students in the Department of Theatre. Students participate in all areas of the productions – on stage and backstage – as a vital part of their academic curriculum in acting, design, stage management, set and costume construction, sound and lighting operation and front of house management.
Subscriptions for the 2010/11 season are now available for as little as $33 for 3 mainstage shows. Look for our new brochure (left) in your mailbox, find more season information on our website, download the subscription order form (PDF) or call the Phoenix Box Office at 250-721-8000.
---
Upcoming Events: Summer Theatre Around Town
Until May 30, 2010: The 25th Annual Putnam County Spelling Bee

Held over at The Belfry Theatre until May 30, this play is set to become the longest running show the Belfry has ever mounted. Six precocious and quirky children are competing in the 25th Annual Putnam County Spelling Bee. Overseen by former champ and returning moderator Rona Lisa Peretti and Vice Principal Douglas Panch, these neurotic children must face their fears and deliver the goods. Along the way these youngsters learn that winning isn't everything, and that losing doesn't necessarily make you a loser. Each evening, prior to the performance, four audience members are invited to compete in the spelling bee alongside our six young contestants. How well they spell depends entirely on them.
Until June 5, 2010: The Sunshine Boys
Chemainus Theatre presents this Neil Simon classic directed by Nicola Cavendish. The Odd Couple meets Abbott and Costello in this hilarious comedy. Willie and Al were in vaudeville together, now frustration keeps them apart. CBS wants them back for a History of Comedy special and the laughs begin to fly as the two reunite.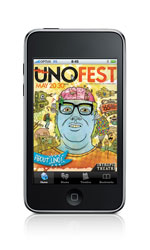 May 20 – 30, 2010: UNO Fest
Uno Fest is North America's longest-running solo performance festival, featuring great one-person shows from across Canada and beyond. Uno Fest is produced in Victoria BC by Intrepid Theatre, producers of the annual Victoria Fringe Theatre Festival. This year, 13 solo performers from around Canada and the US will take to the stage at two downtown venues: the Intrepid Theatre Club and Metro Studio. The 2010 Uno Fest also features a great range of theatre workshops for professionals and emerging artists, and fun special events including Uno's cabaret and costume party, Bring Out Your Dead 3 and Intrepid's famous monologue slam, Monobrow.

> See below to learn how you can win tickets to UNO Fest!
May 27, 2010 at 7pm:The Art of Re-Gifting
at Crystal Gardens
This gala celebration showcasing Victoria's diverse arts community is "an evening to inspire support of the arts." Four First Nations visual artists have created specially commissioned works including a Salish woven blanket and a carved mask, and in the First Nations tradition of generosity will gift the art to five local arts organizations – The Belfry Theatre, Ballet Victoria, Intrepid Theatre, ProArt and The Other Guys Theatre Company. They will in turn 'Pay It Forward', each staging a live performance as a gift in return. The visual art pieces will be auctioned off and all proceeds from the evening will go to the arts organizations. This fundraiser in support of the arts in Victoria is organized by Leadership Victoria in collaboration with artists.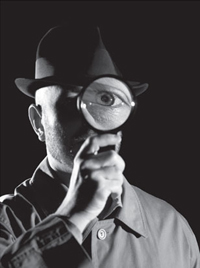 June 8 - 20, 2010: Loot!
Blue Bridge Theatre offers Joe Orton's hilarious farce which follows the mad antics of two young men who have robbed a bank but have nowhere to hide the money. Relentlessly anarchic and wildly funny, Loot will have fans of absurdist comedy rolling in the aisles with laughter. (Image left)
June 10 - 26, 2010: Perfect Wedding
Langham Court Theatre presents their final of their season, Perfect Wedding. On his wedding day, the groom-to-be wakes to a frenzy of disasters, any of which could sabotage his hopes of marital bliss ... he's sleeping in the wrong bed, the bride is beyond irate, the inlaws are from hell, the best man is ready to quit ... Oh, happy day!
June 17 to September 11, 2010: Guys and Dolls
Chemainus Theatre presents this musical fable of Broadway over the summer. Ten Tonys, seven Laurence Olivier and six Drama Desk Awards make this show an undeniable hit! Enjoy Sit Down, You're Rockin' the Boat, Luck Be A Lady and Take Back Your Mink along with the unforgettable Sky Masterson, Sarah Brown and Miss Adelaide - it's a show that has been described as the perfect musical comedy. Gangsters, card sharks, night club headliners and the Salvation Army fall in, and out, and back in love again, in this high octane New York fable.
July 6 - 18, 2010: A Streetcar Named Desire
Blue Bridge Theatre's second offering this summer is the American classic by Tennessee Williams. Brimming with the steamy sexuality of New Orleans, this landmark drama has continued to move audiences since its premiere in New York in 1947.
July 20 - August 14, 2010: Billy Bishop Goes to War
The Belfry brings us an acclaimed new production of this Canadian masterpiece, written and composed by John Gray with Eric Peterson. Billy Bishop Goes to War follows a born loser from Owen Sound as he becomes the greatest of all World War I flying aces. With its charming songs and delicious wit, Billy Bishop has delighted audiences around the world, and won the Governor General's Award, the Chalmers Award and the Los Angeles Drama Critics Award.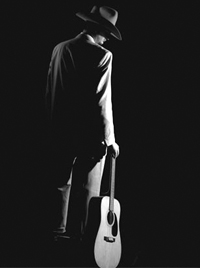 August 3 - 15, 2010: Hank Williams: The Show He Never Gave
Blue Bridge Theatre's final summer play is Maynard Collins' hugely popular Canadian musical which has wowed audiences throughout North America. Imagine what thoughts ran through the mind of legendary country and western singer Hank Williams Sr., as he lay in the backseat of his Cadillac before a concert in Ohio on December 31, 1952. You'll hear and see classic Hank Williams hits performed – Jambalaya, I Can't Help It (If I'm Still In Love With You) and Hey Good Lookin'. And you'll experience the McPherson Playhouse as a toe-stompin' 1950s music hall alive with the genius of a cowboy-poet Leonard Cohen placed, "100 floors above me in the Tower of Song."

August 26 - September 5, 2010: Victoria Fringe Theatre Festival
Intrepid Theatre presents the annual ten day explosion of theatre, dance, comedy, music, and performance art at 14 different downtown Victoria venues, the Victoria Fringe is Vancouver Island's biggest theatre event. The 24th annual Fringe includes free public events like FringeKids in Market Square, the Fringe Block Party Concert on Broad St and nightly performances at the Fringe Club.

---
Phoenix Phacts:
News on Alumni, Faculty, Staff and Students
Kaitlin Williams (BFA '09) has been busy with the Pacific Theatre in Vancouver, starring in their production of Godspell (May 28- July 3, 2010). Last March she was also in their production of I Was Meant for the Stage.
Blue Bridge Theatre's summer line up (see above) includes a host of UVic alumni including performances by Kholby Wardell (BFA ' 08), Celine Stubel (BFA '02) Celine Richmond (BFA '08) and set and/or costume designs by Nathan Brown (BFA '09), Patrick du Wors (BFA '02) and current student Patricia Reilly. Other current undergraduate students include Alex Plouffe (Wreckage) and Patricia Trihn (Romeo & Juliet, Medea).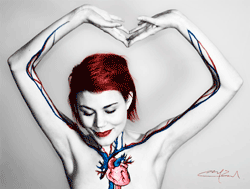 Eva Markvoort. Photo by Cyrus McEachern.


Eva Markvoort (BFA '10)
a 25-year-old graduate from the Department of Theatre succumbed to a life-long battle with cystic fibrosis on March 27. A native of New Westminster, Eva's indomitable spirit and energy were inspiring to everyone who learned of her struggles. Her blog, 65_RedRoses, chronicled her experiences with the disease and advocated support for cystic fibrosis and the importance of organ donation. As an acting student at UVic, Eva performed in four mainstage productions at the Phoenix Theatre: Taming of the Shrew, Listen to the Wind, Tyrants and Guys and Dolls. Her professors remember her as a talented actor and a person who fearlessly embraced every opportunity. In 2007, Eva became too ill to continue her education. Later that year, she received a double lung transplant, which went into chronic rejection last summer. This past February, although short two credits, UVic fast-tracked her degree, which was delivered to her hospital room in Vancouver. Eva's story gained an international presence through a documentary film, also named 65_RedRoses which won awards at the 2009 Hot Docs festival in Toronto and the Vancouver International Film Festival. In 2010, the Canadian Cystic Fibrosis Foundation recognized her commitment and advocacy work with the prestigious Summerhayes Award. Eva leaves an inspirational legacy – not only her tireless efforts for the causes that that impassioned her – but also one of strength, love, courage, dignity and hope that has motivated thousands around the world. Donations can be made in Markvoort's name to the Cystic Fibrosis Foundation or learn more information about Project Give Life.
A memorial will be held in the afternoon (Time TBA) at the Department of Theatre on September 26, 2010 with a viewing of the documentary 65_RedRoses. More information about this event will be posted on the department's website in September.
Check out past Phoenix Phacts on our website.
---
Email Perks & Interesting Links:
Win tickets to UNO Fest, May 20-30, 2010

You can win a double pass to any opening night Uno Fest show by answering this skill testing question: How many years has Uno Fest been running in Victoria? (Hint - you might want to look here.)
The first two people to email an answer to sammieg@intrepidtheatre.com will win a double pass!
---
Sponsor Kudos:
The Phoenix Theatre would like to thank our individual donors and community sponsors for their support of our programs and talented students! Thank you!
Season Community Partner:

Cadboro Bay Village Merchants
Cadboro Bay Book Company, Cadboro Bay Village Service & Auto Repair, For Good Measure, People's Compounding Pharmacy, Pepper's Foods, Smugglers Cove and Vision 2000 Blaney's Travel
Contact Adrienne Holierhoek for information about how your company can support emerging theatre artists at UVic.
---
Phoenix eNews is a regular email magazine for those interested in the Phoenix Theatre, the not-for-profit productions at the University of Victoria's Department of Theatre. Do you know someone who would love to know more about us? Please feel free to forward this message to a friend!