If this email does not display properly, please see our website phoenixtheatres.ca
eNews | Behind the Scenes | Upcoming | Phoenix Phacts | Perks | Kudos
---
eNews: Phoenix BackstagePASS
For most of our students, the experience of working on Phoenix plays during their four years at the Department of Theatre is an amazing one. In any given season, they may get the chance to design a play's costumes or set, or perform a leading role. However, working closely with the esteemed Canadian playwright Daniel MacIvor and the acclaimed director David Ferry on the world premiere of a new play is an opportunity none of these students expected at their age. Read on for a peek behind-the-scenes – in words and video – and go inside Inside.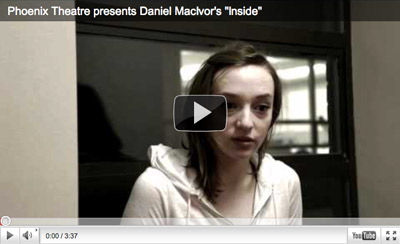 Video by Jamie Tanner


Behind the Scenes: Inside Inside
Victoria's newest nightclub isn't on Pandora or Yates, and you don't need a hand-stamp to get in. Students at the Department of Theatre are building it right on the stage!
Speakers are being mounted under the floorboards to give the feeling of bass pumping through the walls from another room. Up in the catwalks, students are hustling to mount lights and filters to give the stage the perfect ambiance. And in rehearsals, eleven student actors are letting their limbs dance to the pulsing rhythm... while a low, eerie chant begins to form.
Nope. It's not a rave. It's all part of mounting the world premiere of Inside, the new play by celebrated Canadian actor, director and playwright Daniel MacIvor (seen below and with cast and crew on set of play).
A stalwart of the Canadian theatre scene, MacIvor is a playwright, director, actor and filmaker. His plays and films have won numerous awards and he was awarded a Governor Generals Award for Drama in 2006 and the prestigious Siminovitch Prize in Theatre in 2008. He's been on the west coast off and on since January, first directing David Mamet's The Cryptogram at the Belfry Theatre, then for the opening of his latest movie, Trigger at the Victoria International Film Fest before going into several weeks of workshop of his new play Inside, with our theatre students and director and friend, David Ferry.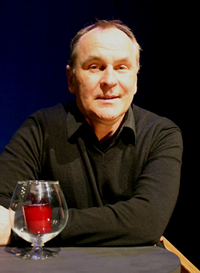 Inside, with its themes of love, isolation, race, identity, anger, and upheaval, tells the story of eleven twenty-somethings over the course of a single day as they navigate life from their perspective on the fringe of the modern word. New immigrants, orphaned children, born-again Christians, drug addicts and entrepreneurs alike find common ground at the boutique hotel dance club called "Inside". MacIvor's contemporary, emotional, often darkly comic script also explores multiple meanings of 'inside'.
The play is adapted specifically for 11 students in the Department of Theatre from an earlier work. "I'm thrilled UVic is giving me the opportunity to work with David and these talented young actors while I develop this new play," says MacIvor. "The students are well-suited to the twenty-something characters in the play."
For the eleven student actors, this play presents a once-in-a-lifetime challenge – one that director David Ferry says they've embraced. "Their energy and passion and willingness to try new things," he says, "is undeniably exciting... and a joy to work with." As director, Ferry sees his role as both facilitator and educator. "With the actors it is important to create a space and communication that makes good work possible from all the artists – but here, in my alma mater, I'm a teacher as well," says Ferry who graduated with his MFA in Directing in 2004 from UVic (seen below beside Daniel MacIvor).
Creating Inside for UVic has clearly been a different process for MacIvor. "I don't often have anyone else direct first productions of my multi-character shows," he explains. "But I love David's style and his ease with the actors. I'm trying to take a back seat and keep my mouth shut for the most part—not my natural inclination—but he's being generous with me, letting me throw my two cents in. He values having the writer in the room."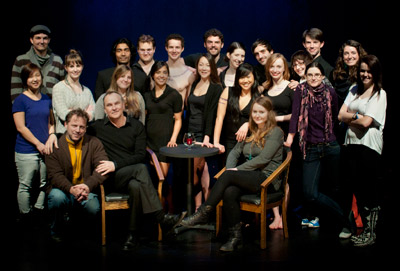 Photo courtesy of Travis Bower
Fourth year theatre acting student Alex Plouffe concurs. Playing Brian, one of Inside's twenty-somethings, he appreciated Daniel's contribution to rehearsal. "Obviously, as the writer, he knows all the answers to your character… he knows the script, well, inside and out," he says chuckling at the inadvertent pun, "But he let us find our characters on our own. It was a very organic process. I could experiment and both Daniel and David were very supportive. No pressure." Which confirms MacIvor's idea of acting. "The actor's job," he says, "is not to HAVE feelings, but to evoke feeling in the audience."
"If only I had had such good fortune as a theatre school student to premiere the work of a fabulous living playwright," says Ferry enviously about the UVic actor's experience.

Photo David Lowes
"We've been looking forward to this for a year," says Plouffe. "You never think you're going to have the chance to work with someone of this calibre in your entire career, let alone by the time you're 21. I feel incredibly lucky."
And perhaps this is true for the playwright as well. "This is a great group of actors," says MacIvor on his blog of his Phoenix experience and time in Victoria. "Life is good."
---
Upcoming Events: March
March 15 & 16, 2011:

$6 Public Preview Performances of Inside
Tickets are available to the public after 5pm on day of performance, by phone or in person.
March 17 - 26, 2011:
Inside
By Daniel MacIvor
Guest directed by David Ferry
Evening Performances @ 8pm
Matinee March 26 @ 2pm

The Phoenix Theatre presents the world premiere of Inside, written by acclaimed playwright Daniel MacIvor and directed by the renowned David Ferry. This modern tragicomedy plays host to a cross-section of Canadian experiences. Over the course of one evening, immigrants and orphans, Christians and addicts, entrepreneurs and activists alike will converge in the pulsing world of the nightclub. Between the beats of the music, boundaries will fall, tensions will rise, and lives will change forever.

Friday, March 18 @ 7pm:
Preshow Lecture: Daniel MacIvor: Just Do It!
Join us for a free lecture on the first Friday of each production. Dr. Tony Vickery, a professor of Theatre History explores MacIvor 's independent, do-it-yourself initiative as a key component in his philosophies around acting, play writing and producing theatre, and how these have lead to his national and international prominence.
This lecture is FREE to everyone. It will also be recorded and the audio file posted on the Phoenix website next week.
Friday, March 25 (after show):
Talkback with Daniel MacIvor
Join us after the play for a talkback session with the playwright of Inside.
Saturday, March 26 @ 2pm:
Sign Language Interpretation performance
This performance of Inside features international Deaf interpreter, presenter and performer Nigel Howard and Jen Ferris. Click here for special order form to this sign language performance.
---
Phoenix Phacts:
News on Alumni, Faculty, Staff and Students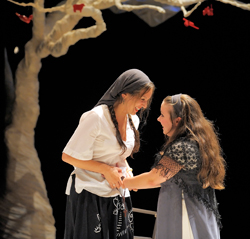 The Department of Theatre is well-represented in this year's "M" Award Nominations, including last fall's Phoenix production of Yerma for Best Overall Production! The Monday Magazine "M" Awards are based on the people's choice and public's voting, so if you haven't voted yet, please check out all the nominees and support our arts community! Here's the link to Monday Magazine — then follow their link to the online survey. Voting closes by Friday, March 18 at 5pm.
Department of Theatre-related "M" Award nominations:
David Ferry (MFA '04), alumnus and director of the Phoenix production of Inside has been busy while in town. He has also directed the workshop of Mount Appetite, at the Belfry Theatre's Spark Fest. Mount Appetite is based on a short story by Bill Gaston, professor in the UVic Writing Department and features Matthew Payne (BFA '93).
Colin Plant (BFA '96) has been elected to a second term as President of the Association of BC Drama Educators (ABCDE). Congrats Colin!

Recent graduates, Jeff Leard (BFA '10) and Samantha Richard (BFA'10) (pictured above) are back from their Canadian tour of the award winning fringe play Pinocchio with The Story Theatre Company and are currently performing in Victoria schools.
The Other Guys Theatre Company is planning a busy summer with a tour of their show Good Timber: Songs and Stories of the Western Logger across the Pacific Northwest. The project includes theatre alumni Colleen and Kelt Eccleston (BFA), Ross Desprez (BFA '92), Keith Houghton (BFA '01) and Erin Macklem (costume designer) (BFA '98). Colleen Eccleston (BFA).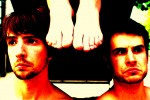 The crew at ITSAZOO Productions are on the road again. Chairs: A Parable, an absurdist comedy about three men as they struggle to coexist in a barren landscape was written by Sebastien Archibald (BFA '07). The show will be touring this spring through Vancouver, Tofino, Nelson and Galiano as well as the Metro Studio on March 30 - April 2, 2011. Directed By Chelsea Haberlin (BFA '07) features Cameron Anderson (BFA '07), Sebastien Archibald, and Chris Wilson (BFA '08). Intrepid Theatre is also organizing a live twitter interview this Friday, March 18 fro 12:30 to 1pm. Monday Magazine Arts Editor, Amanda Farrell will interview the play's director with the general public participating by asking questions on twitter or facebook. Find out more...
Our Applied Theatre program was applauded in the March issue of Focus Magazine (click to download PDF of magazine on their site). Will Weigler (current PhD candidate) participated in the UVic Diversity Conference this spring, co-directing an applied theatre presentation where actors recounted true stories from staff and instructors on campus to help draw linkages between the experiences from different cultures, identities, genders and races.
---
Email Perks & Interesting Links:
Win tickets for The Last 15 Seconds
Email Intrepid Theatre to win tickets for The Last 15 Seconds (March 18, 19 & 20 at Metro Studio). The Last 15 Seconds explores terrorist actions and motivations through a imagined dialogue with a suicide bomber just moments before the explosion. "Riveting." – Waterloo Region Record
---
Sponsor Kudos:
The Phoenix Theatre would like to thank our individual donors and community sponsors for their support of our programs and talented students! Thank you!
Community Partner:
Cadboro Bay Village Merchants
Including: Cadboro Bay Book Company, For Good Measure, People's Compounding Pharmacy, Pepper's Foods and Smugglers Cove
Contact Adrienne Holierhoek for information about how your company can support emerging theatre artists at UVic.
---
Phoenix eNews is a regular email magazine for those interested in the Phoenix Theatre, the not-for-profit productions at the University of Victoria's Department of Theatre. Do you know someone who would love to know more about us? Please feel free to forward this message to a friend!