If this email does not display properly, please see our website phoenixtheatres.ca
eNews | Behind the Scenes | Upcoming | Phoenix Phacts | Perks | Kudos
---
eNews: Phoenix BackstagePASS
How can we find humour in the social repercussions of a brutal and devasting recession? Prolific and provocative Canadian playwright, George F. Walker finds a balance of poignant humour in his black comedy Problem Child. This February, the Phoenix Theatre presents Problem Child, guest directed by Michael Shamata, Artistic Director of the Belfry Theatre. Read more about both Canadian men of the theatre in this issue of your backstage pass.
Behind the Scenes:
George F. Walker plays on the humour of hard times:
George F. Walker has dominated Canadian English-language stage comedy of the late 1970s and the 1980s in a manner unprecedented since Robertson Davies achieved his comic preeminence in the 1940s and 1950s. Like Davies, Walker takes his comedy seriously, using it to present a coherent vision of the world, and, like Davies, Walker is an acute social satirist. There the resemblance ends.
While Walker's vision is coherent, the world he sees is not; his is a dark comedy peopled with larger-than-life, obsessive characters addicted to self-analysis and hilariously misguided pseudo philosophical observation. Lineal plot and logical, psychological character development are seldom found in Walker's work, as the characters leap hysterically from thought to thought and action to action in a state of perpetual non sequitur and crisis. His dramatic style draws heavily on pop-art forms (cartoons, gothic melodrama, detective novels, B-movies), giving the plays their lurid coloring and frenzied energy. Walker has been compared to Tom Stoppard, for his acrobatic dialogue, and to Sam Shepard, for his use of pop-art icons.
"Like so many of my generation, my mind is sort of a media garbage bag sometimes. We're all so heavily influenced by television and movies and you don't have to be very perceptive to see it coming out in new plays. The dilemma for me was not to rebel against the problem - it is, after all, a fairly central reality - but to assimilate it and make something of it."
Critic Gregory Sinclair has described Walker's dramatic technique as 'scouring artistic graveyards for dead stereotypes and mouldy subgenres, stitching them all together and watching them career madly across the stage.' The Frankensteinean metaphor is, perhaps, apt for a playwright who delights in revivifying traditional theatrical conventions by inserting pop-cultural and b-movie references into them.
When Walker wrote Problem Child in 1997, he had been living in Toronto during a political climate where the Mike Harris Government had implemented the "Common Sense Revolution." The results of this were losses of many social programs and a greater divide between the haves and the have-nots. In Problem Child, Walker's main characters are stuck in the middle of these social programs, at the mercy of the system.
First Person with Guest Director Michael Shamata: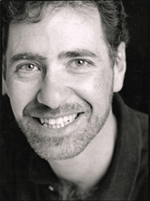 It has been my pleasure to work with students at many institutions across Canada and the United States, and each time I have the opportunity, I am reminded again of the incredible learning experience this provides. Not only for the students, but also for myself.
This winter I have had the honour of working with a fantastic team of students at the University of Victoria as we all prepare to present Problem Child in February, written by the prolific Canadian playwright, George F. Walker.
Problem Child seems a pertinent and important exercise for the student company at the Department of Theatre. For one thing, the characters in Problem Child are fascinating and very flawed young people who, despite different life choices, are not dissimilar in age from our own students. As well, the play – in a very short space of time (just over ten years) – has become a new Canadian classic, and is regularly performed on stages from one end of the country to the other. It is a play that serves as a critical component to a contemporary actor's portfolio. Thirdly, like so many of Walker's brilliant plays, Problem Child deftly portrays the urban underclass. His characters are on the losing end in their fight against the system. Walker also manages to show us their humanity; they are more than just another some of society's messed-up, off-the-rails, throwaways: an important message for our next generation, and a bigger challenge for the actors who are portraying them.
Michael Shamata in discussion with actors Anne McGladdery and Cobi Dayan.
Photo by Sarah Koury
It has been an indescribable delight to work with these four young actors. Together we tell the personal and sometimes comedic struggle of Denise, a mother with drug issues and her loveable, down-on-his-luck partner RJ as they fight to regain custody of their child from social services. These students have been open, brave, hard-working, and fun. I am conscious that my direction is not only guidance for the production of this particular play, but a process of mentoring our theatre artists for the future. Their young minds are like sponges and everything that happens in the rehearsal hall is – hopefully – experiential learning for the rest of their careers.
The team of students in this learning experience extends far beyond the actors on stage. As with any play, a director works closely with talented designers, stage managers, technicians, craftspeople and publicists. At UVic, these roles are also performed by students in the department. I am continually impressed as they commit hundreds of hours to designing, building and even wallpapering a set, or learning to master a lighting board – all while maintaining their studies for other courses! Their openness and creativity is invigorating.
I thank UVic for this opportunity. While mentoring these students, I am learning from them. In their efforts to absorb knowledge and skills in this hands-on classroom, they challenge me and my ideas, and force me to be a better director.
Michael Shamata is an award-winning director who has worked in major theatres across Canada, including the Stratford Festival, Canadian Stage Company, Soulpepper and the Manitoba Theatre Centre. He is currently the Artistic Director at the Belfry Theatre in Victoria.
---
Upcoming Events: February & March
February 18– 27: Problem Child
By George F. Walker
Guest Director Michael Shamata (Artistic Director, Belfry Theatre)
Presented by

February 10: Box Office Now Open for Problem Child tickets.

February 19 at 7:00pm: Free Pre-Show Lecture
Everyone is welcome to join us for our FREE Pre-Show Lecture with Dr. Sheila Rabillard from UVic's Department of English for her talk "Suburban Blight: George F. Walker's Problem Child." . This free lecture is open to everyone, including those with play tickets for alternate evenings. This talk will be recorded and a streaming audio file will be eventually posted on our website.
February 27 at 2:00pm: Sign Language Interpretation of Problem Child
The Phoenix is pleased to offer a special performance with special sign language interpretation of Problem Child. Internationally renowned Deaf interpreter Nigel Howard will be signing the dialogue and play description with hearing interpreter Mary Warner. We're proud to be able to bring the magic of theatre to the Deaf and Hard of Hearing community to two plays this season. To order tickets, click here.
March 4, 5 & 6, 2010: Festival of Innovative & New Drama (FIND) 2010 Studio Series
A collaborative project of new and original drama, the 8th annual FIND Studio Series presents six one-act staged readings writen by emerging playwrights from the Department of Writing and performed and directed by Theatre students. Come celebrate an evening of energetic, local talent and see some ofCanada's emerging artists. Audiences can pick and choose the plays that most interest them, or stay for the entire action-packed evening. Spend intermissions in our funky coffee-house setting in the lobby. Performances begin at 7pm. See full schedule.
March 18 – 27, 2010: Wreckage
By Sally Stubbs
Directed by Fran Gebhard
---
Phoenix Phacts:
News on Alumni, Faculty, Staff and Students

Brian Culp and Kelly Hudson in Dark of the Moon. Photo by David Lowes.
The Phoenix Theatre was well represented in the eigth annual Critic's Choice Spotlight Awards that recognized the finest shows of the 2008-9 season.
Dark of the Moon won awards for Best Overall Community Production, Best Director by theatre Professor and director Brian Richmond, and Best Sound Design by John Mills-Cockell. Then student, Brian Culp (BFA'09) was nominated for Best Performance in a Community Production for his role in Dark of the Moon. Alumnus Patrick Du Wors (BFA '02) was nominated for his costume design on our production of Dark of the Moon and Blue Bridge Theatre's As You Like It.
Nathan Brown's (BFA '09) set for Medea was nominated for Best Set Design and current MFA candidate Paphavee (Poe) Limkul lighting for La Ronde was nominated for Best Lighting Design. Other theatre alumni that won awards were: Clayton Jevne (BFA '85, MFA '88 and PhD '03) (and others) in Theatre Inconnu's Who's Afraid of Virginia Woolf? for Best Performance in a Community Performance; David Ferry (MFA '04) in Blue Bridge Theatre's Death of a Salesman for Best Performance; Britt Small (MFA '04) and various alumni in Atomic Vaudeville's Ride the Cyclone for Best New Play; Ingrid Hansen (BFA '09) and SNAFU Dance Theatre's Pretty Little Instincts for Best Fringe Production; and Giggling Iguana's The Picture of Dorian Gray (adapted by Ian Case (BFA'91) for Best Site Specific Production. Congratulations to all!
Check out past Phoenix Phacts on our website.
---
Email Perks & Interesting Links:
Local Theatre: The Belfry Theatre
The next three months at the Belfry are going to be busy. Here's a round up of what's going on down in Fernwood:
To February 21: Where the Blood Mixes, Kevin Loring's Governor General's Award winning play.
March: The SPARK Festival lights up the building with 18 shows, parties and workshops in just 14 days.
April: The Belfry's next Mainstage production is the musical, The 25th Annual Putnam County Spelling Bee, directed by Michael Shamata.
---
Sponsor Kudos:
The Phoenix Theatre would like to thank our individual donors and community sponsors for their support of our programs and talented students! Thank you!
Season Community Partner:

Cadboro Bay Village Merchants
Cadboro Bay Book Company, Cadboro Bay Village Service & Auto Repair, For Good Measure, People's Compounding Pharmacy, Pepper's Foods, Smugglers Cove and Vision 2000 Blaney's Travel
Season Ticket Sponsor:


Grand & Toy: Performance Enhancing Offices
Contact Adrienne Holierhoek for information about how your company can support emerging theatre artists at UVic.
---
Phoenix eNews is a regular email magazine for those interested in the Phoenix Theatre, the not-for-profit productions at the University of Victoria's Department of Theatre. Do you know someone who would love to know more about us? Please feel free to forward this message to a friend!