If this email does not display properly, please see our website phoenixtheatres.ca
eNews | Behind the Scenes | Upcoming | Phoenix Phacts | Perks | Kudos
---
eNews: Phoenix BackstagePASS
Our 2008/09 season begins next week with our SPOTLIGHT ON ALUMNI featuring the very popular local theatre troupe, Atomic Vaudeville and their production of "Legoland." Check out the rest of our line up in Upcoming Events and enjoy this issue of BackstagePASS!
Behind the Scenes: From student project to international stages, Legoland and alumni return home
First developed as a University of Victoria directed studies project in 2004, Jacob Richmond's hilarious
off-beat comedy Legoland has traveled to theatre festivals across Canada and the United States to great public and media acclaim.
Richmond and Britt Small, partners in the successful Victoria theatre troupe Atomic Vaudeville, are bringing this play back to the theatre where it was first launched at the University of Victoria's Phoenix Theatre from October 9 through 18, 2008.
The Phoenix Theatre's annual "Spotlight on Alumni" play celebrates our department's graduates who have made an impact in the world of theatre. As such, Legoland is co-directed by Richmond (UVic studies '03-04) and Small (MFA Directing '04) with costume and set design by Janis Ward (MFA Design '04) and features the talents of Celine Stubel (BFA '02) and Amitai Marmorstein (BFA '07) as the two siblings, Penny and Ezra Lamb.
The play presents itself as a contemporary vaudeville routine complete with ukulele, puppets and gangster rap. After an entanglement with the law, the Lamb teenagers have to make a presentation on juvenile
delinquency to their social worker and you, the audience. Their action-packed tale takes them from their hippie upbringing to a uniform-enforced Catholic school in the big city world they call "Legoland" and across the continent on a Ritalin-funded odyssey in search of pop star Johnny Moon.
A hit on the festival circuit from Vancouver to Toronto and New York to Los Angeles, Legoland has won awards for "Best New Play", "Best Actress", "Critic's Choice," "Festival Favorite" and "Pick of the Fringe." They have also earned a spot in Toronto's Theatre Passe Muraille programming later this fall.
"The Fringe circuit has proven to be a great venue for boosting emerging talent into the limelight. A lot of UVic theatre grads have successfully launched their careers through independent Canadian touring. We're honored to be recognized for our success and it's great to be bringing Legoland back to the Phoenix," says Small.
Media reviews of their performances consistently exclaim "If you see nothing else at the Fringe, see Legoland!" "It's manic fun, wickedly performed…" says Toronto's Now Magazine.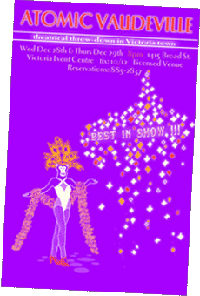 Atomic Vaudeville, founded by Small and Richmond in 2004, produces monthly cabaret-style shows – a short-form mélange of theatre, music, song, dance, puppetry and sketch – that have become a cult hit in Victoria. They see it as Vaudeville reconceived for the present age attempting to reach out to an audience that is ready for a live, entertaining and relevant theatrical art form. Their shows have won the Monday Magazine award for best comedy act three years running. In January 2008, the company was incorporated as a non-profit company.
The company is composed of a collective of writers, performers and musicians supported by the co-artistic directorship of Richmond and Small. They have also produced Richmond's The Qualities of Zero in Victoria and Vancouver and in 2009 will be producing, together with Intrepid Theatre, his new play Ride the Cyclone.
---
Upcoming Events: October
October 9– 18: Legoland
SPOTLIGHT ON ALUMNI:
By Jacob Richmond | Produced by Atomic Vaudeville
Presented by
October 1: Box Office Open for Legoland tickets.

October 10 at 7:00pm: Free Pre-Show Lecture
Please join Dr. Jennifer Wise of the Department of Theatre in conversation with the founders of Atomic Vaudeville and directors of Legoland, Britt Small and Jacob Richmond. This free lecture is open to everyone, including those with play tickets for alternate evenings.
October 18 at 2:00pm: Sign Language Interpretation
Experience Legoland with special sign language interpretation. International Deaf interpreter Nigel Howard will be signing the dialogue and play description of Legoland with hearing interpreter Mary Warner. Last fall's first play with interpretation was a moving experience for audience members and everyone involved on stage. We're proud to be able to bring the magic of theatre to the Deaf and Hard of Hearing community again! This initiative is made possible with support from the UVic Equity and Human Rights Office.

October 23 at 7:30pm: Censorship and the Arts
Does censorship of the arts protect society or curtail civil liberties? How is this affected by corporate sponsorship, government regulations, funding requirements and shifting ideas of obscenity? Join the Public Issues Community Forum with Dr. Allana Lindgren of the Department of Theatre and a panel of guests: Professor David Leach, Dr. Allan Antliff, Mr. Alain Pineau. For more information click here. Admission is free, however tickets must be reserved in advance at 250.472.4747.
November 21: 2009/10 "Spotlight on Alumni" Call for Submissions
The Department of Theatre invites its alumni to submit a proposal for the department's October 2009 "Spotlight on Alumni" position in the Phoenix Theatre's 2009/10 season. Click here for details. Deadline for submissions is November 21, 2008.
November 6 – 22: Dark of the Moon
By Howard Richardson & William Berney, in cooperation with The Richardson/Yale Property Trust, Elliot S. Blair, Administrator
Directed by Brian Richmond
Presented by
February 19 – 28: La Ronde
By Arthur Schnitzler
Director by Conrad Alexandrowicz*
*New announcement!
March 19 – 28: Medea
By Euripides
Directed by Linda Hardy
---
Phoenix Phacts:
News on Alumni, Faculty, Staff and Students
David Ferry (MFA '04) was nominated for Outstanding Performance By A Male for his acting in Dark Horse Theatre's production of Lullaby in Toronto.
Alistair Newton (BFA '05) participated in the The Director's Lab at Lincoln Center Theater, a three week international director's symposium held annually in New York City. Alistair, with other UVic grads as part of Ecce Homo Theatre, presented The Pastor Phelps Project: a fundamentalist cabaret as a part of Toronto's SummerWorks Theatre Festival. The piece was written and directed by Newton, designed by Matt Jackson(BFA '06), stage managed by Kate Costin (BFA '08), and featured Kaitlyn Regehr (BFA '07) and Carey William Wass (BFA '08). The play enjoyed a sold-out run and Toronto's NOW magazine awarded it best ensemble, best director and best production in it's annual list of festival picks. Kate Costin is continuing her education in theatre/film design at Parsons: The New School of Design, a prestigious school in New York City.
Second-year acting student Graham Nathan and first-year student Simone Brodie are currently performing in Langham Court Theatre's production of "A Midsummer Night's Dream until October 11, 2008.
UVic writing student Brie Whittman's Orbit, won the Intrepid Theatre's 2008 Petri Dish New Play Contest and itself a spot at the Victoria Fringe Festival. The show starred current student Kaitlin Williams and was directed by Jen Quinn (BFA '08).
The Phoenix Theatre continues our connection with the Belfry Theatre with their current production of "Half Life" featuring assistant professor Jan Wood and later productions including Ian Rye, Jennifer Lines, Amiel Gladstone, Paul Fauteux, Lucas Myers, and Celine Stubel.
Check out past Phoenix Phacts on our website.
---
Email Perks & Interesting Links:
Win Tickets!
Start your theatre fall off right! You could win tickets to Legoland by answering this skill-testing question: Which member of the Legoland team is the most recent UVic alumni from the Department of Theatre? Email your answer before 12 noon on October 10. The winner will be selected from all the correct answers and emailed that afternoon. Good luck!
Subscription Deal:
There's still time to subscribe for our season for only $33 for 3 shows and $44 for 4 shows. That breaks down to $11 per show -- a whopping 50% savings off the individual ticket price! Plus our subscription offers lots of benefits and flexible options to work around your busy life. To order, download our subscription order form and fax it to us or call 250.721.8000.
Deluxe Membership Package:
This Deluxe Membership Package of extra benefits is designed to enrich your experience at the Phoenix Theatre. For only $20, in addition to a basic subscription, it includes easy-to-use parking passes, free concession beverages, theatre tours, UVic Bookstore discount, and more to help you enjoy your visit to the University of Victoria. For details or to order call 250.721.8000.
---
Sponsor Kudos:
The Phoenix Theatre would like to thank our individual donors and community sponsors for their support of our programs and talented students! Thank you!
Season Community Partner:
Cadboro Bay Village Merchants
Blaney's Travel, Bliss Boutique Spa, Cadboro Bay Book Company, Cadboro Bay Village Service, Edward Jones, For Good Measure, People's Pharmacy, Pepper's Foods, Smugglers Cove
Contact Adrienne Holierhoek for information about how your company can support emerging theatre artists at UVic.
---
Phoenix eNews is a regular email magazine for those interested in the Phoenix Theatre, the not-for-profit productions at the University of Victoria's Department of Theatre. Do you know someone who would love to know more about us? Please feel free to forward this message to a friend!