UVic Music e-Pulse November–December 2016
EVENT NOTICE
Please note the following change to the schedule:

UVic Chamber Singers Concert
Rescheduled to Saturday, November 5 at 2:30 p.m. (from October 28)
Phillip T. Young Recital Hall
Admission by donation

For the most up-to-date schedule of events, please visit our online calendar.

On the Pulse
Harald Krebs is our newest Royal Society Fellow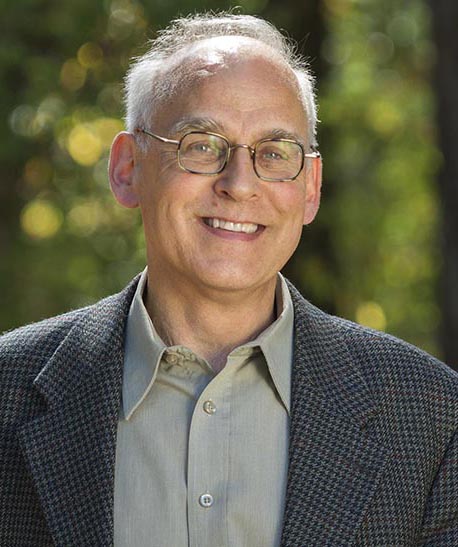 Award-winning scholar, pianist, author and School of Music professor Harald Krebs can now add Fellow of the Royal Society of Canada (RSC) to his many accomplishments. One of Canada's best-known music theorists, Dr. Krebs was announced as UVic's newest RSC Fellow on September 7.
Election to the academies of the RSC is Canada's highest academic honour and signals that the artist, scholar or scientist has made remarkable lifelong contributions to their field and to public life. As an internationally recognized expert on musical meter and rhythm—especially in 19th-century German art song known as Lieder—Dr. Krebs certainly qualifies.
His work in music theory highlights under-researched and little-understood music of the 19th and early 20th centuries. "It's a great pleasure for me to open people's ears to unfamiliar music, and to aspects of familiar music that they had not previously considered," he says.
Read more about this story on the Fine Arts blog.


---
Faculty and staff recognized for long service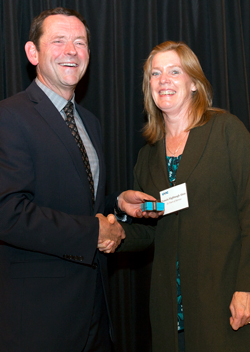 Congratulations to the many School of Music recipients of UVic's Long Service Awards! The awards were presented to a number of our faculty and staff at a special event on October 12 at the University Club.
Honoured for their 25 years of service were members of the Lafayette String Quartet—Joanna Hood, Ann Elliott-Goldschmid, Sharon Stanis, and Pamela Highbaugh Aloni—and Administrative Assistant & Graduate Secretary Linda Sheldon. Theory professor Harald Krebs, and oboe instructor Alexandra Pohran Dawkins were recognized for their 30 years of service and piano instructor Eva Solar Kinderman for 35 years.
The School of Music is grateful for their long service and appreciates the years they've put in to helping us become the fantastic faculty that we are!


---

Inspiring visit with Jazz Legend, Wynton Marsalis
UVic trumpet students had the opportunity to meet iconic jazz master Wynton Marsalis when he appeared at the Farquhar Auditorium for a concert with the Jazz at Lincoln Center Orchestra on October 15.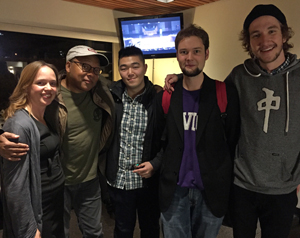 After an open sound check where the band rehearsed a new chart freshly composed by one of the orchestra members, Victor Goines, professor of Jazz Studies at Northwestern University, then fielded questions from the 75+ students that were in attendance. With the help of UVic trumpet professor Merrie Klazek—who has met Marsalis on previous occasions and was aware of his generosity for sharing stories and music—several trumpet students later went backstage to chat with Marsalis. "Wynton is a very down to earth, genuine person. He always has time to chat and sees all people as equal regardless of age or ability. This is what makes him a great teacher," says Klazek. She described Marsalis as "gracious and charming" as he ironed his suit and shared detailed stories of how he got into Classical music and learned new skills on the trumpet.
The concert started off with Marsalis playing directly to the students that were sitting in the choir loft. "It was a gesture of absolute grace and generosity," said Klazek.
After the concert, Marsalis and fellow JLCO members Walter Blanding, Helen Sung, Carlos Henriquez and Ali Jackson appeared at Victoria's jazz club, Hermann's, for a jam session with local musicians. School of Music professor Patrick Boyle was one of the players fortunate enough to jam with Marsalis. "We played a little together, just enough so I didn't get embarrassed," says Boyle, calling it "a special night to be sure."


---

Take our Audience Survey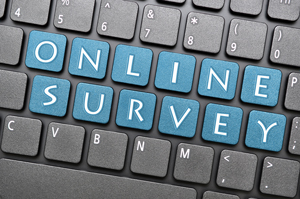 Have you attended a School of Music concert this fall? If so, we'd love your feedback! Please let us know how we're doing by completing this quick and easy Audience Survey. As a bonus: Enter to win a Crescendo Card (worth 5 School of Music concert tickets!) with your response.


---
On Stage

Four horns for the win
Winners of the School of Music's concerto competition are usually solo performers, but in the upcoming UVic Orchestra concert on November 26, four horn players will take centre stage in a performance of Schumann's Konzertstück for Four Horns and Orchestra.
Sam McNally, Collin Lloyd, Sarah Mullane and Justin Malchow are horn students with professor Kurt Kellan. "We have a really close-knit studio. We all get to know each other really well and it's a real pleasure to play with each other," says Collin. One of the benefits of being part of a smaller studio is the opportunity to play together regularly in master classes and recitals. The strong bond these students have developed is reflected in their cohesive tone and aided the quartet in winning a top spot in the Concerto Competition last April. With the concert date finally nearing, the quartet is really getting excited for their upcoming performance of Schumann's Konzertstück with the UVic Orchestra. "One of those dreams that you have when you start in music is the opportunity to play as a soloist in front of an orchestra," says Justin. "It will be an honour to play with our peers and colleagues!"
Composed in 1849 during Schumann's most prolific years (1848–49), Schumann's Konzertstück quickly became the pinnacle of horn concerti for contemporary hornists. The piece "really showcases not only the horn as a solo instrument, but also the horn section," describes Sam. With the introduction of valves on the horn in the early 19th century, Schumann exploited the new technical potential of the instrument such as chromatic lines and figurations, key modulations, and complete scales previously impossible in the low register of the natural (valveless) horn. The horn's dynamic range and colour are also showcased in this virtuosic work.
Hear Sam, Collin, Sarah and Justin perform excerpts from Schumann's Konzertstück in this short video preview: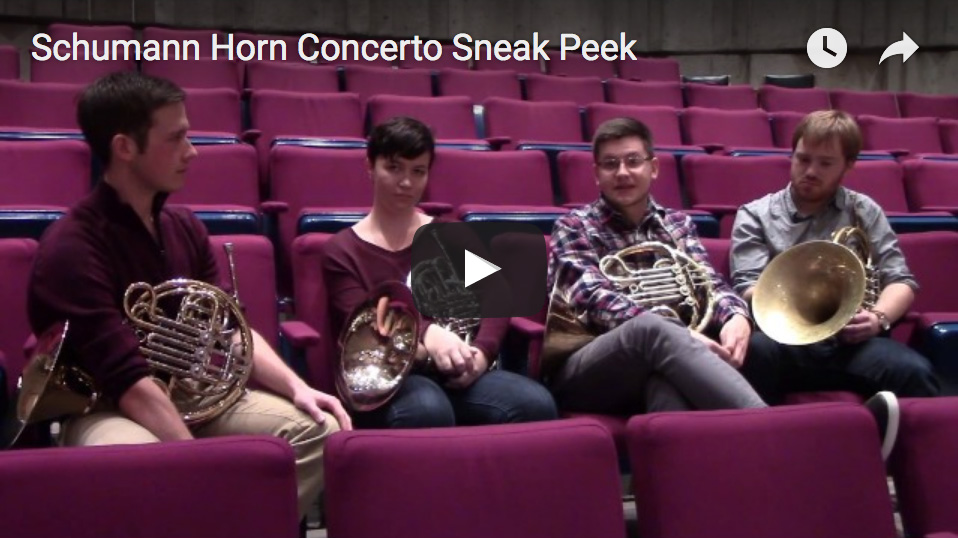 UVic Orchestra Concert: Fall Harmonies
SATURDAY, NOVEMBER 26 | 8 PM
University Centre Farquhar Auditorium

Program:
Schumann – Konzertstück for Four Horns and Orchestra, Op. 86
Mendelssohn – Symphony No. 4 in A Major "Italian"

Tickets ($10-$20) are complimentary for UVic students with valid ONECard.


---
Composition legend honoured with 85th Birthday Concert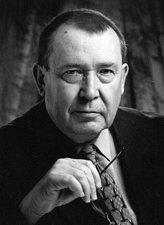 The sound world of Czech-Canadian composer Rudolf Komorous is elusive: it is strange yet familiar, unexpected but deliberate, his peculiar orchestrations skew the senses yet land—even if for a brief moment—in a place the ear recognizes. This influence came from his native Czechoslovakia where during the 50s and 60s Komorous was associated with a circle of visual artists known as the "Smidra Group." Their motto was the "aesthetics of the wonderful" through which everyday materials could be transformed into something mysterious or even magical.
While his music may seem ambiguous, one thing is for certain: Rudolf Komorous has made a major imprint on new music in Canada and beyond through his teachings and his body of work, which comprises electroacoustic, orchestral, solo, chamber and vocal music, including two operas.
On December 8, Komorous's 85th birthday, the UVic School of Music in collaboration with the Canadian Music Centre, will honour and celebrate the legendary composer, bassoonist and teacher with a special concert. Some of the School of Music's most distinguished alumni will come from near and far to perform Komorous's music in salute to his contribution to Canadian music and to advanced music education.
Komorous took a position at the University of Victoria shortly after arriving in Canada in 1969. From 1971–1989 he taught composition and theory and later served as the School of Music's Director. So many of his students went on to become successful composers that Eastern Canadian composers began to refer to their country's avant-garde scene as "The Victoria Mafia." UVic Composition professor and Acting Director for the School of Music, Christopher Butterfield was one those students. He says that what he learnt from Komorous in those early years set the tone for his way of thinking, both in terms of his approach to composition and teaching. "When you start studying composition, what your instructor has to say is pretty influential," says Butterfield. Komorous's knowledge of visual arts, the American avant-garde, and his Central European tendencies were an enormous influence. "There was no comparable teacher anywhere in the country. There wasn't anyone like him," recalls Butterfield.
Soprano and sound artist Cathy Fern Lewis studied with Komorous from 1974–78 and describes her time with him as a revelation. "His whole person and way of being and teaching was influential and inspiring," says Lewis. Komorous was "like a fountain or an oasis, not only in giving permission but in encouraging and inspiring me to pursue my own individual voice," she explains. "Rudolf was endlessly supportive," adds Butterfield. "The more you used your imagination, the more interested he became in what you were doing."
Stone House, composed by Komorous for Cathy and Christopher especially for this celebration, will be premiered on December 8. It is set to a poem of the same name by Fiona Sampson from her latest book The Catch, released February 2016. Whilst contacting Sampson for permission to use the poem, Sampson replied saying that "every poem in The Catch is a one-breath poem....! I will be fascinated to hear what you make of this...!"
Lurid Bride, also on the Dec. 8 program, was composed for the Vancouver New Music Ensemble and commissioned by Owen Underhill (another UVic alumnus and conductor for the Dec. 8 concert) and Vancouver New Music for the 2000 Vancouver International New Music Festival in which Komorous was a featured composer. Each of the eleven individually titled movements is dedicated to former students of Komorous's and is based on research into actual historical incidents or situations. Underhill explains that each sharply distinct movement is a musical representation having its own distillation of emotional qualities.
Other works to be performed include Morning Glory by Linda Catlin Smith (another of Komorous's former UVic pupils) and Olympia (1964). One of the first truly minimalist works of music, Olympia was premiered in Warsaw for the exhibition opening of Komorous's friend, painter and 'Smidra Group' member Jaroslav Vozniak. The piece was met with such unusual success that they had to repeat the performance right then and there.
As the primary organization for supporting, preserving and promoting the work of Canadian composers, the Canadian Music Centre has taken a special interest in Komorous's music. They hold an invaluable archive of not just Komorous's scores, but also sketches, letters and assorted papers. In addition, the new CMC Creative Hub in Victoria recently honoured the composer by naming their lending library after him at their opening in August. For Komorous's full biography, an audio stream of his music and to request scores, visit the CMC website.
The Rudolf Komorous Celebration concert on December 8 will be at 8pm in the Phillip T. Young Recital Hall. Tickets ($10-$20) are available from the UVic Ticket Centre and at the door.


---
Orion Series presents Distinguished Guests
The Orion Series in the Fine Arts has an exceptional line up this fall of guest lectures, concerts, and master classes with some of the finest performers and specialists in the field. Established in the UVic Faculty of Fine Arts by an anonymous donor, the Orion Fund in Fine Arts makes it possible to invite distinguished visitors from other parts of Canada and the world, making their talents available to the UVic and wider Victoria community who might not otherwise experience their work. All events in this series are FREE, so take advantage and join us for these exciting and intriguing events.


Dr. Damjana Bratuž
Adjunct Research Professor and Professor Emeritus at the Don Wright Faculty of Music, Western University, Dr. Bratuž is a pioneer in interdisciplinary musical research. She is a distinguished pianist and teacher, and a leading scholar in the field of Bartók research and semiotics.
Lecture: MONDAY, NOV. 7 | 8 PM | MAC B037
Italian Opera and Its Singers: Una carrellata personale/A personal review
Dr. Bratuž explores the convergence of the arts and literature to aid the comprehension of the expressive content and construction of musical compositions.
Piano Masterclass: TUESDAY, NOV. 8 | 5:30–7 PM | MAC B037
Condividere la partitura/Sharing the Score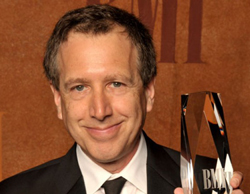 Peter Golub, composer
Peter Golub has been the Director of the Sundance Film Music Program since 1998 where he runs the yearly Composers Lab, an intensive workshop for aspiring film composers. He is currently a lecturer in composition at UCLA and previously taught composition at Bennington College and Reed College.
Lecture: THURSDAY, NOV. 17 | 1–3:45 PM | MAC B120
Music and Emotion: A Composer's Perspective
A discussion of the links between music and emotion from a composer's perspective, deriving from Golub's experience in writing music for film and theatre.
Lecture: FRIDAY, NOV. 18 | 11:30 AM–12:30 PM | MAC A169
Music Technology Meets Hollywood
Golub examines the use of technology and audio engineering in film and television, how the art has been transformed by technology, and where it is going.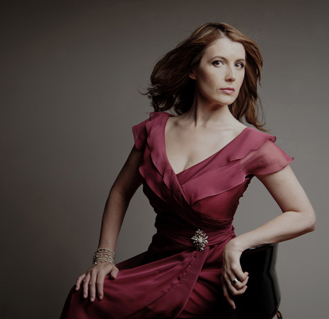 Krisztina Szabó, mezzo-soprano
Hungarian-Canadian mezzo-soprano Krisztina Szabó has become highly sought after in both North America and Europe as an artist of supreme musicianship and stagecraft.
Voice Masterclass: FRIDAY, NOV. 25 | 2:30–3:20 PM | PTY Recital Hall
Concert: SUNDAY, NOV. 27 | 2:30 PM | PTY Recital Hall
UVic piano professor Arthur Rowe joins Szabó in a performance of Brahms's Zigeunerlieder (Gypsy Songs) Op. 103.
Chloe Meyers, baroque violin
As a regular guest leader and orchestra member of baroque ensembles all over North America, Meyers is the concertmaster of the Pacific Baroque Orchestra, and the principal second with Arion Baroque Orchestra in Montreal.
String Masterclass: TUESDAY, NOV. 29 | 1:30–2:20 PM | PTY Recital Hall
Concert: TUESDAY, NOV. 29 | 8 PM | PTY Recital Hall
Bach and Before
Myers will be joined by harpsichordist Alexander Weimann in a recital of music of the baroque era up until the time of Bach.


A complete list of School of Music events can be found on our website.


---
Alumni: Keep in touch!
Alumni: Have an upcoming performance or CD release? A new job or news to share? Please email concert@uvic.ca with your updates.
If you'd like to fill out our alumni questionnaire, you may do so here.


---
To see this newsletter as a web page go to https://finearts.uvic.ca/music/events/e-pulse/epulse_Nov_2016.html
e-Pulse is a regular e-newsletter for those interested in the University of Victoria School of Music. If you no longer wish to receive this newsletter, click here and enter your address and click Un-Subscribe. A confirmation message will be emailed to you. You can also reply to this message to confirm that you want to be removed from this mailing list.
Follow us on Facebook (University of Victoria, School of Music) and Twitter (UVicMusic).
For a complete list of School of Music events, visit our online Events Calendar.