If this email does not display properly, please see our website phoenixtheatres.ca
eNews | Behind the Scenes | Upcoming | Phoenix Phacts | Perks | Kudos
---
eNews:
Making the journey to follow your dreams
Fall is truly here: a time when our students return to the corridors of the Phoenix and fill our halls with the sounds of laughter and rehearsals-in-progress. Each year they return rejuvenated, excited to continue on their educational journey, and refocused on reaching their dreams. Each fall, our Spotlight on Alumni guests arrive to share their experiences with you, our audiences, and our students. Danette Boucher and James Douglas are currently living their dreams, every day, as writers, performers, directors and filmmakers. On stage, these two graduates will present the stories of two BC pioneers who traveled west in search of a new future. Backstage and in the classrooms, Danette and James will mentor our current students, offering guidance on how they too can navigate life's journey and achieve their dreams.

Behind the Scenes: Making History:
Two UVic alumni and their love affair with each other
and BC history.
Two UVic alumni are making history – literally – every day.
Donning hoops, petticoats, bonnet and a classic Victorian cotton dress, actor and playwright Danette Boucher's "office" looks like a 19th-century ghost town, albeit bustling daily with tourists from across Canada. In truth, Barkerville Historic Town is one of BC's most frequented and important heritage sites. Together with her husband, actor, director and filmmaker James Douglas, Danette has spent decades telling the stories of Barkerville's past, and they are now both part of the park's artistic and management team.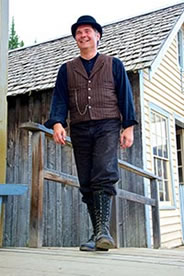 Danette and James' passion for history also led them to create Histrionics Theatre Company to better tell their favourite dramatic stories from our past. They return this fall to their own histories and their old stomping grounds at UVic's Phoenix Theatre (where Danette did two degrees and James got his start in acting) for the Department of Theatre's 2017 Spotlight on Alumni. Their presentation of West pairs two of Danette's riveting stories about two BC pioneering spirits, Lady Overlander and The Fred Wells Show, each on their own quest for gold.
"I first stumbled into museum theatre in 1989 while auditioning to play Emily Carr at her childhood home in James Bay. I didn't know then that it would lead to an exciting career in museum theatre and historical interpretation," says Danette who has also developed programming for Royal BC Museum, Helmcken House, Craigflower Farm and Schoolhouse, Point Ellice House and Tod House. Many may also remember her as the "Unsinkable" Margaret Brown, a character that she performed for the RBCM's Titanic: the Artifact Exhibit.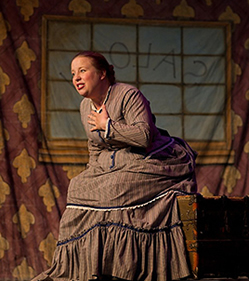 "Over the years of interpreting BC's history, it has given me great joy to watch stories and ideas morph as we mature and strive to understand who we are, as a result of who we have been," reflects Danette. "At the start of my career, we celebrated our pioneer stories and often neglected the darker, less well known, aspects of our founding. 30 years later, we are eager to question and reframe our stories, considering many angles and experiences."
Her play, Lady Overlander, is a dramatic first-person account of the legendary Catherine O'Hare Schubert who – while pregnant! – walked from Winnipeg to Kamloops in 1862 in search of a new life in a tantalizing new land. The Fred Wells Show tells a fascinating but little-known story from a gold rush during the Great Depression. Wells, an introverted yet charismatic American prospector, persevered against the odds until he finally struck gold! The ensuing 1930s gold rush saw thousands of fortune seekers flock to the town that was named in his honour, and saved countless BC families from poverty during very desperate times.
"These scripts were written with love for my home province, but are also part of a desire to understand what happened when BC was first defining itself," says Danette.
"BC history is like the best book I have ever read, with chapters that are celebratory and adventurous, and chapters that are gut wrenching and painful. When I write, I am driven by the idea of home, how we find it, and what it means to each of us."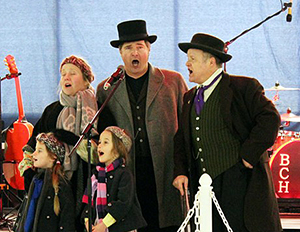 The couple make their year-round home in Wells, BC, a town near Barkerville, with their twin daughters. Although both Danette and James attended UVic's Department of Theatre – twice each! – remarkably, the couple didn't meet until they worked together in Barkerville.
James remembers for a Times Colonist interview that Danette, unbeknownst to her, had played a big part in his love of theatre. "When I was in the seventh grade, we went on a class trip to see a play... Danette was in the show, we figured out later," he said. "I was so amazed by the outdoor play, I asked my mom to get me into my first drama class."
Despite their lives up north, Victoria and UVic are still a big part of their lives and their work. "Victoria has a really strong heritage and theatre community that work together well," Danette says. "The Phoenix is a special place for us both, a place we both called home for an important time in our lives. Even though we attended at different times, we still share many common experiences...and so, so many common friends," laughs James.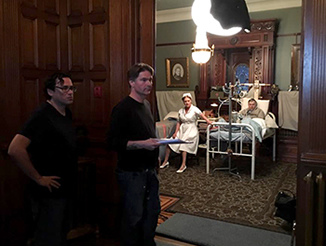 Many of these friends pitched in, both in front of the camera and financially last spring, when James had the incredible opportunity to direct "The Doctor's Case," a film based on the short story by Stephen King about Sherlock Holmes and Dr. Watson. James had applied for the non-commercial film rights of an adaptation of the story through King's "Dollar Babies" program. After a successful crowdfunding campaign, James pulled together an amazing cast. As well as many Phoenix alumni, the film stars well known actors like William B. Davis (better known now as the Cigarette Smoking Man in The X-Files) and Denise Crosby (known for her role of Lt. Tasha Yar on Star Trek: The Next Generation) (all seen in photo above at Craigdarroch Castle). The film was shot on location last spring at Barkerville, Craigdarroch Castle and Emily Carr House. This fall, James applied to submit the final film to both the Sundance Film Festival and the Atlanta Film Festival. He will send a final cut to Stephen King in several months.
---
Phoenix Phacts: Alumni stories from around town and around the country.
You watched him spin his amazing tales last year at our 50th Anniversary Alumni Festival, now you can learn with TJ Dawe (BFA '97) in Victoria, October 21 to 22, at his How To Create Your Own Solo Show workshop. Dawe will also be performing his new solo show, Roller Coaster, at the Dave Dunnet Theatre at Oak Bay High School on October 21.
Janet Munsil (BFA '89) recently directed Girl in the Goldfish Bowl by Morris Panych for Langham Court Theatre, running until October 14. An accomplished playwright as well as a director and designer, Janet was the Artist in Residence at the Centre for Religion and Society at UVic last year. This fall, she returned to campus again to pursue an MFA in creative writing. Welcome back to student life Janet!
Ingrid Hansen (BFA '09), the creator, performer, and co-founder of SNAFU Dance Theatre toured her new show, Interstellar Elder, on the Fringe circuit this summer. The one-woman show, co-creator and directed by Kathleen Greenfield (BFA'05) (also the Co-Artistic Director of SNAFU) with choreography by Britt Small (MFA '04), received rave reviews at the Toronto, Vancouver, and Victoria Fringe Festivals winning Favourite Solo Show and Best Performance by any Fringe Artist in Victoria's Pick of the Fringe!
Alumna Jennifer Swan (BFA '99) was the Stage Manager of the Belfry Theatre production of The Children's Republic, written by the recently Siminovitch-nominated playwright Hannah Moscovitch. In addition to being a freelance stage manager, Swan is also currently the Company and Financial Manager of Electric Theatre Company in Vancouver.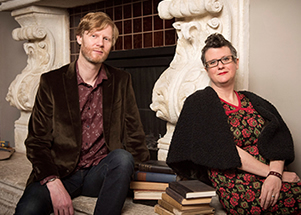 Opening soon at the Belfry is their production of Onegin (October 17 - November 12), co-created by alumnus Amiel Gladstone (BFA '94) with Veda Hille (shown right). This 21st-century musical adaptation of the classic opera also stars alumna Meg Roe (BFA '04).
Erin Macklem (BFA '98), the Belfry's Artistic Associate, has written the play Blue Beads and Blueberries that will be directed by David MacPherson (BFA '91), Artistic Director of Story Theatre Company. After its October 12 performance in Victoria, the show is set to tour schools and communities across BC this year with Story Theatre.
Jessica Schacht (BFA '10) recently returned from assistant stage managing the premiere tour of Children of God, a new musical about the residential school system. Children of God played at the York Theatre in Vancouver and the National Arts Center in Ottawa. Adult Company, co-written by Schacht, was produced for the Vancouver Fringe, with design by alumna Patricia Reilly (BFA '10). When not making theatre, Schacht is also a co-owner of Ampersand Distilling Co. in Cowichan.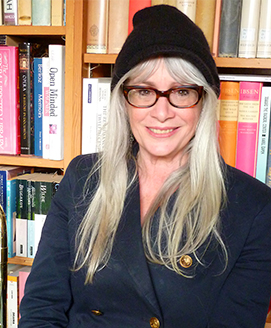 Mark Leiren-Young (BFA '85)'s play within a play, Shylock, was produced at Bard on the Beach this summer. This one-man show explores an actor in the role of Shylock in The Merchant of Venice, which was also produced at the Bard this summer.
Just announced: the Bard on the Beach's 2018 season features a new adaptation of the Greek classic, Lysistrata, by recently retired Theatre faculty member Jennifer Wise (shown right) Wise's published translation of Brecht's The Resistible Rise of Arturo Ui was part of the reading series at The Shaw Festival this fall.
Andrew Wade (BFA'15) is a perfect example of our comprehensive training sometimes all in the same few months! He is currently the stage manager for A Vancouver Guldasta (November 4-18), a story about a Punjabi family in Vancouver in the early 1980s produced by the South Asian Canadian Histories Association. He's also been part of three Geekenders' productions: A Costume Ball at Wayne Manor, a Batman-themed immersive theatre experience (October 27 & November 3); a parody production of How I Met My Mother: A Back to the Future Musical (December 8-10) with another graduate, Kesinee Haney (BFA '11); and Slumber Here, a Midsummer Nights' Dream story with variable endings presented at the Vancouver Fringe Festival, which won the Spirit Of the Fringe Award and was runner-up for the Artistic Risk award. He's also been writing and performing his own plays, Hullaboo and The End of Everything at Saskatoon's Fringe Festival. The latter play originated here at UVic and received a 4.5 star review!
In September, Leo Weiser (MFA '92) hosted an open house at his Bleeding Art Industries studio where he shared his extensive expertise in illusions, special effects, and props. Since completing his MFA at the Phoenix, Weiser has gone on to work extensively in film and his fake blood is considered the best in the industry!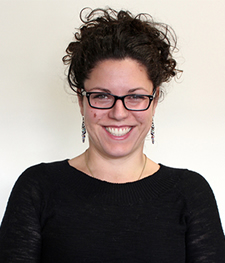 Meg Braem (BFA '04) was recently announced as the newest Lee Playwright in Residence at the University of Alberta Department of Drama. Not only was Braem commissioned to write a play that will be presented in 2020, she will also provide mentorship to U of A students who are writing original works.
This past September marked the first-ever Peek-Fest in Victoria, presented by Impulse Theatre. This new festival for emerging performing artists offered exciting new looks at work in development through showcases and workshops by alumni Andrew Barrett (BFA '12), Kathleen Greenfield (BFA'05), Randy Edmundston (BFA '12).
Alumna Melissa Young (BFA '03) directs a new production of A Closer Walk with Patsy Cline that will run at two venues in Victoria, the Teechamitsa Theatre in Colwood (October 20 & 21), and the CCPA Theatre in Oak Bay (October 27, 28 & 29). Alumna Sarah Cashin (BFA' 15) is part of the organizing team performing marketing and front of house roles for both venues.
Want more alumni stories? Check out the Alumni Profiles area of our website. Recognize anyone? If you're alumni, please tell us what you've been up to. Submit your bio online and we will add your profile to the website!
---
Upcoming Phoenix Events:
October 12 – 21, 2017
Previews: October 10 & 11 at 8pm




WEST: A tribute to BC Trailblazers
A double bill by Histrionics Theatre Company
A Spotlight on Alumni featuring: Danette Boucher (BFA '89, MA '11) and
James Douglas (BA English ' 00)

Presented by: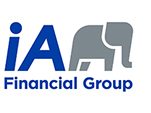 West presents two solo shows profiling two of our nation's pioneering spirits. Travel with Catherine O'Hare Schubert in Lady Overlander for a lively first-person account of the legendary woman who – while pregnant! – walked from Winnipeg to Kamloops in 1862 with dreams of finding gold and a home in a tantalizing new land called British Columbia. Then, join the charismatic American prospector Fred Marshall Wells in The Fred Wells Show. Follow his life, his love of pancakes, and his 1930s discovery and the ensuing gold rush that saved many BC families from poverty during the Great Depression.

"If only history class had been this much fun... a stellar performance." - WINNIPEG FREE PRESS

BOX OFFICE is now open. Call 250-721-8000. Tickets are $15-$26. Same-day Preview night tickets are only $8. Subscription packages for 3 or 4 shows start at only $39.00.
November 9 – 25, 2017

Previews: Nov. 7 & 8 at 8pm
THE MADWOMAN OF CHAILLOT
By Jean Giraudoux
Adapted by Maurice Valency
Directed by Conrad Alexandrowicz
Welcome to the whimsical world of Countess Aurelia, a flamboyant holdover from a less cynical time. She whiles away her days sharing her joie de vivre and cryptic wisdom with everyone she encounters until corrupt businessmen discover oil beneath her Paris neighbourhood. With everything she holds dear suddenly under threat, the Countess is driven to unite the artists, vagabonds, oddballs and dreamers of Chaillot to fight back. A poetic and comic fable of the triumph of good over evil originally written in 1943 during the Nazi occupation of Paris, this play has a whole new relevance in our current era of pipelines and protests.

BOX OFFICE opens for this show on October 31. Subscription packages for 3 shows, 4 shows are available now and start at $39.00.
---
Want more alumni updates? Check out the Alumni Profiles area of our website. Email your updates to us to be posted here in future eNews.
Follow the most recent department and alumni stories by liking us on Facebook or following us on Twitter. Use #phoenixalumni to stream on our alumni website or tag @UVicPhoenix for us to retweet your event!
---
Sponsor Kudos:
Thank you to the Phoenix Theatre's many individual donors and corporate sponsors for their support of our programs and talented students!

Thank you to our new Production Resource Partner Production Canada, a company dedicated to helping our student designers realize their creative ideas on stage.
Thanks also to our Community Partners from the Cadboro Bay Village including: For Good Measure, Pepper's Foods, Smugglers' Cove Pub, Caddy Bay Liquor Store, and Heart Pharmacy.
Find out how your company can reach our 10,000 audience members and UVic community of over 25,000. Contact us to discuss a customized sponsorship package to meet your goals.
---
Phoenix eNews is a regular email magazine for those interested in the Phoenix Theatre, the not-for-profit productions at the University of Victoria's Department of Theatre, PO Box 1700, STN CSC, Victoria, BC, V8W 2Y2 Canada. The University of Victoria is a Registered Charity. Charitable Registration No. 10816 2470 RR0001
If you no longer wish to receive this newsletter, click here and enter your address and click Un-Subscribe. A confirmation message will be emailed to you. You can reply to this message to confirm that you want to be removed from this mailing list. This message also has a link that you can click on to complete the removal process.