If this email does not display properly, please see our website phoenixtheatres.ca
eNews | Behind the Scenes | Upcoming | Phoenix Phacts | Perks | Kudos
---
eNews: Celebrating 50 years of creating Canada's theatre artists and great theatre!
This fall, UVic's Department of Theatre will celebrate 50 years of educating students in the arts of theatre. Along they way, we have also created some incredible moments here on our stages. Generations of students (literally, we have several second-generation students from alumni families!) have become success in the world of theatre, or wherever life has taken them. This year we are celebrating our history, but also our alumni, knowing full well that these students – former and present – are what truly make the Phoenix such a special place... a place where young people become artists, and friendships are formed that last a lifetime. Whether alumni or our treasured audience members, we look forward to celebrating with all of you who have been touched by the Phoenix over the past five decades.
Behind the Scenes:
Phoenix Theatre celebrates anniversary with expanded season, alumni reunion and exhibitions.
To mark its 50th anniversary, the Phoenix Theatre has expanded its usual fall "Spotlight on Alumni" into a three-week 50th Anniversary Alumni Festival. Internationally acclaimed artists and alumni have been invited to present five different shows during the festival, from October 11-29.
Self-proclaimed 'professional geek' Charles Ross is best known for his One-Man Star Wars Trilogy, will present all of his one-man nerd trilogies: One-Man Star Wars Trilogy, One-Man Lord of the Rings, and his newest, Dark Knight: A Batman Parody. These pop-culture hits have taken this alumnus around the world, from New York to London and Dubai to Glastonbury, including stops in Singapore, New Zealand, and even Lucasfilm's Star Wars conventions!
Prolific writer, performer, director, dramaturg and international Fringe icon, TJ Dawe will remount his play The Slipknot, which was performed as the very first "Spotlight" presentation in 2003. Dawe regularly performs his 14 autobiographical solo shows around the world. His play Toothpaste & Cigars (written with theatre alumnus Mike Rinaldi) inspired the movie The F Word. In The Slipknot, Dawe performs a spellbinding comic monologue about three equally lousy jobs – from stock boy, to driver, to post office customer service. In turns hysterical and heartbreaking, frantic and thoughtful, The Slipknot offers wise observations on relationships, Santa Claus, recreational Gravol, and why you should never put meat in the mail.
Cirque du Soleil clown and Co-Comedic Director of Zumanity in Las Vegas, Shannan Calcutt returns for the festival with her hilarious solo show, Burnt Tongue. Calcutt, who is also a writer, actor and instructor, is best known as Izzy, the charming and radiant clown with a keen sense of timing and a razor sharp wit. In Burnt Tongue, Izzy has met a man on the internet and decides this is the guy for her! She arrives for their blind date wearing a wedding dress insisting she's just "totally prepared to be spontaneous."
The Phoenix Theatre's 50th Anniversary Mainstage Season, featuring Department of Theatre students, begins in November with Les Liaisons Dangereuses, the Christopher Hampton play that was adapted into the Oscar-winning film. It's also director Fran Gebhard's favourite play! To the rich and bored French aristocracy, seduction is a sport and sex a weapon. When Merteuil challenges her former lover Valmont to prove his seductive powers, an innocent bride-to-be and the virtuous Madame de Tourvel are caught in the middle. But while these aristocrats sabotage others' hearts and reputations, their own are even more fragile. This award-winning play, adapted into the Oscar-winning film, tells a chilling tale of sensual decadence and revenge played as a high-stakes game of life and death.
In February, MFA Candidate Alix Reynolds will direct Gut Girls, by Sarah Daniels. With sharp dialogue and dazzling humour, Gut Girls is set in the Victorian era against the backdrop of women's struggle for emancipation. Foul-mouthed and brash, an unrefined group of young women toil in the Cattle Market slaughterhouses. But not everyone thinks this is an appropriate way for women to earn a living! The gutting sheds are closed down when a well-to-do lady decides to improve their lot in life by training them as maids. The 'gut girls' quickly realize that this newfound employment comes at a high price. With sharp dialogue and dazzling humour, Gut Girls cuts right to the heart of women's struggle for emancipation.
THE INSPECTOR
March 9-18, 2017
This 19th-century Russian comedy of errors proves no less relevant when set in our modern political landscape.

The season closes with Nikolay Gogol's The Inspector. Directed and adapted by professor Linda Hardy, this 19th-century Russian satire about greed, hypocrisy and corruption is no less relevant in today's political landscape. When word arrives in a government town that an inspector is enroute, panic seizes the town's officials. Mistaking a lowly civil servant as the inspector, they attempt to win his favour and this satirical farce spins out of control!
The Department of Theatre is also inviting all of its graduates to come back to campus for the 50th Anniversary Alumni Reunion, happening over the November 11-13 long weekend. The Phoenix will host three days of events for alumni to reminisce with old friends, and department faculty and staff. "It will be an exciting weekend. There are already hundreds of alumni interesting in coming – and bringing their families with them! The Department is looking forward to reconnecting and hearing what everyone has been up to in their lives and their careers," says Department Chair Allana Lindgren.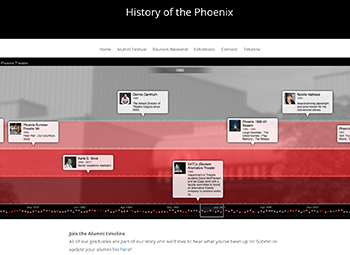 Phoenix alumni can learn more about these events on a special 50th Anniversary website the department has created. As well as the reunion weekend and Alumni Festival, the annivesary website also features a complete history of the Phoenix Theatre presented through a fun interactive timeline of the department's growth, the plays they have produced, their faculty and when they worked, as well as many successful alumni and when they graduated. Alumni can send in their own biographies to be posted or share stories and photos from the past.
Generations of Phoenix alumni have become successful artists, working across the world and playing important roles in Canada's cultural institutions, including Michael Whitfield, Resident Lighting Designer for 35 years at the Stratford Festival; Denis Garnhum, most recently the Artist Director of Calgary Theatre and soon to be at The Grand Theatre in London ON; and Nathan Medd, the Managing Director of English Theatre at National Arts Centre. Many other alumni have created their own theatre companies that have become part of Canada's cultural landscape, including Britt Small and Jacob Richmond of Atomic Vaudeville and the Broadway-bound hit Ride the Cyclone; Peter Balkwill of Calgary's Old Trout Puppet Workshop; Ingrid Hansen and Kathleen Greenfield of the now Toronto-based SNAFU Dance Theatre; national three-time Canadian Comedy Award winners and CBC comedy writers Chris Wilson and Peter Carlone of Peter N' Chris; and Kate Braidwood of Portland's Wonderheads.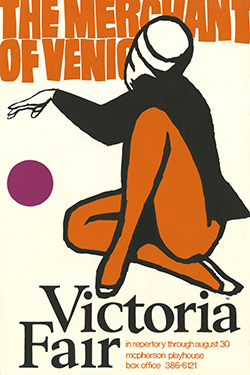 Here in Victoria, our faculty and alumni have been a driving part of the theatre community for the past 50 years, beginning in the early days with the Campus Players (scroll to page 34 to read more), Company One, and the adventurous city-wide fine arts festival, Victoria Fair (1969-71). Our alumni have founded enduring Victoria theatre companies like Theatre Inconnu (1978), Story Theatre (1981), the Victoria Fringe Festival and Intrepid Theatre(1986), the Greater Victoria Shakespeare Festival (1991), Theatre SKAM (1995), Giggling Iguana Productions (1998), and more recently workingclasstheatre (2009) and Impulse Theatre (2011). The Department of Theatre is proud of the legacy these alumni have created for our community.
The Department of Theatre is also in the process of planning many other activities during the year, including an exhibition of Phoenix play posters at the UVic Archives, a human library event and historical displays.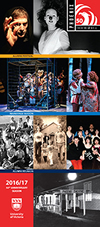 DON'T MISS A SINGLE PLAY THIS SEASON
Subscription tickets for the 2016/17
Phoenix season are available now!
Choose a season package and save up to 50% off regular priced tickets. You can see all 4 plays for only $52, choose your 3 favourite plays for only $39.00, or sign up for the Anniversary Pack to see all 8 shows for only $125.
Fill in the subscription order form.
Book now and secure the best seats, knowing that our flexible exchange policy means you can switch performance nights if your schedule changes – no extra charges and no worries! Order now as susbscriptions will be processed in the order in which they arrive.
NB: Single tickets for the Alumni Festival are available starting October 6.

Victoria Theatre Events this summer
Even though there isn't anything happening at Phoenix Theatre this summer, as usual, Victoria has so much to offer the local theatre lover. Here's a list of shows to look for, many include work by students or alumni. Enjoy!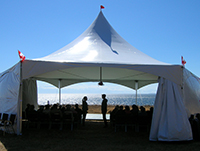 June 28 to August 13, 2016
Much Ado about Nothing & Othello
Vancouver Island Shakespeare Arts
Previously Victoria Shakespeare by the Sea, has grown from a single Victoria venue at Clover Point, and now performs at four different Vancouver Island venues, performing a Shakespeare tragedy and comedy each year against a backdrop of the Salish Sea.
July 5 - 17, 2016
Importance of Being Earnest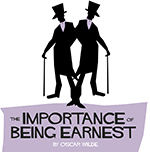 Blue Bridge Theatre
High farce and witty dialogue have made this Oscar Wilde's most popular play ever. Directed by Theatre instructor Fran Gebhard, with set and props by alumna Laurin Kelsey, lighting by Professor Emeritus Giles Hoyga, costumes byMFA candidate Graham McMonagle, and featuring performances by alumni Kholby Wardell and James Kott.
July 8-10, 2016
SKAMPeded
Theatre SKAM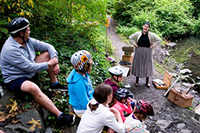 An outdoor live performance festival event for the whole family, Bike Ride (getting a new and improved, but yet undisclosed name this summer!) presents a series of short shows along a 4km stretch of the Galloping Goose Trail and you, the audience, get to ride your bike, walk, rollerblade or whatever, from show to show! Lots of theatre students working with alumni Matthew Payne on this super fun family event.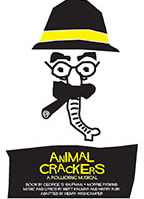 August 2- 14, 2016
Animal Crackers
Blue Bridge Theatre
A hallmark of Marx Brothers lunacy when it premiered on Broadway in 1928, audiences flocked and critics applauded the antics of Captain Spaulding and company at Mrs. Rittenhouse's ritzy weekend gathering. Join Groucho, Chico, Harpo, Zeppo and their perennial foil Mrs. Rittenhouse as they tear the stage up with anarchic fun and song.
July 7 - 30, 2016
Twelfth Night
& The Winter's Tale


Greater Victoria Shakespeare Society
Two Shakespeare classics in repertoire over the summer outside on the lawns of Camosun College. Alumna Janet Munsil directs Twelfth Night, the tale of two twin sibblings, lost after a shipwreck, and explores this comedy with a reverse-gender cast! Director Barbara Poggemiller brings a faerie tale atmosphere to the story of the effects of unfounded jealousy in a kingdom. Company includes alum Trevor Hinton, Pamela Bethel, Cam Culham and current students Emma Grabinsky and Sarah Jean Valiquette.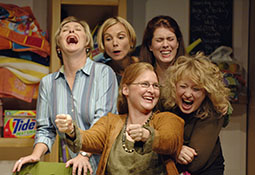 August 9—28, 2016
Moms the Word
Belfry Theatre
A new production of the original show, with a new cast of actresses/mothers. Over twenty years ago, six theatre artists got together to talk and write about their experiences as new mothers. What started as a one-off festival performance grew into a worldwide phenomenon that has played on five continents to millions of delighted audience members. A truly beautiful tribute to mothers everywhere.
August 24 to September 4, 2016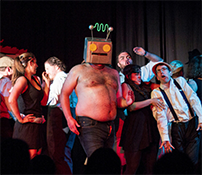 Victoria Fringe Festival
Intrepid Theatre
The annual Victoria Fringe Theatre Festival takes over the city every summer for an 11-day celebration of live performance from around the world, featuring an eclectic mixture of spoken word, drama, musicals, comedy, magic, music, theatre for young audiences and more. Watch for the August issue of BackstagePASS for a full list of participating Phoenix students and alumni.
---
Phoenix Phacts:
Phoenix alumni and cross country Fringers!
Be part of the Phoenix Fringers section of the next BackstagePASS eNews (mid August). If you are a UVic Theatre graduate and involved in a Fringe show this summer, send us your play information!
Send a list of all the alumni involved (and if you know their grad years, even better!)
Send the name, a photo AND a link to more details about your production (or the Fringe site listing of your play)
As well as Victoria and Vancouver, tell us what other cities you are Fringing in this year.
Email details before August 4 to phoenixalumni@uvic.ca.

---

Want more alumni updates? Check out the Alumni Profiles area of our website. Email your updates to us to be posted here in future eNews.

Follow the most recent department and alumni stories by liking us on Facebook or following us on Twitter. Use #phoenixalumni to stream on our alumni website or tag @UVicPhoenix for us to retweet your event!
---
Sponsor Kudos:
Thank you to the Phoenix Theatre's many individual donors and corporate sponsors for their support of our programs and talented students!
Thanks also to our supporters over the past year from the Cadboro Bay Village including: For Good Measure, Pepper's Foods, Smugglers' Cove Pub, Caddy Bay Liquor Store, Yew Tree Yoga and Heart Pharmacy.
Find out how your company can reach our 10,000 audience members and UVic community of over 25,000. Contact us to discuss a customized sponsorship package to meet your goals.
---
Phoenix eNews is a regular email magazine for those interested in the Phoenix Theatre, the not-for-profit productions at the University of Victoria's Department of Theatre, PO Box 1700, STN CSC, Victoria, BC, V8W 2Y2 Canada. The University of Victoria is a Registered Charity. Charitable Registration No. 10816 2470 RR0001
If you no longer wish to receive this newsletter, click here and enter your address and click Un-Subscribe. A confirmation message will be emailed to you. You can reply to this message to confirm that you want to be removed from this mailing list. This message also has a link that you can click on to complete the removal process.