eNews: Theatre as a mirror of Victoria
Can you laugh at the issues in your own backyard? Sometimes it's hard to find humour in serious subject matters, but when looked at through the lens of a 180 year-old play, it becomes easier to see the patterns over the decades. Professor Linda Hardy has taken on this challenge of adapting Nikolay Gogol's political satire into the stories and social issues that are affecting our community, under the guise of the fictional town of Paradise. Read more below about how she carefully matched the concerns in the original 1836 play with those affecting politicians and community members today.

Behind the Scenes:
Then and Now:
A play about how politics haven't changed
By Georgia Duff, UVic Theatre student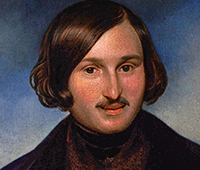 Portrait of Nikolay Gogol,
19th century Russian playwright

It's the same story as in Nikolay Gogol's time. Politics is a difficult game. First there's the pressure to appease voters, then you have to deal with multitudes of issues and complaints – all while being sandwiched between the regulations of different levels of government. Has anything really changed since the 1800s?
In the Phoenix Theatre's newest production, professor Linda Hardy brings Nikolay Gogol's political farce The Government Inspector into the 20th century with her adaptation called The Inspector. While leaving the plot of the original 1836 play intact, Hardy places her characters in the 'fictional' West Coast town of Paradise.
Gogol's original Russian play, Revizor, was allegedly inspired by a letter from the Russian poet and novelist, Alexander Pushkin. He suggested the basic plot that later appeared in Gogol's final play, a tale about a town whose officials hear a government inspector is coming – incognito! When they mistake a cunning civil servant for the inspector, their schemes to cover up their "little failings" are turned against them.
Gogol's play has been adapted and
interpreted many times, including the
1949 film with Danny Kaye.
Hardy's inspiration also came from letters, in the form of letters to the editor in the local newspapers. "Every day brought new gifts in the Times Colonist," said Hardy about the process of adapting the play last spring and summer. "I was especially grateful to the passion of the citizens who wrote letters to the editor."
Over five months, local ideas were woven into the new play, thus Paradise's problems will sound terribly familiar: from a debacle over sewage treatment, to concerns of homelessness and a Tent City, and controversies over new bike lanes. Audiences should watch for bike cops, real estate developers, yoga instructors, and lots of protestors – including a reference to a Victoria icon in a poop suit! Yet each of Hardy's adaptations is remarkably similar to their equivalent issue in Gogol's Russian town.
Fitting for a story set in 19th century Russia, the original characters think the inspector is coming because war with Turkey is brewing and the government is fearful of treason. "War with the Turks! We're going to be in a mess not the Turks," writes Gogol. Similarly, the current-day setting in The Inspector makes references to the recent elections in the United States and speculations of American immigrants coming to Paradise – a different kind of global political crisis!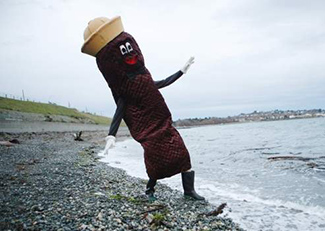 Gogol's town has a garbage problem. For months they have let it build up to create a uncontainable, out-of-hand monument of pure rubbish. The "fictional" town of Paradise has a problem with untreated sewage piling up in their surrounding waters -- in reference to Victoria's decades old debate about how it manages its own sewage waste. Hardy's play also offers an homage to one of Victoria's most famous protesters over the sewage treatment issue – Mr. Floatie. Dressed as a jolly turd with a jaunty cap, Mr. Floatie has been raising questions by demonstrating at meetings and showing up at public events. He remains active through social media today and is still hoping for his retirement!
While the Russian townspeople attempt to cover their piled-up garbage by sending officers out to sweep the entire route to the hotel, in Paradise the Mayor sends the police to take down warning signs at the beach.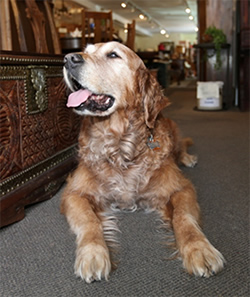 Cody, the dog who was caught in local bylaws.

Where characters in Gogol's play complained of the smell of alcohol, Hardy's West Coast version pokes fun at the plethora of marijuana dispensaries across the region of Paradise, an inspiration drawn from local news articles (TC July 29, 2016). Where geese and ducks run amok in the court house of Gogol's original play, the local version mentions the Judge's friendly dog who greets everyone on the court house steps, alluding to the Victoria bylaw dispute over Cody the dog who would sit off-leash outside his owner's antique store (TC June 25, 2016).
The town's officials in Gogol's play are trying to keep the "transient characters" from giving the town a bad reputation and appearance. Referencing Victoria's own tent city on the BC Courthouse grounds (TC May 15, 2016) and the Our Place shelter, Hardy's version of The Inspector raises important questions about the effects of the high costs of living in Paradise.
The original production of The Inspector shocked audiences for its harsh yet honest critique of society and it is still relevant today for that same reason. "Why do comedy?" says Hardy. "One answer is that it provides release in these uncertain times; another, that it has always been the responsibility of the artist to function as a catalyst, a provocateur – and yes, a "shit disturber." Gogol understood this in spades and was applauded as a realist in the Russia of his day."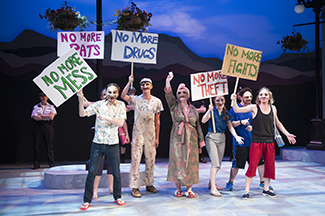 Protesters in the "fictional" town of Paradise in "The Inspector."

And while there are a lot of serious issues being addressed in The Inspector, Hardy addresses them with the same hilarious manner of Gogol's farcical satire. While things spin out of control in the play, the cast of 19 theatre students ride bicycles, skateboards, shopping carts and other modes of transportation across iconic Victoria landscapes, dotted with flower-basketed lamp posts, ivy-walled buildings, upscale hotels, and bamboo-fenced gardens – all set in front of a sunset mountain background. Additionally Hardy helps all 35 characters to stand out by incorporating the use of masks, created especially for the play.
A long-time professor at the Department of Theatre, Linda Hardy is a master teacher of acting and voice who has trained professional actors and singers for stage and film, nationally and internationally. She sees The Inspector as an excellent finale to the department's 50th season, and a gift to the current students. It is only fitting that as we look back over these past 50 years The Inspector too is inspired by the past and presents current politics that are not all that different from events in this 180 year-old script.
"For me, the greatest joy is the chance to write roles for my actors, knowing their needs as young artists, and the needs of the play. To "tailor make" something that we all bring together makes for a rare collaboration."
Upcoming Events:

March 9 –18, 2017
The Inspector
PHOENIX THEATRE
Adapted & Directed by Linda Hardy
Inspired by "The Government Inspector" by Nikolay Gogol

$8 Previews: March 7 & 8 at 8pm
(same-day tickets available after 5pm)
Sign Lanaguage: March 18 at 2pm
with interpreters Nigel Howard & Jen Ferris

Word arrives in Paradise (a "fictional" West Coast town) that a government inspector is coming incognito. Will the improprieties of the town's mayor and officials be exposed? When they mistake a cunning ex-civil servant for the inspector, their schemes are turned against them. Inspired by local news stories, this adaptation of Gogol's 19th-century comedy is no less relevant – and possibly even more humorous! – when reimagined into our own political landscape.
Box Office: now open for The Inspector tickets. Call 250-721-8000.
TICKET TIP: Best seats are on February 13, 14 & 15 evenings!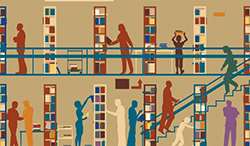 Saturday, March 11, 2017
10am to 4pm (Drop in)
Phoenix Theatre Human Library
PHOENIX THEATRE
Free event, part of UVic's IdeaFEST, March 6-11

The Human Library is a way to learn more about theatre and celebrate the Department of Theatre's 50th anniversary by taking out a "human book" for a short and informative conversation. Choose from titles such as 'Actor', 'Playwright' or 'Producer'. Interact with Phoenix pioneers, current educators and industry professionals. Whether you wish to connect with the past, or make connections for the future, there will be a book for you. Sign out one or more human books during the day. Drop in between 9:30am and 4pm to sign up at our "circulation desk" in the Phoenix Lobby. Learn more at the Phoenix Human Library Facebook Event Page.
IdeaFest: Read more about the many Fine Arts events during this festival.
Friday, March 24 at 1pm
The Tempest Orion Project Panel Discussion
PHOENIX THEATRE
Free event, part of the Theatre 50th Anniversary.

The Theatre department invites the public behind the scenes to experience not the product, but the process of theatre-making as part of The Tempest Orion Project. Internationally renowned acting, applied theatre, designing, directing, and theatre history experts will explore unique ways to approach Shakespeare's The Tempest so that it resonates with today's audiences. Join Dr. Ralph Alan Cohen, David Ferry, Dr. Alison Jeffers, Eloise Kazan and Meg Roe when they share their developments and ideas at a closing panel discussion, following a week of student workshops. Visit our 50th Anniversary website to see biographies of visiting artists.
Friday & Saturday,

April 14 at 2pm & 4pm
Preview: April 13 at 6pm
A Queer Trial:
A site-specific play
Written by Dr. Jennifer Wise
Directed by Matthew Payne
BASTION SQUARE

In 1860, two successive Victoria juries effectively acquitted an openly gay man of sodomy charges, the first jury preferring to spend a night in jail themselves sooner than agree on a guilty verdict. Join UVic theatre students as they musically and dramatically reenact this surprisingly inspiring event from Victoria's early history—on the very site where it occurred. Watch video here.
---
Phoenix Phacts: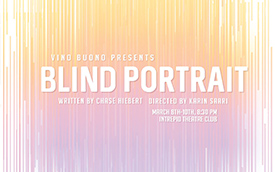 Victoria has a new theatre company that features almost all UVic Theatre graduates and students. Vino Buono opens their 2016 season with "Blind Portait" (March 8 -10) written by Chase Hiebert and directed by Karin Saari, both current students. The play follows three people who are trapped in a room and filled with regret and a deep desire to connect, but held back by their (sometimes literal) inability to see each other. It includes actors Pascal Lamothe-Kipnes, Laura Sofia Ramoso, and Ann-Bernice Thomas and a host of design and stage management students and alumni, Nathan Purcell, Ricki Healey, Delaney Tesch, Arielle Bergeron, Sean Brossard, and Zoë Wessler.
The Belfry Theatre's SPARK Festival starts soon and features several works by Phoenixers. Professor Jan Wood will be performing in her husband Brian Linds' play. REVERBERATIONS (March 21-26) is a site-specific performance piece exploring memories and sounds of a family's experiences. Alumna Britt Small and Rielle Braid are part of Atomic Vaudeville's world premiere of BlissKrieg (March 9 – 11). BlissKrieg is a musical comedy about the two last people in the universe inside a post-human simulated paradise. Theatre SKAM artistic director and alumnus Matthew Payne is presenting Joan (March 17 – 26), a play about Joan Mans, the local Victoria character and arts lover.
Alumna Janet Munsil has been the Artist in Residence at UVic's Centre for Studies in Religion and Society for the past year. As part of this role, she has been writing her new play "Act of Faith" which will be presenting in a future season at Vancouver's Realwheels Theatre. The play tells the story of a young woman with a spinal cord injury, who after more than a decade in a wheelchair, makes a rapid and unexpected recovery that is attributed to her faith. She's is giving a lecture, "Act of Faith: A New Play about Disability and Belief" on Thursday March 30 at 4:30pm which will incorporate readings of scenes from the play.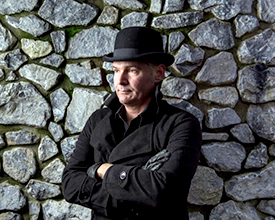 Former student James Douglas was recently covered in a story about his new film in the Times Colonist. James is producing and directing a film adaptation of "The Doctor's Case," a Stephen King story about Sherlock Holmes. He'll be shooting this spring in the historic town of Barkerville, BC – where James works during the rest of the year – and at Craigdarroch Castle in Victoria. James has a few of his previous classmates and other Phoenix alum involved, including Peter Abrahams, Brendan Bailey, Danette Boucher, Ian Case, Cam Culham, Erin Fitzgerald, Connie Hosie, Kate Humble, Trish Pattenden, Will Weigler and previous student Monica Joan Ogden.
Canada's National Arts Centre has announced their 2017/18 season and has chosen the award-winning production of Onegin, created by alumnus Amiel Gladstone and Veda Hille and directed by Amiel Gladstone. Based on the poem by Alexander Pushkin and the opera by Pyotr Ilyich Tchaikovsky, this classic work was put to a raucous and uplifting score. The 2016 production of Onegin at the Arts Club in Vancouver featured alumna Meg Roe and swept the Jessie Awards last summer winning 10 awards!
Want more alumni updates? Check out the Alumni Profiles area of our website. Email your updates to us to be posted here in future eNews. Submit your bio online and yours could be the next alumni profile on our website!

Follow the most recent department and alumni stories by liking us on Facebook or following us on Twitter. Use #phoenixalumni to stream on our alumni website or tag @UVicPhoenix for us to retweet your event!

---
Sponsor Kudos:
Thank you to the Phoenix Theatre's many individual donors and corporate sponsors for their support of our programs and talented students!
Thanks also to our supporters over the past year from the Cadboro Bay Village including: For Good Measure, Pepper's Foods, Smugglers' Cove Pub, Caddy Bay Liquor Store and Heart Pharmacy.
Find out how your company can reach our 10,000 audience members and UVic community of over 25,000. Contact us to discuss a customized sponsorship package to meet your goals.
---
Phoenix eNews is a regular email magazine for those interested in the Phoenix Theatre, the not-for-profit productions at the University of Victoria's Department of Theatre, PO Box 1700, STN CSC, Victoria, BC, V8W 2Y2 Canada. The University of Victoria is a Registered Charity. Charitable Registration No. 10816 2470 RR0001
If you no longer wish to receive this newsletter, click here and enter your address and click Un-Subscribe. A confirmation message will be emailed to you. You can reply to this message to confirm that you want to be removed from this mailing list. This message also has a link that you can click on to complete the removal process.