eNews: Theatre as way to change the world
The new year has brought a new reality to our world, making many realize that advances in human rights may not have made the progress we had believed. The play Gut Girls takes us back to the 1890s with stories of working conditions and women's inequality during the Victorian era and how it effected women of all walks of life. But many of the concerns raised in the play haven't disappeared today, over 100 years later. Read more about how the cast and crew of Gut Girls participated in world wide marches for women's rights and how they feel making theatre can be used as protest.

Behind the Scenes:
Cast of Gut Girls marches for gender equality
By Lauren Frost, UVic Theatre student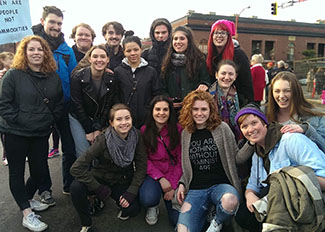 The cast and crew of Gut Girls joining thousands of others at the Women's March in Victoria, January 21,2016

It's really the same story, told through the lives of women in a different century – but gender inequality is definitely not only a subject for a period play. Written in 1988, Gut Girls is one of Sarah Daniels' most produced plays – perhaps because its message still speaks to today's audiences.
The play offers a historical look back at the Deptford slaughterhouses of the late 1800s, where women as young as 14 years old made a living working in one of the lowest, most disreputable jobs in society. The play follows the friendships of five brash and unrefined young Victorian women who make a decent living gutting cattle, working under horrific slaughterhouse conditions. The well-meaning Lady Helena is intent on helping the 'gut girls' find work as proper house maids. When the gutting sheds are shut down the young women are forced to choose between how they make a living and how they want to live.
The play was commissioned by Albany Empire Theatre in Deptford to draw working-class Londoners to the theatre by telling the community's stories and history. Characters like Lady Helena are directly inspired by the "philanthropic efforts" of the Duchess of Albany. "One consequence of this is that the play is as close to a true story as theatre usually gets", says Pamela Bakker, who wrote her thesis on Sarah Daniels' many plays, which all center around the struggles and exploitation of women.
In both the play and in history, there exists a gendered hierarchy in the workforce. In the slaughterhouses of the 1890s, women made considerably less than their male counterparts. But compared to working as a maid in service – traditionally a field 'women's work' – women were able to make a respectable living. Daniels' play offers insight into the history of devalued women's labour. As Maggie, one of the 'gut girls' in the play, says: "I tell you girl, you may think this place is hell but we get paid in one week nearly what you get for a whole year in service, so by comparison it makes this place seem more like paradise,"
Alix Reymolds chose Gut Girls as her thesis project for her
MFA in Directing

Unfortunately, a considerable wage gap still exists – even in Canada. According to the Canadian Women's Foundation (CWF), the average Canadian woman makes just 66.7 cents to man's dollar (based on all annual earnings, 2011 Census), and women of colour make even less. There are various factors that affect this wage gap, for example, female-dominated fields are often related to domestic work which is still not valued as a skilled form of labour. CWF estimates that, in general, lower-paying jobs such as teaching, office and administrative work, and retail/customer service jobs make up around two-thirds of the female workforce. In addition to these factors, however, a large portion of the wage gap remains unexplained, and is due to discrimination against women – especially indigenous women, women with disabilities, and women who are members of a visible minority.
Director Alix Reynolds has no doubt that many of the issues that face the female characters in the play are still faced by women in Canada and across the globe today. "This distinctly feminist work spoke to me with its relevance to current issues – the advocacy for women's reproductive rights, equal pay, and domestic recognition – presented through the historical period of the 1890s."
Despite the continuing struggle for emancipation and the various waves of feminism, recent controversial news stories have prompted a resurgence of protests across the world. On Saturday, January 21, over 3 million people participated in women's marches in 673 cities across 57 countries. Among the protesters in Victoria was the entire cast of Gut Girls.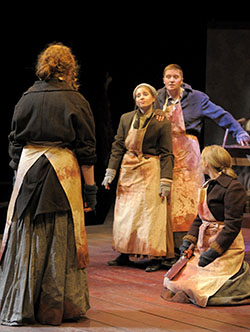 Gut Girls features Caitlin Holm, Shea O'Connor, Mary Van Den Bossche and Emma Grabinsky.

"We march because a play set over 100 years ago discusses the same issues we are still fighting for today," says Shea O'Connor, who plays the character Kate in Gut Girls.
Reynolds, like Daniels, is not a stranger to tackling feminist issues through her art. The young director hails from St. John's, Newfoundland, where she founded Joint Productions, a theatre company committed to blending comedy with thought-provoking and innovative theatre. Since she began her Masters at UVic, she has explored several challenging contemporary plays including Crave (Sarah Kane), Mud (Maria Irene Fornes) and In on It (Daniel MacIvor). Gut Girls marks her thesis production for her MFA in Directing.
"Gut Girls is constantly reminding me to question what we deem 'acceptable' and to redefine the gender binary. It is a piece of theatre that lives in 1899 and breathes in 2017," says Reynolds.
"As theatre artists, performing a play like Gut Girls is our way of protesting."
---
Upcoming Events:

February 9 –18, 2017
Gut Girls
By Sarah Daniels
Directed by Alix Reynolds
Gut Girls follows the friendships of five brash Victorian women who work in the Cattle Market slaughterhouses. Lady Helena helps by training them as maids when the gutting sheds are closed down, but they quickly realize that this newfound employment comes at a high price. With sharp dialogue and dazzling humour, Gut Girls cuts right to the heart of women's struggle for independence.
Box Office now open for Gut Girls Tickets. Call 250-721-8000.
TICKET TIP: Best seats are on February 13, 14 & 15 evenings!
March 7, 2017 at 12:30pm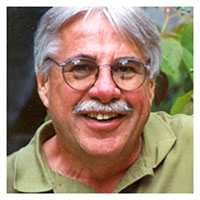 Adaskin Series for the Arts in Canada Lecture with Paul Shaw
Canadian entertainment veteran Paul Shaw will lecture about working in commercial and not-for-profit theatre. Over his career, Shaw has managed many national tours, production directed and stage managed productions for Stratford, the National Arts Centre and Vancouver Playhouse. He has also produced, directed and managed numerous large-scale events including the 2002 Papal Visit, the Olympic and Paralympic Torch Relays on Parliament Hill in 2010, the Pan Am Torch Relay in 2015, as well as Expo 86 in Vancouver. He will be speaking about his career with a question and answer period to follow.
March 8, 2017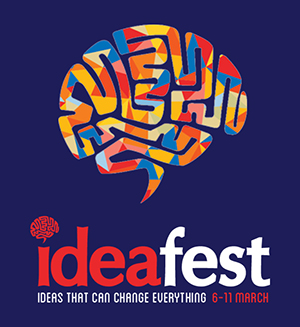 UVic's IdeaFEST
Join UVic thinkers, innovators and artists for a free, week-long festival of world-changing ideas through lectures, workshops, performances, exhibitions, panel discussions and tours.This year's festival features hundreds of speakers, presenting on topics ranging from angry populism and ocean sustainability to innovations in cybernetic technologies and Indigenous resurgence.
March 9 –18, 2017
Previews March 7 & 8
The Inspector
Written, Adapted & Directed by Linda Hardy
Inspired by "The Government Inspector" by Nikolay Gogol

Word arrives in Paradise (a "fictional" West Coast town) that a government inspector is coming incognito. Will the improprieties of the town's mayor and officials be exposed? When they mistake a cunning ex-civil servant for the inspector, their schemes are turned against them. Inspired by local news stories, this adaptation of Gogol's 19th-century comedy is no less relevant – and possibly even more humorous! – when reimagined into our own political landscape.
Box Office opens for The Inspector tickets on February 28.
NOTE: UVic Faculty and Staff are welcome to join us for a reception and open house on Wednesday March 8.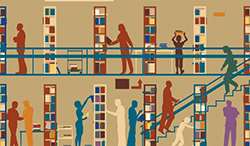 Saturday, March 11, 2017
10am to 4pm (Drop in)
Phoenix Theatre Human Library
FREE EVENT during UVic's IdeaFEST

The Human Library is a way to learn more about theatre and celebrate the Department of Theatre's 50th anniversary by taking out a "human book" for a short and informative conversation. Choose from titles such as 'Actor', 'Playwright' or 'Producer'. Sign out one or up to 12 human books during the day. Drop in between 9:30am and 4pm to sign up at our "circulation desk" in the Phoenix Lobby. Interact with Phoenix pioneers, current educators and industry professionals. Whether you wish to connect with the past, or make connections for the future, there will be a book for you. Learn more at the Phoenix Human Library Facebook Event Page.
Friday, March 24 at 1pm
The Tempest Orion Project Panel Discussion

Following a special week-long series of workshops exploring Shakespeare's The Tempest with our students, five influential theatre experts will share their developments and ideas at a closing panel discussion. Visit our 50th Anniversary website to see the list of visiting artists who will approach this classic from the fields of acting, applied theatre, design, directing, and theatre history.
Friday & Saturday,

April 13 & 14, 2017 (Time TBC)
A Queer Trial:
A site-specific play
Written by Dr. Jennifer Wise
Directed by Matthew Payne
BASTION SQUARE

In 1860, two successive Victoria juries effectively acquitted an openly gay man of sodomy charges, the first jury preferring to spend a night in jail themselves sooner than agree on a guilty verdict. Join UVic theatre students as they musically and dramatically reenact this surprisingly inspiring event from Victoria's early history—on the very site where it occurred.
---
Phoenix Phacts:
The Department of Theatre's 50th Anniversary Alumni Reunion this past November saw over 200 alumni and their family members came back to visit this Phoenix over the Remembrance Day long weekend. We loved getting to see you all again, and watching old friends and colleagues reconnect, sometimes after more than 20 years! Many thanks to those who came, including founding faculty member Carl Hare.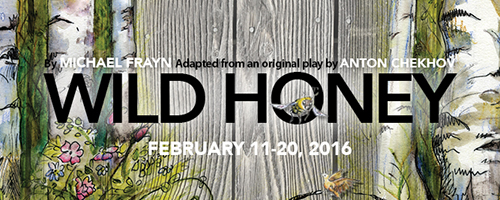 The 16th annual Victoria Critics' Choice Theatre Awards were announced on CBC Radio's On The Island at the end of December and, as always, there were plenty of our Phoenix family alumni among the 2016 nominees and winners. Last February's production of Wild Honey was singled out as an outstanding overall production, with one critic saying "It was one of those shows where you had to ask yourself if you were actually watching students or professional theatre." Wild Honey nominees included Theatre alumna Dallas Ashby (BFA'16) for best set design, current students Graham McMonagle for best costumes and Jack Hayes for acting, with Peter McGuire ultimately winning his category of best director for a community production.
Theatre professor Brian Richmond was named winner in the best directing category for work with Blue Bridge Repertory Theatre's production of Long Day's Journey Into Night. The Greater Victoria Shakespeare Society's production of Twelfth Night, directed by Phoenix alumna Janet Munsil (BFA'89), won best acting ensemble for a cast that included theatre alumni Trevor Hinton (BFA'07) and Cam Culham (MFA'03), as well as current students Emma Grabinsky and SJ Valiquette.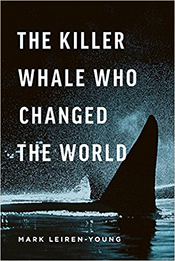 Theatre and writing double alumnus Mark Leiren-Young has written a new book that was on most literary charts last fall. The book, entitled The Killer Whale Who Changed the World is about the first public display of a captured killer, whose gentleness sparked a worldwide crusade that transformed how people understood and appreciated orcas. The book was published in partnership with the David Suzuki Institute. Congrats on the great success of this interesting story, Mark!
The Victoria-born, Off-Broadway production Ride the Cyclone wrapped up an extended (and nearly sold-out!) run in New York at the end of December. The run was met with amazing reviews - The New York Times even hailed it as one of the pieces of theatre to see in New York in 2016! A special congratulations to former Phoenix student Jacob Richmond, who wrote the play, and our alumnus Kholby Wardell (BFA'08), who starred in the Off-Broadway production and has been part of the show since its beginning here in our fair city.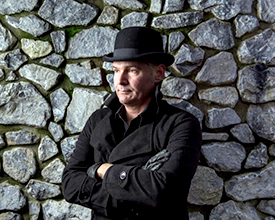 Former student James Douglas is producing and directing a film adaptation of "The Doctor's Case," a Stephen King story about Sherlock Holmes. James has got a few of his previous classmates and other Phoenix alum involved, including Peter Abrahams, Brendan Bailey, Danette Boucher, Ian Case, Cam Culham, Erin Fitzgerald, Connie Hosie, Kate Humble, Trish Pattenden, Will Weigler and previous student Monica Joan Ogden. They'll be shooting this spring in the historic town of Barkerville, BC and at Craigdarroch Castle in Victoria – keep an eye out!
Want more alumni updates? Check out the Alumni Profiles area of our website. Email your updates to us to be posted here in future eNews. Submit your bio online and yours could be the next alumni profile on our website!

Follow the most recent department and alumni stories by liking us on Facebook or following us on Twitter. Use #phoenixalumni to stream on our alumni website or tag @UVicPhoenix for us to retweet your event!

---
Sponsor Kudos:
Thank you to the Phoenix Theatre's many individual donors and corporate sponsors for their support of our programs and talented students!
Thanks also to our supporters over the past year from the Cadboro Bay Village including: For Good Measure, Pepper's Foods, Smugglers' Cove Pub, Caddy Bay Liquor Store and Heart Pharmacy.
Find out how your company can reach our 10,000 audience members and UVic community of over 25,000. Contact us to discuss a customized sponsorship package to meet your goals.
---
Phoenix eNews is a regular email magazine for those interested in the Phoenix Theatre, the not-for-profit productions at the University of Victoria's Department of Theatre, PO Box 1700, STN CSC, Victoria, BC, V8W 2Y2 Canada. The University of Victoria is a Registered Charity. Charitable Registration No. 10816 2470 RR0001
If you no longer wish to receive this newsletter, click here and enter your address and click Un-Subscribe. A confirmation message will be emailed to you. You can reply to this message to confirm that you want to be removed from this mailing list. This message also has a link that you can click on to complete the removal process.