If this email does not display properly, please see our website phoenixtheatres.ca
eNews | Behind the Scenes | Upcoming | Phoenix Phacts | Perks | Kudos
---
eNews: Annual Phoenix Fringe issue!
As we head into the school season, Victoria's theatre community gives us one last blast of summer fun ... the Fringe! We're proud to support Intrepid Theatre's Victoria Fringe Festival and our many students and alumni who are working on a show for this year's Fringe – and to make it easy for you, we compiled a full list! From Shakespeare to circus, Phoenixers are rocking this Fringe! Please support emerging theatre artists and get out there and see some wonderful, whimsical, challenging and awe-inspring new theatre!
Behind the Scenes: Turning life into theatre – Sometimes good theatre is just really good storytelling.
We're always proud to tell you about the many theatre alumni who are involved in shows touring the Fringe circuit and it's no secret that many of these have had their birth here at the Phoenix. For one of our alumni returning to Victoria for the Fringe this summer, the path to the Fringe was less about theatre, and more about just really good storytelling.
Sam Mullins (BFA '08) presented his first Fringe show in 2012. The story recounts – and was a result of – a year of working in restaurants while trying to break into the Vancouver theatre scene, and then, in defeat, returning to work in his hometown of Coldstream, British Columbia and stand "by a conveyor belt sorting wood at a remanufacturing plant… Eight hours a day. Forty hours a week. For a year." It was a year of both "breakdown" and "breakthrough." The monotony of his factory job also gave him a chance to re-think his life, remember that while he had gone into theatre for the comedy, maybe he actually hated acting? He discovered some of the amazing programs on CBC Radio 1 (the only station with reception inside the factory), its American counterpart NPR, and especially The Moth Radio Hour, a radio program dedicated to the art and craft of storytelling true stories from their lives. "No reading. No underscoring. Just their voice and their story…I became obsessed. I was a fan. But I think a part of me also recognized right away that this was a format in which I could thrive."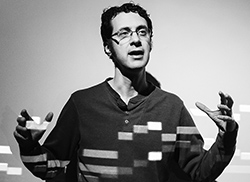 Moving back to Vancouver, Sam had another epiphany when he saw a performance by also-UVic-alum TJ Dawe (BFA'97), whose unique style of biographical storytelling one-man shows have been a mainstay of Fringe Fests since Dawe's first Fringe when he was still a student at UVic. After seeing Dawe's Lucky 9, "I walked out of the theatre, sat on a bench in an alley on Granville Island and started to cry. It was a moment of epiphany. I thought to myself, "Holy shit. That's it. That's what I want to do. That's the kind of theatre I want to make. … So I wrote a storytelling solo show about the challenges I faced during my super-shitty 21st year in Vancouver, I called it Tinfoil Dinosaur, and I went on my first Fringe in Winnipeg in the summ er of 2011."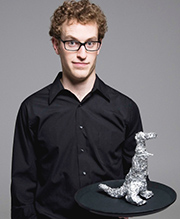 This first production is still his best and worst Fringe memory, going from debilitating nerves and vomiting on performance day and to getting a five-star review and selling out seven days in a row. "Now whenever I'm nervous, I'm like, 'Well, at least it's not as bad as the first time.'"
Since then, Sam has created and toured several more award-winning shows: Weaksauce about following in love for the first time, Fatherly featuring stories about his dad, and The Untitled Sam Mullins Project (in Victoria August 27 – September 6) where he delves into four of his "deepest, darkest truths" that were first written down for assignment in a standup comedy class. While on tour this summer he has also been developing another show, "Grandma's Dead" for the Vancouver Fringe in September. Sam was one of five winners of this year's Canadian Association of Fringe Festivals tour lottery and by summer's end he will have participated in 11 festivals from New York to Ottawa to Vancouver. In 2014 he won the Canadian Comedy Award for Best One-Person show and this spring, he was coined a Fringe "veteran." "We were the fresh-face, new wave just a year ago, and now we're Jem Rolls!" he laughs referencing an English artist who's done over 100 festivals.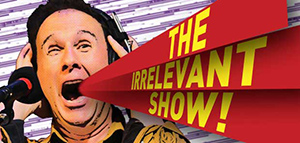 When not Fringing, Mullins also gets to exercise his pure comedy side as a staff writer for CBC Radio's sketch comedy program The Irrelevant Show. He is an in-demand storyteller contributing to many of the shows that inspired him during that fateful year, including CBC's Definitely Not the Opera, NPR's This American Life, and, of course, The Moth.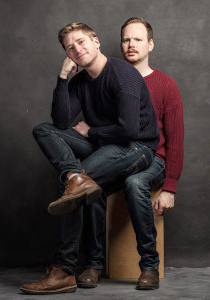 Now based in Toronto, this will be Sam's first time in the Victoria Fringe (although he was part of UNO Fest in 2014) and he's excited to return to Victoria. "I've always wanted to do the Victoria Fringe, and have never done it, so I'm really looking forward to it… I get such an emotional response from just being in Victoria—it's like a time capsule for me. When I went to school there, I was an 18 year old who had just left junior hockey and then I left there thinking I was the second coming of Marlon Brando. All the versions of myself that were in Victoria."
He also has great memories and great friendships with people he was at UVic with, including Chris Wilson and Peter Carlone, aka, the comedy duo and Fringe favourites Peter N' Chris and Ingrid Hansen of SNAFU Dance Theatre. "The four of us all met on our first day of theatre school. It was a really special time to be learning how to create comedy and theatre in Victoria."
Learn More:
---
Upcoming Events: September/October/November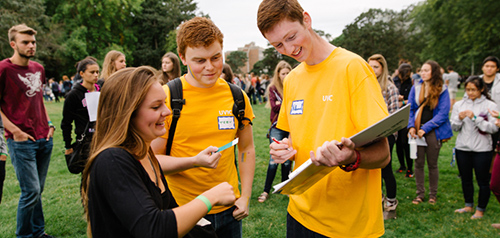 September 4 - September 11, 2015
New Student Welcome, & UVSS Campus Kick Off
Soon, our students will return and our new students will arrive to discover UVic for the first time. If you're a new student, attend or New Student Orientation day on September 8. Check out the great line up of fun campus events and concerts the UVSS presents during the first weeks of school, including Bands on the Roof, Movie in the Park, Clubs & Course Union days.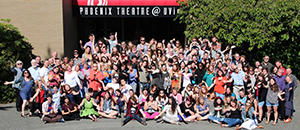 September 3, 2015 at 5:30pm
NEW! UVic Phoenix Theatre Alumni Network Information Session
Phoenix Theatre Bldg. Rm 105
We're getting excited about the Department of Theatre's 50th anniversary in 2016/2017 and we're looking for enthusiastic individuals to help form an Alumni Network for theatre graduates. This group will be a vital part of our department, helping to organize alumni activities and events, develop a mentorship program to connect established alumni with current theatre students and recent graduates, and apply for UVic grants in support of our initiatives (expecially for the 50th anniversary). All theatre alumni are invited to attend this information session. Learn more and determine your own level of participation, whether it's volunteering at events or getting involved in the Network's organizing committee. Pizza and light refreshments will be served. Interested alumni should contact Peter Dunsmore-Papagiannis, Alumni Officer for the Faculty of Fine Arts and RSVP by September 1.
September 15, 2015 at 6:00pm
Film Screening of Gone South: How Canada Invented Hollywood
and Talkback session with Leslie Bland & composer Alexander Brendan Ferguson
Phoenix Building, Roger Bishop Theatre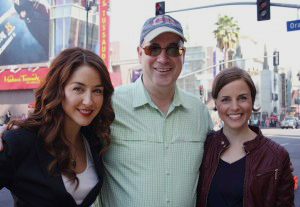 Alumnus and instructor Leslie Bland (MFA '99) of Less Bland Productions will screen his award-winning feature documentary at the Phoenix. Afterwards he will host a talkback session with the film's composer and also-alumni, Alexander Brendan Ferguson (BFA' 03). The film is a funny and investigative look at the long history and major influence Canadians have had on the development of American pop culture and features exclusive celebrity interviews and classic archival images from the very beginnings of Hollywood right through to the present day. It includes a who's who of celebrities in Hollywood from Howie Mandel, David Foster, Alan Thicke, Neve Campbell, and Alex Trebek to Monty Hall, Tommy Chong, Dave Thomas and more. It also includes Phoenix alumna TV actress Erin Karpluk! (Photo: Erin Karpluk, Leslie Bland and Tracy Thomas)
October 14-24, 2015

PREVIEW: Oct 13
LOON
Produced by WONDERHEADS
Featuring Kate Braidwood (BFA'03) and Andrew Phoenix

Performed in full-face masks, this love story whisks a man to the moon and back. Francis is a lonely janitor has hit rock bottom and discovers that he has nowhere to go...but up. And up. And up! But will plucking the moon from the sky bring him the love he is searching for?
Box Office opens for single tickets on October 6. Three or four show subscription packages for only $37.50 or $50 available now.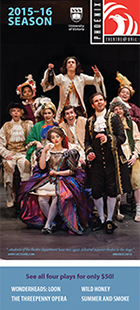 November 5 – 21, 2015
PREVIEWS: Nov 3 & 4
The Threepenny Opera
By Bertolt Brecht
Music by Kurt Weill
Directed by Brian Richmond
Part biting satire and part sheer theatrical innovation, this iconic work by Bertolt Brecht and Kurt Weill is a landmark of modern theatre. Brecht takes aim at the traditional bourgeoisie, revealing a society where law is fickle, money corrupts, and crime pays.
Box Office opens for single tickets on October 27. Three or four show subscription packages for only $37.50 or $50 available now.
---
Phoenix Phacts: Your guide to Phoenix Fringe shows
With a comprehensive, hands-on theatre program like the one here at UVic, it's no wonder the Victoria Fringe Fest once again features scores of productions with our students and alumni involved. Whether acting, writing, directing, designing or managing backstage, our students seem to be every where! (As usual, only Phoenix students or alumni are listed below. Kudos to the MANY MANY other artists involved!)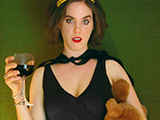 ALMOST A STEPMOM
Standing Room Theatre
• from VANCOUVER
VCM Wood Hall (Fringe Venue 4)
Created by Keara Barnes
A TRUE Story. Keara moved to Ireland. She fell in love. Then she became a Stepmom…almost. A darkly comic tale about the ups and downs of becoming a stepmother. Multiple characters and a murder attempt round off this tumultuous and touching solo show.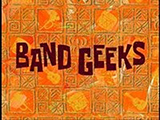 BAND GEEKS
St. Michaels University School
performed at St. Michaels University School
• from VICTORIA

Directed by Cam Culham

Faced with dwindling attendance and funds, a highschool's beloved marching band is desperate. When a troubled athlete is relegated to their ranks, Elliott, the band captain and Laura, his best friend, must find a way to unite the band, embrace their inner geek, and save the day.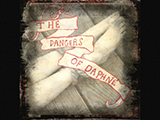 THE DANGERS OF DAPHNE
HAWK MOM PRODUCTIONS • VICTORIA
Downtown Activity Centre (Fringe Venue 2)
Written by Robbie Huebner (UVic Writing), Directed by Melissa Taylor, Max Johnson Projection Design, featuring Sarah Cashin, Ian Simms, and Kevin Eade.

The damsel: kidnapped, hogtied, blindfolded, helpless — the old Hollywood standard. Daphne, an aspiring silent film actress, plays the part every day. Sure, she's getting famous, but what good is fame when you're always the victim? Nobody loves a woman roped to railroad tracks. If only Daphne could flip the script… A tale of music, celluloid and bigscreen hubris.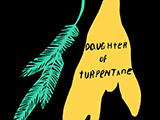 THE DAUGHTER OF TURPENTINE
Hairpin Curves • VICTORIA
Langham Court Theatre (Fringe Venue 6)
Written by Leah Callen (UVic Writing), Directed by Chase Hiebert, Featuring Graham Roebuck, Lindsay Curl, Renee Killough, Pascal Lamothe-Kipness, and Brett Hay.
First presented in the department by SATCo.
Meet Pin: a fed up, sexually-frustrated tree nymph who just turned sixteen. Burning to get away from her painted sisters and her guardian Gabriel, she falls for turpentine and a passing arsonist. But will she ever break free from Gabriel's spell? A flammable fairytale for adults.
FALLOUT
SHANEBOB PRODUCTIONS
• from VICTORIA
Roxy Theatre (Fringe Venue 8)

Written by Shane Campbell (UVic Writing) featuing Markus Spodzieja and Jenson Kerr.
At the end of the world, two men are trapped in their basement struggling to pull together a forgotten past. Al, who is suffering from amnesia, is stuck with Nate, his roommate. In this dark comedy the two have to come to terms with how to survive the future they find themselves in.
IAN FLEMING'S CASINO ROYALE
Outpost 31 • from VICTORIA
St Andrew's Gymnasium (Fringe Venue 5)

Directed by Ian Case, featuring Ellen Law.

Witness the world premiere of the first of Ian Fleming's James Bond novels… "Agent 007 declares war on Le Chiffre, French Communist & paymaster of the Soviet murder organization: SMERSH… For incredible suspense, unexpected thrills, and extraordinary danger, nothing can beat James Bond in this, his inaugural adventure." – (Good Reads synopsis of the original book)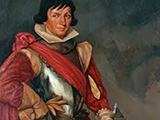 LIEUTENANT NUN
SNAFU + Puente Theatre + Theatre SKAM
• from VICTORIA
performed outdoor in Macaulay Point Park (Fringe Site A)

Directed by Mercedes Bátiz-Benét (UVic Writing) & Kathleen Greenfield, Musical Coaching by Sarah Jane Pelzer, Mask Design by Ingrid Hansen, Mercedes Bátiz-Benét & Kathleen Greenfield, Puppet Design by Ingrid Hansen, Mask & Puppet Construction by Ingrid Hansen & Andrew Barrett, Stage Management by Delaney Tesch, Featuring Keshia Palm

The creators of Little Orange Man team up with the makers of El Jinete (Summerworks 2014) to re-imagine this 2004 smash hit! In the 17th Century, Catalina escapes the convent and sails to the New World dressed as a conquistador. After years of being male, Catalina's secret sex is revealed. A TRUE STORY about gender, identity, war and conquest.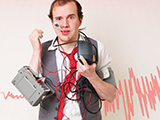 THE MOST HONEST MAN IN THE WORLD
SPIRED THEATRE • from RICHMOND, BC
Written/Created by: Andrew Wade
VCM Wood Hall (Fringe Venue 4)

Created by/Featuring Andrew Wade
A life-long love story about the pursuit of honesty over all happiness. Andrew Wade builds a working lie detector and straps himself in. Using stories, music, apps, and tap shoes, Wade looks at old relationships and insecurities as he tries to learn how to honestly let go. "A brave experiment in both theatre and life. 4 stars! – Saskatoon StarPhoenix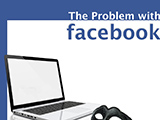 THE PROBLEM WITH FACEBOOK
Theatre Theatre • from VICTORIA
Downtown Activity Centre (Fringe Venue 2)

Created by/Featuring Ian Simms

Five teenagers struggle to make the best of the awkwardest time of their life. But thanks to the magic of the internet, they are put in touch with an Iranian rebel with some sage, although offbeat, advice. A show about honesty, the subtext that flows through every social media message, and our perspective through the lens of technology.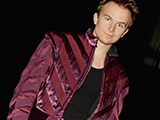 RUMPELSTILTSKIN… AND OTHER TALES
THE STORY THEATRE COMPANY
• from VICTORIA
FAMILY FEST FRINGE
Metro Studio Theatre (Fringe Venue 3)

Created by/Featuring Jeff Leard

Classic children's stories re-imagined by Fringe Festival favourite, Jeff Leard."…a young Robin Williams" – LONDON FREE PRESS. "Do yourself a favour and let Jeff Leard spin you his story…" – BEAT MAGAZINE. An exciting solo show of family favourites created for kids, their families and everyone else, too.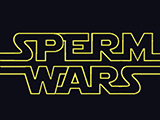 SPERM WARS
RANDOM SAMPLES COLLECTIVE
• from VICTORIA
Victoria Event Centre (Fringe Venue 1)

Created by/Featuring Jeff Leard

Sperm Wars takes place in a brutal, futuristic, utterly absurd universe. As sperm and eggs collide in the battle for Uteran supremacy tales emerge of love, loss, betrayal, spaceships, sword fights, life, and death before birth. The result is gametocidal tragedy, sci-fi hilarity, and one surviving oddly placed robot.
"***** An epic masterpiece" – Edmonton Journal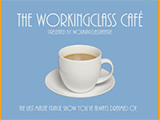 THE WORKINGCLASS CAFE
workingclass theatre • from VICTORIA
Fairfield Hall (Fringe Venue 7)
Produced by Emma Hughes and Tristan Bacon,
Featuring Nicholas Yee, Alexa Carriere, Logan Mitev, and Sean Brossard.
The workingclass Café is the last minute fringe show you've always dreamed of! Featuring a different performance lineup every night, this show provides the opportunity to showcase many different artists and their amazing performance talents. Join us as we celebrate live theatre, local artists and the last minute chances we always hope for.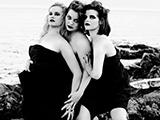 THE WYRD SISTERS
Damnspot Theatre • from VICTORIA
Metro Studio Theatre (Fringe Venue 3)
Created/Directed by Alannah Bloch, featuring Colette Habel, Nicola Whitney-Griffiths, Victoria Simpson, Nicolas Yee, Jack Hayes, and Levi Schneider. Costume design by Michelle Bowes, original sound composition by Carl Keys, choreographed by Nicola Whitney-Griffiths.

Benevolence and malevolence. Evanescence of smoke whispering across a moor. The glint of a dagger behind a curtain. "The Wyrd Sisters" is a collective movement theatre piece interpreting the magic of Shakespeare through dance and original sound composition."Something wicked this way comes…" the Wyrd Sisters are waiting for you.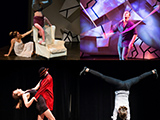 TWO
Break|Contemporary Circus • from CANADA
St Andrew's Gymnasium (Fringe Venue 5)

Created by Cameron Fraser

Two is an unbridled multidisciplinary show centered around a young couple's evolution from a budding romance through to an established relationship. Combining physical comedy, acrobatics, dance and object manipulation, Two offers a lighter side to the ups and downs of love, lust and peanut butter sandwiches.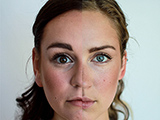 TWO
Catador Theatre • from VICTORIA
Metro Studio Theatre (Fringe Venue 3)

Created by Kat Taddei, directed by Colette Habel, with lighting/set design by Sean Brossard, sound design by Colette Habel. Featuring Brett Hay, Nicholas Yee, Levi Schneider, Jack Hayes, Sam Lynch.
Ever wondered if out there, in a faraway universe, lives another you? This haunting new work presents two dramatically different versions of one life. Set in parallel worlds, both manipulated by a chorus of mysterious figures, Two blends the unsettling surreal with the familiar hyper-real.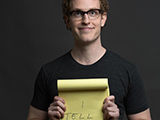 THE UNTITLED SAM MULLINS PROJECT
Sam S. Mullins • from TORONTO
VCM Wood Hall (Fringe Venue 4)

Created by/Featuring Sam S. Mullins

Canadian Comedy Award-winner Sam Mullins (This American Life, The Moth, CBC's The Irrelevant Show) tells the four stories of his four "truths". "****1/2 God he's good. Sam Mullins is a master storyteller." –WINNIPEG FREE PRESS. "****1/2 Equal parts excruciating and hilarious. Mullins knocks it out of the park." – EDMONTON JOURNAL

Want more alumni stories? Check out our Alumni Profiles area of our website. Recognize anyone? If you're alumni, please tell us what you've been up to. Submit your bio online and yours could be the next alumni profile on our website!
---
Email Perks & Interesting Links:
Alumna Kate Braidwood (BFA '03) of the WONDERHEADS have done their share of touring the Fringe circuits in Canada and the US.
Name one of WONDERHEADS other wonderful shows and you could WIN TICKETS to our Spotlight on the Alumni presentation of their show LOON (October 14-24, 2015)
Email your answer before September 15 to be entered into a draw for two ticket vouchers for any performance night.
---
Sponsor Kudos:
Thank you to the Phoenix Theatre's many individual donors and corporate sponsors for their support of our programs and talented students!
Thanks also to our supporters last year from the Cadboro Bay Village including: For Good Measure, Heart Pharmacy, Pepper's Foods, Smugglers' Cove Pub and Dr. Amanda Weinerman Optometry Clinic.
Find out how your company can reach our 10,000 audience members and UVic community of over 25,000. Contact us to discuss a customized sponsorship package to meet your goals.
----------------------------------------------------------------------------------------------------
Phoenix eNews is a regular email magazine for those interested in the Phoenix Theatre, the not-for-profit productions at the University of Victoria's Department of Theatre, PO Box 1700, STN CSC, Victoria, BC, V8W 2Y2 Canada. The University of Victoria is a Registered Charity. Charitable Registration No. 10816 2470 RR0001
If you no longer wish to receive this newsletter, click here and enter your address and click Un-Subscribe. A confirmation message will be emailed to you. You can reply to this message to confirm that you want to be removed from this mailing list. This message also has a link that you can click on to complete the removal process.
---
Phoenix eNews is a regular email magazine for those interested in the Phoenix Theatre, the not-for-profit productions at the University of Victoria's Department of Theatre. Do you know someone who would love to know more about us? Please feel free to forward this message to a friend!