If this email does not display properly, please see our website phoenixtheatres.ca
eNews | Behind the Scenes | Upcoming | Phoenix Phacts | Perks | Kudos
---
---
eNews:eNews: Revisiting your first art work.
At the university, there are many young aspiring artists creating new art everyday. Some of them might be only stepping stones to future incarnations of a more mature expression. Others works show definite sparks of greatness. Such is the case with Anton Chekhov and what is presumed to be his first play, written when he was a young person at school – just like our students in the Department of Theatre and the Department of Writing. Read on to learn more about Chekhov's first play that would become a great work for the stage, albeit 100 years later.
Behind the Scenes: Chekhov's first play now his latest masterpiece, with the help of playwright Michael Frayn
Wild Honey is a play with an origin surrounded by mystery. The particular circumstances of its creation will never quite be certain. Sometimes called Anton Chekhov's "lost" play, it was never really lost at all. Rather, Wild Honey is a play that was, under extraordinary and miraculous circumstances – found!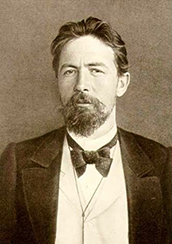 The original manuscript for Wild Honey lay undiscovered until 17 years after Chekhov's death when it was eventually found in a Moscow bank's safety deposit box by communist soldiers in 1921. The title page was missing, leaving the work nameless. Afterwards, people began referring to it as "Platonov," after its lead character. This original manuscript, uncut as it was, would have run about six hours long!
Although the exact history of this play remains foggy, today some interesting details regarding its history have come to light. It is rumoured that young Chekhov had abandoned the manuscript after it was declined by an actress who he had had in mind for the lead female role of Anna Petrovna. His sister Maria Chekhov, however, saw the play's potential. When she was forced to leave Moscow, she had saved the manuscript, locking it away in a safety deposit box in the bank, along with other papers and manuscripts that she considered particularly valuable. Due to the continuing civil war in Russia, Maria was unable to retrieve this manuscript for quite some time, and by the time she returned to Moscow, the communist soldiers had already discovered it and freed it to the world.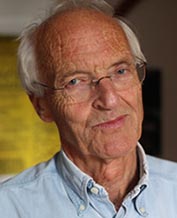 Chekhov had written the original manuscript for "Platonov" when he was in his first or second year of medical school. He was in fact just the same age as many of the students who are performing in the Phoenix's version of Wild Honey. Though Chekhov was occupied in his medical studies, he still found time to write. "Medicine is my lawful wife, and literature is my mistress," he once wrote in a letter.
In the 1980s, almost 100 years after Chekhov penned the work, the famous Britsh playwright and novelist, Michael Frayn (shown left) decided to translate and adapt this enormous manuscript. Frayn had first learned Russian while enrolled in the UK's compulsory millitary service, an experience that would eventually lead to Frayn becoming one of the world's best-respected translators of Chekhov's works. As a playwright, Frayn is known for the farce Noises Off and the dramas Copenhagen and Democracy. He carefully adapted Chekhov's original Platonov, trimming many of Chekhov's many intricate subplots and focusing the action of the play on the relationships which hold together the heart of the piece. He also took this marathon six-hour draft down to a much more reasonable length of two hours.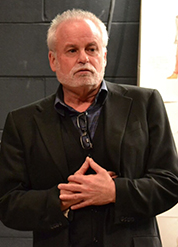 Frayn then retitled the play Wild Honey. It premiered at London's National Theatre in 1984, featuring Ian McKellen in the role of Platonov, winning three Oliver Awards. What the world witnessed for the first time was a play that informs all of Chekhov's later works and give us sneak previews of iconic characters that would be resurrected by Chekhov in his future plays.
"All other Chekhov works need to compared to Wild Honey, not the other way round," says faculty member and director Peter McGuire (shown right). "It came first and offers us insight into his future works."
Wild Honey has long been on McGuire's shortlist to direct at the Phoenix. "I've always felt that this would be perfect for students to explore," says McGuire who directed Picnic, another play from his wish list, two years ago.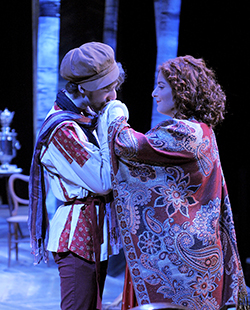 "Chekhov himself was around the same age as our students when he wrote this play," McGuire explains, "and young people are living the chaotic nature of love every day."
"This play is about the need for love and the frustration of love. These are people trying to connect but not able to. Some are in a position where they cannot communicate their love because of their social status in the community."
"And here are our students in the theatre department or the writing department, writing their first plays, looking at human relationships, examining the world that they're living in. This is the beginning of Chekhov."
PS - Check out more photos of Wild Honey (by David Lowes) on Facebook.
UPCOMING EVENTS: February - March

February 11– 20, 2016
PREVIEWS: February 9 & 10
Wild Honey
By Michael Frayn, Adapted from an original play by Anton Chekhov
Directed by Peter McGuire
(See full creative team and cast)

$7.50 Previews @8pm*: TONIGHT! Feb. 9 & TOMORROW Feb.10
($7.50 preview tickets are available after 5pm on the night of the show.)

Evening Performance @8pm*: Monday to Saturday

*Matinee @2pm*: Saturday February 20 (SOLD OUT)
Free Pre-Show Lecture @7pm: Friday February 12
Director and faculty member Peter McGuire will speak the play and his collaborative approach with working with the students on Wild Honey. This free lecture is open to all (no matter which night you have tickets for) and will be recorded for podcast.
*BOX OFFICE NOTE:The Box Office is now open for single tickets, however many nights are already SOLD OUT or are very full. Please call 250-721-8000 to inquire about last minute availabilities through STAND BY tickets. Preview Nights are currently the best night for best seating.
Anton Chekhov's first play, reimagined by Michael Frayn, is a comedy full of sensational love triangles. Platonov has a way with women, but it's both a blessing and a curse. When friends and neighbours welcome home the socialite and widow Anna Petrovna with a get-together on her country estate, the festivities get out of hand and everyone starts playing elaborate games of romantic cat and mouse. Declared "Brilliant!" by the London Guardian, Wild Honey swings between melodrama and farce and shakes them into one intoxicating cocktail.
March 10 – 19, 2016
PREVIEWS: March 8 & 9
Summer and Smoke
By Tennessee Williams
Directed by Alan Brodie
(See full creative team and cast)

Previews @8pm: March 8 & 9 ($7.50 preview night tickets are available after 5pm on the night of the show.)
Evening Performance @8pm: Monday to Saturday
Matinee @2pm: Saturday March 19 (with sign language interpretation)
Free Pre-Show Lecture @7pm: Friday March 11
MFA Candidate and director Alan Brodie speaks about Tennessee Williams and the play. This free lecture is open to all (no matter which night you have tickets for) and will be recorded for podcast.
Box Office opens March 1 for single tickets.
---
Phoenix Phacts: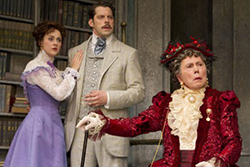 Alumna Sara Topham (BFA '98) is back on Broadway in Thomas Middleton and William Rowley's production of The Changeling. Sara was also in the 2011 Broadway production of The Importance of Being Earnest, performing opposite Brian Bedford, one of Canada's most acclaimed actors who passed away on January 13. A mainstay at Stratford, Brian will be deeply missed by the theatre community.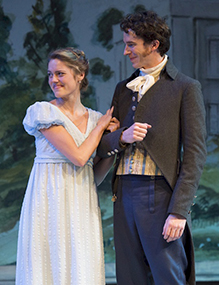 Vancouver's Arts Club is presenting Janet Munsil's (BFA '89) theatrical adaptation of Jane Austen's Pride and Prejudice from January 28 – February 28. The cast includes Kaitlin Williams (BFA '09) as Jane Bennet – Kaitlin was last seen at the Phoenix in our 2014/15 Spotlight on Alumni production of The Lion, the Witch, and the Wardrobe.
Vancouver's Applause! Musicals Society has announced the nominations for its "OVATION Awards" for the best musical theatre in 2015. We're proud of our alumni nominees including Cecilly Day (BFA '14) for outstanding female lead in Murder Ballad (Fighting Chance), Chris Adams (BFA '10) for outstanding small cast in Hamelin (Axis Theatre) and Andrew Wade (BFA '11) who wrote the book lyrics for outstanding new work Titus – The Light and Delightful Musical Comedy of Titus Andronicus (Awkward Stage). Current MFA candidate Alan Brodie (directing Summer and Smoke in March) was nominated for outstanding lighting design for Godspell (Arts Club). Congratulations all!
For those of you who missed it live in November, the TEDxVictoria lecture given by Assistant Professor Dr. Kirsten Sadeghi-Yetka is now viewable online on the department website. Click on her faculty bio page to hear her speak about the power of the arts in the wake of war and conflict. Powerful talk!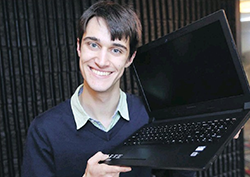 Congratulations to current student Nicholas Guerreiro for winning the Times Colonist's sixth annual So You Think You Can Write contest! His submissions topped the judges' assessments all four weeks and won the people's choice awards to put the lock on the competition – as the judges' first choice, he received a trip for two to the Galiano Literary Festival this February and as the readers' choice winner he won a laptop computer from Mother Computers.
Prof., a play written and directed by alumnus Logan Mitev (BFA'15) premieres at The Metro from March 24-26. It features a host of Phoenix students and alumni including Dallas Ashby, Kieran Dunch, Sean Dyer (BFA'15), Kevin Eade (BFA'14), Emma Grabinsky, Laura Rasmoso, and Rebecca Waitt in the cast, as well as design by Emma Bozoian and set by Andrew Duffy.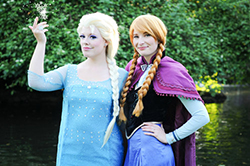 Alumna Amy Culliford's (BFA'14) company, Enchanted Fables, was named a finalist for the Vancouver Island Business Excellence Award! Working with a troupe of actors, many of whom are from the Phoenix (including current student Laura Walllace, shown here to the right of Amy), her company organizes princess and pirate parties and entertainment with iconic fairy tale characters. Congratulations Amy!
---
| | |
| --- | --- |
| | Want more alumni updates? Check out the Alumni Profiles area of our website. Email your alumni stories to us to be posted here in future eNews. Theatre alumni are also invited to join the Phoenix Alumni Network Facebook group. |
| | Follow the most recent department and alumni stories by liking us on Facebook or following us on Twitter. Use #phoenixalumni to stream on our alumni website or tag @UVicPhoenix for us to retweet your event! |
---
Sponsor Kudos:
Thank you to the Phoenix Theatre's many individual donors and corporate sponsors for their support of our programs and talented students!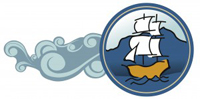 Thanks also to our supporters from the Cadboro Bay Village including: For Good Measure, Pepper's Foods, Smugglers' Cove Pub, Caddy Bay Liquor Store, Yew Tree Yoga and Heart Pharmacy.
Find out how your company can reach our 10,000 audience members and UVic community of over 25,000. Contact us to discuss a customized sponsorship package to meet your goals.
---
Phoenix eNews is a regular email magazine for those interested in the Phoenix Theatre, the not-for-profit productions at the University of Victoria's Department of Theatre, PO Box 1700, STN CSC, Victoria, BC, V8W 2Y2 Canada. The University of Victoria is a Registered Charity. Charitable Registration No. 10816 2470 RR0001
If you no longer wish to receive this newsletter, click here and enter your address and click Un-Subscribe. A confirmation message will be emailed to you. You can reply to this message to confirm that you want to be removed from this mailing list. This message also has a link that you can click on to complete the removal process.