If this email does not display properly, please see our website phoenixtheatres.ca
eNews | Behind the Scenes | Upcoming | Phoenix Phacts | Perks | Kudos
---
eNews: The annual Phoenix Fringer Edition
The last lazy days of summer reap some of Victoria's most fun theatre rewards... Intrepid Theatre's annual Victoria Fringe Festival! We're pleased to once again offer our Phoenix Fringe round up of all the students and alumni who have created, are acting in, designing or stage managing shows in this year's festival. As well, we're proud to start the Phoenix season off in October by also focusing on our theatre graduates and presenting their work on our own stages. Read on to hear about our entire 2014/15 season.
Behind the Scenes: Alumni show starts of popular Phoenix season
The Phoenix Theatre has a great reason to be excited about their upcoming season of plays. Why? With subscriptions already up 20% over last year at this time, it's obvious that our audiences are ALREADY excited about it! Here are the plays that audience members are booking into in droves.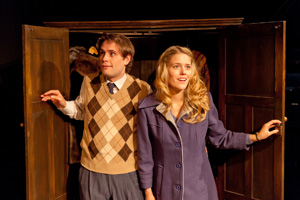 Starting in October with our annual "Spotlight on Alumni", we present The Lion, the Witch and the Wardrobe featuring Mack Gordon (BFA'08) and Kaitlin Williams (BFA'09). This creative, two-person play, retells the much-loved story of the Pevensie children who journey through the doors of an old wardrobe and into the land of Narnia. However this adaptation has a bit of a twist. Now adults, Peter and Lucy return to the attic where, years before, their adventure began, and relive their memories of Narnia, performing all the roles of characters they meet along the way, including Mr. Tumnus, the Beaver family, the evil White Witch and the mighty lion Aslan. It's storytelling at it's best! This adaptation of the C.S. Lewis novel has been presented to much acclaim by the Pacific Theatre in Vancouver each winter. Mack and Kaitlin have performed this show for two of those years and toured the play across BC last December. The two alumni met here at UVic's theatre department and married a couple of years ago. We're really looking forward to having Mack and Kaitlin return to their Alma Mater!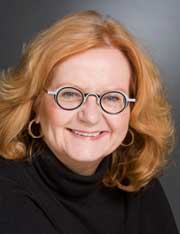 In November, director, actor and faculty member Fran Gebhard relives some memories of her own as she presents her vision for Shakespeare's romantic comedy, A Midsummer Night's Dream. In the 1970s, Fran spent a few months living in New York City and absorbed changing and sometimes clashing cultures between the waning flower-power generation and the uprising of punk rockers. She's harnessing these experiences, and adding a little magic of her own, in the setting for Shakespeare's most poetic play. The two pairs of lovers in "Dream" will find themselves wondering through Central Park and Greenwich Village. In this "Faces of UVic Research" video, Fran talks about her love of post-modern Shakespeare where the Bard's centuries-old words are recontexutalized into contemporary culture. So interesting!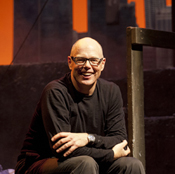 In February, movement professor Conrad Alexandrowicz will direct one of Canada's more recent masterpieces. Playwright Judith Thompson's award-winning Lion in the Streets is an engaging look at the dark side of humanity through the eyes of Isobel, a frightened nine-year-old Portuguese girl who is lost in a Toronto neighbourhood. While it deals with some difficult subject matter, Thompson's work also shows us the redemptive power of forgiveness. Conrad loves to direct works with a strong sense of social commentary. He also directed the 2012 Phoenix production of Brecht's The Good Person of Setzuan.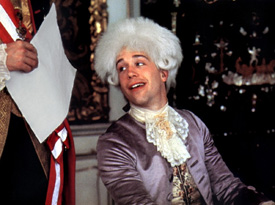 The season closes next March with Amadeus, the Tony Award-winning play, and much loved Academy Award-winning movie, about the musical genius Wolfgang Amadeus Mozart and his jealous rival Antonio Salieri. (One has only to think of the movie and actor Tom Hulce's hilarious high-pitched laugh springs into your head!) MFA Director Chari Arespacochaga, who hails from the Philippines where she directed touring Broadway productions, wants to emphasize the psychological aspects of the play which is partially set in an ancient insane asylum and partially takes place in Salieri's imagination.
If you, like all of our other subscribers, are interested booking in for 3 or 4 of these plays, click here to learn how you can go to all of them for only $48 or choose your favourite 3 shows for $36.
---
Upcoming Events: September/October/November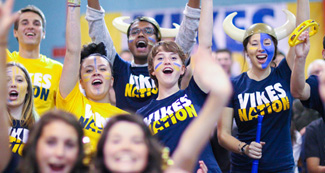 August 31 - September 12, 2014
UVic Weeks of Welcome!
New students are welcomed to UVic with a host of orientation events and a great line up events for returning students too! The UVic Student Society brings the fun with a pancake breakfast and fair on September 3, several outdoor movies in the quad, live bands playing on the roof, the Vikes' Thunderfest on September 5, a dodgeball tournament and all ages dance party.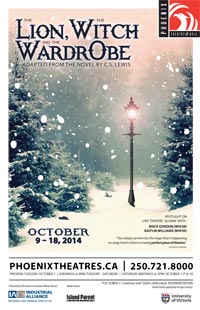 October 9-18, 2014
ONE PREVIEW ONLY: Oct 7
The Lion, The Witch
and The Wardrobe
Our "Spotlight on Alumni" with Kaitlin Willams (BFA '09)
and Mack Gordon (BFA '08)
Presented by UVic Alumni Association Affinity Partner:
Adapted from the much-loved novel by C.S. Lewis, join Lucy and Peter as they return the attic where their magical adventures began and retell their favourite stories.
Box Office opens for single tickets on September 30. Three or four show subscription packages for only $36 or $48 available now.
November 6 – 22, 2014
PREVIEWS: Nov 4 & 5
A Midsummer Night's Dream
By Wiliam Shakespeare
Directed by Fran Gebhard
A fun edgy spin on Shakespeare's classic romantic comedy, set in the underground culture of Greenwich Village in the mid 1970s.
Box Office opens for single tickets on October 28. Three or four show subscription packages for only $36 or $48 available now.
---
Phoenix Phacts: Your guide to Phoenix Fringers
So many talented students and alumni are participating in the Victoria Fringe Fest once again this year. Here's are list of those acting, writing, directing, designing or stage managing shows during the festival. (Note, only Phoenix students or alumni are listed below. Kudos to the MANY MANY other artists involved!)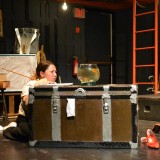 I, Claudia
High Wire Theatre • VICTORIA
Directed by Joanne James, featuring Nikki Bell, Stage Manager Meaghan Danforth
A one-woman show written by Canadian playwright Kristen Thomson, I, Claudia explores the world of a 12 year old girl struggling through the life of a misfit adolescent. Detailed through the perspective of 4 different characters, including Claudia herself, the script is full of charm, wit, and moments of raw truth outlining the experience of simply "growing up."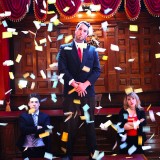 Improv on Trial
Singles Awareness Theatre Company
• VICTORIA
Written/Created by: Amy Culliford & Blair Moro, featuring Logan Mitev, Hayley McCurdy, Sean Dyer, Markus Spodzieja, Amy Culliford and Blair Moro, with photo by Kate Loomer.

A completely improvised court case in the historic Maritime Museum's court room. Each night we will have a CELEBRITY JUDGE come to run our court. Reviews of last year's work: "If you enjoy improv, this is a show to check out." -Janis La Couvee "Loved it! Very talented crew. Really enjoyed the gender bending." -Morgan "A very fun, enjoyable, and relaxed show. Accessible and goofy." -D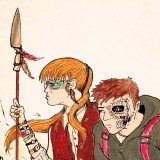 Kitt & Jane: An Interactive Survival Guide to the Near-Post-Apocalyptic Future
SNAFU • VICTORIA
Written/Created by Kathleen Greenfield, Ingrid Hansen with lighting design by Michael Franzmann
From creators of LITTLE ORANGE MAN.
Two socially-awkward fourteen-year-olds hijack their school assembly: the apocalypse will occur in 5 years, and they're here to train you to survive. A poignant exploration of the world today's youth are inheriting and what they're prepared to do about it.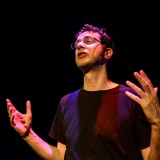 Medicine
BIG SANDWICH PRODUCTIONS • VANCOUVER
Written/Created by: TJ Dawe
Fringe road dog TJ Dawe (Lucky 9, The Slipknot) returns, with a story about a retreat led by Dr. Gabor Mate, involving the shamanic plant medicine ayahuasca – in Victoria. "Probably the best show he has ever brought us" -Edmonton Sun "Cathartic and never less than fascinating" -Now Magazine, Toronto "Storytelling at its best" -CBC Manitoba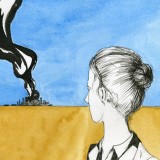 Rope of Sand
WORKINGCLASSTHEATRE • VANCOUVER
Written/Created by Tristan Bacon (and Alyssa Kostello) featuring Nicholas Yee, Joanne James and Tristan Bacon. Stage Manager Emma Hughes

Tear gas. Rubber bullets. Revolution. Against the backdrop of Egyptian violence in January 2011, Tracey Stoddard struggles against the age old question of financial security versus following your heart. Fast-paced and dream-like, ROPE OF SAND takes us on a whirlwind journey from the slick, wet streets of Vancouver to the scorching, arid desert in Egypt.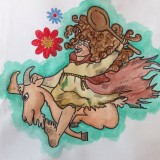 Tatterhood
KERPLODING THEATRE • VICTORIA
Written/Created by Molison Farmer, featuring Kaeden Derksen, Kathleen O Reilly. Designed by Chelsea Graham and Halley Fulford. Stage Management and lights by Imogen Wilson. (with music by UVIC music student Simon Dawkin)
Meet Tatterhood: a scraggly goat-riding wild child who must use her gumption to save her sweet and angelic sister from a hoard of trolls! Pick of the Fringe winner Kerploding Theatre brings this age-old folk tale to life with puppetry, live original music, and choreography. "The show delighted everyone in the audience… people young and old." -Martlet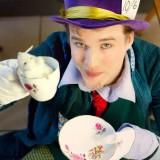 The Hatter
SPIRED THEATRE • RICHMOND, BC
Written/Created by: Andrew Wade

The Hatter is the story of a man trying desperately to get home. (It is also a tea party!) The Hatter has lost his madness, and now he needs your help. Come join in this performance jammed with storytelling, a song, emotional problems, and a chance to BE the Jabberwock. With free tea! "4 ½ stars!" – Saskatoon StarPhoenix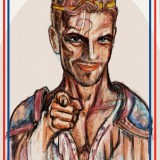 The Princess Rescue Force
NEW BLOOD THEATRE • VICTORIA
Written/Created by Robin Gadsby, directed by Kieran Wilson. Design by Chelsea Graham and Simon Farrow. Stage Manager Becca Jorgenson.
Damsels, distress no more. The Princess Rescue Force is here!! Two young recruits set out to earn their tights within this prestigious company of men… only to discover that "happily ever after" is hard to find. Dragons have to be slain on the inside; love at first sight makes you question your sexuality; and kissing sleeping beauties is a criminal offense.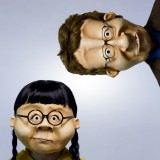 The Middle of Everywhere
WONDERHEADS • PORTLAND, OR
Written/created by Kate Braidwood (and Andrew Phoenix)
Two strangers. One bus stop. Infinite destinations. WONDERHEADS return with their larger than life masks and a story that bends time and space in a journey of epic proportions! 8-time Best of Fest Winners and creators of Fringe hits GRIM & FISCHER and LOON: "Pure magic." -CBC "Wonderful, original, beautiful fun." -Calgary Herald
The New Conformity
IMPLIED INTUITION • VANCOUVER
Written/Created by: Sean Brossard. Stage Manager Nic Beamish.
The New Conformity by Implied Intuition is a juggling show. The show displays contemporary exploration of the ever evolving conformist trends through juggling. The four man show entails an entertaining and exciting forty-five minutes full of throws, pancakes, rolls, and much more. The story is carefully drawn through the eyes of the characters and their individual reaction to change.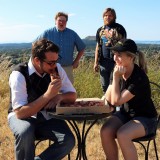 The Rise of Basement Boy
SHANEBOB PRODUCTIONS • VICTORIA
Written/Created Markus Spodzieja (and UVic Writing grad Shane Campbell). Featuring Hayley McCurdy, Jenson Kerr, Francis Melling and Markus Spodzieja. Lighting design by Erin Osborne. Photo by Kate Loomer.
What happens when a nerdy recluse meets the pizza-girl of his dreams? In this musical comedy Archibald Clarkson must brave the real world for the first time or face losing the game of love before he even presses start. It's going to be an hour of laugher, lyricism, and live action role-playing.
The Stephen Harper Play
THEATRE THEATRE • VICTORIA
Written/Created by Ian Simms featuring Tyler Fowler, Laura Ramoso, LJ Tressider, Elliot Lupini
Francis Melling, Haley Garnett and Ian Simms. Designs by Shayna Ward and Erin Osborne. Stage Manager Jaymee Sidel.
Ever wonder what Stephen Harper does off-camera? We do. But we'll never find that out, so instead we made this play. The Stephen Harper Play re-imagines the scandals and diplomatic decisions of our Prime Minister with some of the most out-there (literally, in the arctic) explanations ever. A lampoon on the man-in-charge as well as our own political ignorance that begs us to answer the question: how well do we know our leader?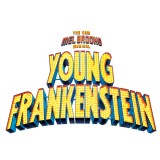 Young Frankenstein
St. Michaels University School • VICTORIA
Directed by Cam Culham
Join in on monstrous mania in this contemporary tongue-in-cheek parody of the horror film genre, especially the Mary Shelley classic itself! This is family friendly fun, filled with plenty of lively show tunes, performed by a dynamic company of local teen performers. A musical retelling of the 1974 film classic!
POST-FRINGE FUNDRAISER: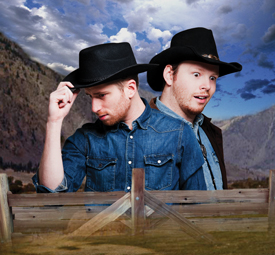 Peter N' Chris and the
KINDA OK CORRRAL
PETER N' CHRIS
ONE NIGHT ONLY!
September 5, 2014
Metro Studio
Written/created/performed by Chris Wilson and Peter Carlone
Phoenix alumni, dynamic comedy duo, Canadian Comedy Award-winners Peter N' Chris return to Victoria to perform their newest hit show "Peter N' Chris and the Kinda OK Corral" as they continue to send up pop culture, this time taking on the classic western. This performance is a fundraiser for the Fringe Festival.
Want more alumni stories? Check out our newly expanded Alumni Profiles area of our website. Recognize anyone? Send us your recommendations for an alumni profile.
---
Email Perks & Interesting Links:

No skill testing question this time! ... just a good ol' social media attempt to drive up our LIKES on Facebook! So just LIKE the University of Victoria Phoenix Theatre on Facebook!
All new likes (after August 22) will be entered into a draw to win 2 tickets to Peter N' Chris and the Kinda OK Corral, September 5 at the Metro Theatre. Enter your LIKE by September 4 end of day.
---
Sponsor Kudos:
Thank you to the Phoenix Theatre's many individual donors and corporate sponsors for their support of our programs and talented students!
Find out how your company can reach our 10,000 audience members and UVic community of over 25,000. Contact us to discuss a customized sponsorship package to meet your goals.
---
Phoenix eNews is a regular email magazine for those interested in the Phoenix Theatre, the not-for-profit productions at the University of Victoria's Department of Theatre, PO Box 1700, STN CSC, Victoria, BC, V8W2Y2 Canada. The University of Victoria is a Registered Charity. Charitable Registration No. 10816 2470 RR0001
If you no longer wish to receive this newsletter, click here to remove your name from our mailing list and enter your address and click Un-Subscribe.