If this email does not display properly, please see our website phoenixtheatres.ca
eNews | Behind the Scenes | Upcoming | Phoenix Phacts | Perks | Kudos
---
eNews: Genius and the value of education
Talent. Genius. Can they be learned? Or are they, as Antonio Salieri believes in the play Amadeus, gifts from God? Here in the context of a university where we train people in the arts of theatre, Peter Shaffer's award-winning investigation into talent, faith, and envy resonates strongly. The most talented student benefits from learning more about their art and understanding the work and dedication it takes to succeed. As Mozart himself was quoted as saying:
"It is a mistake to think that the practice of my art has become easy to me. I assure you, dear friend, no one has given so much care to the study of composition as I. There is scarcely a famous master in music whose works I have not frequently and diligently studied."
Read more about our two students who have returned to school after professional careers to study diligently in their chosen field.
Behind the Scenes:
Leaving a career and heading back to school
As well as being students, the director and the costume designer of the Phoenix Theatre's upcoming play Amadeus have many other things in common.
Both born abroad, they've found their way to Canada and to Victoria. Director Chari Arespacochaga (shown right) came only recently from the Philippines to return to school and get her MFA here at UVic's Department of Theatre. Costume designer Pauline Stynes emigrated from Ireland as a young woman, and has been living and working on the west coast for over 20 years.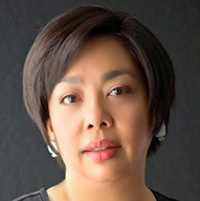 Like many MFA students, director Chari Arespacochaga came to UVic to further her education with an already-strong resume in professional theatre. "I took a summer performance workshop as a young teen and never looked back from then." She was already working with a local repertory theatre in Manilla while persuing her degree in film. She was a professional actor and teacher for years before finding her way to directing.
Since then she has been working with Atlantis Productions in Manilla for over eight years and directing major Broadway shows in Manila often bringing in big foreign stars (including Mig Ayesa for Rock of Ages, who was one of the final three contestants in the TV series Rock Star to be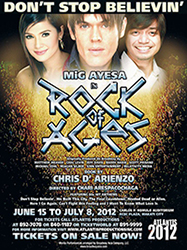 the new lead singer of INXS). Many of these shows toured across Asia or were remounting in Singapore. Her credits include many musicals including Footloose The Musical, Doubt, Spring Awakening, The Full Monty, Legally Blonde, Avenue Q, as well as several Disney productions like The Little Mermaid, Aladdin, and Tarzan.
"Musicals are just a different way of telling a story," says Chari. "Whether it's classical theatre or children's theatre, it's all important to reach the audience in the way that means something to them."
While musicals have a special place in Chari's heart, for her masters degree she wanted to step out of her comfort zone while still working with music. In Amadeus, a play about Wolfgang Amadeus Mozart and his rivalry with contemporary Antonio Salieri, she continues exploring music within a more classical-style play. "I was quite taken by the poetry in Shaffer's writing and believed that the questions this play asks about the nature of art were very important. What is our accountability to the talent we have?"
Chari decided to reimagine the play so that it was completely set in the asylum where Antonio Salieri spends the last night of life. Here Salieri shares his memories as a court composer and his devious schemes to destroy the career of his rival, the young prodigy Mozart. In this reimagined setting – complete with asylum patients that pseudo-transform into the members of the 18th-century court – the play emphasizes a more skewed reading of Salieri's memories and perhaps leads one to ask if Salieri's final confession is only his final attempt to escape his own insignificant artistic legacy?
"This play is about talent, faith, and envy…Is talent a gift from a God, or is it something that can be developed?" says Chari. "I thought these questions about artistic ability and what one would do to achieve success were important and fascinating ideas to explore in school where people are trying to become artists."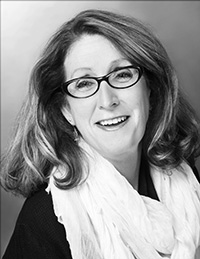 Pauline Stynes, costume designer for Amadeus, has also returned to school to further expand on what she already loved to do. "An education is important," says Pauline, now in her fourth-year of the BFA program in Design. "You go back to school to heighten your awareness about what you're passionate about. It can help you take your art to new places."
With training and a 30-year trade in tailoring and costume creation, Pauline wanted to be on the designing side of the costumes she was making. While running her own tailoring business and raising a family, Pauline realized that it was her time to return to school too. "As a child, my family was always taking us to the theatre, and in Vancouver, I volunteered my skills for community-based theatre, so it was a natural choice to study theatre."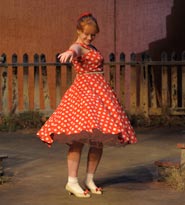 Returning to school was a good decision for Pauline, one that has already seen some recognition in Victoria's theatre community. Last year she beat out the city's best as winner of the Critics' Choice Spotlight Award for Best Costume Design for the Phoenix's production of Picnic last spring (shown left).
It has also led her to get involved in several local productions, including A Christmas Carol, Let Me Call You Sweetheart and Equivocation at the Belfry, My Fair Lady at Blue Bridge, Smalltown: A Pick Up Musical with Theatre SKAM and Thoroughly Modern Millie with the Victoria Operatic Society. She was also Head of Wardrobe for the world-premiere production of Aventa Ensemble's opera Marilyn Forever.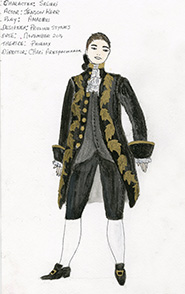 "Mixing academics with my previous work experience has helped me to become better at what I want to do. It's only by researching the history and the politics of the time period that I can develop my vision for the design work."
Being at UVic and returning to school has opened up Chari's perspective on her directing process as well. "I've learned that there are so many different ways to do theatre and there's always something to be excited about, always something to explore."
And while education will help them both expand their horizons, the key for both Pauline and Chari is their absolute love for the theatrical world, and it is this passion that will bring Mozart and Salieri's fascinating story to life.
"Neither a lofty degree of intelligence nor imagination nor both together go to the making of genius. Love, love, love, that is the soul of genius."
— Wolfgang Amadeus Mozart
Production photo of Picnic by David Lowes, Art Studio 21.
---
Upcoming Events: March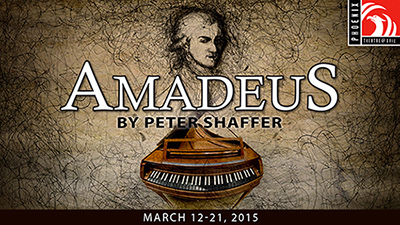 March 12-21, 2015
Amadeus
By Peter Shaffer
Directed by Chari Arespacochaga
$7 Preview Nights: Tuesday & Wednesday March 10 & 11
Available preview tickets are made available to the public at 5pm on the peformance day.
Evening Performances: Monday to Saturday @ 8pm
Matinees: Saturday March 21 @ 2pm
Friday Pre-Show Lecture: March 13 @7pm

Wolfgang Amadeus Mozart is often considered the greatest musical genius the world has ever known. To his 18th-century contemporary, Antonio Salieri, he was vulgar, boorish, and unforgivably brilliant – thus an enemy to be eliminated. Seen through the envious eyes and maybe-skewed memory of the aging Salieri, the play chronicles their tumultuous rivalry, and Salieri's devious efforts to destroy Mozart's career, even while recognizing the genius of his music. But is this final confession merely Salieri's last attempt to escape his own insignificant artistic legacy? The winner of seven Tony Awards, including Best Play, Shaffer's masterpiece also inspired the much-loved Academy Award-winning movie.
Box Office opens for single tickets for Amadeus on March 3.

---
Phoenix Phacts:
Lots happening near and far for our alumni.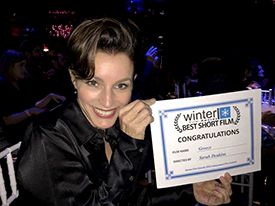 Great news across from Phoenixers across the country and across the world!
Greece, a short film written by, directed by and starring alumna Sarah Deakins (BFA'91) just recently added "Best Short Film" at the New York Winter Film Awards to its already-impressive list of accolades – which also include being a Platinum Winner at the International Independent Film Awards and the Award for Excellence at this year's Indiefest Film Awards. Sarah has also won a few awards herself for her various roles in the project, including recognition for her directing and filmmaking, as well as several awards for Lead Actress. Congratulations, Sarah! We're excited to watch your success continue!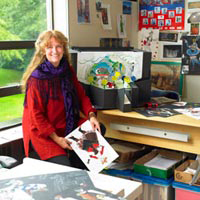 Designs by professor Mary Kerr will be included Costume at the Turn of the Century 1990-2015, an international curated exhibition being held in the A.A. Bakhrushin State Central Theatre Museum in Moscow. The goal is to showcase the development of ideas, materials and technologies of costume design over the past twenty-five years from all over the world in theatre, opera, dance, film, fashion design, performance art. The exhibition will include costume renderings, production photos or artistic images, or short performance videos as well as actual costumes.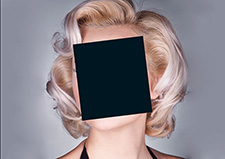 From even further afield, our very own technical director and lighting instructor Tim O'Gorman worked as the Production Manager for Marilyn Forever at Australia's renowned Adelaide Festival! During his visit to the land down under, Tim worked on this project with UVic School of Music instructor Bill Linwood who is also the conductor/artistic director for Canada's prestigious Aventa Ensemble, as well as stage director Joel Ivany, a rising star in the Opera/Theatre world. Marilyn Forever ran from February 27 – March 1 and was received with glowing reviews!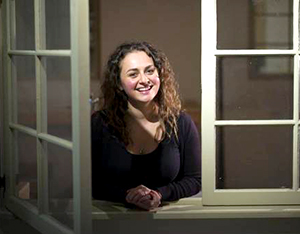 Chelsea Haberlin (BFA '07) has been named (by Arts Club Theatre's Bill Millerd) as one of the next generation of "Innovators" in a Globe and Mail article where she says "I think theatre should be a party." She is the Co-Artistic Director of ITSAZOO Production with fellow alumni Sebastian Archibald (BFA '07) (also the Playwright-in-Residence) and describes the recent direction of their work as "in-yer-face immersive work." Meredith Grantier (BFA '07) and Kyle Sutherland (BFA '04) are designers in residence.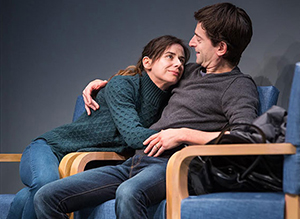 Earlier this year, alumna Michelle Monteith (BFA'98) featured in the world premiere of Diane Flack's play, Waiting Room, at the Tarragon Theatre in Toronto. The play, inspired by Flack's own experiences waiting at Toronto's Sick Kids Hospital, ran from January 6 to February 15 and received a great review in the Globe and Mail. Congratulations Michelle!
Around Victoria, you can find lots of Phoenix alumni involved in almost every company in town! Trevor Hinton (BFA'07) plays the character Lucky in the Blue Bridge Repertory Theatre's production of Waiting for Godot from March 3-15. Trevor also recently appeared in Kaleidoscope Theatre's The Secret Garden. At Langham Court Theatre, you can see recent grad Cecilly Day (BFA'14) in their production, The Mystery of Edwin Drood, running March 5 – 21. Break a leg, Cecilly! Earlier in March, alumnus and return-student Ian Simms (BFA'14) and Theatre Theatre company presented his show Agency and Empathy at the Intrepid Theatre Club as part of their YOU Show series. This is their second production after the highly acclaimed 2014 Fringe show,The Stephen Harper Play.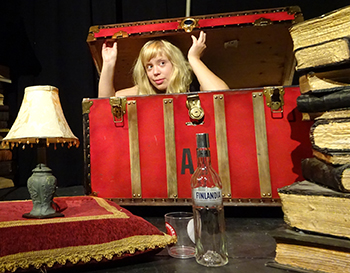 Theatre Inconnu's Alien Creature was directed by alumna Jocelyne Lamarche (BFA '14) and featutred also-alum Tannis Perry (BFA'14) (shown on set in photo on right.) The show had a great run early this month and received excellent reviews! Congratulations both of you!
Alumnus Max Johnson (BFA'14) will spend a week in March in residence at the funky Hotel Zed in downtown Victoria. Johnson, who is the Associate Artistic Producer for TheatreSKAM will undertake a marathon playwriting session, writing and revising his play Monopolis, a fictionalized account of the late '90s dot-com market crash. At the end of the week, he will offer a work-in-progress happy hour reading on Friday, March 13, from 5-7pm.
---

Want more alumni updates? Check out the Alumni Profiles area of our website. Email your updates to us to be posted here in future eNews.

Watch for current department or alumni stories by liking us on Facebook or following us on Twitter. Use #phoenixalumni to stream on our alumni website or tag @UVicPhoenix for us to retweet your event!
---
Sponsor Kudos:
Thank you to the Phoenix Theatre's many individual donors and corporate sponsors for their support of our programs and talented students!
Thanks also to our supporters from the Cadboro Bay Village including: For Good Measure, Heart Pharmacy, Pepper's Foods, Smugglers' Cove Pub and Dr. Amanda Weinerman Optometry Clinic.
Find out how your company can reach our 10,000 audience members and UVic community of over 25,000. Contact us to discuss a customized sponsorship package to meet your goals.
---
Phoenix eNews is a regular email magazine for those interested in the Phoenix Theatre, the not-for-profit productions at the University of Victoria's Department of Theatre, PO Box 1700, STN CSC, Victoria, BC, V8W2Y2 Canada. The University of Victoria is a Registered Charity. Charitable Registration No. 10816 2470 RR0001
If you no longer wish to receive this newsletter, click here and enter your address and click Un-Subscribe. A confirmation message will be emailed to you. You can reply to this message to confirm that you want to be removed from this mailing list. This message also has a link that you can click on to complete the removal process.