If this email does not display properly, please see our website phoenixtheatres.ca
eNews | Behind the Scenes | Upcoming | Phoenix Phacts | Perks | Kudos
---
eNews: Moving with the world inside
Discover what happens when we combine dance and movement with complex emotions, darker realities and unhappy experiences? Department of Theatre professor Conrad Alexandrowicz uses his extensive background in physical theatre for his direction of Canadian playwright Judith Thompson's award-winning play, Lion in the Streets. Read on:
Behind the Scenes:
Collaboration between director and actors gives rise to unique creative experiences
Written by Leah McGraw (Theatre/Writing student)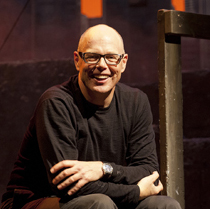 Director Conrad Alexandrowicz has always loved the powerful combination of dance and theatre working together. With a BFA in Dance and an MFA in Directing, he is also the founding artistic director of Wild Excursions Performance and since 2008, the theatre department's professor of movement and physical theatre.
For the 2014/15 Phoenix season, Conrad was interested in Judith Thompson's Chalmers Award-winning play Lion in the Streets, and wanted to explore the possibilities for impactful movement and choreography in this challenging piece of theatre.
"Theatre provides a forum of common experience – and REALLY good theatre should ask difficult questions and challenge audiences at the very foundation of their beliefs," says Conrad. "It should shake you to the core!"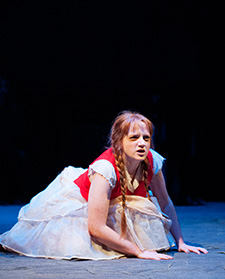 Lion in the Streets follows Isobel, a lost Portuguese girl who is wandering around her neighbourhood, frightened and looking for answers. She witnesses a series of dark moments in the intertwined and troubled lives of several strangers in her community as they try to hold on to their own humanity. Watching them, she finds understanding, forgiveness, and ultimately redemption. And although the scenes in Lion in the Streets happen in a Toronto neighbourhood, the play itself brings the audience to a place somewhere between reality and dreams, memories and fantasies.
"At first glance, this play seemed to be a series of fairly realistic scenes contained within a completely non-realistic frame, amounting to a kind of allegory," says Conrad. "But then I realized that NOTHING about this play is realistic. This sits well with me as, coming from a background in dance and text-based performance, I am compelled by the possibilities of scripts that emphasize the physicality of the actor."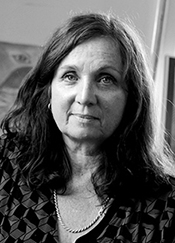 Prior to rehearsals beginning, Conrad turned to consult the playwright herself to talk about the real life inspirations for the play. Judith describes the personal memory that sparked the need to tell this story and give voice to the victims of horrible crime. While living in Toronto in 1983, a nine year-old girl named Sharin Morningstar Keenan was abducted and murdered in Judith's neighbourhood.
"We lived on Brunswick Ave. at that time, very near the park where she was taken," Judith remembers. "All night we heard the police van's pleas: if anyone has seen a nine year old girl… and while we listened, she was being murdered a block away. That is inscribed on my soul."
It is dark memories like this that remain with Judith and inspired her to pen Lion in the Streets in 1990,which tackles the incredibly challenging subject material with a sense of poetry and allegory.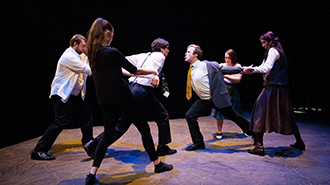 "Yes, the play portrays violence," says Conrad, "but it strives to put it in to a context, a continuum, in which the emotional violence within different relationships has the potential to lead all the way to murder; that smaller interpersonal and emotional violence have the capacity to generate lethal physical violence across generations."
Via email conversations, Conrad and Judith also discovered that they had similar approaches to the piece by using an ensemble cast in the many scenes, even when there is only dialogue between two characters. When she directed the play last year at Ryerson University, Judith stated that she too used almost all the actors on stage at once and concurred that movement would be a powerful way to portray these stories.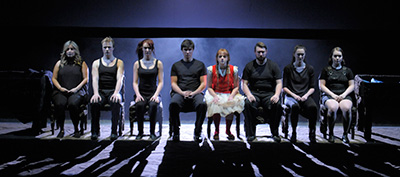 Going into the rehearsal process, Conrad remained open to the many possibilities of collaborating with his cast. Many directors approach a play with a very clear idea of what the final product should look like and how the characters should talk and act. Conrad chose to begin with a clear idea of only the themes of each scene and let the specifics arise out of the collaboration with the actors, working together to improvise and experiment with movements and characterization to mould the final product. "This is the way I work all the time", says Conrad who has a strong background in devising new plays from poetry and text. "If you're not collaborative you're missing out because everyone has such great ideas."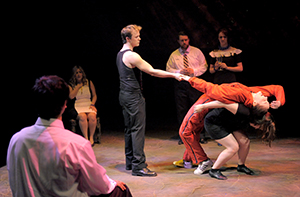 While this style of creation is the norm for Conrad, it was a whole new world for many of the student actors. "Conrad really encouraged neutrality going in, which was absolutely terrifying as a young actor", says student Lindsay Curl, who plays Isobel in the show. "Each rehearsal was like trying on different approaches to the character until we found one that fit." Levi Schneider, who plays multiple characters throughout the play, says that the creative process could be challenging at times. "There is a lot of responsibility as an actor. It was sometimes difficult to know which improvisational choices were beneficial to the themes and which should be put on the back burner."
After six weeks of rehearsals and with Lion in the Streets opening next week, the production has definitely captured that poetic sense of existing between reality and dreams, memories and fantasies. In many scenes, several actors move together as an ensemble or tableau to portray the emotional state of one individual character. Explains Conrad, "I wanted the actors to animate the interiority, the inner landscape, of the character who's talking and try to make physical their unspoken internal words."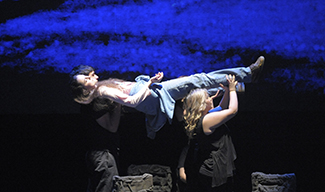 And these internal thoughts – made manifest on stage through the actions of the cast – also help to emphasize the humanity of these characters, casting a light of hope on the darker challenging stories, that hopefully will "shake you to the core." For the cast and crew, the collaborative rehearsals have also helped to create a tight knit family. Says Lindsay, "You spill your heart and soul onto the stage every day."
Production photos of Lion in the Streets are by David Lowes, Art Studio 21.
---
Upcoming Events: February/March

February 12-21, 2015
Lion in the Streets
By Judith Thompson
Directed by Conrad Alexandrowicz
Evening Performances: Monday to Saturday @ 8pm
Matinees: Saturday February 21 @ 2pm
$7 Preview: Tuesday & Wednesday February 10 & 11
Preview tickets available only after 5pm on peformance day.
Friday Pre-Show Lecture: February 13 @7pm
Before the show, join director and faculty member Conrad Alexandrowicz as he discusses his collaborative directing process and Judith Thompson's important award-winning play.
Although set in an ethnic Toronto neighbourhood, this award-winning Canadian masterpiece actually takes place somewhere between reality and dreams, memories and fantasies. Isobel, a lost Portuguese girl, wanders frightened and looking for answers, and witnesses a series of dark moments in the intertwined and troubled lives of several strangers in her community. As Isobel watches them try to hold on to their humanity, she finds understanding, forgiveness and ultimately redemption.
Box Office is currently open for single tickets.
February 22, 2015 @2pm
Free Performance of New Works
Are you interested in the exciting new work being done by UVic theatre students? Several acting students will be performing student-written monologues and showcasing the work they have done over fifteen hours of studio research and rehearsal. This performance is free, and everyone is welcome to attend. However, space is limited! Email chaseh@uvic.ca to RSVP and confirm your seat.
PLEASE NOTE: This performance is part of a research project headed by current student Chase Hiebert. He is doing studio research as part of his Jamie Cassels Undergraduate Research Award. The audience will be video recorded during the performance for analysis of the new techniques. All audience members are required to sign a consent form. If you do not wish to be filmed, there will be a "blind zone" where you can sit. You will be asked to fill out a brief survey before and after the performances. Attendance at this performance constitutes participation in the research. Some monologues contain mature content.
March 2-7, 2015
IdeaFest
Join UVic thinkers, innovators and artists from across campus as they explore dozens of world changing ideas at the university's fourth annual IdeaFest. With over 50 panels, workshops, exhibits, lectures and tours, the hardest part will be choosing which events to attend! All events are free — and unless indicated — no registration is required. Here are several theatre related events you might be interested in!
March 4 @ 1pm
The best liar wins: Hidden information and role-playing
What happens when the audience becomes the performer? Join UVic's theatre department in a fun and dynamic role-playing event where audience members must make a decision with limited information – your figurative life is on the line as you engage in lies, acts of deception and leaps of faith. Members will engage in a battle of wits where they role play a villager in the midst of a crisis and ultimately try to out-perform their peers. Phoenix Building

March 3 @ 4pm
The mythology of the mad genius: Five myths about creativity
The mythology of the mad genius: Five myths about creativity
Where do ideas come from? Do you have to suffer for your art? And are all artists really that eccentric? Find out when moderator and Acting Dean of Fine Arts Dr Lynne Van Luven deconstructs the myths of creativity in this zesty and informative panel discussion featuring one faculty member from each of the fine arts departments (music, writing, art history, theatre and visual arts). MacLaurin (MAC)D110

March 4 @ 11:30am - 3:00pm
Jamie Cassels Undergraduate Research Awards Fair
Join us in celebrating the outstanding research produced by 110 Jamie Cassels Undergraduate Research Awards scholars - including two of our Theatre students. Student Union (SUB) Michele Pujol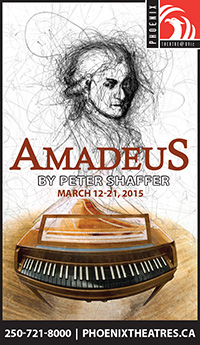 March 12-21, 2015
Amadeus
By Peter Shaffer
Directed by Chari Arespacochaga
Evening Performances: Monday to Saturday @ 8pm
Matinees: Saturday March 21 @ 2pm
$7 Preview: Tuesday & Wednesday March 10 & 11
Preview tickets available only after 5pm on peformance day.
Friday Pre-Show Lecture: March 13 @7pm

Wolfgang Amadeus Mozart is often considered the greatest musical genius the world has ever known. To his 18th-century contemporary, Antonio Salieri, he was vulgar, boorish, and unforgivably brilliant – thus an enemy to be eliminated. Seen through the envious eyes and maybe-skewed memory of the aging Salieri, the play chronicles their tumultuous rivalry, and Salieri's devious efforts to destroy Mozart's career, even while recognizing the genius of his music. But is this final confession Salieri's last attempt to escape his own insignificant artistic legacy? The winner of seven Tony Awards, including Best Play, Shaffer's masterpiece also inspired the much-loved Academy Award-winning movie.
Box Office opens for single tickets for Amadeus on March 3.

---
Phoenix Phacts: Lots happening near and far for our alumni.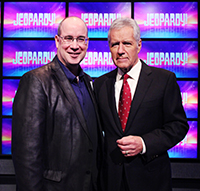 It's Victoria Film Festival time and alumni and sessional instructor Leslie Bland has a documentary that was screened last week Gone South: How Canada Invented Hollywood examines the role of Canadians in the creation of the film industry in the United States.
This weekend a whole roller-coaster car full of alumni return to Victoria to help raise funds for Blue Bridge Repertory Theatre. Alumni Rielle Braid (BFA '09), Sarah Jane Pelzer (BFA '09), and Kholby Wardell (BFA '08) join the rest of the cast of Ride the Cyclone will perform The Cyclone Song Cycle for five shows only, February 12 - 15, 2015. Conceived by the show's creators, playwright and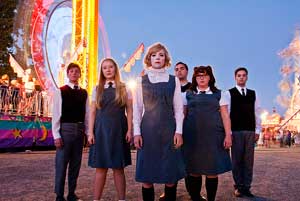 lyricist (previous student) Jacob Richmond and lyricist and composer Brooke Maxwell, the event will be hosted by Atomic Vaudeville's Co-Artistic Director and Ride The Cyclone Co-Director, alumnae Britt Small (MFA'04) before its long anticipated premiere at an American Theatre this fall.
Coming up at Langham Court Theatre, you can see recent grad Cecilly Day (BFA '14) The Mystery of Edwin Drood, running March 5 – 21. This January at Langham, current student Victoria Stark performed in Alan Bennett's People.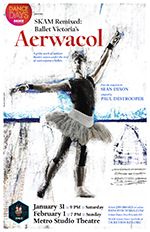 Happy birthday to Theatre SKAM which has a long history of creating with Phoenix alumni, and their 20th season continues this tradition. SKAM was started by several Phoenix alumni in 1995, including Matthew Payne (BFA '93), their current Artistic Producer. Max Johnson (BFA '14) is the current Administrative and Communications assistant for the company. Their busy 20th year started with Aerwacol, a co-production with Ballet Victoria, which reimagined a previously performed play as a contemporary ballet. Mika Laulainen's (BFA '12) play Runaway premieres with Kaleidoscope's Family Theatre Festival, May 1-3. Current Phoenix students Chase Hiebert and Colette Habel (who were interns last summer at SKAM) are reimagining the one-man fringe show The Lab as a full length, full cast play. It runs April 30 – May 9 at the Intrepid Club.
Amy Culliford (BFA '14) is putting her Disney Entertainment training to use with her new company, Enchanted Fables. Along with current student Laura-Jane Tresidder, she embodies classical fairy-tale characters at a variety of events. Amy founded the company in the fall of 2014. Another alumnae with a fairy-tale job, Kesinee Haney (BFA '11) is working with the Royal Princess Parties of Calgary to bring characters to children's parties and other special events.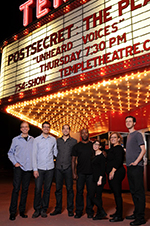 Prolific alumnus TJ Dawe (BFA '97), with alumnae Nicolle Natrass (BFA '91) and Ming Hudson (BFA'07) recently presented the Canadian premiere of his show PostSecret at the Firehall in Vancouver.
Julie Forrest (BFA '14) is currently touring with local company Go Bull's production of Spring Awakening in Smithers, BC. Alumni Andrew Wade (BFA'11 ) and Chris Adams (BFA' 10) are also touring across BC with AXIS Theatre Co in their production of Hamelin: A New Fable for elementary schools.
---

Want more alumni updates? Check out the Alumni Profiles area of our website. Email your updates to us to be posted here in future eNews.

Watch for current department or alumni stories by liking us on Facebook or following us on Twitter. Use #phoenixalumni to stream on our alumni website or tag @UVicPhoenix for us to retweet your event!
---
Email Perks & Interesting Links:
Answer the following question and be entered to win two tickets to our next play, Amadeus (March 12-21).
How many Academy Awards did the critically acclaimed movie Amadeus get both nominated for and recieve in 1985?
Email your answers before February 23 to be entered into the draw!
---
Sponsor Kudos:
Thank you to the Phoenix Theatre's many individual donors and corporate sponsors for their support of our programs and talented students!
Thanks also to our supporters from the Cadboro Bay Village including: For Good Measure, Heart Pharmacy, Pepper's Foods, Smugglers' Cove Pub and Dr. Amanda Weinerman Optometry Clinic.
Find out how your company can reach our 10,000 audience members and UVic community of over 25,000. Contact us to discuss a customized sponsorship package to meet your goals.
---
Phoenix eNews is a regular email magazine for those interested in the Phoenix Theatre, the not-for-profit productions at the University of Victoria's Department of Theatre, PO Box 1700, STN CSC, Victoria, BC, V8W2Y2 Canada. The University of Victoria is a Registered Charity. Charitable Registration No. 10816 2470 RR0001
If you no longer wish to receive this newsletter, click here and enter your address and click Un-Subscribe. A confirmation message will be emailed to you. You can reply to this message to confirm that you want to be removed from this mailing list. This message also has a link that you can click on to complete the removal process.