If this email does not display properly, please see our website phoenixtheatres.ca
eNews | Behind the Scenes | Upcoming | Phoenix Phacts | Perks | Kudos
---
eNews: Taking care of the earth and ourselves
Some things are timeless. Shakespeare's words still resonate even though they are hundreds of years old. So too with Thornton Wilder's almost prophetic Pulitzer Prize-winning play, The Skin of Our Teeth as it explores broad and important themes — like the environment, climate change, politics, feminism and family — that are just as important now as when the play was written in 1942. Read on to learn more about the writing of this epic play and how it also had ties to Wilder's personal life.
Behind the Scenes: Wilder's comedic satire a positive reaction to depression and war.
"What is genius but combining the unexpected and the self-evident — so that at the same moment you are saying both: "How surprising!" and "How true that is!"?" — Thornton Wilder to Noel Coward
Thornton Wilder's Pulitzer Prize-winning play The Skin of Our Teeth has an interesting past that also appears to be tied closely to Wilder's personal history. Similar to his comment to Noel Coward, it's as though when writing it that he found surprising meaning in his own life's experiences.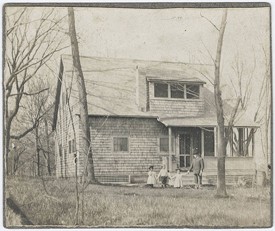 Born in Madison Wisconsin in 1897, Wilder had a twin brother who died at birth. His father was a newspaper editor and owner, and later became an important US diplomat. His mother was well educated and instilled in her son a love of literature, drama, and languages. Because of his father's work, the family traveled often and lived in China for a short period. However, for many of his formative years, Thornton, his mother, and siblings – an older brother (who was often away at school) and three sisters – lived in the United State and were separated from their father because of his work. You may notice some similarities in the Antrobus family while watching The Skin of Our Teeth, including a reference to a deceased brother.
It was often a tradition for the Wilder family to read aloud from the bible and the writings of philosophers. Similarly, books have a special place of importance in the life of the character Mr. George Antrobus. Indeed, take note of the many philosophers quoted in Act III.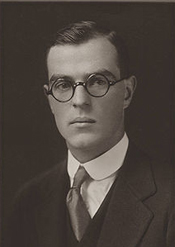 As a young man, Wilder first attended Oberlin College, a progressive Presbyterian institution noted for having been the first to regularly admit female and black students. His father, becoming an important person in business and government with growing ties to the Republican Party, then transferred him to finish his Bachelor of Arts degree at Yale (photo left: Wilder in 1920 when at Yale), and afterwards, he completed a Masters in French from Princeton. While education was emphasized in Wilder's life, his father also dictated that Thornton work on farms during his summers in between studies. It has been said that his relationship with his father was a difficult one. Although Thornton never discussed his homosexuality publically or in his writings, this fact could not have blended well with his father's puritanical beliefs. Some have alluded to the character of Henry in The Skin of Our Teeth as being autobiographical.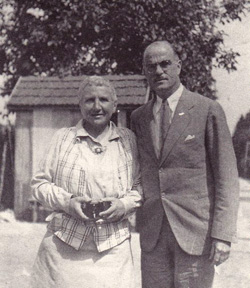 Wilder was awarded his first Pulitzer Prize in 1928 for his novel The Bridge of Sans Luis Rey and later received another for Drama for the Our Town in 1938. In 1934, Wilder met noted American writer Gertrude Stein and maintained written correspondence with her until her death in 1946. It is through these letters and his avid letter writing that we know so much about the man and the artist. Since his death, three volumes of his letters have been published.
Among his many travels to for lectures, teaching engagements and public broadcasts on the radio, Wilder traveled to London and Switzerland in 1941, when the war was raging across Europe. He visited friends in London and grew to understand the effect of the war on the people there who sought refuge in shelters or in the underground stations. In Switzerland he was able to see Bertholt Brecht's newest play, Mother Courage and Her Children. Affected by the play and his experiences in London, Wilder began writing his own epic play, albeit a satirical comedy, The Skin of Our Teeth.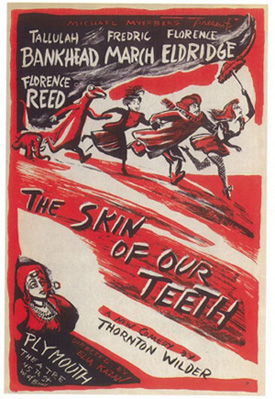 After working on the play all summer and fall, he struggled to complete the third act. However, on December 7 the Japanese attacked Pearl Harbor and the United States was catapulted into the conflicts of World War II. It is interesting that he finished his play on New Year's Day 1942, less than a month after the attack.
The first production of The Skin of Our Teeth was delayed until November 1942 as Wilder and his producers sought to find the right director and lead actress – and that he did with Elia Kazan, who would later win many Academy Awards for directing some of history's best films, and theatre star of the day Tallulah Bankhead as Sabina. It was held up further in the summer of 1942 when Wilder accepted the request by Alfred Hitchcock to write the screenplay for the film Shadow of a Doubt.
The production also felt the pressure when Wilder was called to return to military service. He had served in World War I as a corporal and returned to service before the end of 1942 as an intelligence officer with the US Army Air Force in North Africa and Italy where he rose to lieutenant colonel.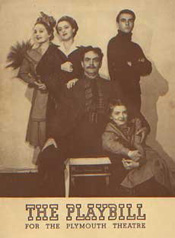 Take note of this military past when watching Act III of the play!
As America became more embroiled in the war, The Skin of Our Teeth became an important play for the American people. In 1943, the play was awarded the Pulitzer Prize for Drama – making it Wilder's third Pulitzer – and it ran for 10 months on Broadway. The play has gone on to be performed regularly across the world. With its broad themes and references to economic depressions, freak storms, rising oceans (and other perils that we would now consider as climate change), feminism and, of course, the impact of war on humanity, the play continues to maintain its relevance to each generation that experiences it.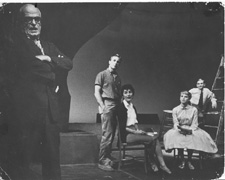 Wilder, of course, was so much more than a playwright; he was also a successful actor, teacher, lecturer, opera librettist, translator, and screenwriter. His play The Matchmaker ran for 486 performances on Broadway and was later adapted into the record-breaking 1964 Broadway musical Hello, Dolly!. His work is continually studied and performed around the globe, with a production of Our Town being staged at least once a day somewhere in the United States. (photo above: Wilder as the Stage Manager in production of Our Town in 1959)
For more information on Thornton Wilder visit:
---
Upcoming Events: November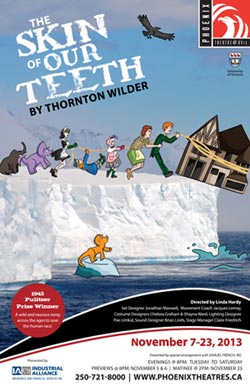 November 7 - 23, 2013
The Skin Of Our Teeth
By Thornton Wilder
Directed by Linda Hardy
Presented by
Evening Performances:
Tuesday through Saturday @ 8pm
Saturday Matinee: November 23 @ 2pm
A hilarious and raucous tour through the ages – from glaciers to floods to war – with the average middle-class family and their pet dinosaurs. How will the human race ever survive?
Box Office opens for single tickets on October 29. Three show subscription packages still available for only $36.
Friday November 8 @ 7pm
FREE Pre-Show Lecture: with Director Linda Hardy
Thornton Wilder's The Skin of Our Teeth is filled with references that you would be sure referred to today's issues - climate change, politics, war, feminism -- until you learn it was written in 1942. Come listen to the director speak about this profound Pulitzer Prize-winning play and what inspired her to share it with our audiences. Everyone welcome!
Check out other events at the UVic Fine Arts Faculty.
---
Phoenix Phacts: Updates from our alumni,
students and faculty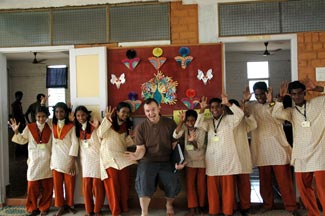 The Department of Theatre is preparing to send some of its students to India! Led by Dr. Warwick Dobson and PhD student Matthew Gusul, this Applied Theatre course will take theatre students on an incredible journey across the globe to help create an intergenerational theatre company in Tamil Nadu. In conjunction with the not-for-profit organization HelpAge India and the ISHA Foundation, our students have been offered an amazing opportunity to help village elders share their stories and reestablish vital connections with younger generations. (Matthew Gusul shown above with children at school in Tamil Nadu.) They will be heading out on this exciting adventure October 2014 and are currently raising funds for the trip!
You can help! Students will be here at Phoenix during the run of The Skin of Our Teeth. Consider making a donation or attend their fundraising event at Felicita's Pub at UVic's Student Union building on November 30. To learn more about this fantastic endeavour, the fundraising event, or contribute to their online fundraising campaign — dubbed "Indiagogo" — visit their indigogo page.
Earlier this fall, faculty member Fran Gebhard and Professor Emeritus Juliana Saxton participated in a reading of the poetry and prose of International Who's Who author Dr. Stanley K. Freiberg. Read under the direction of the accomplished Naomi Simpson, all proceeds from the event went towards the Women's Sexual Assault Centre.
Blue Bridge Repertory Theatre announced that they will be presenting works by The Old Trout Puppet Workshop and ITSAZOO Productions for their season at the newly renovated Roxy Theatre! In January, alumnus Peter Balkwill (BFA'97), a founding member of The Old Trouts will perform Ignorance their puppet documentary about the evolution of happiness. Ignorance is recently back from touring France and Wales and Victoria's presentation sets off a national tour. In March, Phoenix alumni Chelsea Haberlin (BFA'07), Sebastien Archibald (BFA07) and Colby Wilson (BFA'07) of ITSAZOO will be presenting their hilarious and heart-wrenching drama The Flick by Annie Baker. The Flick is set in an old cinema, so Blue Bridge's Roxy Theatre space is a perfect fit!
This weekend is your last chance to see William Head on Stage's Fractured Fables: The Prison Puppet Project that was co-directed by two alumni, Ingrid Hansen (BFA'09) of SNAFU Dance Theatre and Peter Balkwill of The Old Trout Puppet Theatre. This unique project saw the prisoners at William Head conceiving, writing and designing their own work, creating their own puppets and performing with them. It closes Saturday November 9th and tickets must be purchased in advance, so don't wait!
Check out past Phoenix Phacts on our website.
---
Email Perks & Interesting Links:
You could win two tickets to our February play, Picnic by answering the following question:
What two actors starred in the 1955 movie version of Picnic?
Correct answers will be entered into a draw for a pair of tickets! Email your answer before November 25 at 12pm to win!
---
Sponsor Kudos:
The Phoenix Theatre would like to thank our individual donors and community sponsors for their support of our programs and talented students! Thank you!
Season Community Friends:

Cadboro Bay Village Merchants
Including: For Good Measure, People's Compounding Pharmacy, Pepper's Foods and
Smugglers Cove Pub

Your logo could be right here! Find out how to reach our 10,000 audience members and UVic community of over 25,000 students, faculty, staff...and you'll also support emerging theatre artists at UVic! Contact Adrienne Holierhoek to discuss a customized sponsorship package to meet your company's goals.
---
Phoenix eNews is a regular email magazine for those interested in the Phoenix Theatre, the not-for-profit productions at the University of Victoria's Department of Theatre. Do you know someone who would love to know more about us? Please feel free to forward this message to a friend!