If this email does not display properly, please see our website phoenixtheatres.ca
eNews | Behind the Scenes | Upcoming | Phoenix Phacts | Perks | Kudos
---
eNews: More than skin deep: Thoughts on beauty for Valentine's Day
February 14th is Valentine's Day (or as some may call it, Singles Awareness Day). Whether you are in a relationship or not, we all want to feel pretty, and yet on other levels, we all want to feel secure enough not to care about our looks. It's hard to confront our own ideas of prettiness when the media subjects us to air-brushed images of ideal attractiveness every day. Neil LaBute's provocative play Reasons to Be Pretty urges us to go more than skin deep this Valentine's Day. Read on for an interview with the well-known actor who is taking on LaBute's black comedy as part of her MFA in Directing here in the department. And however you celebrate it, have a lovely Valentine's Day.
Behind the Scenes: From Comic Super-villain to masters degree: Film & TV actor takes new direction
By Max Johnson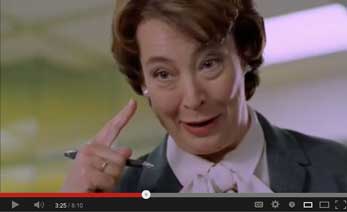 Christine Willes has been a doctor,a demon, and a DC Comics super-villain – and this year she can add "director" to the list. Willes is a Vancouver-based actor who is well-known for her appearances as the evil Granny Goodness on Smallville (see video link below), Delores Herbig on the Emmy-nominated TV series Dead Like Me (see video link above) and the devil's hilarious administrator Gladys on Reaper (shown at bottom). She came to UVic for her Masters in Fine Arts in directing and now, as part of her practicum, Willes is directing her fellow students of the UVic theatre department in Reasons to Be Pretty (February 14-23).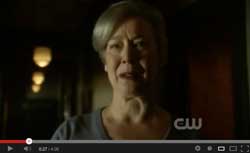 The play, written by Neil LaBute, is a blue-collar black comedy about the relationships of four friends and lovers, and the perils of contemporary society's obsession with beauty. Typical of LaBute's work, it's very four-letter word-friendly. Willes, also known for her work as an acting coach, has used scenes from this play and other works by LaBute to teach university actors in the past. She even appeared in LaBute's 2006 remake of The Wicker Man, which he wrote and directed. What is it about LaBute's writing that speaks to her?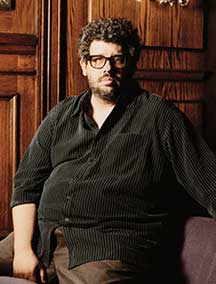 "LaBute doesn't sugar-coat human nature," she says. "In theatre, we hold a mirror up to nature... and just as sometimes it's very difficult to see our own reflection in the mirror – because it's seven in the morning, you haven't had any sleep. Or with me, I don't have any makeup on, my hair's a mess, sometimes I just don't want to see that. Coaxing the audience to look at something that they know intellectually is true, but don't want to get all stirred up about without being gently guided... is a task."
For the past month, Willes has been focusing on gently guiding the student actors of the production through rehearsal. "They've been engaged very deeply, in ways that I haven't seen before." She thinks it's because of the contemporary nature of LaBute's script and themes – and because the actors contributed to which themes Willes chose to highlight in the production.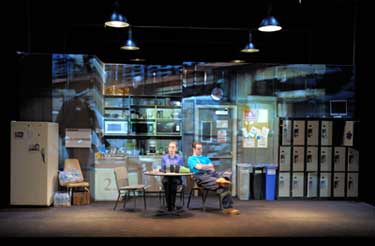 "I put two on the table that were not negotiable," she says. "One was 'appearances,' and one was 'the battle of the sexes.'" Both are topics Willes is passionate about (when she sends you an e-mail, her signature is automatically accompanied by a quote about how women "constitute half the world's population, perform two-thirds of the work, but earn just 10 percent of the income and own only one percent of property"). But the student actors found significance in other themes as well, and the production examines them too: for instance, the story's coming-of-age nature, and the questions it asks about "the slippery nature of ambition."
It's a storytelling process that Willes hasn't had the luxury of experiencing in the more fast-paced film and TV world.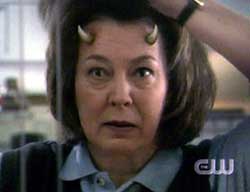 "Collaboration there is: 'You hire me to do a job, and you are paying me... to show up with a performance intact that you can tweak – but that's all you're going to have to do.' That's it... That is the process." At UVic, theatre allows for the kind of collaborative and organic working environment Willes doesn't often see as a screen actor. "I've been surprised by joy, working on this. Because the people I'm working with also enjoy working in this way... that's been very, very rewarding."
"I use the metaphor of 'performance as a garment," she says. "As an actor, I wear the garment one way. As a film and TV actor, I wear the garment another way. And as a director, I turn the garment inside-out. I have to approach it from a completely different point of view, even though the tasks are the same." Audiences can see the benefits of Christine's approach when Reasons to Be Pretty opens at the Phoenix Theatre on Valentine's Day.
Learn more:
(Photos of and the set and cast of Reasons to Be Pretty by David Lowes.)
---
Upcoming Events: February & March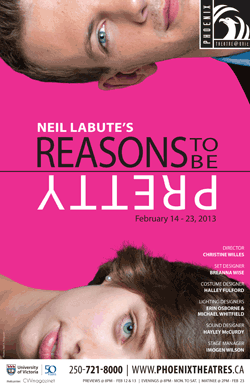 February 12 & 13, 2013 @ 8pm
$7.00 PREVIEWS!
Reasons to Be Pretty
Previews are the rehearsals open to the public two days before we open -- for only $7.00! Preview tickets are made available to the public ONLY after 5pm on performance days. Reserve in person or charge by phone.
February 14 - 23, 2013:
Reasons to Be Pretty
By Neil LaBute
Directed by Christine Willes
(MFA Candidate)
Evening Performances
@ 8pm (Monday-Saturday)
Matinee February 23 @ 2pm

What is it to be "pretty"? Why do we care what other people think? After all, as LaBute says in the play "Love is blind, sh#*!head. It is."
Presented through the relationships of four friends and lovers, this blue collar, black comedy mines the humour and painful truths that lay between self-image and self-esteem in our beauty-obsessed society. LaBute is known for his compelling, provocative subjects and his realistic, in-your-face and four-letter-word-friendly language which has been called "some of the freshest and most illuminating American dialogue to be heard anywhere these days," (New York Times). Reasons to Be Pretty was nominated in 2009 for a Tony Award for Best Play. (Advisory: This play has coarse language and mature subject matter.)
Friday February 15 @ 7pm
Pre-Show Lecture: The Director's Series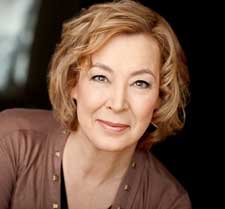 Join director Christine Willes, who also is a prominent film, TV and theatre actor, as she shares her experiences and thoughts about directing this production during a free lecture before the show. All are welcome no matter which day your tickets are for. (Note that this lecture will be recorded and the audio file posted on our website for your listening pleasure the week following the lecture.)
March 14 - 23, 2013:
You're a Good Man, Charlie Brown
Based on the Comic Strip "Peanuts" by Charles M. Schulz
Book, Music and Lyrics by Clark Gesner
Directed by Fran Gebhard
Presented by
Check out other events at the UVic Fine Arts Faculty.
---
Phoenix Phacts: Updates from our alumni,
students and faculty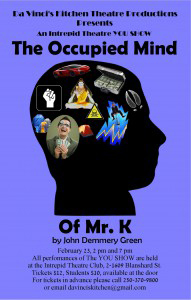 Several of our alumni's work is being featured in Intrepid Theatre's YOUSHOW, an incubator program that provides project-based mentorship and performance space to emerging artists. In January, Mika Laulainen (BFA '12) presented The Runaway, a bittersweet look at love, loss, acceptance and extraterrestrials. It featured Laulainen and fellow Phoenix alumna Randi Edmundson (BFA '12). Next in the line-up, February 23 sees John Demmery Green (BFA '12) The Occupied Mind of Mr. K, directed by Molly Noonan (BFA '12) and featuring alumni Graham Roebuck (BFA '11) and Randi Edmundson, current student Alex Carson, and former student Stephanie Tiede. Finally, on May 18 Nicole Nattrass (BFA '91) presents a staged reading of Mamahood: Turn and Face the Strange. The solo work-in-progress is a sound and text exploration of one woman's journey into "mamahood" from the prolific actor/playwright. The YOU SHOW concept was originally created by the late Phoenix alumna Megan Newton (BFA '05), and has since presented 17 new plays-in-development. Many have gone on to become successful touring productions – for example, Little Orange Man, which was created by former UVic theatre student Kathleen Greenfield and UVic alumna Ingrid Hansen (BFA '09), went on to win Pick of the Fringe at the Victoria and Vancouver Fringe Festivals, and Most Outstanding Overall Production at the Ottawa Fringe Festival.
Also at Intrepid Theatre, their January festival of international theatre called Winterlab, presented work by UVic alumna Kate Braidwood (BFA '03). Braidwood is the co-artistic director of Wonderheads, whose mask-driven, supernatural silent comedy Grim and Fischer had previously been part of the 2011 Victoria Fringe Festival, where it won Pick of the Fringe and Best Physical Theatre. Braidwood also makes the masks used in Wonderheads' performances.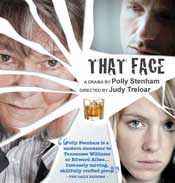 This January Langham Court Theatre's contemporary drama, That Face featured two current students, third-year Melissa Taylor, and first year Katherine Taddei. It also featured production work by second year Katelyn Clark.

Andrew Wade (BFA '11), last seen on the Phoenix stage as Malvolio in Twelfth Night, has kept busy since graduating from UVic. Over the winter, he's played Van Helsing in Awkward Productions' Dracula: The Musical?, stage-managed Shift Theatres' Closer, played multiple characters in APPLAUSE! Musicals' Flora the Red Menace – and appeared in several roles-of-a-lifetime as Jesus, Santa Claus and others in the Rock Theatre Co. New Year's Revue at the Revue. Wade isn't slowing down in 2013: January saw him act in Fighting Chance Productions' Side Show, he plays Mr. Zapatella in APPLAUSE! Musicals' Fiorello February 14-16, and April-May will have him appear as Filch in The Beggar's Opera for Seven Tyrants Theatre Society. He writes about his experiences as an actor, director and more at http://adewade.wordpress.com.
A stampede of UVic students and alumni will invade this summer's 2013 Victoria Fringe Festival. Companies with familiar faces in the festival will include Molly Noonan (BFA'12), Da Vinci's Kitchen Dramatick Theatre Productions (John Green, BFA '12), Singles Awareness Theatre Company (current students Blair Moro and Amy Culliford), Random Samples Collective and Story Theatre Company (Jim Leard, BFA '70), Silent Zoo Productions (current students Francis Melling and Josh Turpin) and Performance Inspiration Group (current student Rain Mair).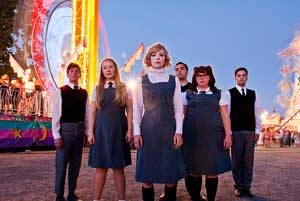 If you missed the whole gang of theatre alumni in the December production of Atomic Vaudeville's Ride the Cyclone here at the Phoenix, you can invite your friends and family to catch them along their national tour. After leaving Victoria the production went to Calgary and back to Vancouver (at the Arts Club Theatre until February 16), and then they take off for Edmonton, Winnipeg, Saskatoon before returning to Nanaimo in April. For details or to follow their amazing ride, check out www.ridethecyclonemusical.com.
---
Email Perks & Interesting Links:
Win tickets to Reasons to Be Pretty (February 14 - 23) at Phoenix Theatre. Answer the following question. Name the two other plays in Neil LaBute's trilogy of plays that includes Reasons to Be Pretty.
Correct answers will be entered into a draw for a pair of tickets! Email your answer before February 18 to win!
---
Sponsor Kudos:
The Phoenix Theatre would like to thank our sponsors, individual donors and community sponsors for their support of our programs and talented students! Thank you!
Season Community Friends:

Cadboro Bay Village Merchants
Including: For Good Measure, People's Compounding Pharmacy, Pepper's Foods and
Smugglers Cove Pub
Your logo could be right here! Find out how to reach our 10,000 audience members and UVic community of over 25,000 students, faculty, staff...and you'll also support emerging theatre artists at UVic! Contact Adrienne Holierhoek to discuss a customized sponsorship package to meet your company's goals.
---
Phoenix eNews is a regular email magazine for those interested in the Phoenix Theatre, the not-for-profit productions at the University of Victoria's Department of Theatre. Do you know someone who would love to know more about us? Please feel free to forward this message to a friend!