If this email does not display properly, please see our website phoenixtheatres.ca
eNews | Behind the Scenes | Upcoming | Phoenix Phacts | Perks | Kudos
---
eNews: Phoenix BackstagePASS
With fall and a new school year just around the corner, Victoria is also just about to start another arts season. Every year it kicks off with the Victoria Fringe Theatre Festival. This issue of BackstagePASS we're cheering on all of our current students and alumni that are presenting shows during the Fringe. See below for a list of their shows.
Behind the Scenes: Phoenix alumni are Fringing!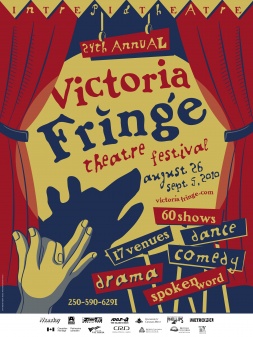 Each year for over 45 years, the Department of Theatre has been sending their graduating students out into the world of theatre. Many alumni gain important experience and exposure on the Fringe Festival circuit across Canada. With Victoria's Fringe Theatre Festival opening this week, this issue of the Phoenix BackstagePASS offers an overview of our alumni and current students and their Fringe shows. Remember that all box office receipts for Fringe shows are returned 100% to the artists, so get out to the Fringe and support our alumni!
atticdwellers
VULA PRODUCTIONS
By Julia Dillon-Davis (including current UVic students Sandi Barrett, Emily Piggford, Shaan Rahman)
The Cabinet of Dr. Caligari
SOMNAMBULIST PRODUCTIONS
By Christopher Kattner (includes alumni Ming Hudson (BFA '07) and Shawna Picken (BFA '08))
Everything Is Awful
THE ELOQUENT
Based on the comic "Pictures For Sad Children" by John Campbell
Adapted by TK Longmire (BFA '10)
Dog Sees God: Confessions of a Teenage Blockhead
BLACK BOX PRODUCTIONS
By Bert V. Royal (includes current students Andrew Barrett and Sarah Koury)
Ginger Ninjas
SNAFU DANCE THEATRE & BLACK BELT PROD
Created & Performed by Elliott Loran & Ingrid Hansen (BFA ' 09)
Directed by Britt Small (MFA '04)

Gonads & Gametes
ACTIVE SALAD PRODUCTIONS
By Jeff Leard (BFA '10)
Lucky 9
BIG SANDWICH PRODUCTIONS
By TJ Dawe

The Magical Soup Stone
THE STORY THEATRE CO.
By Jim Leard (BFA '70) and Young People's Theatre
The Peter n' Chris Show presents: Peter n' Chris Save the World!
PETER N' CHRIS By Chris Wilson (BFA '08) and Peter Carlone (BFA '08)
Pinocchio
THE STORY THEATRE CO.
By Jim Leard (BFA '70) and Young People's Theatre
Reckless Daughters
DESTINATION INK PRODUCTIONS
Created by: Briana Brown, Erin Fleck and Laura Anne Harris (BFA '06)
Smalltown: A Pickup Musical
THEATRE SKAM • VICTORIA, BC
By Amiel Gladstone (BFA '94) & Lucas Myers (BFA '95)
Thank You My Love, Goodbye
CREATIVE ALLIANCE
By Jim Leard (BFA '70), Romantic Memory Play
Z-Day: The Anthem for the Post-Zombie Apocalypse
BRING BACK PLUTO PRODUCTIONS
By Jay Mitchell (BFA '10) (includes a cast full of current students and alumni too vast to list here!)
(Sorry if I missed anyone!)
> See below to learn how you can win tickets to Fringe Fest!
---
Upcoming Events: September > March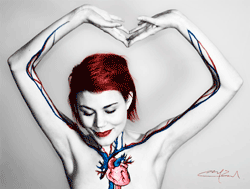 Eva Markvoort. Photo by Cyrus McEachern.


Sunday, September 26
Eva Markvoort
Celebration of Life
1:30pm: Documentary Screening
2:45pm: Reception
3:15pm: Celebration of Life

Join us for a celebration of the inspiring - but too brief - life of Eva Markvoort (BFA '10). A student in our acting program, Eva succumbed to a life long battle with Cystic Fibrosis this spring on March 27. Her internationally followed blog 65_RedRoses chronicled her experiences with the disease and advocated support for cystic fibrosis and the importance of organ donation. Read more about her life in the May edition of BackstagePASS.
All are welcome to join friends, family and faculty as we pay homage to Eva's indomitable spirit. A special screening of "65_Redroses: Every breath counts," the award-winning documentary about Eva's life, will precede the celebration. Guests are welcome to attend all or any the events as scheduled.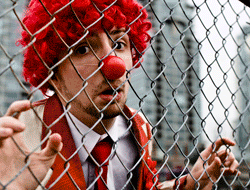 October 14– 23, 2010:
Death of A Clown
SPOTLIGHT ON ALUMNI:
By Sebastien Archibald | Produced by ITSAZOO Productions

Meet Roy! He's a floppy, fun-loving clown who was born into a rigid and oppressive world. He has to suppress his clowning nature to claw his way up the corporate ladder. But when he meets Anna, a sassy rebelious clown, Roy's life is thrown into chaos. This hilarious multi-media satire features live orignial music and will motivate the rabble rouser in all of us! (Advisory: Mature subject matter and strong language.)
November 11– 27, 2010: Yerma
By Federico García Lorca
Directed by Warwick Dobson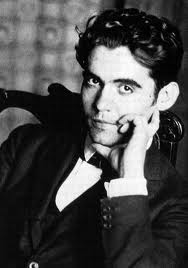 Yerma is the famous Spanish poet, director and playwright's portrayal of a young married woman as she struggles to come to terms with her inability to become a mother. Trapped within the confines of a loveless marriage and the victim of a judgmental and repressive community, the play chronicles Yerma's passion, frustration and anguish as her increasing desperation leads her to an unconventional course of action. Referred to by Lorca (shown left) as "tragic poem", it offers a harsh critique of the strict moral code that constrained women in mid-twentieth-century rural Spain. Lorca disappeared days before the onset of the Spanish Civil War and is thought to have been executed for his contraversial opinions.
Monday, November 29, 2010
Deadline for Submissions for 2011/12 "Spotlight on Alumni"

Hey Theatre Alumni! Bring your successful theatre project to your old alma mater. The Department of Theatre invites our alumni to submit a proposal for the department's October 2011 "Spotlight on Alumni" show in the Phoenix Theatre's 2011/12 season. More details to come in September. Deadline for submissions is November 29, 2010.
February 24 – March 5, 2011: Twelfth Night
By William Shakespeare
Directed by Linda Hardy
From its unforgettable opening line, to its deliriously comic conclusion, Twelfth Night is a masterpiece of disguise, deception and desire. Mayhem ensues as one character after another takes a tumble at love. Neither clowns nor counts are exempt. Viola loves Orsino; Orsino – and an entourage of suitors – love Olivia; Olivia loves Caesario, but Caesario is Viola in disguise! Enter Sebastian, Viola's twin brother to redouble the chaos of it all!
March 17 – 26, 2011: Inside
By Daniel MacIvor
Guest Director David Ferry
WORLD PREMIERE!!
A group of twenty-somethings confront life in the modern world in this new drama by one of Canada's most prominent playwrights. In a series of two person scenes, a dozen characters connect over the course of a single day — a day to be forever etched in the life stories of each involved. New immigrants, orphaned children, born-again Christians, drug addicts, entrepreneurs and angels find a common ground at ground zero, a hotel named Inside. But inside is also where each of these disparate characters must travel within themselves to find meaning and to understand how their lives have brought them here. (Advisory: Mature subject matter, nudity and strong language.)
---
Phoenix Phacts:
News on Alumni, Faculty, Staff and Students
As well as the Fringe, our alumni have been busy across the country. Here's a selection of them and with recent reviews.
Blue Bridge Theatre had a sucessful summer season. Alumni and current students alike were part of the "Encore!" season of this new Victoria theatre company which "bridges" theatre artists by mentoring young emerging artists with those with national experience. Loot! (click to read reviews) featured Kholby Wardell (BFA '08). A Street Car Named Desire included Celine Stubel (BFA '02), Celine Richmond (BFA '08), Alex Plouffe (Wreckage) and Patricia Trihn (Romeo & Juliet, Medea). Hank Williams: The show he never gave featured Zachary Stevenson (BFA '03) as the talented Hank Williams. Designers for their shows this summer included Patrick du Wors (BFA '02), Nathan Brown (BFA '09), Kerem Çetinel (sessional instructor) and current student Patricia Reilly. Blue Bridge Theatre artistic producer and UVic professor Brian Richmond is now planning their 3rd season and is calling for input from the community to vote for their favourites plays. Head to their website to give them your ideas.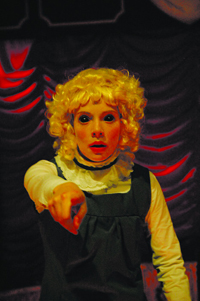 Atomic Vaudeville's Ride the Cyclone went to Toronto's Summerworks Festival this August to great reviews. Written by Jacob Richmond (with music and lyrics with Brooke Maxwell), and directed by Britt Small (MFA '04), the play features several alumni including Kholby Wardell (BFA '08), Rielle Braid (BFA '09), Carey Wass (BFA '08), Sarah Jane Pelzer (BFA '09) (shown right). The play received rave reviews from the Globe and Mail and was chosen as one of the best of the festival by Now Magazine.
ITSAZOO's summer show Robin Hood was held hold over this summer. Sebastien Archibald (BFA '07) reconceived this classic story into a modern-day political satire. Directed by Chelsea Haberlin (BFA '07), it includes lots of alumuni Kaitlin Williams (BFA '09), Katie Takefman (BFA '09) and Colby Wilson (BFA '07).
Also, our faculty has been active across the country. Professor Mary Kerr's set and costume designs for the Citadel's production of Sweeny Todd were both nominated for a Elizabeth Sterling Hayes Award, which was nominated for 7 awards overall. Sessional instructor Kerem Çetinel's set design for Mourning Dove (produced by Kill Your Television) was also nominated. Professor Allan Stichbury is designing One Flew Over the Cuckoo's Nest for Theatre Calgary this fall.
Theatre Alumni!
Send us your news, show updates or reviews and we'll include them in the next BackstagePASS! Check out past Phoenix Phacts on our website.
---
Email Perks & Interesting Links:
Win tickets to Victoria Fringe Fest, August 26 - September 5, 2010

Intrepid Theatre presents the annual ten day explosion of theatre, dance, comedy, music, and performance art at 14 different downtown Victoria venues, the Victoria Fringe is Vancouver Island's biggest theatre event. Fringe includes free public events like FringeKids in Market Square and nightly performances at the Fringe Club.
You can win a two tickets any Fringe show by answering this skill testing question: How many years has Victoria's Fringe been running? (Hint - you might want to look here.)
Email your answer to sammieg@intrepidtheatre.com will win a double pass!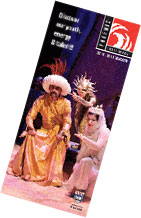 Subscribe and Save before the Fall rush!
Subscribe to the 2010/11 Phoenix season and save up to 50%. Attend three plays for $33 or four for $44. Yup! That's a deal. Look for our new brochure around town, on our website, download the subscription order form (PDF) or call the Phoenix Box Office at 250-721-8000.
---
Sponsor Kudos:
The Phoenix Theatre would like to thank our individual donors and community sponsors for their support of our programs and talented students! Thank you!
Season Community Partner:

Cadboro Bay Village Merchants
Cadboro Bay Book Company, For Good Measure, People's Compounding Pharmacy, Pepper's Foods, Smugglers Cove and Vision 2000 Blaney's Travel
Contact Adrienne Holierhoek for information about how your company can support emerging theatre artists at UVic.
---
Phoenix eNews is a regular email magazine for those interested in the Phoenix Theatre, the not-for-profit productions at the University of Victoria's Department of Theatre. Do you know someone who would love to know more about us? Please feel free to forward this message to a friend!