UVic Music e-Pulse March–April 2017
**EVENT UPDATES**
CANCELLATION:
Alumni Concert: Stephen Lochbaum, guitar
Thursday, March 9, 8 p.m.


ADDITION:
Trumpet Class Recital
Wednesday, March 15, 12:30 p.m.
Students from the studio of Merrie Klazek
Phillip T. Young Recital Hall (Admission by donation)


DATE CHANGE:
Guitar Class Recital (April 6)
has been rescheduled to
Wednesday, April 5 at 2:30 p.m.

For the most up-to-date schedule of events,
please visit our online calendar.

On the Pulse
Soundtrack gets NAC theatre debut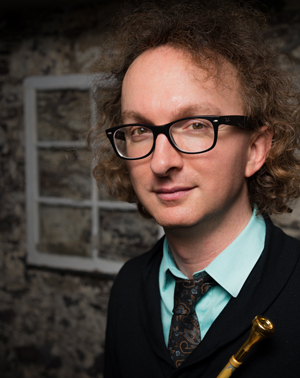 The new National Arts Centre production, Colony of Unrequited Dreams, featuring an original score by School of Music professor Patrick Boyle, opened at the NAC theatre on January 25. Created by Newfoundland's acclaimed Artistic Fraud theatre company, the sweeping drama of personal and political ambition follows soon-to-be Premier Joey Smallwood — the self-described "Last Father of Confederation" — as he propels the Dominion of Newfoundland into union with Canada in 1949. Based on the celebrated novel by Wayne Johnston and adapted for the stage by Robert Chafe, Colony features "a sultry jazz score" by Boyle. Directed by head of English theatre Jillian Keiley, the play has over 70 performances confirmed across Canada for 2017 including runs at Halifax's Neptune Theatre (Feb. 21-Mar. 12) and London's Grand Theatre (Mar. 21-Apr. 8). The play received favourable reviews in the Ottawa Sun and Globe and Mail. Click here to watch a trailer.


---
Shostakovich festival "a triumph"
Described as "a triumph," the Lafayette String Quartet
performed the complete cycle of Dmitri Shostakovich's 15 quartets in 5 sold-out concerts at the Phillip T. Young Recital Hall this past February. In this Times Colonist follow up, classical music columnist Kevin Bazzana called the series "boldly ambitious . . . a monumental undertaking." He described how "lusty ovations" greeted every concert and that the LSQ's performances were "authoritative, fiercely committed, insightful and bursting with feeling, across the whole astonishing range of these works." You really have to read the full article to get a sense of how much Bazzana loved this series, citing it as "a real test of the LSQ's technique, musicianship and professionalism, to say nothing of the musicians' physical and mental stamina" . . . . "local music-lovers clearly appreciated the project's importance." Of the last two concerts in the series, local music critic, Deryk Barker said "each quartet, each movement, was a highlight" and "To describe this as an extraordinary achievement would . . . seriously understate the case."
The LSQ's Shostakovich Cycle also earned this story in UVic's Ring newspaper, which provides a backstory for this massive musical undertaking.


---
Ideas can change everything!

UVic's week-long free festival of world-changing ideas is once again ready to welcome thinkers, innovators, artists and audiences to a fascinating range of events across campus. Ideafest features hundreds of speakers presenting on topics ranging from the creative economy and ocean sustainability to cybernetic innovations and Indigenous resurgence. The Faculty of Fine Arts has a strong presence in the festival, with our faculty and students participating in eight events.
Our signature Fine Arts panel discussion this year is focused on Rethinking the Creative Economy, an important and timely discussion about the economic impact of creativity and creative production. This lively panel discussion will blow the lid off outdated arts myths, consider culture's lasting impact and explore our key investment: our students. Moderator and Dean of Fine Arts Susan Lewis will be joined by panelists including Kirk McNally (School of Music), Maureen Bradley (Writing), Tony Vickery (Theatre), Cedric Bomford (Visual Arts) and Melissa Berry (Art History & Visual Studies), plus special guest David Dunne from the Gustavson School of Business. 4 – 6 p.m. Tuesday, March 7, in Turpin A110.
Interested in what Fine Arts students are creating and researching? Don't miss the Jamie Cassels Undergraduate Research Awards (JCURA) Fair, which offers exceptional undergraduate students the opportunity to carry out research in their field of study. The annual JCURA Fair will feature over 100 inspiring projects, with Fine Arts student projects ranging from Saskatchewan folklore to the use of brass instruments in Chinese music. Click on the links to read about JCURA projects by School of Music students Ian VanGils, Alex Klassen and Jordan Shier. 11:30 a.m. – 3 p.m. Wednesday, March 8, in the Student Union Building (SUB) Michele Pujol room and Upper Lounge.
Be sure to browse the complete schedule of Ideafest events. Let your curiosity guide you and be inspired by ideas that really can change everything!

---
Tell us how we're doing!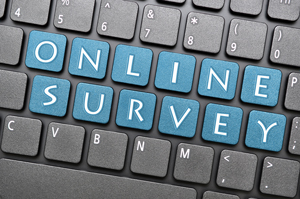 Have you attended a School of Music concert this year? If so, we'd love your feedback! Please let us know how we're doing by completing this quick and easy Audience Survey. As a bonus: Enter to win a Crescendo Card (worth 5 School of Music concert tickets in our 2017-18 season!) with your response.


---
On Stage

Mozart's Great Mass leaves notes unturned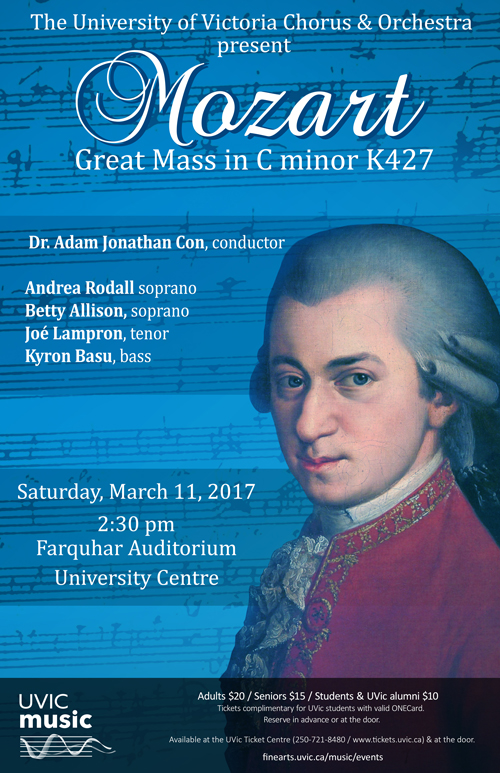 Some artists might say that a work of art is never complete. In fact, there are many great masterpieces that are literally left unfinished. The UVic Chorus and Orchestra will perform one of those unfinished masterworks on Saturday, March 11 in the Farquhar Auditorium. Scored for two sopranos, a tenor and a bass soloist (all performed by School of Music students), a double chorus and large orchestra, Mozart's Great Mass in C minor is missing large portions of the Credo and Sanctus, as well as the complete Agnus Dei, sections that make up a complete Mass. Nevertheless, it was still considered Mozart's crowning compositional work and is performed as is: unfinished.
Created with his wife Constanze Weber in mind, the two soprano solo pieces require a very high level of vocal technique and musicality. The theory goes that Mozart composed the Mass to demonstrate to his father — who disapproved of his marriage — that Constanze was both skilled and devout. As to why the work was never completed? There is speculation that the young, in-demand composer just got too busy with other commissions.
Dr. Adam Jonathan Con will conduct the Great Mass, making this his first appearance with both the UVic Orchestra and Chorus since joining the School of Music faculty in 2014. Soloists include sopranos Andrea Rodall and Betty Allison, tenor Joé Lampron-Dandonneau and bass Kyron Basu.
When: Saturday, March 11 at 2:30 p.m.
Where: Farquhar Auditorium, University Centre
Tickets: $10-$20 from the UVic Ticket Centre and at the door.


---
Concert honours oboist's 30 years at UVic
Thirty years of teaching and retirement in the horizon are definitely worth celebrating. To honour this milestone, School of Music professor and oboist Alexandra Pohran Dawkins has planned a Faculty Chamber Music Concert on Saturday, March 25 that brings together many of the musicians who have been such an important part of her life at UVic, including faculty, current and former students.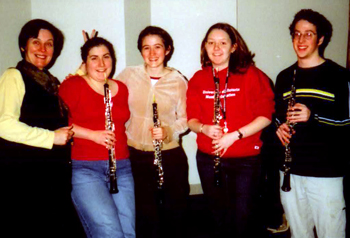 While much has changed in her three decades at UVic, Pohran Dawkins says that how to communicate through music has remained at the core of her teaching. "Students have to communicate something. Whether it's in chamber music, improvisation or lessons, it's all about being a communicating musician," she explains.
Reflecting on what has changed, Pohran Dawkins stresses that relating how to play an instrument with how to actually "be" a musician in these ever-changing times continuously informs her teaching. "The challenge to continue to be relevant in today's fast-changing world is something we as instructors have to come to terms with," she explains. For this coach, it has meant trying to become more familiar with aspects of technology and social media that are such a large part of the young person's world. "This generation has a lot of resilience, gutsiness. They are not afraid to try new things, to step out of their comfort zone, possibly because of the Internet," says Pohran Dawkins. It is no secret that not all students end up as full-time musicians after graduating. For Pohran Dawkins, indicators of relevance are found in the skills learned in music school. Organization, planning, a strong work ethic and entrepreneurship — to name a few — are transferable to just about all aspects in life.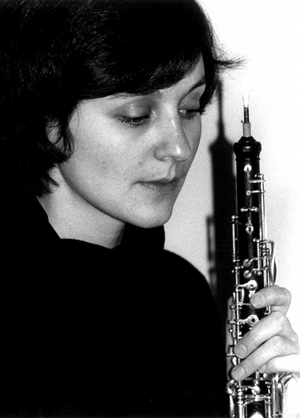 Before coming to UVic, Pohran Dawkins spent 10 years in Toronto as principal oboist with the National Ballet Orchestra, was a full-time member of the Canadian Opera Company Orchestra, and a busy free-lancer, playing regularly with the Toronto Symphony and many other organizations. She arrived to her post at UVic eager to connect with the community of musicians, poets and artists in the Faculty of Fine Arts, some of whom she has had the opportunity to collaborate with in recent years. She has also commissioned and premiered a number of Canadian works and is well recognized as an interpreter of contemporary music. She served as Director of New Music programming at Open Space from 1989-94 and has remained active as a recitalist, soloist with orchestra, chamber musician and educator, both nationally and internationally.
A busy teaching and performing schedule doesn't leave much time to play new and much-loved pieces with her colleagues and friends, so Pohran Dawkins is really looking forward to the concert on March 25. She has invited seven alumni (going back at least 17 years) to join her in Hummel's Partita in E-flat for Wind Octet, a piece scored for a traditional 18th century chamber ensemble that she describes as "just plain fun" to play. The Lafayette String Quartet will perform with her in Echoes from a Play, a beautiful, rarely performed piece by Finnish composer Aulis Sallinen. Also on the program is Prayer of St. Francis by late Canadian composer George Bassingthwaigthe, scored for English horn and 14 male voices, sung by the UVic Chamber Singers under the direction of Susan Young. As an added treat, tenor Benjamin Butterfield will sing a handful of pieces from his Ukrainian Art Song project. It's sure to be a festive evening!
As for what retirement has in store for Pohran Dawkins, music making and teaching are still on the horizon. She already has a summer improvisation course in the works, plans to continue playing octets, will be working with a young composer on a new commission, and will continue collaborations with living composers. She also hopes to spend some time exploring other creative areas that have been percolating in the background. "It's going to be fun!" says Pohran Dawkins. "I've been focused on this one thing since I was 16, so I'm curious to see what blooms."
When: Saturday, March 25 at 8 p.m.
Where: Phillip T. Young Recital Hall, MacLaurin Building, B-Wing
Tickets: $10-$20 from the UVic Ticket Centre and at the door.


---

Calendar Quick-Fire
More event highlights for March and April: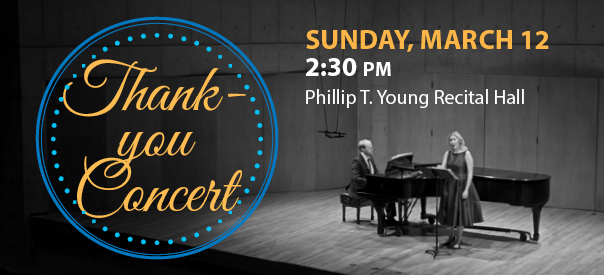 SUNDAY, MARCH 12, 2:30 PM | P.T.Young Recital Hall (Free)
Thank-You Concert
The School of Music says Thank-You to our concertgoers, the community, and supporters with a wonderful afternoon of music featuring School of Music scholarship recipients.

SUNDAY, MARCH 12, 7 PM | Craigdarroch Castle (1050 Joan Cresc.) ($18/$12)
Serenade to Music
Harmonious voices fill Victoria's historic Craigdarroch Castle with music performed by UVic School of Music voice students. Hear Vaughan Williams' Serenade to Music, Schumann's Spanish love songs, and more! Voice Ensemble directors Benjamin Butterfield and Kinza Tyrrell. https://thecastle.ca/events/

FRIDAY, MARCH 17, 8 PM | P.T.Young Recital Hall (By donation)
Sonic Lab
Dániel Péter Biró conducts UVic's contemporary music ensemble. Sonic Lab performs some of the most exciting Canadian and international music of our time.

SATURDAY, MARCH 18, 8 PM | P.T.Young Recital Hall ($10-$20)
UVic Jazz Ensemble: Tribute to the Bluenote Era
The Bluenote record label produced hundreds of historically significant recordings in the 1950s and 60s and continues to this day. Join the UVic Jazz Ensemble, with director Dr. Patrick Boyle, for an eclectic, not-to-be-missed evening of original takes on these timeless classics by Joe Henderson, Lee Morgan, Art Blakey, and Hank Mobley.

FRIDAY, MARCH 24, 8 PM | Farquhar Auditorium ($10-$20)
UVic Wind Symphony: Year End Spectacular—2017!
Internationally renowned saxophonist, Dr. Julia Nolan, is special guest for Robert Buckley's Prestidigitation: Concerto for Alto Saxophone and Wind Ensemble. Also on the program is Barber's Commando March and Robert Buckley's This Is My Home with the UVic Chorus, all conducted by Dr. Gerald King.

SUNDAY, MARCH 26, 8 PM | P.T.Young Recital Hall (By donation)
UVic Vocal Jazz Ensemble: Spring Showcase
The UVic Vocal Jazz Ensemble, directed by Wendell Clanton, has established a reputation for artistic excellence, stylistic flexibility, and fun-filled performances of original and inspiring arrangements.

THURSDAY, MARCH 30, 8 PM | Farquhar Auditorium ($10-$20)
Don Wright Symphonic Winds
Presenting concert band repertoire performed by student musicians from all across the UVic campus conducted by Dr. Mike Keddy.

FRIDAY, MARCH 31 | P.T.Young Recital Hall (Free)
Orion Series in Fine Arts presents
Brett Polegato, baritone & Robert Kortgaard, piano
Voice Masterclass: 2:30–3:30 PM
Concert: 8 PM | Transatlantic voyage: Songs from here and there
Performing art songs, parlour tunes, music theatre and silver screen delights from both sides of the Atlantic. Polegato's artistic sensibility has earned him the highest praise from audiences and critics. Kortgaard travels the world as an in-demand soloist and collaborative artist.

SUNDAY, APRIL 2, 2:30 PM | P.T.Young Recital Hall (By donation)
UVic Chamber Singers
Singing songs of spring and the Easter season with Susan Young, director.

APRIL 21–23 | Rm. B037, MacLaurin Bldg., B-Wing (Free)
West Coast Conference of Music Theory and Analysis
The annual meeting of this organization with presentations by music theorists about a wide variety of topics.

A complete list of School of Music events can be found on our website.
---
Alumni: Join our Facebook group!
Are you on Facebook? We invite you to join the 1000+ members who have already connected through the UVic Music Alumni group (link on our website). Leave a memory on the discussion board, let everyone know what you've been up to, and say hello to old friends. Please invite any and all alumni to join this group.
Not on Facebook? Please send an email to musicalumni@uvic.ca with a short update.
In anticipation of our 50th anniversary celebrations in 2017/18, our goal is to make contact with as many of the School of Music's 2,000+ alumni so that we can invite you to the exciting celebrations to come!
Also, if you'd like to fill out our alumni questionnaire, you may do so here.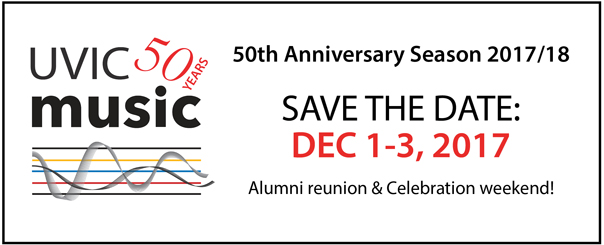 ---
To see this newsletter as a web page go to https://finearts.uvic.ca/music/events/e-pulse/epulse_Mar_2017.html
e-Pulse is a regular e-newsletter for those interested in the University of Victoria School of Music. If you no longer wish to receive this newsletter, click here and enter your address and click Un-Subscribe. A confirmation message will be emailed to you. You can also reply to this message to confirm that you want to be removed from this mailing list.
Follow us on Facebook (University of Victoria, School of Music) and Twitter (UVicMusic).
For a complete list of School of Music events, visit our online Events Calendar.