UVic Music e-Pulse January–February 2017
EVENT NOTICE
The following event has been cancelled:

Viola Class Recital
Sunday, January 22, 2017 at 8 p.m.

For the most up-to-date schedule of events, please visit our online calendar.

On the Pulse
Christopher Butterfield Appointed Director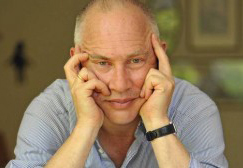 The School of Music is pleased to announce the appointment of Professor Christopher Butterfield
as Director of the School of Music. He has taught composition at the University of Victoria since 1992 and had served as Acting Director of the School of Music since August 2016.
Professor Butterfield's music has been performed across Canada and in Europe and he is a prominent figure in Victoria's new music community. He studied composition with Rudolf Komorous at UVic (BMus '75) and with Bülent Arel at the State University of New York at Stony Brook (MA '77). Over the years Butterfield has been the recipient of many commissions from the Canada Council for the Arts, and the Ontario and BC Arts Councils. His music has been recorded on the Artifact, CBC and Collection QB labels, and his translation of three plays by 20th century French writer Georges Ribemont-Dessaignes was published by Wakefield Press in 2015.
We congratulate Professor Butterfield on his appointment!


---
Take our Audience Survey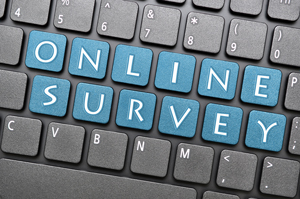 Have you attended a School of Music concert this fall? If so, we'd love your feedback! Please let us know how we're doing by completing this quick and easy Audience Survey. As a bonus: Enter to win a Crescendo Card (worth 5 School of Music concert tickets in our 2017-18 season!) with your response.


---
On Stage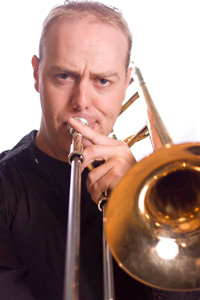 A Low Brass Menagerie
The family of orchestral low brass instruments encompasses more than just the standard tuba and trombone. On January 8, School of Music low brass faculty members Scott MacInnes and Paul Beauchesne will delight lovers of low tones with a menagerie of brass instruments.
The afternoon concert will offer a unique opportunity to see and hear the diverse variety of instruments in the low brass world — the C and F tubas, euphonium, tenor and bass trombones, as well as the seldom-played cimbasso. Normally only performed in Italian operas (or to get that ominous "bad-person" sound on movie soundtracks), the cimbasso is in the trombone family but has the same range and mouthpiece as the tuba (Beauchesne will be wielding the large instrument). The most striking feature of the cimbasso is its front-facing bell, which points slightly downward when the instrument is in the proper playing position.
The program will include Ralph Vaughan Williams' Tuba Concerto, Arthur Pryor's Blue Bells of Scotland and Eric Ewazen's Trio for Trombone, Tuba and Piano. MacInnes has also prepared an arrangement — a duet with Beauchesne — of Ennio Morricone's Gabriel's Oboe, the main theme from the 1986 film The Mission. UVic alumnus Matty Poon (BMus '08) will accompany MacInnes and Beauchesne on piano.
Proceeds from this concert will benefit the Eugene Dowling Scholarship for Tuba and Euphonium. Dowling, who passed away in 2015, taught at the school for nearly 40 years before retiring in 2014.
What: Faculty Concert Series: The Brass Menagerie
When: Sunday, January 8 at 2:30 p.m.
Where: Phillip T. Young Recital Hall, B-Wing, MacLaurin Building
Tickets: $10-$20 from the UVic Ticket Centre (250-721-8480 & online) and at the door.


---
Top Notch Faculty Concerts for Spring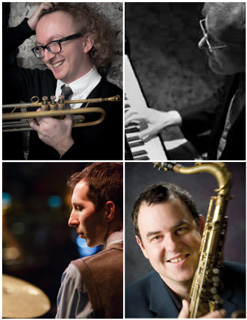 SATURDAY, JAN. 21 | 8 PM
Deep in the Groove: Organ Jazz with the Patrick Boyle/Tony Genge Trio featuring drummer Kelby MacNayr and legendary saxophonist Phil Dwyer.
Jazz organist Dr. Tony Genge (BMus '79) and in-demand local drummer Kelby MacNayr (BMus '04) will be special guest alumni at the School of Music for few days in January. Students will have the opportunity to perform, interact, and mentor with these two outstanding jazz musicians. Their visit will culminate with a concert of classic compositions by organ giants Jack McDuff and Jimmy Smith, as well as original compositions with jazz professor, trumpeter, and guitarist Patrick Boyle. Award-winning tenor sax player Phil Dwyer will join the trio for a few songs. Dwyer has been a force on the international jazz scene for over two decades and has performed with everyone from Aretha Franklin and Gino Vannelli to jazz greats like Red Rodney, Ingrid Jensen, Jim Hall, Dave Holland, and many others. Let's get deep in the groove!

FEB. 3, 4, 6, 8, 9 | 8 PM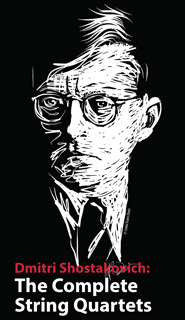 Dmitri Shostakovich: The Complete String Quartets
The Lafayette String Quartet celebrates its 30th anniversary with the complete cycle of Shostakovich's 15 String Quartets presented in 5 concerts.
Journey through Shostakovich's life as experienced through his quartets, which span his compositional career from the late 1930s until his death in 1975. The LSQ will share its special heritage with these works as received from their mentor, Russian violinist Rostislav Dubinsky, who knew and worked closely with Shostakovich. With pre-concert talks and guest lectures by Michelle Assay (Université Paris-Sorbonne), David Fanning (University of Manchester), Judith Kuhn (University of Wisconsin-Milwaukee), and Patrick McCreless (Yale University).

SATURDAY, FEB. 25 | 8 PM
Alexander Dunn, guitar
With guest Andrei Burdeti, guitar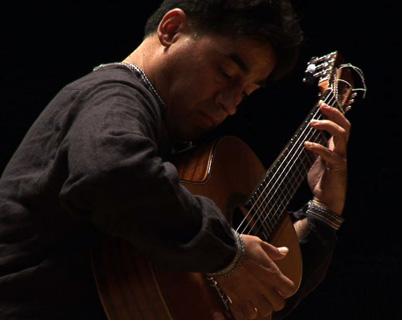 Canadian classical guitarist Alexander Dunn has performed to enthusiastic acclaim in Canada and around the globe. Consistently praised for his musicality, technique and rich sound, Dunn has worked with principal players from Vancouver's Pacific Baroque Orchestra, the Seattle Baroque Orchestra, Tafelmusik, in duo concerts with famed guitarist Pepe Romero, and has been a featured soloist with the CBC Vancouver Radio Orchestra, the Victoria and Vancouver Symphony's and the Winnipeg Symphony Orchestra, to name a few. Don't miss the Canadian premiere of a work by Ferdinand Rebay, plus Turina's Sonata and music by Beethoven. Victoria-based guitarist Andrei Burdeti will join Dunn for duos.

SUNDAY, FEB. 26 | 8 PM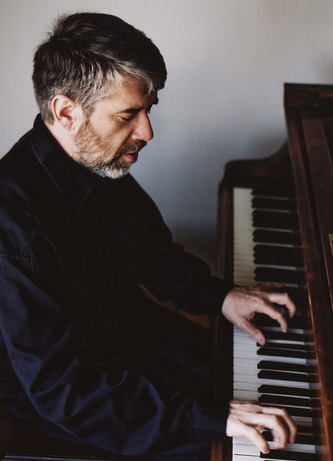 Bruce Vogt, piano
Celebrated pianist Bruce Vogt performs a self-created solo theatre piece titled Beethoven and Debussy: Purgatory Mates. This fictional presentation of dialogues is centered on the two composers who each thought of the other's music with detest. After death they were condemned to live together in purgatory until they came to understand and respect one another's art. This will be followed by a performance of Debussy's Images: Book 2 as well as Beethoven's last sonata, No. 32, Op. 111.


---

20 Questions with Concerto Winner Margaret Lingas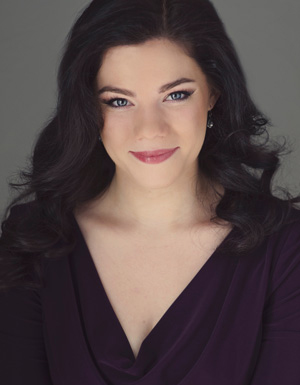 Fourth-year voice student, Margaret Lingas, didn't begin training seriously as a vocalist until she was 15 years old, getting her start with the Oxford Girls' Choir in 2006. Since then she's been on a fast track to singing success, with an impressive number of solo and choral performances in Canada and abroad.
Margaret holds a choral scholarship at Christ Church Cathedral, sings with the St. John and St. Christopher Singers, has sung with Schola Pietatis Antonio Vivaldi since 2010 and has been in a number of Pacific Opera Victoria productions. She has also performed as a soloist with the Pacific Baroque Festival Ensemble, the UVic Chorus and Orchestra, Capriccio Vocal Ensemble, the Sooke Philharmonic and others.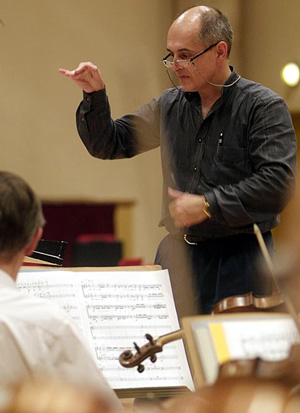 As a winner of the School of Music's 2016 Concerto Competition, Margaret will perform Barber's Knoxville: Summer of 1915, Op. 24 with the UVic Orchestra on January 27 under the baton of guest Hungarian conductor, Zsolt Nagy. Also on the program will be the premiere performance of Water, Stanzas by Julio Lopezhiler, winner of the 2016 UVic Composer's Competition. Lopezhiler, a second-year Master's student, describes the piece as "a tuned moment, repeated."

Get to know more about this rising soprano star in 20 questions:
Where were you born? Cyprus

Places you've lived? Oxfordshire, Greece, Arizona, New Jersey, Oregon, Washington DC, Victoria.

Three words to describe yourself? Excitable academia brat.

At what age did you start learning to sing? I started actual lessons when I was 15 or so, but I owe much of what I know to growing up in a musical home.

Do you play any other instruments? Guitar, passably.

What's your non-music related, hidden talent? I make really good elephant noises.

Your personal motto? I don't have one yet. Still waiting for one that fits.

Favourite spot on campus? There are some fantastic echo-y stairwells.

What do you value most about being a student at UVic? The warmth and closeness of our music school, and getting to be on a campus with so many plants and animals.

What's the most powerful thing you've learned at UVic? Check that your Finale (music notation software) auto-save is actually on.

Most memorable performance you've attended? Benjamin Butterfield and Daniel Taylor doing Britten's Canticle II.

Favourite music to listen to? At this very moment it's Anna Clyne, Gesualdo, and Florence and the Machine.

Favourite music to learn? I love the process of learning really close/crunchy/hard-to-tune harmony with a small group. Sometimes it takes a few days, or even weeks, but it's positively transcendent when it finally falls into place and starts to ring.

Who's your biggest role model? Minerva McGonagall.

If you could invite one composer for dinner (living or not), who would it be? Schubert! We'd throw the mother of all parlour concerts.

Do you have any pre-performance rituals? Eat a banana and do a silly dance.

Best way to unwind? Cook something new and have dinner with friends.

Best advice you've ever received? Performer doesn't have to be synonymous with extrovert. There are infinite ways to give to an audience. For those of us who aren't massive extroverts in everyday life, this is especially important, because trying to put on some hugely theatrical persona for every performance feels draining and insincere.

Did you follow it? I keep searching out new ways to give more and as genuinely as I can, so I suppose so. I'm still very much finding my way.

Where do you see yourself in 5 years from now? I have a lot of possible plans, but they all involve singing!


What: UVic Orchestra Concert
When: Friday, January 27 at 8 p.m.
Where: University Centre Farquhar Auditorium
Tickets: $10-$20 from the UVic Ticket Centre (250-721-8480 or online) and at the door.


---

Don't Miss These Distinguished Guests
The Orion Series in the Fine Arts is bursting with exciting guest concerts and master classes this term. All events in this series are FREE, so take advantage of the opportunity to hear these remarkable musicians! All events take place in the Phillip T. Young Recital Hall.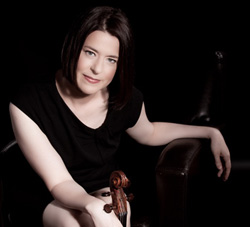 Melia Watras, viola
Hailed by Gramophone as "an artist of commanding and poetic personality," violist Melia Watras (Seattle) has distinguished herself as one of her instrument's leading voices. Professor of Viola and Chair of Strings at the University of Washington, Watras is also a composer and founding member of the Corigliano Quartet.
Viola Masterclass: FRIDAY, JAN. 20 | 12–1:20 PM
Concert: FRIDAY, JAN. 20 | 8 PM
Melia Watras is joined by Pacific Northwest Ballet Concertmaster and violinist of the Corigliano Quartet, Michael Jinsoo Lim, in a recital featuring works by Hindemith, Watras, and Mozart.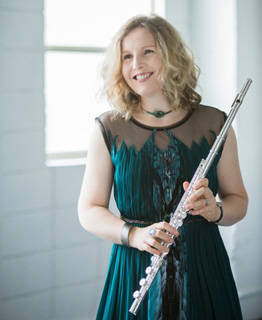 Lorna McGhee, flute
Known for her "exceptionally rich and vibrant tone" (Washington Post) Scottish-born flutist Lorna McGhee has been principal flute with the Pittsburgh Symphony Orchestra since 2012. McGhee has performed as guest principal with the Chicago Symphony, Minnesota Orchestra, London Symphony, London Philharmonic, Academy of St-Martin-in-the-Fields, and Chamber Orchestra of Europe.
Flute Masterclass & Concert: SATURDAY, JAN. 21
Masterclass at 10:15 AM | Concert at 12 PM
Performing J.S. Bach's Sonata BWV 525, Le Moment de Cristal by Yuko Uebayashi, East Wind by Schulamit Ran and Carl Frühling's Fantasie Op. 55. Reception will follow.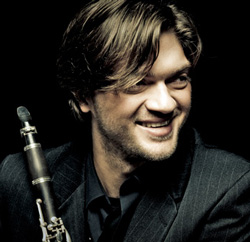 Kornel Wolak, clarinet
Highly praised on two continents for his glorious tone, precise technical control and musical imagination, Kornel Wolak is well on his way to a major career as a soloist and chamber musician in both classical and crossover repertoire.
Clarinet Masterclass: WEDNESDAY, FEB. 22 | 12:30–2 PM
Concert:THURSDAY, FEB. 23 | 8 PM
UVic piano professor Arthur Rowe joins Wolak in performing Rossini's Introduction, Theme and Variations and Lutoslawski's Dance Preludes.


A complete list of School of Music events can be found on our website.


---
Alumni: Beyond UVic
Mainland Musicians' Bond Rooted at UVic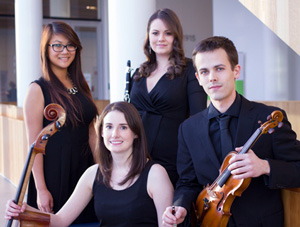 A group of Vancouver-based musicians will return to their alma mater on January 7 to perform once again on the Phillip T. Young Recital Hall stage as part of the School of Music's Emerging Artists Alumni Series. Violinist Jiten Beairsto (BMus '14), clarinetist Sydney Tetarenko (BMus '13) and cellist Emily Burton (BMus '11), joined by pianist Natalie Lo, will perform two significant chamber music works from the mid-20th century: Bartok's Contrasts and Messiaen's Quartet for the End of Time. Composed only three years apart for similar instrumentation, these works are radically different in style and subject matter. "Bartok's music, gritty and earthbound, centres on folk music and dances, while Messiaen's Quartet looks towards eternity and the heavens," describes Jiten.
While the three UVic alumni crossed paths during their undergraduate studies, the musicians came together as an ensemble in 2014 as UBC students. Jiten and Sydney are currently completing Master of Music degrees while Emily is in the Pharmacy program.
Thinking back to her audition at UVic, Sydney recalls feeling "immediately embraced by the faculty and enjoyed the supportive atmosphere." She applied to the school due to its reputation for student success and was not let-down. "My clarinet professor Patricia Kostek is not only a fantastic player but was also an excellent pedagogue. That, combined with her kindness and devotion to her students gave me confidence that four years studying with her would be well spent."
While at UVic, Jiten was a pupil of Sharon Stanis, a member of Victoria's beloved Lafayette String Quartet. He reflects back on his unique opportunity to work with all four members during his undergraduate studies: "The Lafayette String Quartet has a wealth of information not only as musicians but also as long-term collaborators. I learned a great deal just from seeing how they work."
Although this new quartet is quickly running out of standard repertoire for their unusual combination of instruments, they've enjoyed the process enough that they plan to continue looking for opportunities to work together. Any alumni composers out there with something suitable in the works?
What: Emerging Artists Alumni Concert
When: Saturday, Jan. 7 at 8 p.m.
Where: Phillip T. Young Recital Hall, B-Wing, MacLaurin Building
Admission: By donation


---
Alumni: Keep in touch!
Alumni: Have an upcoming performance or CD release? A new job or news to share? Please email concert@uvic.ca with your updates.
If you'd like to fill out our alumni questionnaire, you may do so here.


---
To see this newsletter as a web page go to https://finearts.uvic.ca/music/events/e-pulse/epulse_Jan_2017.html
e-Pulse is a regular e-newsletter for those interested in the University of Victoria School of Music. If you no longer wish to receive this newsletter, click here and enter your address and click Un-Subscribe. A confirmation message will be emailed to you. You can also reply to this message to confirm that you want to be removed from this mailing list.
Follow us on Facebook (University of Victoria, School of Music) and Twitter (UVicMusic).
For a complete list of School of Music events, visit our online Events Calendar.