FEBRUARY 14 – 23, 2019
By Euripides
Translation by Alan Shapiro
Director Jan Wood
This Greek tragedy is the first play written about the brutal aftermath of war. Set against the background of the epic tale of the Trojan War, Euripides shifts our focus away from the conquering heroes. Instead, he tells the story from the perspective of the wives, mothers and daughters of the defeated Trojan warriors.
These vanquished women have lost their families, their dignity and their sense of place in the world. They struggle with their grief and uncertainty as the victors decide their fate.
This powerful and timeless play reminds us that the casualties of war are not abstract concepts but living, breathing, suffering people. Although written in 415 BCE, this play's message continues to resonate today.
Euripides
Euripides was born in Athens, Greece, around 485 B.C. He became one of the best-known and most influential dramatists in classical Greek culture. Over his career as a poet and dramatist, Euripides wrote approximately 90 plays, 19 of which have survived through manuscripts.
Of the three most famous tragic dramatists to come out of ancient Greece—the others being Aeschylus and Sophocles—Euripides was the last and perhaps the most influential.
Like all the major playwrights of his time, Euripides competed in the annual Athenian dramatic festivals held in honor of the god Dionysus.
He first entered the festival in 455, and he won the first of his four victories in 441. His most famous tragedies, which reinvent Greek myths and probe the darker side of human nature, include Medea, The Bacchae, Hippolytus, Alcestis and The Trojan Women.
Euripides's work is notable for its strong, complex female characters who are represented as both victims and avengers. He often made indirect commentary on current events, as is evident in The Trojan Women, which was written during the Pelopennesian War (431-404 B.C.).
Jan Wood
Jan Wood graduated from the University of Alberta with a BFA in Drama, specializing in acting. She has over 35 years experience in professional theatre as an actor, director, movement coach, voice coach, and teacher.
Her professional acting credits include the Stratford Festival, the Blyth Festival, Bard on the Beach, the Belfry Theatre, and most major theatre companies in Alberta.
Originally contracted for five years as an artist in residence by the University of Victoria, she is now a tenured faculty member balancing her teaching with professional acting and directing opportunities.
Image credit: Käthe Kollwitz, Mothers Protecting Their Children, 1918
Tickets
Subscriptions for 3 or 4-show packages are now available starting at $40.50.
Single ticket sales for this show begin February 5, 2019
Friday & Saturday Evenings 
All Seats $26
Tuesday to Thursday & Matinees
Adults $26
Seniors $21
Students $16
Call: 250-721-8000 or see Ticket information
Performed in the Chief Dan George Theatre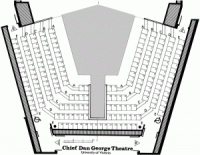 Cast
Written by Euripides
Translation by Alan Shapiro
Director Jan Wood
Set Design Matthew Wilkerson
Costume Designer Sasha Lazin
Lighting Designer Jaxun Maron
Sound Designer Logan Swain
Stage Manager Bethany Bendall

CAST:
Hecuba Sarah Hunsberger
Cassandra Emma Newton
Andromache Joy Peters
Helen Georgia Duff
Athena Una Rekic
Poseidon Brendan Elwell
Talthybius Ted Angelo Ngkaion
Menelaus Ciaran Volke
Male Attendants  Davey Bastin-DeCoste, Chris Gaines, Glen Shafer
Chorus
Grace Fedorchuck, Hailee Friesen, Eva Hocking, Elena Kellis, Julie McGuire, Arielle Parsons, Una Rekic
Lecture
Our Friday night lecture series is recorded on the day and will be posted here during the following week. If you can't make it on person on Friday February 15 at 7pm, check back here between February 19-23 to find the audio file posted below.