Hot L

Hotel
Modified image. Original photo by S. Jones, creative commons. 
March 14–23, 2024
By Lanford Wilson
Director Peter McGuire
Winner of multiple awards—including the New York Drama Critics' Circle Award for Best American Play—this classic comedy by Pulitzer Prize-winning playwright Lanford Wilson is set in the lobby of the formerly grand Hotel Baltimore, where a community of outcasts make the now-rundown hotel their home . . . despite a looming eviction crisis and threatened demolition. 
During a single day in 1972, we meet an eccentric group of residents, waitresses, students, prostitutes, hotel clerks and cab drivers who create a rich mosaic of human experiences. Humour and compassion highlight Wilson's celebration of resilience, stifled dreams, past glories and the sheer stubbornness to carry on.
empty
Lanford Wilson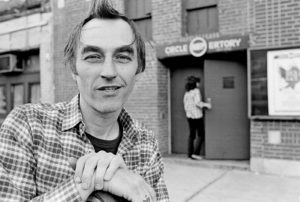 Lanford Wilson (1937–2011) was one of the most distinguished American playwrights of the late 20th century. His work was instrumental in drawing attention to Off-Off-Broadway, where his early works were staged, but he was among the first playwrights whose work ascended to Off-Broadway and Broadway stages. His plays vividly captured American life and are regularly performed in regional theatres across the United States. Wilson, the author of over 20 plays and several opera libretti, created (as one reviewer described) "portraits of losers on the margins of life," offering true-to-life characters in realistic and relatable experiences with authentic, gritty and often overlapping dialogue.
Born in Missouri in 1937, Wilson was educated across the US, from Missouri to San Diego, and Chicago, before moving to New York City in 1962. In 1969, he co-founded the Circle Repertory Company, where he continued to present his work until it closed in 1996. The Hot l Baltimore, produced in 1973, was one of Circle Repertory's first big successes, transferring shortly afterwards to a larger Off-Broadway theatre and then running for 1166 performances until 1976. The play received the New York Drama Critics' Circle Award for Best American Play and multiple Off-Broadway Obie Awards.  
Among his works is a series of plays about the effects of the Vietnam War on a Missouri family, The 5th of July, Talley's Folly (winner of a 1980 Pulitzer Prize), A Tale Told, and Talley and Son. Later notable plays include Burn This (1987) — which was recently revived on Broadway in 2019 with Adam Driver and Kerri Russell — Angels Fall (1983) and Redwood Curtain (1993).
Wilson was nominated for three Tony Awards and won a Drama Desk Award and five Obie Awards. In 2004, he was given the PEN/Laura Pels International Foundation for Theater Award as a Master American Dramatist and, in the same year, was elected to the American Academy of Arts and Letters. In 2010 he was lauded by the Off-Off-Broadway community with the Artistic Achievement Award from the New York Innovative Theatre Awards, "in recognition of his brave and unique works that helped establish the Off-Off-Broadway community and propel the independent theatre voice as an important contributor to the American stage."
In an interview, Wilson once commented: "I want people to see — and to read — my plays and to say: 'This is what it was like living in that place at that time. People haven't changed a damn bit. We can recognize everyone.'"
Peter McGuire
Beginning at Victoria's McPherson Playhouse, Peter has enjoyed a 40-year career in professional theatre, including stage management, production management, talent management, administration, producing and directing.
He has worked at several major regional theatres, including long-term residencies at the National Arts Centre, the Charlottetown Festival and the Stratford Festival. He has toured regionally, nationally and internationally and worked for the Maybox Group of theatres in London's West End and as the Associate Conservatory Director at the American Conservatory Theatre in San Francisco.
Peter teaches acting, directing, production and management and theatre survey courses for students from across the campus. He is the recipient of two Tyrone Guthrie awards. As a director for the Department of Theatre: Picnic, Wild Honey and Crimes of the Heart and The Children's Hour.  Peter holds a Masters degree in directing from the University of Victoria.
Show Dates
In-Person Performances
Preview: Wednesday, March 13 at 7:30 pm
Tuesday to Saturday evenings at 8 pm
Saturday matinees at 2 pm
Tickets
 Single Tickets for this show are available on March 4, 2024
Charge by phone: 250-721-8000
or in person at the Phoenix Box Office
Friday & Saturday Evenings
All Seats $32
Wednesday, Thursday & Saturday Matinees
All Seats $28
Cheap Tuesdays
All Seats $17
Student Rush Tickets
30 minutes before every show: $18
UVic Alumni
Saturday Matinees: $25
(with UVic Alumni ONECard)
Performed in the Chief Dan George Theatre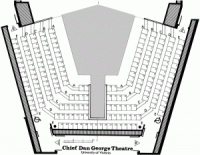 Creative
Director Peter McGuire
A full creative team list will be posted soon.
Cast
A full cast list will be posted soon.
Lecture
Preshow Lecture: Friday, March 15 at 7 pm
Join us on the first Friday for a guest lecture about themes in the play.
Lectures are free and everyone is welcome, no matter which performance you have tickets for. The lectures are also recorded and audio files are posted here in the week following the lecture.
Advisories
Relevant advisories will be posted here.