Spring Awakening
November 10 – 26, 2022
Book & Lyrics by Steven Sater
Music by Duncan Sheik

Guest Director Michelle Rios
Music Director Mary Jane Coomber

Intimacy Director and Fight Choreography Treena Stubel
Set Designer Ken Matthews
Lighting Designer Kerem Çetinel
Costume Designer Jane Wishart

Assistant Director & Choreographer Alison Roberts
Spring Awakening rocked the theatre world when it opened on Broadway in 2006 to critical acclaim, winning 8 Tony Awards including Best Musical, Best Book of a Musical and Best Original Score.
Based on an 1891 German play by Frank Wedekind, Spring Awakening  forever changed the definition of what a musical could be, breaking boundaries by exploring the journey from adolescence to adulthood with poignancy and passion. With musical numbers that are full of literary allusions, poetic depth, anger and emotion, Spring Awakening is an electrifying fusion of morality, sexuality and rock 'n' roll! 
Presented through special arrangement with Music Theatre International (MTI).
All authorized performance materials are also supplied by MTI. www.MTIShows.com 
Steven Sater, Book & Lyrics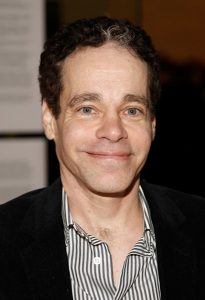 Steven Sater won Tony Awards for Best Book and Best Score, the Drama Desk and Outer Critics' Circle Awards for Best Lyrics, the Grammy Award for Best Musical Show Album, as well as the London Critics Circle Award and the Olivier Award for Best New Musical for Spring Awakening.
Theatre credits include: Alice by Heart (National Theatre of London: Connections, MCC Theater); The Nightingale (La Jolla Playhouse); Nero (Magic Theatre, NYSAF); Prometheus Bound (music by Serj Tankian; A.R.T.); Some Lovers (music by Burt Bacharach; The Old Globe, The Other Palace); Murder at the Gates (music by James Bourne; The Other Palace, The Huntington Theatre); Painted from Memory (La Jolla Playhouse); Carbondale Dreams; Perfect for You; Doll (Rosenthal Prize); A Footnote to the Iliad (NYSAF, Chester Stage); Asylum (Naked Angels); Arms on Fire (Steppenwolf New Play Prize, Chester Stage); New York Animals (Bedlam), Tempest (Lyric Hammersmith).
Additionally, Sater works as a screenwriter, and has created television projects for HBO, Showtime, FX, and NBC. His songs have been recorded by a host of popular musicians, from Michael Bublé to Leslie Odom Jr. His novel of Alice by Heart is published by Razorbill/Penguin Random House.
Sater has just released a concept album with Burt Bacharach entitled Some Lovers.
Duncan Sheik, Music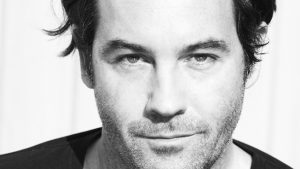 In addition to writing the music for Spring Awakening, which received a critically acclaimed Lincoln Center American Songbook Concert staging, Grammy award nominated singer-songwriter Duncan Sheik collaborated with playwright Steven Sater on The Nightingale, a musical based on the Hans Christian Andersen classic which premiered during the 26th annual O'Neill Music Theater Conference at the Eugene O'Neill Theater Center.
Sheik has composed original music for the Public Theatre's Shakespeare in the Park production of Twelfth Night and for The Golden Rooms of Nero, which recently debuted at Cornell University and opened at the Magic Theater in San Francisco earlier this year. His self-titled debut album, which was an enormous popular and critical success, introduced the hit singles Barely Breathing and She Runs Away, and spent 30 weeks on the Billboard 200. Other albums include Humming, Daylight, Phantom Moon with lyrics by Steven Sater and his latest, White Limousine, which was released in January of 2006.
Film Soundtracks include: Great Expectations, The Saint, Teaching Mrs. Tingle, Three to Tango, What a Girl Wants, Transamerica and A Body Goes Down. Sheik recently composed and produced the original score for the feature film A Home at the End of the World, directed by Michael Mayer and starring Colin Farrell. Sheik has teamed up with Sater and Waitress librettist Jessie Nelson on the new musical Alice By Heart, making its debut at MCC Theater in New York City in January of 2019. He is also collaborating with Pulitzer and Tony-winning playwright Lynn Nottage on a musical adaptation of The Secret Life of Bees, which will begin performances at the Atlantic Theater Company in May of 2019.
Michelle Rios, Director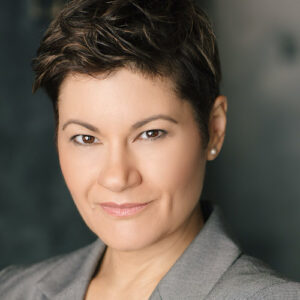 Michelle Rios is a Helen Hayes and Drama Desk Award-winning performing artist, university instructor, writer, director, and performing arts facilitator with over thirty years of Broadway, Off-Broadway, regional, and television/film experience.
A Metropolitan Opera Mid-Atlantic Regional Semi-Finalist, she has performed in the Tony Award-nominated Broadway productions of Paul Simon and Derek Walcott's The Capeman, The Sound of Music, and Man of La Mancha​.
She also had the honour of performing the coveted role of Abuela Claudia opposite Tony, Grammy, and Emmy Award winner Lin Manuel Miranda in In the Heights. Ms. Rios is also featured in episodes of Law and Order, Third Watch, One Life to Live, Guiding Light, etc., and several feature films.
While in New York, she also served as a site director, family support outreach coordinator, and teaching artist for ENACT, Inc., an organization that integrates theatre as a means of conflict resolution, drop-out prevention, and advocacy for inner-city students. In Edmonton, she became the first Studio Manager for the arts-based organization iHuman Youth Society, which continues to engage Edmonton's marginalized youth by fostering positive personal development, wellbeing, and social change.
Ms. Rios earned her MFA in Theatre Practice from the University of Alberta, concentrating in theatre for social change and community-based theatre practice. She continues to implement applied theatre techniques as a means of activism, education, community engagement, and advocacy with and for marginalized and underrepresented populations.
A member of the Golden Key International Honour Society, Ms. Rios was the first Fine Arts student to ever be awarded the prestigious Queen Elizabeth II Graduate Scholarship – Master's Level. She was also a recipient of the Alberta Advanced Education Graduate Student Scholarship recognizing her scholastic achievements at the University of Alberta.
You may also catch Ms. Rios as Flora in the feature film Frontera opposite Academy Award nominees Ed Harris and Amy Madigan, Golden Globe nominee Eva Longoria, and Michael Peña (now on NetFlix). She has also worked alongside Marc Anthony, Ruben Blades, Sara Ramirez, Uzo Aduba, Jaime Camil, etc. You may also catch Ms. Rios in the recurring role of Mrs. Lopez in the Apple TV+ musical comedy series Schmigadoon! opposite SNL's Cecily Strong.
Mary Jane Coomber, Music Director
MJ Coomber is a composer, sound designer, musician, conductor and educator based in Vancouver. Recently they have collaborated as a composer and sound designer with Pacific Theatre, Alley Theatre, Touchstone Theatre, The Only Animal, The Arts Club, Frank Theatre, Itsazoo Productions, Savage Society, Vision Impure, The Belfry, Neworld Theatre, Sugarworks Theatre, Caravan Stage Company, Move: The Company, Rice and Beans Theatre, and Theatre Terrific.
They have presented design work at the 2015 Prague Quadrennial and the 2017 World Stage Design festival in Taipei. They are a recipient of the BC Arts Council Early Career Development Program. They are a member of ADC and graduate of the School of Contemporary Arts at SFU.
Alison Roberts, Assistant Director & Choreographer
Alison Roberts is a graduate of the Canadian College of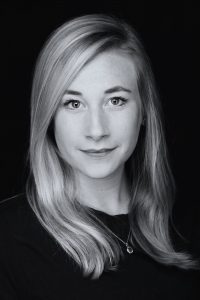 Performing Arts, the Banff/Citadel Professional Musical Theatre Program, Harbour Dance's Intensive Training Program, and The University of Victoria, where she earned Distinction for a BFA with a Minor in Business. Some professional performance credits include: Crazy For You (Citadel, TheatreCalgary), Spamalot, Beauty & the Beast (Arts Club), Mamma Mia (Citadel), West Side Story (Citadel, Vancouver Opera, Rainbow Stage), and Singing in the Rain (Capitol Theatre). Some of her recent creative team credits include: Classic Country Roads (Chemainus Theatre Festival), Mamma Mia, and Beauty & the Beast (VOS). Love to her family; the world's greatest support team.
Show Dates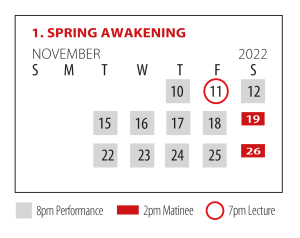 In-Person Performances
Tuesday to Friday evenings at 8pm
and first Saturday evening at 8pm
Saturday matinees at 2pm
Streaming Performances
Thursday November 24 at 7 pm
Friday November 25 at  at 7pm
Saturday November 26 at 3pm
Tickets

Subscription packages are available now.
Single Tickets for this show are available after October 31, 2022.
Charge by phone: 250-721-8000
or in person at the Phoenix Box Office
(Ticket purchases are not possible online)
Box Office Hours: Click HERE.
In-Person Performances*
Friday & Saturday Evenings
All Seats $33
Wednesday & Thursday Matinees
All Seats $30
Cheap Tuesdays
All Seats $17
Student Rush Tickets
30 minutes before every show: $18
UVic Alumni
Saturday Matinees: $25
(with UVic Alumni ONECard)
Online Streaming Tickets
Thursday & Saturday: $30
Friday: $33
*Please review the current COVID-19 protocols for in-person performances.
Performed in the Roger Bishop Theatre
Cast & Creative
Director Michelle Rios
Music Director Mary Jane Coomber
Set Designer Ken Matthews
Lighting Designer Kerem Çetinel
Costume Designer Jane Wishart
Assistant Director & Choreographer Alison Roberts
Stage Manager Grace Carmichael
Co-Streaming Directors Kornél Danis & Rowan Watts
Cast
Link Bechtold
Kaylee Cavanagh
Morgan Christopher
Sydney Ell
Aiden Finn
Janina Ferrer
Roan Foshaug
Samantha Frew
Liam James
Carter Lapham
Jenny Robinson
Sarah Shepherd
Brigit Stewart
Christopher Stewart
Jack Storwick
Ensemble:
Siobhan Davies
Grace Fouracre
Syrah Khan
Katie Lacroix
Chiara Power
Lecture
Preshow Lecture
Friday, November 11 at 7pm
A lecture on themes related to the play will be offered prior to the performance this evening. These lectures are recorded with the audio file posted here the week following. 
Advisories
Suitable for ages 16+
This play deals with mature subject matter that may be upsetting for some patrons, including sensitive subjects involving sexual and violent matters.
Other content warnings include water-based atmospheric effects, flashing lights and guns.
Please enquire with the box office for specific details: 250-721-8000
Photography by Dean Kalyan.