Mojada
March  16 – 25, 2023
Written By Luis Alfaro
Guest Director Carmen Aguirre

Medea and Jason have escaped the worst. After a harrowing journey across the Mexican–American border, the couple has finally made it safely to the United States, where they can work toward a better life for their family. While Jason is convinced the future looks bright, Medea fears a darker fate as they face the challenges of living without documentation. Blending Euripides' classic play Medea with Mexican folklore, playwright Luis Alfaro examines the tragedy behind America's immigration system and the destiny of one family caught in its grip.

"Mojada is unpretentious and entertaining… Not only is the play about crossing borders, but Alfaro knows how to walk that line between thunderous naturalism and absurdist pulp, being as our lives often seem composed of both."  – Chicago Tribune
Presented by special arrangement with Broadway Licensing, LLC, servicing the Dramatists Play Service collection. www.dramatists.com
Luis Alfaro, Playwright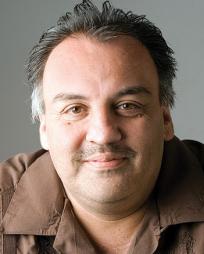 Luis Alfaro is a Chicano playwright born and raised blocks from USC in the Pico-Union district of downtown Los Angeles.

Alfaro is the associate artistic director of Center Theatre Group, the resident theatre company of the Music Center of Los Angeles County, home of the Mark Taper Forum, Ahmanson Theatre and Kirk Douglas Theater. He is the recipient of a John D. and Catherine T. MacArthur Foundation Fellowship, popularly known as a "genius grant," awarded to people who have demonstrated expertise and exceptional creativity in their respective fields. He also received recognition from: the PEN America/Laura Pels International Foundation Theater Award for a Master Dramatist; United States Artist Fellowship; Ford Foundation's Art of Change Fellowship; Joyce Foundation Fellowship; Mellon Foundation Fellowship, and the Annenberg Artist-in-Residence for the city of Santa Monica; among others. He is the only playwright to have received two Kennedy Center 'Fund for New American Play' awards in the same year.

Alfaro spent six seasons as the inaugural playwright-in-residence of the 90-year-old Oregon Shakespeare Festival (2013-2019); a member of the Playwright's Ensemble at Chicago's Victory Gardens Theatre (2013-2020); a resident artist at the Mark Taper Forum (1995-2005); an inaugural member of the Latinx Playwrights 'Circle of Imaginistas' at the Los Angeles Theatre Center (2021); and has worked with the Ojai Playwrights Conference since 2002. 
His plays and performances include Electricidad, Oedipus El Rey, Mojada, Delano, Body of Faith, Straight as a Line, and have been seen at regional theatres throughout the United States, Latin America, Canada and Europe.
Alfaro spent over two decades in the Los Angeles Poetry and Performance Art communities. He is an associate professor with tenure at the University of Southern California (USC). Previously, he taught at California Institute of the Arts (Cal-Arts), and in the Writers Program at UCLA Extension. He has an Emmy-nominated short film, Chicanismo (Best Experimental Film, San Antonio CineFestival, Best Short, CineAccion San Francisco) and an award-winning recording, down town, on SST/New Alliance Records (Best Spoken-Word Release, National Association of Independent Record Distributors).
Carmen Aguirre, Guest Director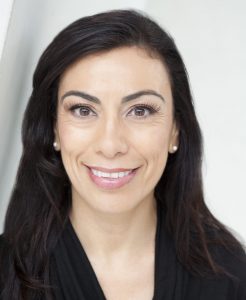 Carmen Aguirre is an Electric Company Theatre Core Artist and Artistic Associate of New Play Development at The Stratford Festival.
She has written and co-written over 25  plays and books,  including the international bestseller Something Fierce: Memoirs of a Revolutionary Daughter (CBC Canada Reads winner) and its bestselling sequel, Mexican Hooker #1 and My Other Roles Since the Revolution.
She is adapting Euripides' Medea and Moliere's The Learned Ladies for Toronto's Factory Theatre; Linebaugh and Rediker's The Many-Headed Hydra for The Stratford Festival; and is writing Fire Never Dies for the Electric Company. Carmen is a 2020 Siminovitch Prize finalist, and a Studio 58 graduate.
Show Dates
In-Person Performances
Tuesday to Friday evenings at 8pm
Saturday matinees at 2pm
Tickets
Subscription packages are available now.
Single Tickets for this show are available after Monday, March 6, 2023.
Charge by phone: 250-721-8000
or in person at the Phoenix Box Office
(Ticket purchases are not possible online)
Box Office Hours: Click HERE.
In-Person Performances*
Friday & Saturday Evenings:
All Seats $30
Wednesday, Thursday Evenings & Saturday Matinees:
All Seats $26
Cheap Tuesdays:
All Seats $16
Student Rush Tickets:
30 minutes before every show: $16
UVic Alumni
Saturday Matinees: $21
(with UVic Alumni ONECard)
*Please review the current COVID-19 protocols and vaccination requirements for in-person performances. 
Performed in the Chief Dan George Theatre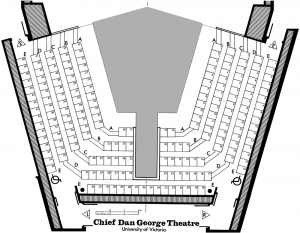 Cast & Creative
Guest Director Carmen Aguirre
Set & Lighting Designer Lisa Van Oorschot
Costume Designer Brooke Hogeweide
Sound Designer Christopher Stewart
Stage Manager Aldana Padron
Cast
Judy Caranto
Ximena Garduño Rodríguez
Carrie Lam
Becky Miner
Julia Patterson
Rowan Watts
Lecture
Preshow Lecture
Friday, March 17 at 7pm
A lecture on themes related to the play will be offered prior to the show this evening. These lectures are recorded and posted here the following week. 
Advisories
Suitable for ages 16+
This play contains descriptions of sexual assault, domestic violence, profanity and racial slurs in both English and Spanish. Please note non-firing prop guns/ military style rifles are used throughout the show and may be used in the aisles. 
Please enquire with the box office for further details:
250-721-8000
Photography by

Megan Farrell.