Shakespeare's Women
March 17 – 26, 2022
By Libby Appel
Guest Director Dean Gabourie
On the garden terrace of a majestic chateau, the greatest couples from Shakespeare's canon waltz out of an elegant ballroom and into our contemporary perspective to be re-considered from a modern-day lens. Weaving together momentous scenes from some of the Bard's most significant plays, Shakespeare's Women shifts our gaze to revisit the familiar through the eyes of his most memorable female characters including Ophelia, Olivia and Viola, Isabella, Rosalind, Beatrice, Katherine and Cleopatra. The result portrays women "in all their infinite variety"—powerful, passionate, merciful, false, gallant, loving, desperate, beloved, lonely, mournful, and victorious— reminding us that Shakespeare's has gifted us with characters that are not stuck in the past, but are the heroines we still need today.
Guest director Dean Gabourie brings his years of experience from the Stratford Festival and his passion for addressing issues of social significance with ACME Theatre to reaffirm the importance of the Bard's plays in our time.
empty
Libby Appel, Author
Libby Appel is currently the Artistic Director Emerita of the Oregon Shakespeare Festival. She has worked as an educator and as an artistic director across America, while also directing a number of plays across the country. Libby has worked in depth on the works of Anton Chekov and William Shakespeare. Her deep love and extraordinary practice with the works of Anton Chekhov are showcased in the documentary, Meeting with Chekhov (a Coffee and Language film). Libby has recently completed five new translations of Chekhov's plays along with Russian to English translator, Allison Horsley. She is the recipient of the Stephen and Christine Schwarzman Award for Excellence: Lifetime Achievement in Theater which was awarded at the Kennedy Center in 2010.
William Shakespeare
William Shakespeare's collection of work includes 38 plays, 2 narrative poems, 154 sonnets, and a variety of other poems. While no original manuscripts of Shakespeare's plays are known to exist, a group of actors from Shakespeare's company was able to collect 36 scripts after Shakespeare died. They were brought together in what is known as the First Folio. Later, his plays, sonnets, and poems were compiled in various iterations of The Complete Works of William Shakespeare. His legacy is as rich and diverse as his work, which has spawned countless adaptations across multiple genres and cultures, as well as an enduring presence in film. Over 400 years later, William Shakespeare continues to be one of the most important literary figures of the English language.
Dean Gabourie, Guest Director
Dean Gabourie has been creating provocative theatre in Canada and abroad for over thirty years. Gabourie is a director, actor, writer, teacher, and founding artistic director of the Dora award-winning ACME Theatre Co. Dean held previous positions as Assistant/Associate Artistic Director of the Stratford Festival (2008-2012) and founding Artistic Director of the CO. (2000-2005). Gabourie has earned acclaim for his direction for such diverse companies as: Buddies in Bad Times, Hilberry Repertory Theatre, Kazan CO-OP, Neptune Theatre, Shakespeare in Detroit, Shakespeare In the Rough, Tarragon Theatre, and the Stratford Festival.
While working at Stratford, Dean received the Tyrone Guthrie/Jean Gascon Award for directing and was nominated by Richard Monette for the John Hirsch Director's Award. Gabourie is an alumnus of Ryerson Theatre School, Ryerson University (where he was highlighted as one of the top graduates of the first forty years in 2014 and received the Chairman's Award in 1989). Dean was a member of Soulpepper Theatre's inaugural directors training program in 1999, the 2000 World Stage Masterclass for directors, Middlesex University's directing Shakespeare module in London, England 2002 and, in 2008 was invited to the Stratford Festival International Directors' Summit. Gabourie has studied the crafts of creation and direction with such theatre luminaries as John Barton, Theatre Complicite, Peter Brook, Yoshi Oida, Michael Shurtleff & Dame Janet Suzman.
Show Dates
In-Person Performances
Evenings at 8pm
Matinees at 2pm
Online Streamed Performances
Thursday, March 24 at 7 pm
Friday, March 25 at 7pm
Saturday, March 26 at 3pm
Tickets
Subscription packages are available now.
Single Tickets for this show come available March 8, 2022.
Charge by phone: 250-721-8000
or in person at the Phoenix Box Office
(Ticket purchases are not possible online)
In Person Performances

Please review the current COVID-19 protocols and vaccination requirements. 
Friday & Saturday Evenings
All Seats $30
Wednesday, Thursday & Saturday Matinees
All Seats $26
Cheap Tuesdays
All Seats $16
Student Rush Tickets
30 minutes before every show: $16
UVic Alumni
Saturday Matinees: $21
(with UVic Alumni ONECard)
Online Streamed Performances
$15 per Household
An easy-to-use link and password will be sent on the day of your performance.
Performed in the Chief Dan George Theatre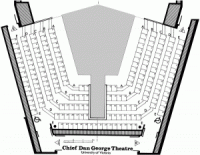 Cast & Creative
Director Dean Gabourie
Set Designer Brock Keeler
Costume Designer Mallory Goodman
Lighting Designer Lisa Van Oorschot
Sound Designer Ariel Pretty
Choreographer Jacques Lemay
Streaming Director Sydney Hunt
Stage Manager Aura Magnien
Assistant Director Branden Sugden
Ensemble:
Andy Blair
Link Bechtold
Paul Cridge
Naomi Duska
Maddy el Baroudi
Roan Foshaug
Sam Frew
David Gardiner
Ximena Garduño Rodriguez
Carter Gulseth
Tabatha Hamilton
Damini Johnstone
Sarah-Michelle (Smitchy) Lang 
Becky Miner
Sophia Radford
Lecture
Preshow Lecture: Friday, March 18 at 7pm
Join us on the first Friday for a guest lecture about themes in the play.
Lectures are free and everyone is welcome, no matter which performance you have tickets for. The lectures are also recorded and audio files are posted here in the week following the lecture.