Dead Man's Cell Phone
November 11 – 27, 2021
By Sarah Ruhl
Director Fran Gebhard
When a cell phone will not stop ringing at the café table next to her, Jean's inclination to answer it launches her into the complicated personal lives of a dead man's mother, his brother, his wife, and his mistress. This loopy and sometimes otherworldly odyssey becomes a wake-up call, forcing Jean to confront her own assumptions, and ultimately realize that life is for the living.
Written by Sarah Ruhl, the multi-award-winning playwright of Eurydice, The Clean House, and In the Next Room (or the Vibrator Play), this wildly imaginative comedy blends quirkiness with soul, reminding us of the importance of connection in a world more and more isolated by technology.
Presented by arrangement with Concord Theatricals on behalf of Samuel French, Inc. www.concordtheatricals.com 
Sarah Ruhl, Playwright
Sarah Ruhl is a multi-award-winning American playwright, author, essayist, and professor, whose plays include The Clean House (Pulitzer Prize finalist, 2005; Susan Smith Blackburn Prize, 2004), In the Next Room, or the vibrator play (Pulitzer Prize finalist, 2010), and Eurydice. Her work has been produced on Broadway, across the country, as well as internationally, and translated into fourteen languages. Originally from Chicago, Ruhl received her MFA from Brown University where she studied with Paula Vogel. She has won the MacArthur Fellowship, a Steinberg Distinguished Playwright Award, a Helen Merrill Emerging Playwrights Award, Whiting Writers' Award, a PEN Center Award for mid-career playwrights and a Lilly Award. She proudly served on the executive council of the Dramatists Guild for three years. Ruhl currently lives in Brooklyn with her family and teaches at Yale School of Drama.
Learn more about Sarah Ruhl on her website.
Fran Gebhard, Director
Fran acted in both theatre and film for many years before turning her attention to directing. She received her MFA in directing from UBC in 2001. For UVic she directed The School For Scandal, Crackpot, Wreckage, Midsummer Nights Dream, and Les Liaisons Dangereuses and 7 Stories. Favourites for other theatres include As You Like It, For The Pleasure of Seeing Her Again, Much Ado About Nothing and The Importance of Being Earnest. Fran has had a long association with the development of new Canadian work, and served as the Program Head of the
Playwrights Colony at the Banff Centre for many years.
Acting is Fran's first love and her most memorable roles include: Brutus in Julius Caesar, Lady Wishfort in The Way of the World, Elizabeth in Richard III, Joanne in Norm Foster's Jupiter in July, and Martha in Joan MacLeod's Amigo's Blue Guitar. She regularly performs her one-woman show Looking For Kitty and has hosted her own radio and TV talk shows. Film and TV credits include appearances on The Chris Isaak Show, Stephen King's Dead Zone, Friday's Curse and Moment of Truth. She played Bette Davis' daughter-in-law in A Piano For Mrs. Cimino and was nominated for a Genie award for her work in Blue City Slammers. Fran also performed in As You Like It and The Fantasticks during Blue Bridge Repertory Theatre's inaugural season.
Teaching has become a focus in Fran's life – she loves sharing her passion for theatre with the next generation of talented and energetic theatre professionals.
Show Dates
In-Person Performance Dates
In-Person Performances
Evenings at 8pm
Matinees at 2pm
Online Streaming Performances
Friday, November 26 at 7pm
Saturday, November 27 at 3pm
Tickets

Subscription packages are available now.
Charge by phone: 250-721-8000
or in person at the Phoenix Box Office
(Ticket purchases are not possible online)
In Person Performances
Please review the current COVID-19 protocols and vaccination requirements.

Friday & Saturday Evenings
All Seats $30
Wednesday, Thursday & Saturday Matinees
All Seats $26
Cheap Tuesdays
All Seats $16
Student Rush Tickets
30 minutes before every show: $16
UVic Alumni
Saturday Matinees: $21
(with UVic Alumni ONECard)
Online Streaming Performances
An easy-to-use link and password will be sent on the day of your performance.
This performance runs approximately 2 hours with a 10-minute break. 
Performed in the Roger Bishop Theatre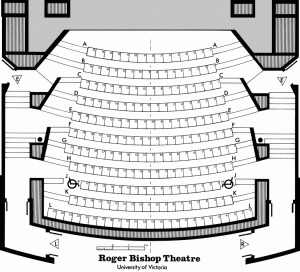 Cast & Creative
Director Fran Gebhard
Set & Lighting Designer  Patrick Du Wors
Costume Designer Parker Feenstra
Sound Designer Miriam Dumitra
Livestream Director Sloane Vasko
Stage Manager Olivia Reid-Friesen
Choreographer/Fight Director: Jacques Lemay

Featuring:
Mrs. Gottlieb Maddy el Baroudi
Hermia Holly Hamilton
Gordon Ryan Kniel
Jean Jane Rees
Dwight Branden Sugden
Carlotta Taylor Williams
Ensemble:
Brandon Caul
Hannah Farquhar
Katie Lacroix
Akari van de Driesen
Theon Winn
Lecture
Preshow Lecture: Friday, November 12 at 7pm

For Dead Man's Cell Phone, Set and Lighting Designer Patrick Du Wors discusses the influences of artist Edward Hopper in the play's production design with Designer Parker Feenstra and Costume Design Supervisor Graham McMonagle.
Advisories
Suitable for ages 13+
Some coarse language.
Water-based atmpospheric effects
Bright lights and strobe effects