West: A Tribute to BC Trailblazers
October 12 – 21, 2017
A double bill by Histrionics Theatre Company
Featuring:
Danette Boucher (BFA '89, MA '11)
James Douglas (BA English ' 00)
"If only history class had been this much fun…a stellar performance."– WINNIPEG FREE PRESS
West presents two riveting short solo plays written by alumna Danette Boucher about two pioneering spirits. Travel with Catherine O'Hare Schubert in Lady Overlander for a lively first-person account of the legendary woman who – while pregnant! – walked from Winnipeg to Kamloops in 1862 with dreams of finding gold and a home in a tantalizing new land called British Columbia. Then, join charismatic American prospector Fred Marshall Wells in The Fred Wells Show, and experience the discovery of the fabled motherlode during BC's Depression-era gold rush of the 1930s.
Lady Overlander
"Danette Boucher creates a simple and poignant piece of storytelling. My only criticism: I wish it was longer … I wanted more. Everyone should go see this striking piece of storytelling." – PLANK MAGAZINE
Lady Overlander is the first-person account of BC pioneer and legend Catherine O'Hare Schubert, who, with her husband and her young family, joined a group of travelers from the eastern Canada attempting the uncharted overland route from Fort Garry (now Winnipeg) to the Cariboo goldfields. Catherine, an Irish immigrant, was officially the sole adult female Overlander to make this arduous journey, primarily all on foot. Her story is emblematic of a movement in BC's history when the whole world was focused on this place, this province. The people who came here weren't just seeking their fortune, but rather a chance to redefine and re-establish themselves in a rapidly modernizing world. British Columbia has maintained a global reputation as the place where dreamers and adventurers seek to live in freedom and acceptance. Catherine's story represents this quest for the frontier of possibility and the vital presence of women in the settlement of Canada's westernmost province.
The Fred Wells Show
"A fascinating script by Danette Boucher … and a charming, DeNiro-esque performance by James Douglas, this is a true story of honour and determination that can't help but inspire." **** – MONDAY MAGAZINE
The Fred Wells Show is about a fascinating but little-known true story from BC's more recent past… As the gloom of the Great Depression fell like a fog over North America in the 1930s, one tiny pocket of prosperity shone like a beacon of hope. High up in the foothills of British Columbia's Cariboo Mountains an introverted yet charismatic prospector named Fred Marshall Wells had a hunch there might still be gold where the province's great Gold Rush once boomed in the 1860s. And he was right. While the rest of the world struggled simply to survive, the Cariboo Gold Quartz Mine erupted into activity. Soon, thousands of people flocked to the area, and the next Cariboo Gold Rush began. Fred Wells saved countless BC families from the ravages of poverty in the "dirty thirties" and today the town of Wells, BC – 73 kilometres east of Quesnel – survives as his legacy. A humorous and dramatic monologue of the innermost thoughts of an industrious "man of few words."
*The Spotlight on Alumni program invites our graduates to present their current work at the Phoenix Theatre.
Box Office
Subscriptions for 3-show or 4-show packages now available.
Single ticket sales for this show begin October 3, 2017
Call: 250.721.8000 or see Ticket information and prices
Performed in the Chief Dan George Theatre
Friday Pre-show Lecture: October 13 @ 7pm with Dannette Boucher & James Douglas
NOTE: This presentation will be two one-act solo shows with an intermission in between.
About Danette Boucher
Artistic Director, Playwright, Performer
Danette Boucher graduated from the University of Victoria's Theatre Program in 1989 with a BFA in Theatre, specializing in Acting. Upon graduation she was immediately hired by renowned BC historian John Adams and curator Jennifer Iredale (former Director of British Columbia's Heritage Branch) to be the first ever actor/interpreter at the Victoria Rediscovery Society's Emily Carr House, the birthplace and childhood home of BC artist and author Emily Carr. Danette went on to create historically interpretive programming for all of the Heritage Branch sites managed by the Victoria Rediscovery Society, including Emily Carr House, Helmcken House, Craigflower Farm and Schoolhouse, Point Ellice House and Tod House.
During this time Danette created a fully theatrical, interactive public and school program called A Helmcken Family Christmas that ran for more than a decade and ultimately became a seasonal tradition for many Vancouver Island residents and their guests. She also developed (or co-developed) the following interactive interpretive public and/or school programs: 1859 School Days, In Grandfather's Attic and Auntie's Kitchen, An Art Lesson with Emily Carr, Halloween at Craigflower and the travelling school program The Mystery of the Old Suitcase.
Inspired by her work in museums, Danette returned to UVic in 1991 to complete a Museum Studies program that would complement her growing interest in heritage-based theatre. For several years afterward she was able to sustain a career in traditional stage work as well as continue working with museums and heritage sites, but her growing interest in the latter began to take precedence.
Danette continued working in Victoria until 1993, when she was invited by Taylor-Wood Productions to play the role of Barkerville pioneer Florence Wilson for the company's inaugural season as producers of the Historical Street Interpretation Program at Barkerville Historic Town & Park. By 1995 Danette had moved into the role of Artistic Manger of the "Street" and remained in this position until Taylor-Wood Productions (later Eureka Theatre Company) retired in 2003.
In 1999 Danette transferred her evolving approach to historical interpretation back to the traditional stage by forming Histrionics Theatre Co. and, under its banner, writing, producing and performing her first historically themed one-woman play, The Great Love of Queen Victoria. Danette's solo performance won rave reviews during its initial Vancouver International Fringe Festival run, and was nominated for a Jesse Richardson award for Outstanding Production in 2000. Several critically lauded runs of Queen Victoria have followed, and CBC Television selected it as one of the top two productions (of more than 150) at the 2006 Winnipeg Fringe Festival. Histrionics Theatre Co. has continued its success as a producer of quality, historically interpretive plays and events, and has become the official in-house production company for the BC Legislative Assembly's Parliamentary Players theatrical equation program.
In 2004 Danette worked as a performer, historical interpreter, and interpretation consultant for Storyeum, a multi-media BC History "experience" located in the heart of Vancouver's Gastown. In 2006 Danette decided her interest and experience in museum theatre would transition well into a Master of Arts graduate degree program, and began studies toward an MA in Applied Theatre at the University of Victoria under the supervision of Applied Theatre scholar Dr. Warwick Dobson. In January of 2011 Danette successfully defended her thesis. In 2007, while fulfilling a credit in Directing for her MA, it occurred to Danette that a play about the town of Wells, performed in Wells, might be another exciting way to explore her ideas about historical interpretation. It was an opportunity to write the show she had been thinking about for a very long time. Through countless trips to various archives to pore over newspaper clippings, letters, ledgers, scrapbooks, etc., and through oral histories and personal anecdotes provided by Wells residents past and present, Danette began to get a feel for Fred Marshall Wells, a man whose story deserves to be much more than a footnote in BC's history. The Fred Wells Show premiered in the summer of 2007 at the newly restored Sunset Theatre in Wells, BC (which was originally built in 1934 by Fred Wells and his mining partners) and was later a featured production at the 2008 Victoria Fringe Theatre Festival (where it received a BC150 Years grant that allowed selected performances to be offered to the public at no charge, in order to stimulate the attendance of those British Columbia residents who wanted to hear their own stories told, but who might not otherwise have had opportunity to go to the theatre). The Sunset Theatre made The Fred Wells Show a regular part of its seasonal offerings in 2008, and in 2009 the production was invited to play for an audience of 450 international baccalaureate students at Armand Hammer's United World College of the American West, in Montezuma, New Mexico.
From 2007 to 2009 Danette worked with the Royal British Columbia Museum as a writer, program developer, and performer. She was initially hired to interpret the role of "Unsinkable" Margaret Tobin Brown in the RBCM's blockbuster Titanic: the Artifact Exhibit (she was one of the first-ever historical interpreters utilized by RMS Titanic, Inc.'s traveling Titanic exhibit). Danette went on to co-create for the museum, with Story theatre Company, a Victorian Christmas program and the storytelling component of Free Spirit: Stories of You, Me and BC for British Columbia's sesquicentennial in 2008. Danette also developed a fully realized Applied Theatre secondary school program in conjunction with the Free Spirit exhibit, called "What We Leave Behind," utilizing the most up-to-date, leading edge drama-in-education techniques.
In 2010 Danette brought her popular interpretation of Miss Florence Wilson back to Barkerville Historic Town, where her one-woman play, The Bride of Barkerville, enjoyed a three-month run as part of Newman & Wright's Theatre Royal summer season. In 2011 The Bride of Barkerville was remounted for a second summer seasonal run at the Theatre Royal, and Danette was invited to act as both dramaturge and performer in two of the theatre's other seasonal productions.
As part of the National Historic Site's 150th anniversary celebrations in 2012, Danette premiered Lady Overlander, the story of Catherine O'Hare Schubert's five-month walking trip from Winnipeg to the Cariboo Goldfields, at the Theatre Royal in Barkerville. Lady Overlander was remounted at the Theatre Royal for a ten-week run in the summer of 2013, and enjoyed a repertory engagement at the Sunset Theatre in July and August of 2014.
Aside from her work in museums and heritage sites, Danette has produced, directed and/or written several stage productions and film projects, including Boy Meets Girl-Girl Meets Elvis, Kaliban, The Saints of British Rock, and Victoria's Tour Through Time. She is currently working on her first book about Museum Performance, emphasising the relevance and potential of theatre in our decolonizing world; and she is writing a new script about the lives of Sir James and Lady Amelia Douglas as part of the Sunset Theatre's popular Exploration Series.
About James Douglas
General Manager, Director, Performer
James originally received acting training at the University of Victoria and the American Academy of Dramatic Arts in New York. As a performer he has appeared in stage plays across North America, including The Merchant of Venice, The Comedy of Errors, Hamlet, A View from the Bridge, The Mail Order Bride, Chemin de Fer, Romeo and Juliet, Seven Stories, Filthy Rich, Odd Jobs, The Marowitz Hamlet, Electra, Ion and The Fred Wells Show. He has taken principal roles in a number of independent films and shorts, including X Spots the Mark, My Pyramids, Notaries, Defenseless, Pigboy, Like Blood Through Ice, Stalking and Final Breath, as well as written and performed for sketch comedy troupes such as the Acclaim Jumpers, Beg Dirty Nun, the Cariboo Amateur Dramatic Association, and the Sunset Cabaret.
In 2000 James was awarded a Bachelor of Arts degree in English Literature from the University of Victoria, and in 2004 completed one year of graduate coursework at the university's Theatre department before embarking on an internship with renowned avant-garde theatre director and drama critic Charles Marowitz during his historic production of Vaclav Havel's Pokoŭsení [English: Temptation] at the National Theatre of the Czech Republic.
In 2005 James traveled to the Netherlands to write, produce, and direct The Tulip and the Maple Leaf, a documentary short film celebrating the enduring post-WWII friendship between the Canadian and Dutch peoples, which premiered at Ontario's Royal Botanical Gardens in 2006. Since then he has been in production of an epic documentary feature about Canada's theatrical wunderkind Charles Ross and the international mega-hit One Man Star Wars Trilogy, as well as writing dramatic scripts and screenplays for projects funded by the Legislative Assembly of British Columbia, Hatley Park National Historic Site, Barkerville Historic Town, Destination BC, and the Provincial Capital Commission. James was the on-air host of Shaw TV's BC150 Years series of documentary shorts in 2008, and in 2010 began production (with Patrick Curling and Jacey Schindel) of a broadcast television documentary about British Columbia's past and current gold rushes (narrated by CBC Radio's Mark Forsythe) called Wilds to Riches.
Wilds to Riches was officially presented by CBC Television in July of 2013, and has been rebroadcast throughout British Columbia and internationally via satellite more than a dozen times since. The film was nominated for a 2014 Leo Award for Best Documentary Screenplay, and for his role as co-producer James received the Cariboo Chilcotin Coast Tourism Association's Best Marketing Initiative award.
Over the past two decades James has produced or co-produced a number of noteworthy theatre projects, including the national touring premiere of Daniel McIvor's Never Swim Alone on the Canadian Fringe Festival circuit, three seasons of a live, improvised, comedic serial soap opera (V8W 1K8: A Table for Four) for the Eclectic Circus, Charles Marowtiz: Recycling Shakespeare for the Metro Theatre, Don Webster's Spin for the New Vic Theatre Co., The Saints of British Rock for London UK Records, and a site-specific staging of William Shakespeare's Love's Labour's Lost at Victoria's Emily Carr House.
James's recent directing credits include The Saints of British Rock, The Bride of Barkerville, Lady Overlander, The Great Love of Queen Victoria, The Sinister Secret of Hatley Castle, Fangs for the Memories, and Das Love Boot. He has also worked as dramaturge on critically-lauded productions of Andrew Hamilton's Kaliban (originally Caliban: a Pseudo-Shakespeareanesque Geek Act), Sally Clark's Wanted, and Anne Carson's contemporary translation of Sophocles' Electra.
James has served as both road manager and stage manager for Charles Ross's One Man Star Wars Trilogy and his follow-up One Man Lord of the Rings, and as a result has operated in an assortment of North American performance venues, including Lamb's Theatre (New York, NY), the Opera House (Boston, MA), the Indiana Convention Center (Indianapolis, IN), the Los Angeles Convention Center (Los Angeles, CA), the City National Grove of Anaheim (Anaheim, CA), Zeum Theatre (San Francisco, CA), the Bell Centre for the Performing Arts (Surrey, BC), Performance Works (Vancouver, BC), the Metro Theatre (Victoria, BC), and the Belfry Theatre (Victoria, BC). He has also helped administer appearances by Mr. Ross on Late Night with Conan O'Brien, The Late Late Show with Craig Ferguson, Last Call with Carson Daly, and a variety of national and regional television and radio programs throughout the United States and Canada.Oman Media, the arts marketing company James founded in 2005, has worked with Fringe theatre veterans like Alex Dallas (Drama Queen), Charles Ross (One Man Star Wars Trilogy, One Man Lord of the Rings), Michael Schaldemose (Call Me Kirk), Andrew Hamilton (Kaliban), Randy Rutherford (One Frigid Shiny Knight) and Julia Mackay (Jake's Gift). Additionally, Oman Media's client list includes talent management companies such as PKF Productions (Boy Groove), and SL Feldman & Associates (One Man Star Wars Trilogy, One Man Lord of the Rings).
As an historical interpreter and interpretation consultant, James has worked with (and in many cases continues to work with) organizations like Barkerville Heritage Trust, Royal Roads University, the Royal British Columbia Museum, British Columbia Museums Association, the Heritage Tourism Alliance of BC, North Vancouver Museum and Archives, Storyeum, Emily Carr House, British Columbia's Legislative Assembly, the Provincial Capital Commission, Historical Xperiences, Inc., Legend Excursions, Armand Hammer's United World College of the American West, and the Boy Scouts of America. He is currently the Manager of Visitor Experiences and Public Relations for Barkerville Historic Town & Park (western North America's largest living history museum) and has been Artistic Associate and General Manager of Histrionics Theatre Co. since 2001.
Video
Show Dates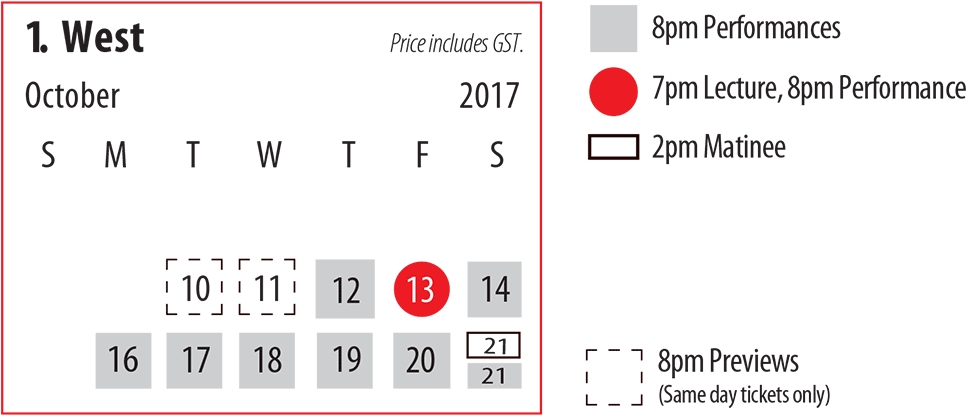 NOTE: This presentation will be two one-act solo shows with an intermission in between.
Cast & Creative
Danette Boucher (BFA '89, MA '11)
James Douglas (BA English ' 00)
Advisories
Both plays are recommended for ages 12 +
Listen to Lecture